When:
September 28, 2019 @ 9:00 am – September 30, 2019 @ 2:00 pm
2019-09-28T09:00:00+09:00
2019-09-30T14:00:00+09:00
Where:
IlovereadDelhi
IlovereadDelhi Delhi NCR
gurgaon, noida Online library iloveread.in (Select Delhi while creating account), Gurgaon
Haryana 122002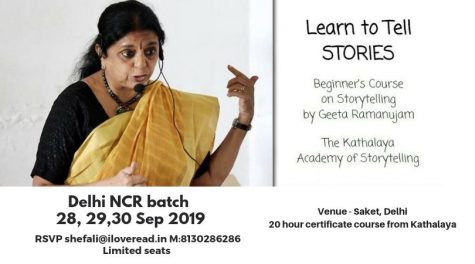 THE BEGINNER'S COURSE ON STORYTELLING from Kathalaya by GEETA RAMANUJAM !!!
~We are proud to bring this course to Delhi/NCR
The Beginner's Course on Storytelling is a 20 hour long course over 3 days for adults. The course gives a framework to communicate a story effectively. The participant has many things to take back in use in their personal life and workplace – whatever the work is – since every walk of life involves storytelling.
All participants are awarded a certificate at the end of the course. The certificate is affiliated to the International Storytelling Center, Tennessee, in U.S.A., Scottish storytelling centre-UK, University of Skovda, Sweden.
This is the ONLY certificate program for storytelling in the entire country.
People from all walks of life may benefit from this life changing course. This course is ideal for
Educators, principals, school management
Teachers, aspiring teachers
Professional storytellers, aspiring storytellers
Actors, directors, theatre professionals and aspiring actors, directors, theatre professionals
College students or graduates who are looking to enhance their skills and resume
Corporate trainers looking for something different
College professors looking to make their class more interesting
Entrepreneurs who want to learn to tell a story for marketing purposes
Advertising, marketing and sales professionals
Parents and grandparents who want to engage with their children better
More information about course – http://www.kathalaya.org/international-academy/beginners-course-on-storytelling/
The course is for 3 days – (2019)
Saturday Sep 28th (9:00AM – 5:00PM)
Sunday Sep 29th (9:00AM – 5:00PM
Monday Sep 30th (9:00AM – 2:00 PM).
Contribution per person – Total Rs 21,600 (Including 18% GST)
Online/Bank/cash Payment
Food on all 3 days will be provided.
(lunch on day 1 and 2, breakfast on day 3, tea/coffee on all days).
Venue – Saket, South Delhi (Near Metro)
Limited seats(Book asap to avoid disappointment)
RSVP/Queries –
Shefali | 0-8130286286 | shefali@iloveread.in
ABOUT GEETA:
Geeta Ramanujam is a Ashoka fellow, and an internationally renowned storyteller. In 1998, she founded the Kathalaya Trust which focuses on excellence in storytelling. Kathalaya's Academy of Storytelling is the only globally recognized Academy for Storytelling in the World. She has performed adn trained at the Scottish Storytelling Centre, UK, International festival at Brazil, Norway, Germany, South Africa, Austria, Japan, Storywood festival at Sweden, World Tales festival Poland, the International Storytelling Centre USA, Literary festivals at Sri lanka, and recently the Bo ca deu festival at Brazil.
She is also the Indian Coordinator for the International Storytelling Network – Red Internacional de Cuentacuentos (RIC) besides being the Indian coordinator of the Indian Storytelling Network. Geeta has several awards to her credit including the recent International storyteller's award at Bo ca deu Brazil.
Over 70,000 people from all walks of life have undergone her training programs.
Do take a look at this video on Geeta Ramanujam here.
https://www.youtube.com/watch?v=1nRK3dT8oWg
"Geeta is the goddess of storytelling and Kathalaya her heart beating for the world." – Linda Williamson – author and storyteller in Edinburgh
https://www.facebook.com/events/1235345243293823/