When:
October 19, 2019 @ 9:00 am – 5:00 pm
2019-10-19T09:00:00+09:00
2019-10-19T17:00:00+09:00
Where:
India International Centre
40
Max Müller Marg
New Delhi 110003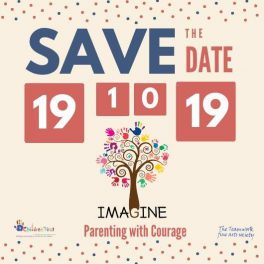 Children First presents IMAGINE Parenting with courage A 'call to action' for our society to see all children as needing our collective responsibility
The second edition of the conclave to be held on 19th October 2019 at India International Centre, New Delhi on child and adolescent mental health.
Leading professionals from the field of mental health, education, child welfare, advocacy and disability and parents from diverse backgrounds will come together to discuss on the theme Parenting With Courage
Key speakers include Ms. Merry Barua, Mr. Arjun Mathur, Ms. Nandini Chatterjee, Mr. Sanjoy Roy, Dr. Shelja Sen include among others.
Parenting is a journey that challenges us at every step, yet it also gives us an opportunity to grow up and become more aware and sensitive human beings. In the present age, parenting has acquired more complexity because of rapid changes in our society due to digital media, changes in our family structures, pressure to succeed and dwindling sense of community. Thus, though each parent's journey is unique, many parents feel marginalized as they do not conform to the clichéd stereotypes set by the society. These also include families with children with disability, mental health problems, children who are non-neurotypical or adopted. Or sometimes it involves a non-conforming single parent, LGBTQ or reconstituted families. These parents feel disconnected, alienated, criticized, blamed, shamed for not being good enough.
IMAGINE is a collaboration between child and adolescent mental health institute Children First and Teamwork Arts, a pioneering entertainment company committed to social action.
Key speakers at IMAGINE 2019 will be leading professionals from the field of mental health, education, child welfare, advocacy and disability and parents from diverse backgrounds. They include:
Merry Barua, Director of Action For Autism, National Centre for Autism, India
Nandini Chatterjee Singh, Senior Project Office at UNESCO, Mahatma Gandhi Institute Education for Peace and Sustainable Development
Sanjoy K Roy, Founder Trustee of Salaam Balak Trust, Managing Director of Teamwork Arts
Vidya Reddy, Executive Director of Tulir Centre for the Prevention and Healing of Child Sexual Abuse
Jagdish Mahapatra, Managing Director – Asia Crowdstrike
Archana Nayar, Founder Director ACE and The Special Child Trust (TSCT)
Kanika Goyal, Coordinator Occupational Therapy Children First –
Arjun Mathur, Actor, Influencer
Amit Sen, MD (NIMHANS), MRC Psych & CCST (UK)
Kavita Arora, Child and Adolescent Psychiatrist, Co-Founder of Children First
Shelja Sen, Child and Adolescent Psychologist, Family Therapist, Co-Founder of Children First
IMAGINE will target three main themes:
Celebrating Neurodiversity – A panel discussion which will define a way forward in terms of intervention and inclusive practices for families with children with Learning Disability, Attention Deficit Hyperactivity Disorder (ADHD) and Autism Spectrum Disorder (ASD), at home and in schools.
Weaving Stories of Courage – In this session, we will listen to and honour the stories of parents and young people who have struggled with mental health difficulties and build a 'call to action' so that, together, we can be better and do better.
Let's Commit – This session will focus on how we can protect our children from abuse and neglect, and build ecosystems where children's safety is a priority. For this we need courage to commit to building spaces in the real and virtual world where they are safe, protected and secure.
EVENT DETAILS:
Date: Saturday, October 19, 2019
Time: 9:00 AM – 6:30 PM
Venue: India International Centre, Multipurpose Hall. Kamala Devi Complex, New Delhi
Entry: Ticketing information and other booking details are available on the website.
Website: www.imaginewithcf.com
Email:registrations@imaginewithcf.com
Please check