When:
January 22, 2020 @ 4:00 pm – 6:00 pm
2020-01-22T16:00:00+09:00
2020-01-22T18:00:00+09:00
Where:
The Palms Town & Country Club
B-Block
Sushant Arcade, Sushant Lok-1
Gurgaon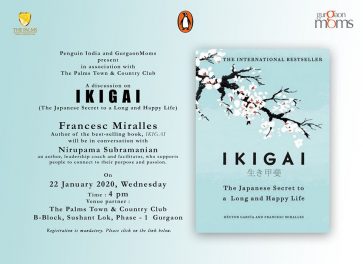 In Japan, millions of people have IKIGAI (pronounced Ick-ee-guy)— a reason to jump out of bed each morning.
What's your IKIGAI? Your reason for getting up in the morning?
Your IKIGAI is at the intersection of what you are good at and what you love doing.
Discovering your own IKIGAI is said to bring fulfilment, happiness and make you live longer.
Join us to meet author Francesc Miralles (Author)
Francesc is the award-winning and internationally bestselling author of books about how to live well, together with the novels Love in Small Letters and Wabi-Sabi.
There is no registration for this event – Please do RSVP at http://bit.ly/2txzDd4