There may be times when parents of children with special needs can feel isolated and overwhelmed with the medical, emotional, financial, educational and social issues they face as they raise their child.
To address this one of our members Kreeti – has created an event where moms come together to discuss the many things, bond and become a support community for one another. The event invitation is to all moms including moms to neurotypical kids because she believes the conversation has to begin with moms at large and only then we can become an inclusive society.
To be a part of this event : visit their page & register today : https://www.facebook.com/pg/thespecialmom/events/
Batch 1 : Kids (Age group 6 to 10 years)
Time: 5:30 pm to 630 pm (1hr)
Dates: 27th May to 1st June (6 days)
Show: 1st June
Fee: 4000 (early bird – 3000, registration till 30th April)
Max number of participants: 12
Batch 2 : Teens (Age group 11 to 16 years)
Time: 11 am to 1 pm (2hrs)
Dates: 27th May to 1st June (6 days)
Show: 1st June
Fee: 6000 (early bird – 5000, registration till 30th April)
Max number of participants: 12
Finally, at NIC (Nautankibaaz Improv Comedy) we are breaking new ground and reaching out to young people. This is once in an year opportunity to introduce your children to the most dynamic performance art in recent times.
Do you remember 'Whose line is it anyway?'. Now imagine kids improvising in those funny and creative formats. NIC coaches have been performing and teaching improv in NCR for the last 2 years and leading the efforts in spreading improv in this part of India.
Children will learn improv games and exercises and will perform for a live audience in the last session.
Don't miss this opportunity to let your kids explore this powerful form.
To know more call on 9818828228 or 8285187018.
To register, PayTm on the same numbers and share your details, with the screenshot.
https://www.facebook.com/events/590845034725288/?event_time_id=590845048058620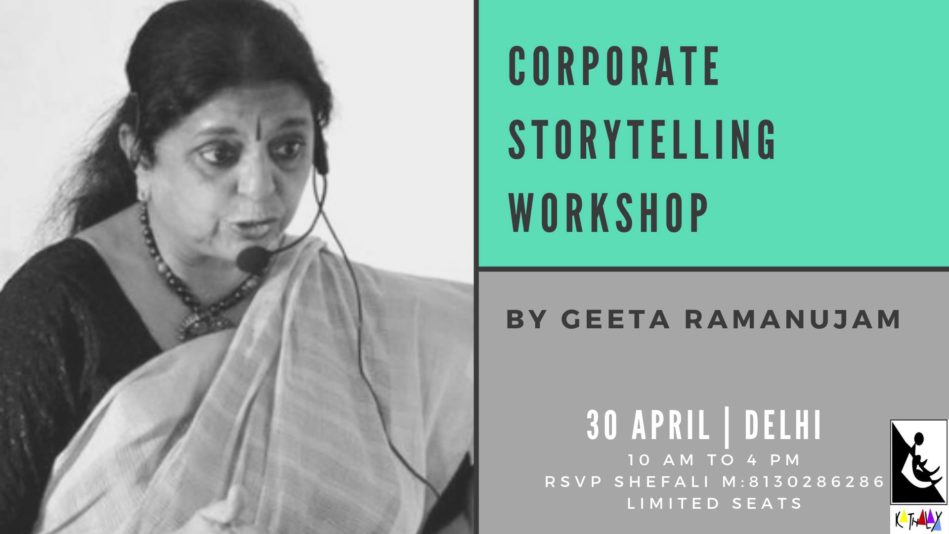 Every Business is a story in Corporate World'
STORYTELLING IN THE BUSINESS WORLD – A CORPORATE WORKSHOP
BY
WORLD RENOWNED MASTER STORYTELLER AND TRAINER – Geeta Ramanujam
IlovereadDelhi and River Of Stories with Kathalaya's International Academy of Storytelling Invites you to this unique workshop for corporate in Delhi
A One day Workshop conducted by Kathalaya's International Academy of Storytelling in which you are introduced to different facets of management concepts, leadership skills and behaviour traits through stories, using the storytelling Methodology and activities.
Just telling a story, however, is not enough. You've got to know what you're doing to be effective It helps them to communicate the story effectively using the right language tone and voice.
Kathalaya's methodology of storytelling creates a practical, philosophical, and emotional connection. The power of using the storytelling methodology will inspire leaders to motivate, speak with confidence, and encourage them to present their stories effectively.
Key Learnings –
– Identify the common themes used in the corporate World
– Communication Techniques
– Structures and Deliverables
– Pitching a Presentation
– Know your Audience
COMMUNICATION IN BUSINESS-Powered by STORYTELLING..
INNOVATIVE SPARKS for corporate concepts
Plugging in "STORIES" into the corporate Environment.
Facilitated by Geeta Ramanujam(Director Kathalaya Trust)
To know more about Kathalaya corporate storytelling – http://www.kathalaya.org/storytelling-for-corporates/
Date – 30 April 2019, Tuesday
Where – South Delhi | 10:00 AM to 04:00 PM
Contribution – Rs 11000(plus tax)/-
(Includes – 2 tea, lunch and participation certificate from Kathalaya)
https://www.facebook.com/events/2163447597301562/
Pay by Cash or online bank transfer –
contact [email protected] M:8130286286 to register.
Small Batch, Limited Seats!
Pre-registration mandatory.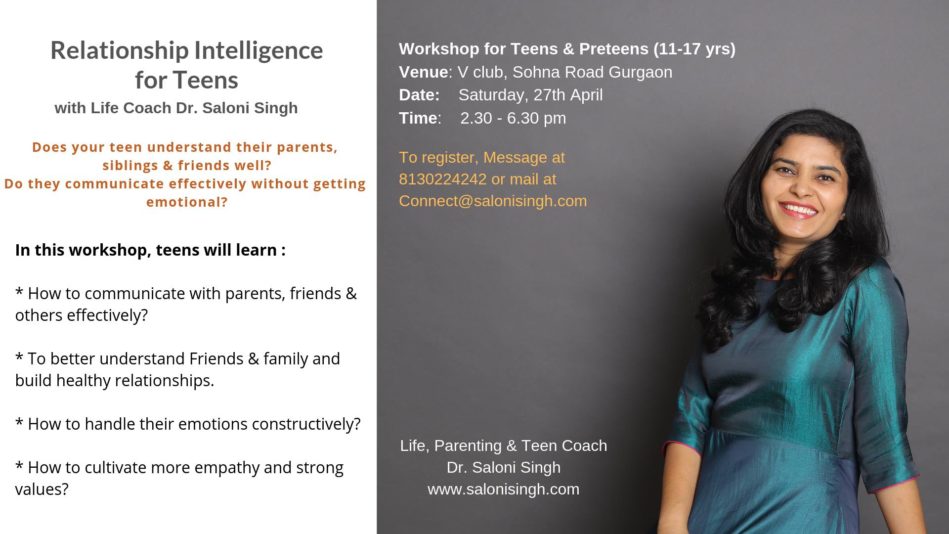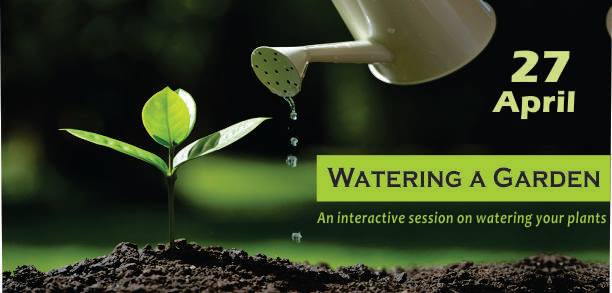 Watering is often the most tricky part in nurturing a garden. It is the whole life source of a plant. How, When, How much, How often to water is not as simple as holding a water hose in your hand every morning.
Come let's learn the art of right watering to maintain a healthy garden.
Paytm Rs 350* @ 9818529244 to register. Hurry limited seats.
*The session is free for all Club Greenstreet Members.