Chitti's Travelling Book Box by Kavitha Punniyamurthi
Fiction/Chapter book
Ages 7 and above
Release date: 20 February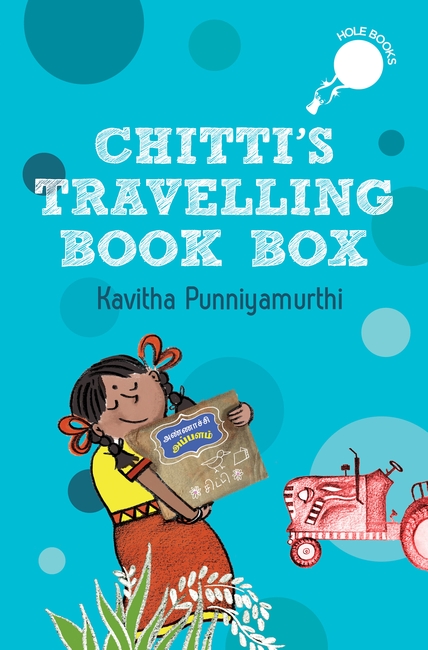 This is the story of Chitti who realizes that the old junk tractor that her father has abandoned is the perfect place to set up her library of books that she's received from her Madras Mama-Maami. Her friends–Muthu, Chokka and Lachu–aren't too enthused about this new library, but they too get bit by the reading bug thanks to Chitti's efforts. When news of a potential buyer reaches her ears, Chitti must quickly rally her friends to keep the library running.
Perfect for those progressing from picture books, this hOle book is bound to instill a love for reading in everyone, regardless of age!
Dakshin: South Indian Myths and Fables Retold by Nitin Kushalappa MP
Fiction/Traditional Stories
Ages 9 and above
Release date: 13 February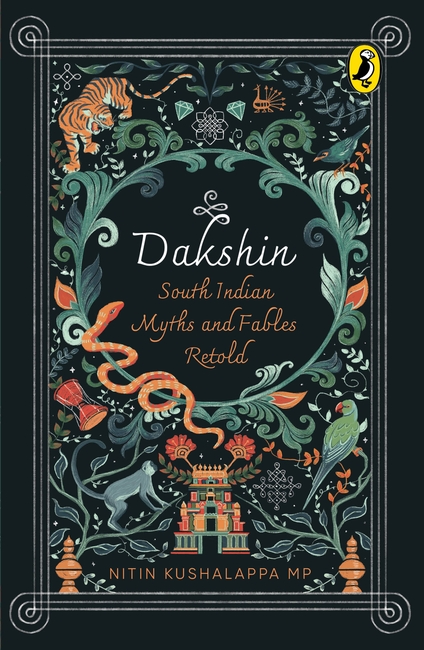 Dakshin is a collection of 15 oral folktales passed down from generation to generation in south of India. If you grew up on stories from Amar Chitra Katha, then these stories will also also tickle your nostalgia! There are hunters and animals that speak, there are kings and cunning wizards, there are stories of heroic battles––all imbued with hidden proverbs that makes these tales immortal.
Nitin recounts the more popular ones such as 'The tale of Bala Nagamma and the Evil Sorcerer' about a queen who is cursed by the serpent king to the more obscure ones such as 'The Giant Red Kangaroo, The Queen and the Hunter' about a kangaroo that could jump to the moon and back. But 'The Tale of the Singing Drum' is bound to stay with you for its ending.
Five of the stories were originally written in Kodava, an endangered Dravidian language, from where the author hails. There are also stories with roots in Tamizh, Malayalam, Telugu, and one from the region of Odisha, since it borders Telangana and Andhra Pradesh.
Munni Monster by Madhurima Vidyarthi
Fiction
Ages 9 and above
Release date: 6 February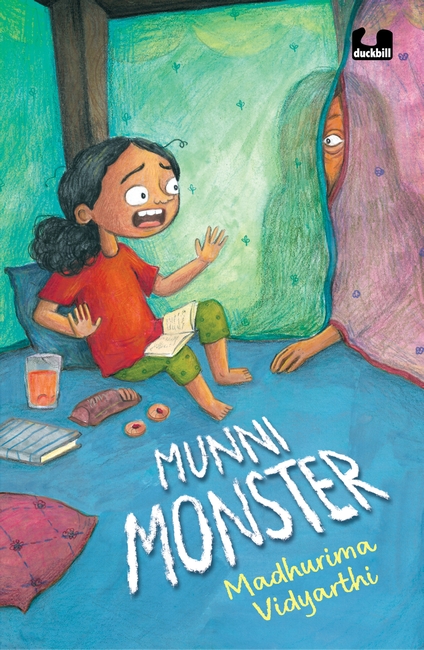 In Madhurima's latest book we are introduced to Mishti. A ten-year-old girl whose blissful life is upended when her grandmother's cousin sister—Munni—comes to live with them. Munni has cerebral palsy and in this short, powerful book Misthi learns to share her home and heart with Munni.
A funny moving story, what makes it a must-read this season is the many complex layers that the book reveals—from peer pressure, home economics to understanding the significance of inclusivity. Do listen to this episode on Tell Me A Story… podcast by Rati Girish where the author talks about the book and it's inspiration.
Taatung Tatung and Other Amazing Stories of India's Diverse Languages by Vaishali Shroff
Non-fiction
Ages 12 and above
Release date: 21 February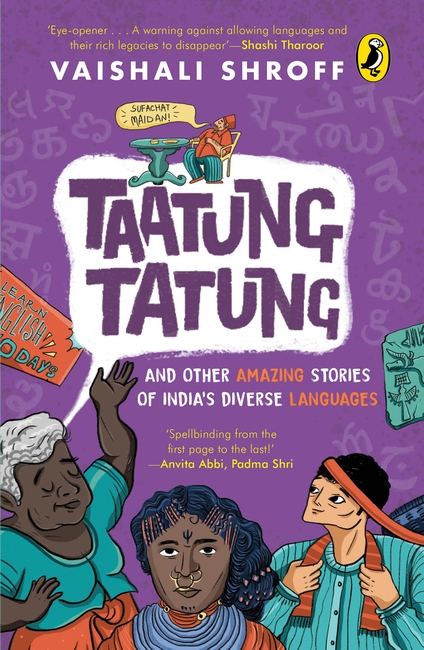 How often have you found yourself tongue-tied hearing the many different languages spoken in your own home? This is a book that celebrates those diverse languages!
Taatung Tatung is an attempt by Vaishali Shroff at a primer that looks at the history of languages in India and what makes it unique. The book spotlights some of the known and unknown languages of the country in an endeavour to spark conversations about India's linguistic length and breadth. Join Vaishali as she tells us the story of the secret language of Hijras, how Gandhi was assassinated for supporting a language, how India lost one of its oldest indigenous languages that survived in the Andaman and Nicobar Islands, and how February 21st is celebrated as World Mother Languages Day among many other stories…
Sleepytime Tales with Nico Numero and Sleepytime Tales with Curious Curie by Sonia Mehta
Ages: 5+
Release Date: 5 December
From the author of the Discover India series, Sonia Mehta, comes a new bedtime series for children that inculcates curiosity about the world through the lives of various characters such as Nico Numero and Curious Curie who are prolific in maths and science in their own way.
A collection of 4 stories in each book helps kids learn about math concepts such as the four rules of maths, geometric shapes, logic puzzles, apart from developing curiosity about the animal kingdom, existence of gravity and electricity. The larger aim is to introduce concepts such as awareness of history, environmental consciousness, inclusivity among others.
Upcoming titles in the series includes Sleepytime Tales with Eppy Explorer, Sleepytime Tales with Coco Comma and Sleepytime Tales with Vicky Voyager.
The author is Mumbai-based and is open to offline and online sessions.
Nisha Small: The Knot of Gold by C G Salamander
Illustrated by Rajiv Eipe
Ages: 7+
Release Date: 12 December
In this latest hOle book, join the youngest detective in Madurai, Nisha Small, as she races against time to solve the mystery of the stolen thaali at her friend's sister's wedding. Expressively illustrated in Rajiv Eipe's unique style, this early chapter book is a fun story looking at yet a different culture and tradition from our diverse country. Like all books in the series, this too is perfect for young readers progressing from picture books.
The author is currently based in Netherlands and is open to online sessions. The illustrator is Bangalore-based.
Taniya by Arupa Patangia Kalita
Translated from Assamese by Meenaxi Barkotokoi
Ages: 8+
Release Date: 19 December
From the pen of Sahitya Akademi-winning Arupa Patangia Kalita's comes her only children's novel to date — Tainya. A timeless classic in Assam, the book has been masterfully translated in English by veteran Assamese translator Meenaxi Borkotoki.
Told in a non-linear format, the book traces Taniya's journey from the foothills of Bhutan to her final resting place. The antics of this Bhutanese cocker spaniel captured in Kalita's unmatched storytelling style tugs at all the right heart strings making it quite impossible for you not to react as you read long. An endearing story, the novel is a must-read for pet lovers and readers of Indian literature in translation, alike. 
In keeping with the Puffin Classics Series, the book is complete with a translator's note setting the context for the uninitiated reader and end notes on the author and her works.   
The author and translator are currently based in Guwahati and are open to offline sessions.
Diwali 2022 Releases 
My Little Book of Durga
3+ years
Release Date 3 October 2022

A Navratri release, this little book is a continuation of our Little Gods and Goddesses series which introduces pre-schoolers to Hindu mythology through a retelling of popular stories about the gods and their associated festivals. Vibrant illustrations complement the text and the engaging activities at the end make these perfect playtime or bedtime reads.
Inni and Bobo: Go to the Park by Soha Ali Khan and Kunal Kemmu
4+ years
Release Date 17 October 2022

In their second adventure together, Bobo learns how to shed his fear. A heartfelt and empathetic story, Inni learns the importance of viewing the world from another's point of view to help them overcome their fears. Second in the series, the book is a perfect bed-time reads which teach children love, empathy, compassion and adaptability through its gentle narrative.
Magic of the Lost Story by Sudha Murty
9+ years
Release Date 24 October 2022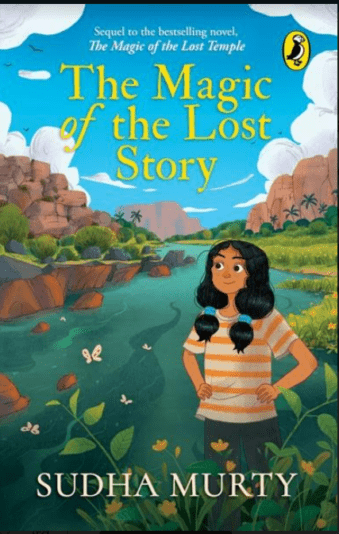 After a long gap, Sudha Murty returns with another full-length novel for children. Sequel to the bestselling The Magic of the Lost Temple, Nooni takes you on another adventure as she joins her Ajja-Ajji in Somanahalli. Excited to finally step out of the confines of her home post lockdown, little does Nooni know she will make yet another discovery, only this time it's a missing puzzle in her family's history while she traces the path of the mighty Tungabhadra.
 The book captures the value of asking questions and keeping the answers alive as Nooni navigates her family's history. Seeped with values of compassion, kindness, culture and heritage, the novel is the author's tribute to the magnificent Tungabhadra and the lands she brings alive with her waters.
Playthings by Neil D'Silva
10+ years
Release Date 24 October 2022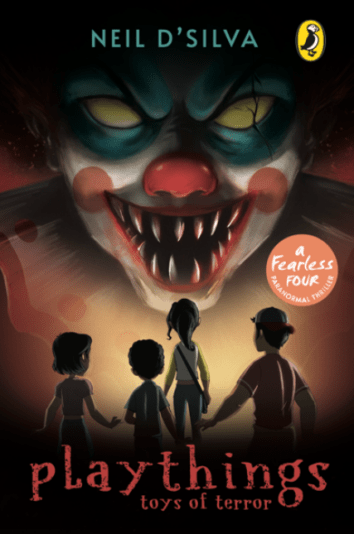 The first book for tweens from India's best known horror fiction writers—Neil D'Silva, Playthings is the answer to Stephen King's IT.
One by one kids are getting attacked by their childhood toys. Can the Fearless Four — a paranormal investigation agency — find the cause and stop it before it claims another life? A tale of friendship, support and tackling demonic forces, Playthings is the perfect Halloween read for those who binge-watch The Stranger Things and are glued the Goosebumps Series by RL Stine.
My First Puffin Library-A Box Set of Twelve Early Learning Board Books for Toddlers
Age-0-3 years 
12 board books in one box set to introduce toddlers to basic concepts and words through a comprehensive selection.Carefully and sensitively curated, keeping in mind the Indian reader and the world around them.The colourful and appealing photographs and doodles to make these books a treat for the eyes and keepsake editions
About the books-
Foster a habit of reading in your little ones with this set of twelve gorgeously designed and thoughtfully created board books. These books equip toddlers and preschoolers with reading, language, early learning, visual, motor and imagination skills. The bright, handy, easy-to-read and fun books include topics such as first words, shapes, colours, numbers, fruits, flowers, insects and so much more!
Careful Curation: Introduce kids to their first key concepts and everyday objects around them through well-researched and colourful photo board books. The topics are as varied as:
1. ABC
2. Numbers
3. Colours
4. Animals (Domestic and Wild)
5. Shapes
6. Seasons and Opposites
7. Fruits and Vegetables
8. Flowers
9. Transport
10. Things at Home (and around us)
11. Insects
12. First Words
About the Author
This book was put together by Team Puffin, a dedicated band of editors striving to create the finest Indian children's books, perfect for every reading level and requirement. Each book is meticulously researched and exquisitely designed to enrich a reader's interaction with the book. Your introduction to the imaginative and magical world of learning and storytelling starts here!
 Nida Finds A Way
Samina Mishra
Age: 7 -9 years
Short-length, simple vocabulary, illustrated chapter books.Perfect for young readers progressing from picture books.A sweet tale about kids learning to deal with not only their own fears, but also their parents'!
 THE BOOK
Whenever Nida wants to do something new, Abba is scared for her and says NONONO
But Nida needs to learn and do new things so the only way is for her to persuade Abba Can she find a way?
 THE AUTHOR
Samina Mishra is a documentary filmmaker, writer and teacher based in New Delhi, with a special interest in media for and about children Her work uses the lens of childhood, identity, and education to reflect the experiences of growing up in India She also runs The Magic Key Centre for the Arts and Childhood Samina's books include Shabana and the Baby Goat, My Friends in the City, My Sweet Home and 101 Children's Books We Love! (co-author) among others
A Pinch Of Magic 
Asha Nehemiah
Age: 7 -9 years
Short-length, simple vocabulary, illustrated chapter books.Perfect for young readers progressing from picture books.A wacky story about magical mayhem!
THE BOOK- Veena's aunt, Malu, is in trouble Her pinching spoon is broken She must get a new spoon or close down her herbal medicine business But the only person who makes pinching spoons has disappeared Can Veena help her Aunt?
THE AUTHOR- Asha Nehemiah is a popular author with children of all age groups Wonderfully funny characters get into wacky adventures in her stories Her books for children include Trouble with Magic, The Grand Chapati Contest, Granny's Sari, The Adventures of Mooli series and The Mystery of the Secret Hair Oil Formula.
Sita's Chitwan-Not Just a Walk in Nepal's First National Park
Vaishali Shroff
Age:9-15 years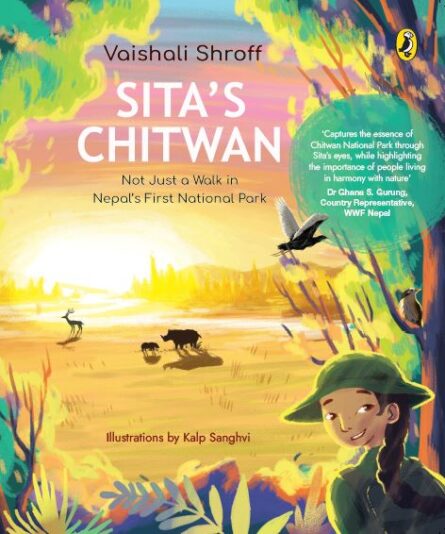 The Astoundingly true Adventures of Daydreamer Dev
 Ken Spillman
Age:9-15 years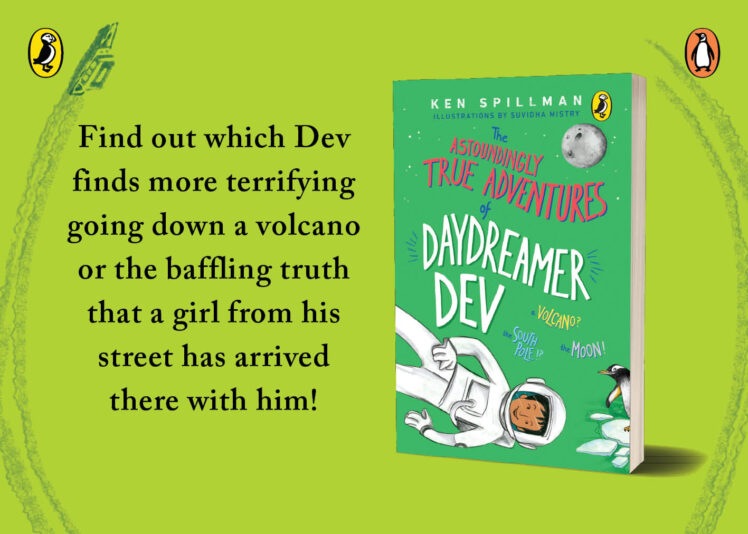 A Vikram-Aditya Story Series 
Deepak Dalal 
Age-10 years & above 
With a strong focus on wildlife and habitat conservation, causes that Deepak has been championing through his books for over 20 years, this first-of-its-kind series celebrates India's most splendid destinations through high-octane adventures.
Ranthambore Adventure relates the story of tigers and their battle for survival in our forests. The book also attempts to connect children with wildlife and wilderness areas.
Ladakh Adventure is a Tibetan story set in the spectacular high altitude plateaus of India, one of the most beautiful regions of our world.
 Pinkoo Shergill Pastry Chef
Vibha Batra
                                                                                      8-12 years (and young at heart adults!)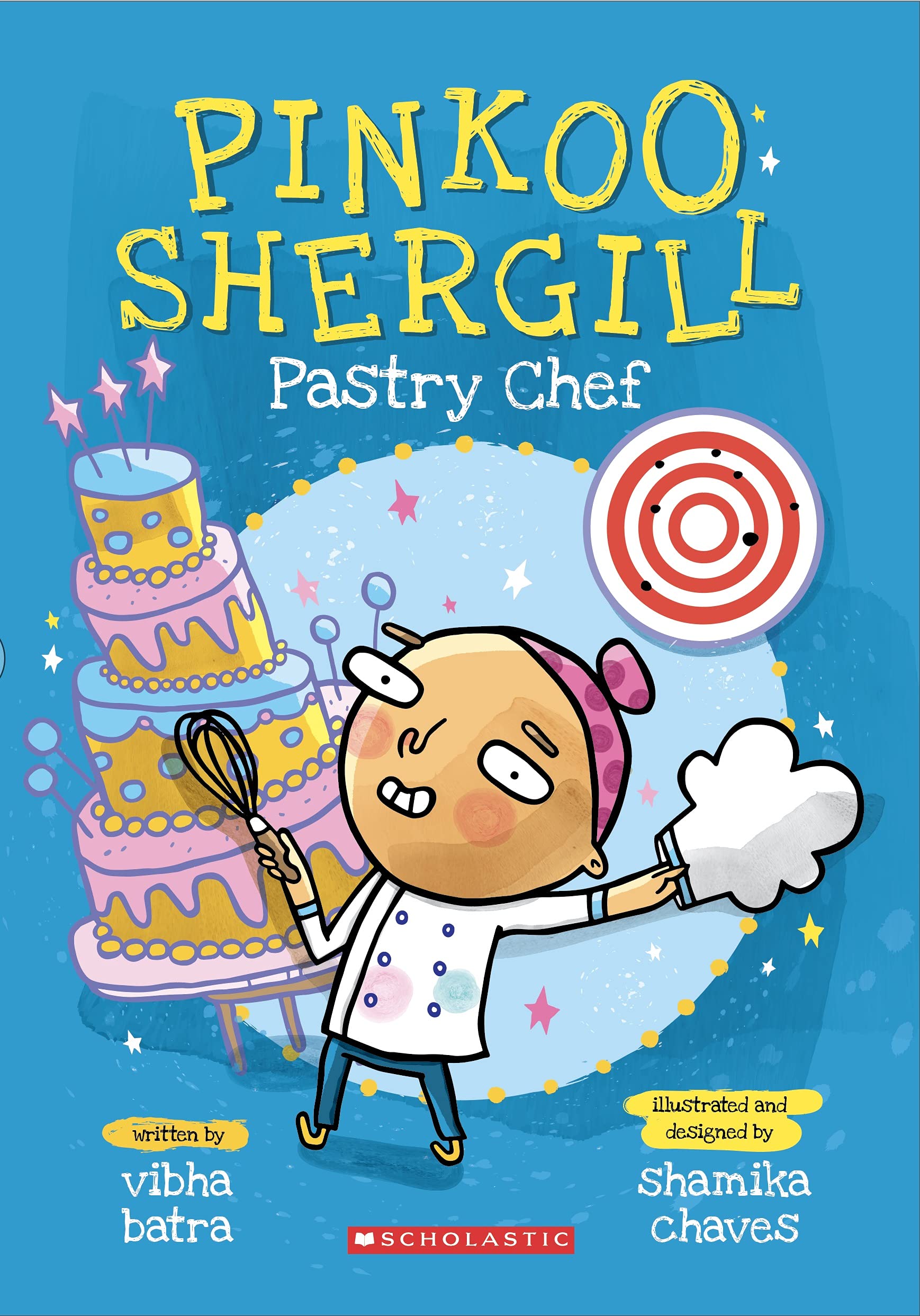 TG: ChildrenPublisher: Scholastic
Author Profile
Vibha Batra is a Chennai-based author, graphic novelist, advertising consultant, poet, lyricist, translator, playwright, travel writer, and columnist. She has published 17 books 
ONE DAY ELSEWHERE series
by
Marie Lenne-Fouquet, Adèle Tariel, Anne Loyer& Thomas Scotto
Translated from the French by Nakashi Chowdhry
RELEASING ON 23RD AUGUST 2021
Age -7 years and above 
Discover the stories of events that changed the 20th century in the illustrated One Day Elsewhere series 
'One Day Elsewhere' is a collection of 4 picture books that tell the story of individuals within the great history, through the eyes of a child. It is sometimes difficult for children to understand the history and the notions of temporality, but they are easily excited about tales and stories, be they fictitious or about the lives of the people they know
A stunning collection of picture books that tell a story of historic importance from the 20th Century, through the eyes of a child an oil spill in France, the Dandi March, the Moon Landing and the fall of the Berlin Wall
Originally published in French and has been translated into several international languages
Fiction/Picture Books
Paperback/Rs. 299/-
THE BOOKS
1.One Day Elsewhere: The Black Tide:1978, the Sinking of the Amoco Cadiz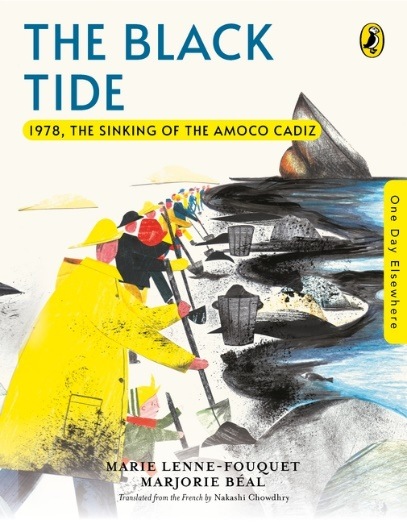 Yann, the son of a fisherman in Portsall, loves selling fish at the port with his father. He lays out the ice, puts the fish on it and plays shop. But one day, the sea is very rough. The storm and the wind bring a terrible smell and devastating news: there has been a shipwreck and an oil spill!
2.One Day Elsewhere: A Cello On The Wall: 1989,the Fall of the Berlin Wall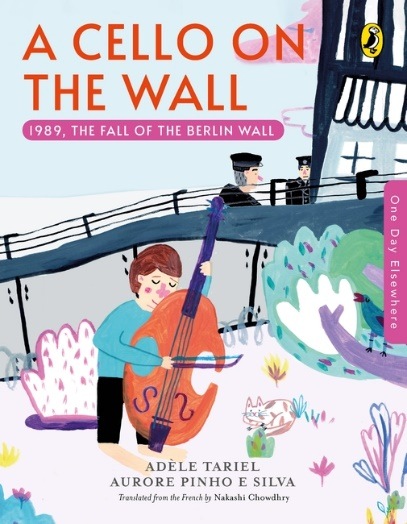 While playing in the attic, Charlie discovers a cello that belonged to his grandmother. His parents had fled East Berlin with this cello many years ago, while Charlie's grandparents are still on the other side of the wall. But the year is 1989 and revolt rumbles in the streets of Berlin to tear down the wall.
3.One Day Elsewhere: My Father's Courage: 1930, Gandhi and the Salt March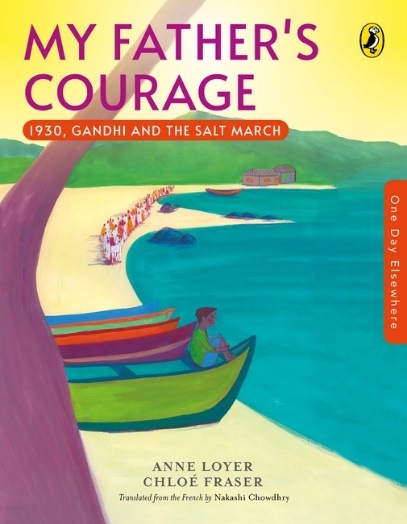 Aslam helplessly witnesses his father's arrest: he disobeyed the British authorities by harvesting salt, which was very heavily taxed. The boy is assailed with doubt. Why did his father break the law? Why doesn't sea salt belong to everyone? When he learns that Gandhi is going to be marching through his village of Jalalpore, Aslam feels hopeful. He is the only one who can oppose the authorities and, maybe, free his father.
4.One Day Elsewhere: A Giant Leap: 1969, We Walked on the Moon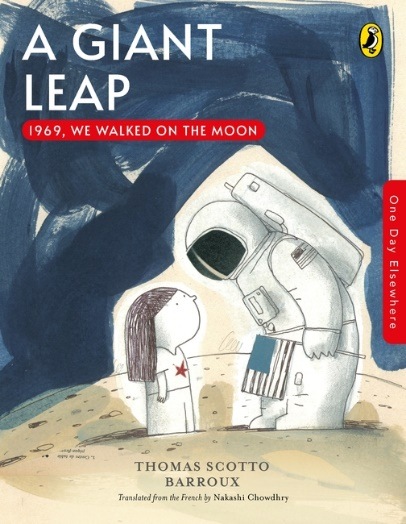 At home, June is waiting for a big event, the biggest of her life: the birth of the baby that's in her mother's belly. But in the hospital, on the street, everyone else is waiting for another big event: a man will walk on the Moon on 20 July 1969.
THE AUTHORS
Marie Lenne Fouquet: As a teacher trained to interact with disabled children, Marie gets her inspiration from her everyday life at school and in the little town where she lives, in the country. She shows a writing talent that you will probably hear about in the next few years.
Adèle Tariel: A journalist for youth magazines, Adèle has also published several picture books.
Anne Loyer: Bornin 1969, Anne was a journalist for fifteen years. A former blogger specializing in children's literature, she has written more than seventy books for young readers and teenagers, with publishing houses like Thierry Magnier (CarBoy), Nathan, Alice jeunesse, Bulles desavon, À pas de loups, Frimousse, Editions des Braques, among others. Her books, always evoking the personal issues of contemporary young people, are often studied in schools and won many awards. Anne often sets up creative writing workshops for children in schools and libraries.
Thomas Scotto: Thomas shortened his French literature studies in Tours and started writing for children when he became a father and stayed home to care for his children. He likes alternating between light and serious intrigues, also writing detective novels and comic book scenarios. His poetic and subtle style offers rich, nuanced texts, as stimulating for the little ones as it is for adults. Now living in La Rochelle, Thomas likes meeting his young readers and organizing writing workshops for kindergarten, primary and middle school students
KIKI KALLIRA BREAKS A KINGDOM
SANGU MANDANNA
A middle-grade fantasy inspired by Hindu legends about anxiety, creativity and finding your own strengths.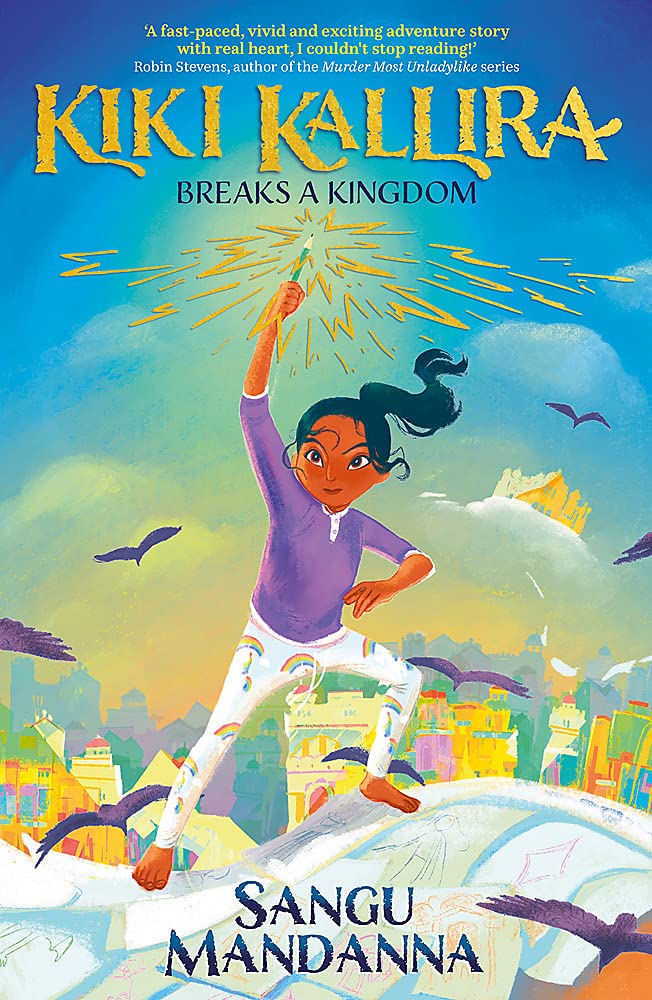 Rs. 499 | Hodder Children's Group | 352 pp
Age: 8years and above 
ABOUT THE BOOK
Kiki Kallira is more of a worrier than a warrior – but today she will learn to be a hero. The mythical beasts she loves to draw have come to life, and she is the only one who can defeat them. A middle-grade fantasy inspired by Hindu legends about anxiety, creativity and finding your own strengths. For 8+ fans of Abi Elphistone and The Land of Roar.
Kiki Kallira has always been a worrier. Did she lock the front door? Is there a terrible reason her mum is late? Recently her anxiety has been getting out of control, but one thing that has always soothed her is drawing. Kiki's sketchbook is full of fantastical doodles of the Hindu myths and legends her mother has told her since she was tiny.
One day, her sketchbook's calming effect is broken when her mythological characters begin springing to life and Kiki is pulled into the mystical world she drew.
There, she discovers the band of rebel kids who protect the kingdom, as well as an ancient, monstrous god bent on total destruction. Kiki must overcome her fear and anxiety to save both worlds – the real and the imagined – from his wrath.
But how can a girl armed with only a pencil defeat something so powerful
ABOUT THE AUTHOR
Sangu Mandanna was four years old when an elephant chased her down a forest road and she decided to write her first story about it. Seventeen years and many, many manuscripts later, she signed her first book deal. She lives in Norwich, in the east of England, with her husband and kids. Kiki Kallira Breaks a Kingdom is her first middle-grade novel.
                                                         Maithili and the Minotaur: Web of Woe
                                                                                   CG Salamander and Rajiv Eipe
                                                                                                      10 years +
About Maithili and the Minotaur 
An outcast to the world of humans, Maithili lives in the outskirts of a magical wilderness. But as she makes new friends in the realm of monsters, she must learn to be careful. Because some monsters are just like humans: mean, nasty, and out for blood.
About the Authors
C.G. Salamander is a writer and comic journalist who loves cows, manga, and Terry Prachett. His books, comics, and stories have been published by many publishers and his emergent reader picture books have sold over 30,000 copies. Salamander loves writing horror, humor, and fantasy, and is currently working on a book about mythical beasts. Some of his other books are Puu, Yamini, and the 7 PM Ghosts, Frank Goes to the Market, and the City of Rubble.
Rajiv Eipe lives in Bangalore and works on animation and illustration projects. He likes to doodle in his sketchbook, drinks more coffee than is good for him, maintains an untidy workspace, and gaze into vacant space at short intervals. Rajiv won the Big Little Book Award in 2020 for his contribution to Indian children's literature.
Fantastic Creatures in Indian Mythology
Bulbul Sharma
Age:9+ years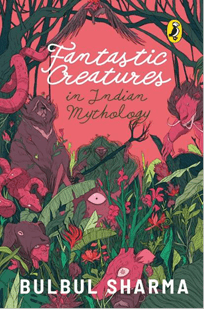 Discover the fascinating beast and creatures found in Hindu Mythology!
Written by Bulbul Sharma, who has authored the ever-loved Tales of Fabled Beasts, Gods and Demons and The Ramayana
Features ten most fascinating magical and fantastical creatures in Hindu mythology
Beautiful and lush black-and-white illustrations will delight kids
Told in simple language, the book is great for beginner readers
Great for children starting to read mythology books
A short primer on Hindu mythology and the magical creatures featured there
THE BOOK
A terrifying one-eyed demon.
A magical shape-shifting deer.
A noble bird with giant wings.
The many-headed evil serpent.
These are just a few of the most fascinating and fantastical creatures that are found in Hindu mythology. There are many more waiting for you in this book!
THE AUTHOR
Bulbul Sharma is an author and painter. She has written five collections of short stories, a novel, non-fiction and some of the most-loved books for children, including Tales of Fabled Beasts, Gods and Demons and The Ramayana. Her books have been translated into several languages. Bulbul has also held several exhibitions of her paintings in India and abroad, and her works are in collections at the National Gallery of Modern Art, Lalit Kala Akademi, Chandigarh Museum as well as in private collections.
Price:  Rs. 250/-
Category: Fiction/Non-fiction/ Traditional Stories/Mythology
Binding: Paperback | Extent: 144pp | Age: 9+ years | Imprint: Puffin
The Great Indian Mathematicians
15 Pioneers Who put Indian Mathematics on the World Map
Gaurav Tekriwal
Age:11+ years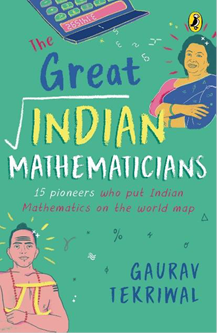 A brilliant introduction to 15 pioneers who made breakthrough discoveries in the mathematics we study today
Comes with a bonus chapter on the story of zero
Impressive information related to iconic Indian mathematicians, varied facts, and extraordinary achievements, told simply
Each chapter has an element of surprise from little known facts, movies to  watch, places to visit, and even a 'Tips and Tricks section with simple tricks and sums for young readers to solve
Includes legendary names like Aryabhata, Shakuntala Devi, Anand Kumar among others
A perfect book for every maths wizard!
THE BOOK
India's mathematicians have made significant contributions over the last 5000 years. Whether it is the ever-popular Aryabhata, widely recognized for revolutionizing the number system or a pioneer forgotten by time, like Baudhayana, who explained the Pythagoras theorem in his treatise written nearly 3000 years ago, the figures included in this book are trailblazers in the world of mathematics.
Fresh, accessible and inspiring, The Great Indian Mathematicians celebrates persistent mathematicians throughout Indian history. This book is an ideal introduction for the next generation of tenacious and curious maths wizards, and features a goldmine of tips and tricks, nuggets of surprise and much more!
THE AUTHOR
Gaurav Tekriwal is the founder and president of Vedic Maths Forum India. As an educator, he has been imparting high-speed vedic mental mathematics skills over the past fifteen years across the globe. He inspires and informs people, helping them to realize their true potential by introducing them to the world's fastest mental-math system, called Vedic mathematics. Gaurav is the author of Speed Math and his complete DVD set on the topic is popular among students and academicians worldwide. Through television programs, DVDs, books, workshops and seminars, Gaurav has taken the Vedic Maths system to over four million students in India, South Africa, Australia, the United States and Oman. He is a four-time TED speaker and has been awarded the Young Visionaries Fellowship by the ministry of external affairs, India.
Price:  Rs. 250/-| Category: Non-fiction/Reference
Binding: Paperback| Extent: 192pp| Age: 11+ years | Imprint: Puffin
Hook Book: Shoo, Crow!
Kavitha Punniyamurthi
Age: 5 -7 years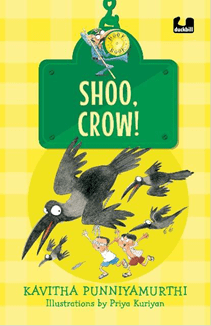 A funny story set in Tamil Nadu, about how two young boys manage to save the crops from the crows!
Part of the Hook Book series for beginner readers, with short text and lavish illustrations
The stories are age-appropriate and set in different parts of India, with exercises to teach language skills in an unobtrusive way
A funny, punchy story by Kavitha Punniyamurthiand fun-filled illustrations by Priya Kuriyanshows how unlikely things can turn out to be problem-solvers
THE BOOK
The crows of Rajipuram are too clever for Velu and Akif to handle. But then comes Puchu Mama and his amazing harmonica...
The Hook Book series of short simple stories for beginning readers come with fun stories set in different parts of India, gorgeous illustrations and short exercises to enhance the reading experience.
THE AUTHOR
Kavitha Punniyamurthi is an award-winning children's writer and editor. Her picture book When Bholu Came Back was awarded the South Asia Book Award (Highly Commended Book). When she is not having existential conversations with the crows on her terrace, Kavitha spends her time creating goofy characters and writing funny stories. Croak, Building a Building and Look Up are some of her other books for children.
Price:  Rs. 175/-
Category: Fiction /
Humorous Stories
Binding: Paperback
Age: 5 -7 years
Extent: 40pp
Imprint: Duckbill
Hook Book: Boy Bear
Adithi Rao
Age: 5 -7 years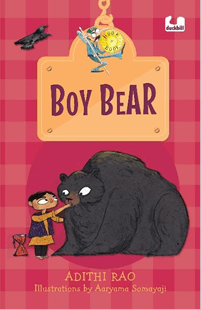 A tender and touching story that emphasizes the dilemmas of animal rights and human needs, set among the streets bears of Mumbai
•Part of the Hook Book series for beginner readers, with short text and lavish illustrations
•The stories are age appropriate and set in different parts of India, with exercises to teach language skills in an unobtrusive way
•Poetic text by Adithi Rao and gorgeous illustrations by Aaryama Somayaji make it possible to transform a complex story into one which kids will understand and identify with
THE BOOK
Boy and Bear have grown up together on the streets of Mumbai. Baba is a madari. But now that Baba is gone, how are Boy and Bear to survive?
The Hook Book series of short simple stories for beginning readers come with fun stories set in different parts of India, gorgeous illustrations and short exercises to enhance the reading experience.
THE AUTHOR
Adithi writes books, film scripts and plays. Her YA novel, Candid Tales: India on a Motorcycle, made it to the Parag Honour List 2021. Her short stories and feature articles have appeared in American literary journals, and in anthologies by leading Indian publishing houses.
Price:  Rs. 175/-
Category: Fiction /Animal Stories
Binding: Paperback
Extent: 40pp
Age: 5 -7 years
Imprint: Duckbill
Territory: World
THE MIDNIGHT YEARS
Jane de Suza and Sangita Unni
                                                                                                            Age : 13+
The Breakfast Club meets psychological analysis in this racy and reflective story that traces the personal, social and cultural challenges and issues faced by today's teens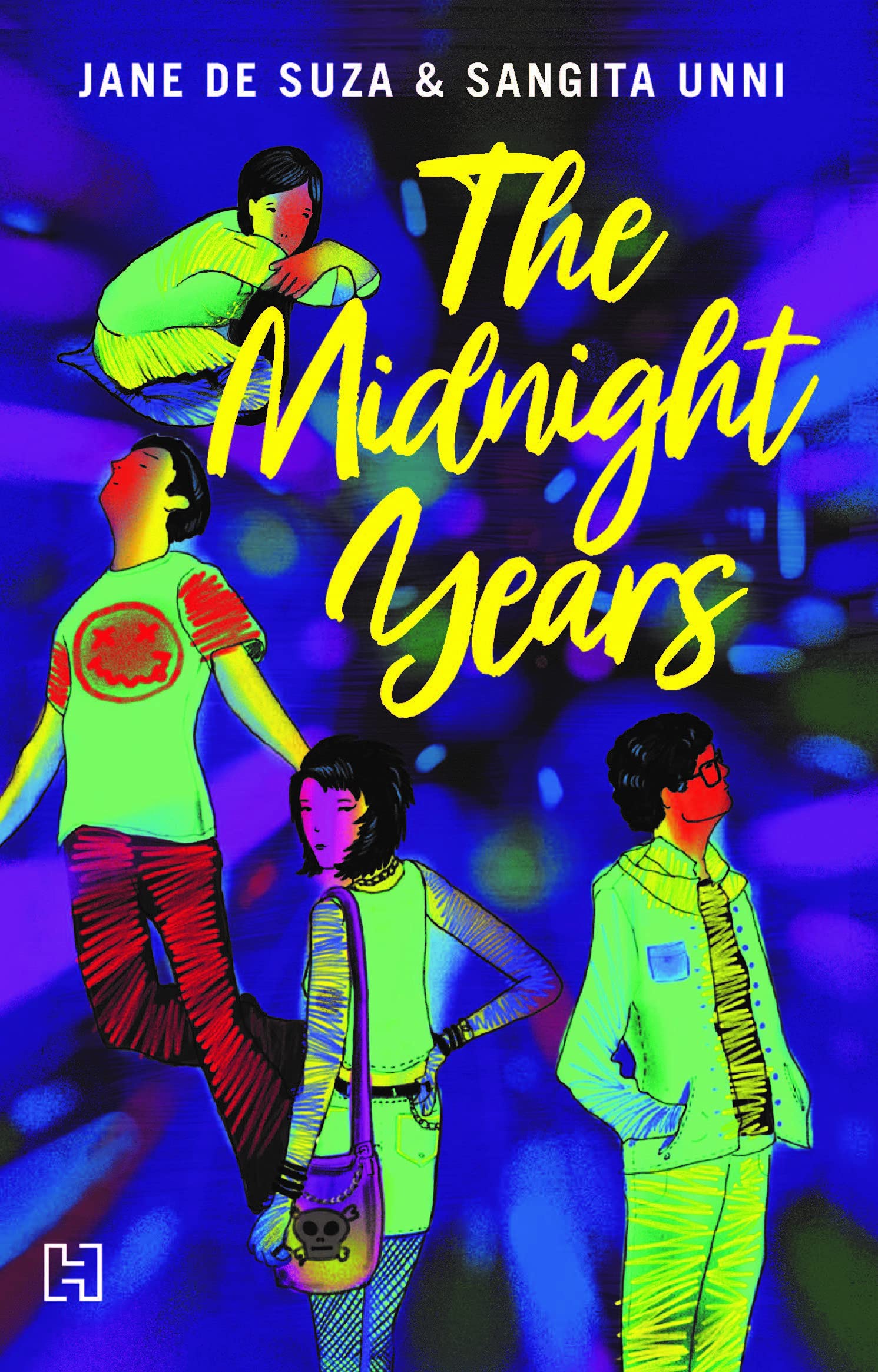 Rs. 399 | Hachette India | 232 pp
About the Book
One night is all it takes.A party turns into a nightmare for four teenagers. Alisha guards a secret that will shatter those who know her.Sharad is crushed under his family's expectations.Good little Ruhi makes a single mistake that will come back to haunt her.And AK is let down disastrously by those he trusts the most.
As they struggle through this pitch-black time in their lives, they must make life-changing choices that could hurl them backwards, or help them claw towards the light.
TALK SPACE: A psychologist analyses teen dilemmas.
A fast-moving true-to-life story for readers of John Green, Rainbow Rowell, Jay Asher and Jason Reynolds.
Traces the personal, social and cultural challenges and issues faced by today's teens both in India and often universally as well, and weaves them into a riveting narrative from the point of view of the teenagers themselves.
Both racy – and reflective. 'Challenge' areas are highlighted, and then analysed in a special section in the back of the book.
About the Authors
Jane De Suza's books have hit both award and bestselling lists. These include Flyaway Boy, When the World Went Dark, the SuperZero series, Uncool, Happily Never After and The Spy Who Lost Her Head, among others. She is a management graduate from XLRI, was creative director across advertising agencies, is a columnist with a national daily, and currently lives in Singapore with her family.
Sangita Unni is a psychologist who lives in Bengaluru and has been a practising counsellor for over a decade. She is the director of Lyftly India, and has launched Lyftly Minds, an app that promotes holistic emotional wellness, focused on the youth of our country. She is an avid trekker, diver, founder of Nair's Kitchen, and fulltime mother to her three young adult sons and a beautiful indie dog.
Tughlaq and the Stolen Sweets (Duckbill) 
Natasha Sharma
                                                                                                             8-12 years 

Tughlaq and the Stolen Sweets (Duckbill) by award-winning author Natasha Sharma, a hilarious detective-comedy where the world traveler Ibn Battuta aids the eccentric Sultan Muhammad bin Tughlaq in finding his missing melons in this latest in the best-selling History Mystery series.
Inspired by the mention of the horse and foot postal system in Ibn Battuta's travelogue, the Rehla, and of Sultan Tughlaq's love for all things sweet, especially sugared melons from Khurasim, Natasha weaves a laugh riot of Sultanate bedlam.
A book that can lead to discussions on how the post developed in India for children, Tughlaq and the Stolen Sweets offers a fun way to delve into history and historical characters while keeping the fact and fiction clearly defined and separated. Peppered with illustrations to give it a sense of period and drama, Natasha's new book is an edge-of-the-seat page-turner.
When Mommy Was a Little Girl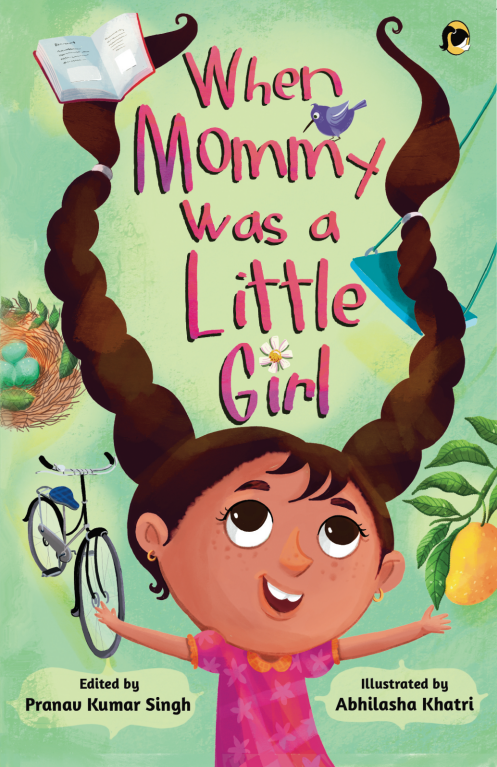 For the lovers of Alexander Raskin's When Daddy Was a Little Boy and Sudha Murty's Grandma's Bag of Stories and How I Taught My Grandmother to Read, When Mommy Was a Little Girl (Ponytale Books) is one-of-a-kind anthology that brings fifteen mommies from the lush plains of Assam to tiny villages in Garhwal and Karnataka; from the hill-stations of Shimla and Dehradun to the coal-centre of Dhanbad and the steel city of Jamshedpur and that of the arid plains of Kutch in Gujarat to tell you the stories of how they were as little girls. The book is thus sprinkled with local words for some generic terms in Assamese, Bengali, Kannada, Konkani, Marathi, Sindhi, Garhwali, Koda-thakk, Punjabi and Hindi.
An anthology that brings well-known children's writers like Richa Jha, Mitra Phukan, Cheryl Rao, Nandini Nayar, Arthy Muthanna Singh, Mamta Nainy and Shyamala Shanmugasundaram with first time writers like Rohini Vij, Rati Girish, Vidya Nesarikar, Lipika B Uniyal, Debjani Mukherjee, Varsha Pillai, Madhumita Mandal and Ratna Manucha to share a page of their life as a little girl that left an indelible mark on their memories. Edited by Pranav Kumar Singh and illustrated delectably by Abhilasha Khatri, When Mommy was a Little Girl releases on 10th January 2022 and is set to be one of the biggest releases next year.
My Grandmother's Masterpiece
by Madhurima Vidyarthi
                                                                                                  Age 8–12 years
About the book
'This is the story of how my grandmother became a famous artist. It happened somewhere between my seventh and eighth birthdays, so she was really old and also a grandmother, and I didn't know she was an artist. And, of course, she was not famous. And then she was both, all at once.'
For Nini, Minima is just her normal everyday grandmother. So when Minima suddenly shows an interest in doing something new, Nini is not sure that she likes it. After all, a grandmother's first job is being a grandmother, isn't it? A much-needed story about seeing grandparents as real people, with their own dreams, aspirations and challenges, the book is a must-read for emerging readers.
About the author
Madhurima Vidyarthi is an endocrinologist who always wanted to be a writer. She trained in London for many years and then returned to live and work in Calcutta. My Grandmother's Masterpiece is her first book, but she is planning to write many more. When she is not writing-books or prescriptions, Madhurima likes to travel, eat good food and delve into history. She lives in an untidy house full of unruly members and desperately wants a dog.
Help! My Aai Wants to Eat Me
by award-winning author
Bijal Vachharajani
                                                                                                   Age: 7+ years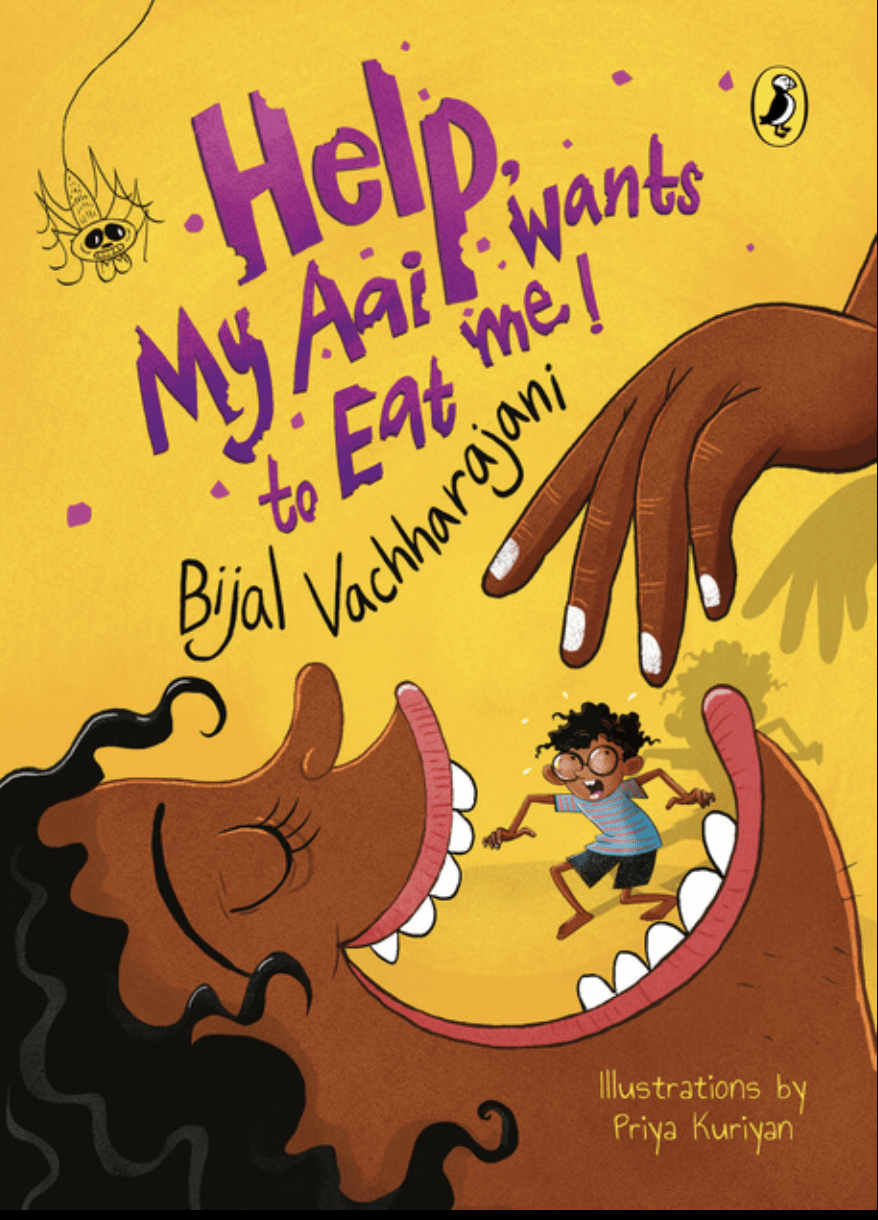 About the book
Avi has the (annoying) habit of looking at the good side (pros) and the bad side (cons) of situations that life tosses his way-just like the curveballs that his friend HJ tosses during cricket. Only this time, Avi is in a soup. Literally! Just like the Mama Bear who is known to eat her sickly baby, Avi is pretty sure that his Aai wants to dunk him in soup and eat him up. Even though he definitely would not taste good. Now, the only two options in front of Avi are fight or be fried.
Avi's thoughts on this book:
Pro: Reading this book will make you a smart cookie and feed your imagination, especially about all things wild.
Con: Cookies are edible and Aai is hungry! Uh-oh.
Dig in, at your own risk.
About the author
Bijal Vachharajani believes she needs to befriend all cats and dogs. A plan that often derails her work, which includes reading, writing, and editing children's books. She mostly writes about all things green (while complaining about things that are not green), like in A Cloud Called Bhura and So You Want to Know About the Environment, and is now a certified climate worrier.