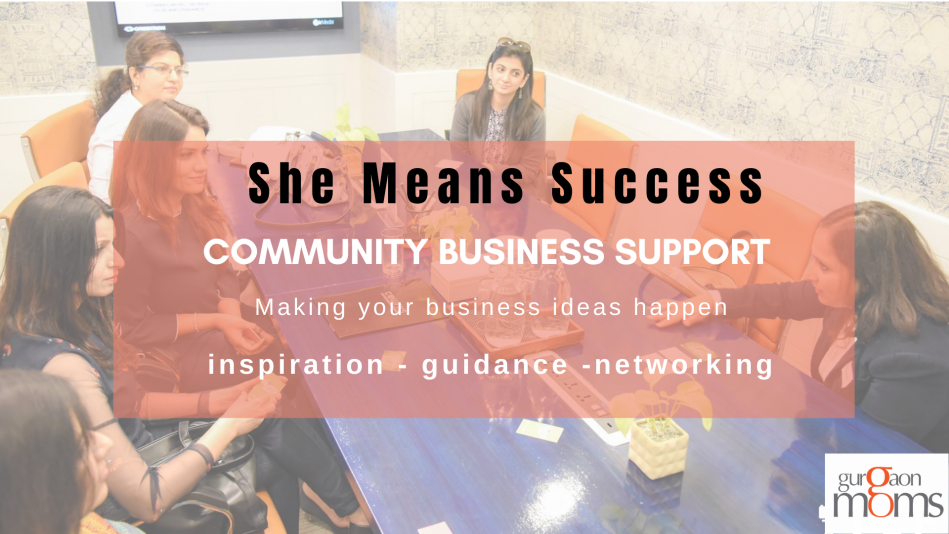 She Means Success is an online community for women entrepreneurs (only with legally registered ventures) who are already part of GurgaonMoms.
One of the main advantages of joining the community is to be able to post about your venture on one day of the week (Mon-Fri) in GurgaonMoms. In addition, the FB community also aims to inspire, support, and empower women entrepreneurs to turn their ideas into a reality. By being part of the community, you can participate in conversations, leverage on the community resources, and connect with other entrepreneurs in the ecosystem. Our aim is to support you in achieving more through inspiration, guidance, and networking.
She Means Success Community is a happy learning space. We encourage our members to have discussions here- clarify doubts, enquire, and ask help for business-related guidance. We also hope that they make it industry-specific- clarify doubts about apps, industry practices, share their good/ bad business experience, interact, and learn from each other. As a member, you can post- your non-promotional post, any day, in this community
Membership Plans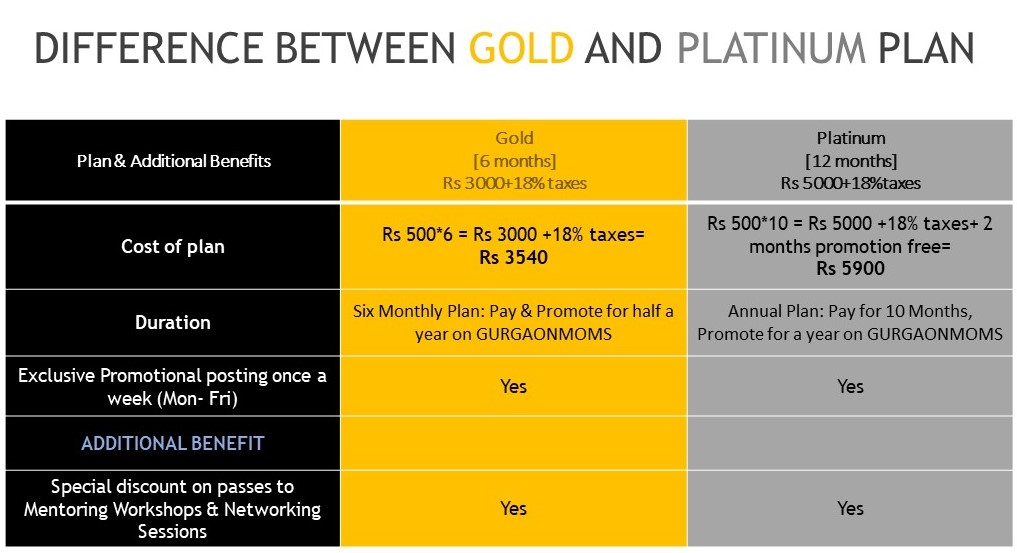 Process to Join She Means  Success 
Step 1: Please fill the Membership Application Form 
Step 2: After approval, you will receive details to make payment & register for the program.
Step 3: On receipt of payment, you will receive an email welcoming you and sharing more details of the program. You will also be issued a unique code which you will use to make a promotional posting on Fridays in GurgaonMoms.
Step 4 : All payments received on/before Wednesday will be allowed to make a promotional posting on Friday that week. For the rest, the subscription will begin from the following week.
Please Note :
Once you fill the membership form it can take up to 10 working days for approval
Registration is for one brand only. If you wish to promote another brand, you will have to buy a second subscription. Please write to

[email protected]

for more details.
Only after you make the payment and on receipt of the unique registration code, you can start making a promotional posting once a week from Mon-Fri as per your choice.
Your membership would start from the day you receive the email with the registration code.
Please follow all the rules of posting. You can post once a week Monday-Friday in the GurgaonMoms  group.
Nobody else can post on your behalf. It is a self-promotional posting only.
SMS posts will be approved by the admins or moderators only in 2 slots Mon-Fri 10-11 am & 5-6 pm.
We would be sharing the details for meet-ups, workshops, exhibitions, and seminars specially designed for the community members.
We can choose to terminate your membership without a refund if you repeatedly flout the community rules.
Cancellation/Transfer is not possible.
Also please be aware of the posting rules for promotional posts in GurgaonMoms.  These are the rules to follow once you are a member:
One post every week on any day of your choice from Mon – Fri is allowed.
You can use one photo or a short 1 min video to promote your venture. The single photo can be a collage.
Data collection from our members or forms collecting any information is not allowed.
We do not allow promotion of communities, WhatsApp groups and external links.