Crispy Chicken Legs (KFC style)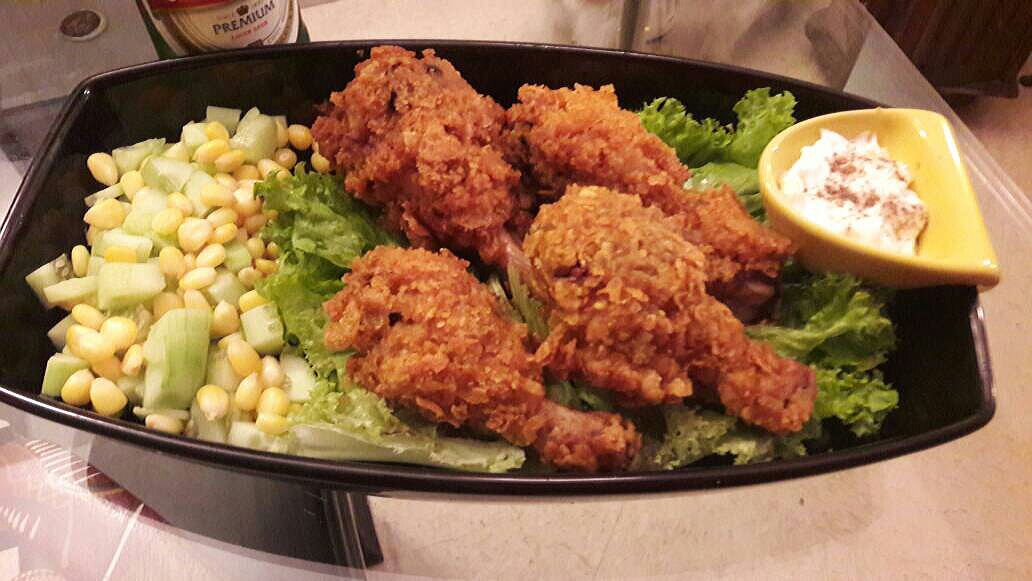 Ingredients
1/2 kg  chicken full legs
1/2 lime
Salt
Pepper
Cajun spice
Italian herb
1/2 tsp garlic
1/2 tsp ginger
1 egg
2 tsps cornflour
Panko crumbs
Few spoons of plain cornflakes
Method
Cut chicken legs  into 2 pieces (leg and thigh)
Marinate the pieces with salt, pepper, chilly powder, ginger garlic paste and lime juice for 12 hrs.
When ready to cook, crush  the cornflakes into small pieces and mix it with panko crumbs
Take cornflour and make it into a semi-thick paste.Add egg into it
Mix well .if require put a little salt in it.Then dip the chicken into the egg mixture and put on the crumbs. cover the chicken piece completely with cornflakes and panko crumbs.
Deep fry till the chicken is cooked.
Serve hot with lettuce corn and cucumber salad
 Recipe contributed by Shipra Mathur of Shipra's Kitchen 
Cooking as a hobby became a passion and bought Shipra's Kitchen into existence.BesideAwadhihi delicacies coming out of the kitchen of Mathurs, it also graduated to some Chinese and Continental starters and main course.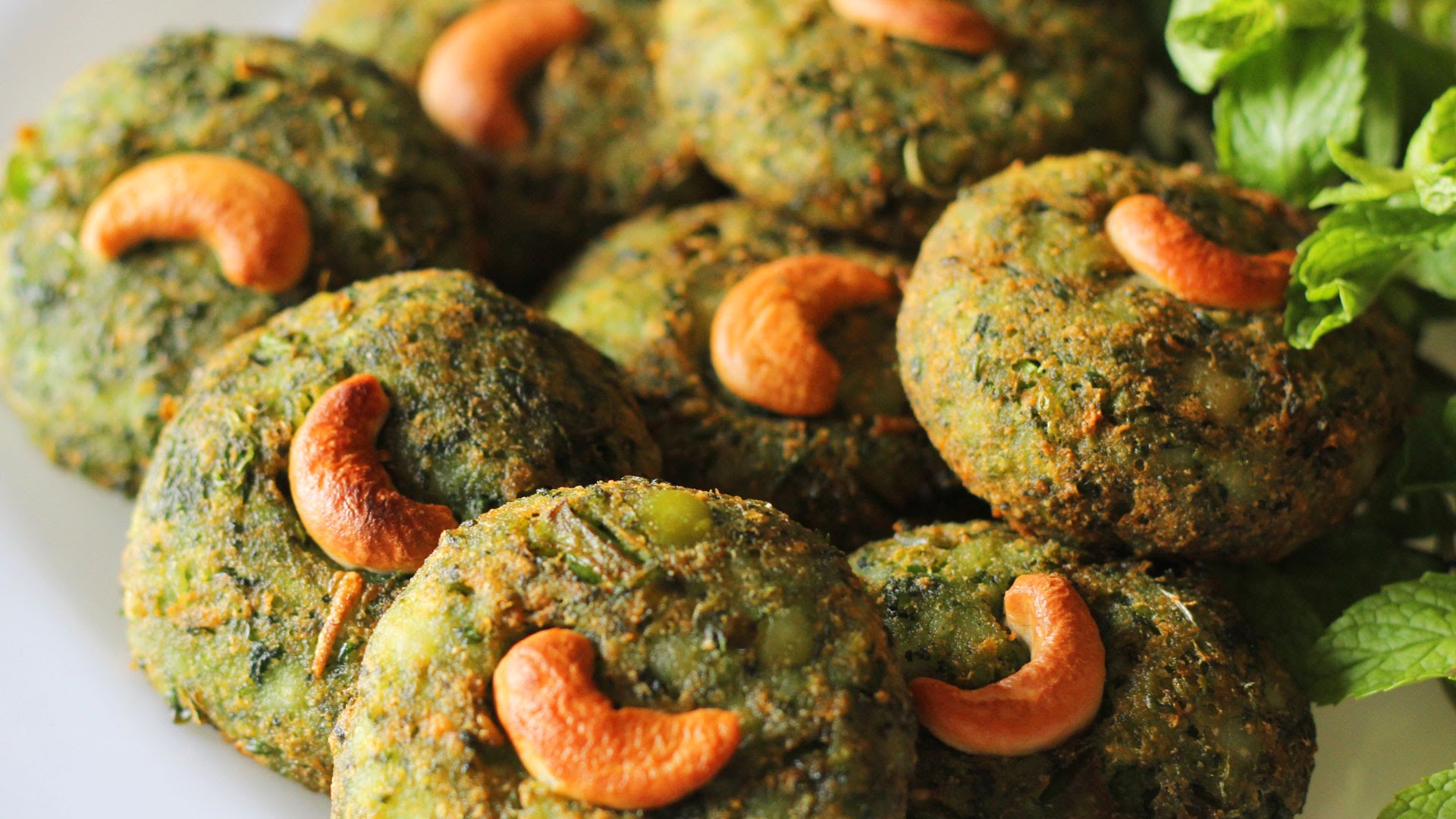 Ingredients 
Green peas: 1 cup, blanched
Spinach: 7-8, blanched
Mint leaves: ¼ cup
Coriander leaves: ¼ cup
Green chillies: 3-4
Grated ginger: 1 tsp
Make a paste with the above ingredients.

Ingredients for Kebab 
Boiled potatoes: 1 cup
Grated paneer: ½ cup
Jeera powder: 2 tsp
Garam masala: 2 tsp
Salt, sugar & lemon juice: To taste
Oil: 2 tsp
Breadcrumbs: As needed
Cashew nuts: 10-12
Method 
1. 
Heat oil in a pan, add the peas paste and cook till the water evaporates and let it cool.
2. 
Add
 the kebab ingredients to the cooled paste. To bind the mixer, add bread crumbs accordingly.
3. 
Divide the mixture into 10-12 balls. Flatten them, add 1 cashew on top and press with the finger.
4. 
Shallow fry 
until
 crisp
.
5. 
Sprinkle chat masala on top
Recipe contributed by Sunita Jaiswal of Sunita's Cookery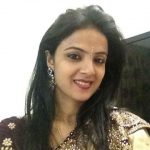 Sunita is a  mother of two beautiful kids. Her passion for food has indulged her into running cookery classes for a couple of years now. Her students are very happy with her recipes.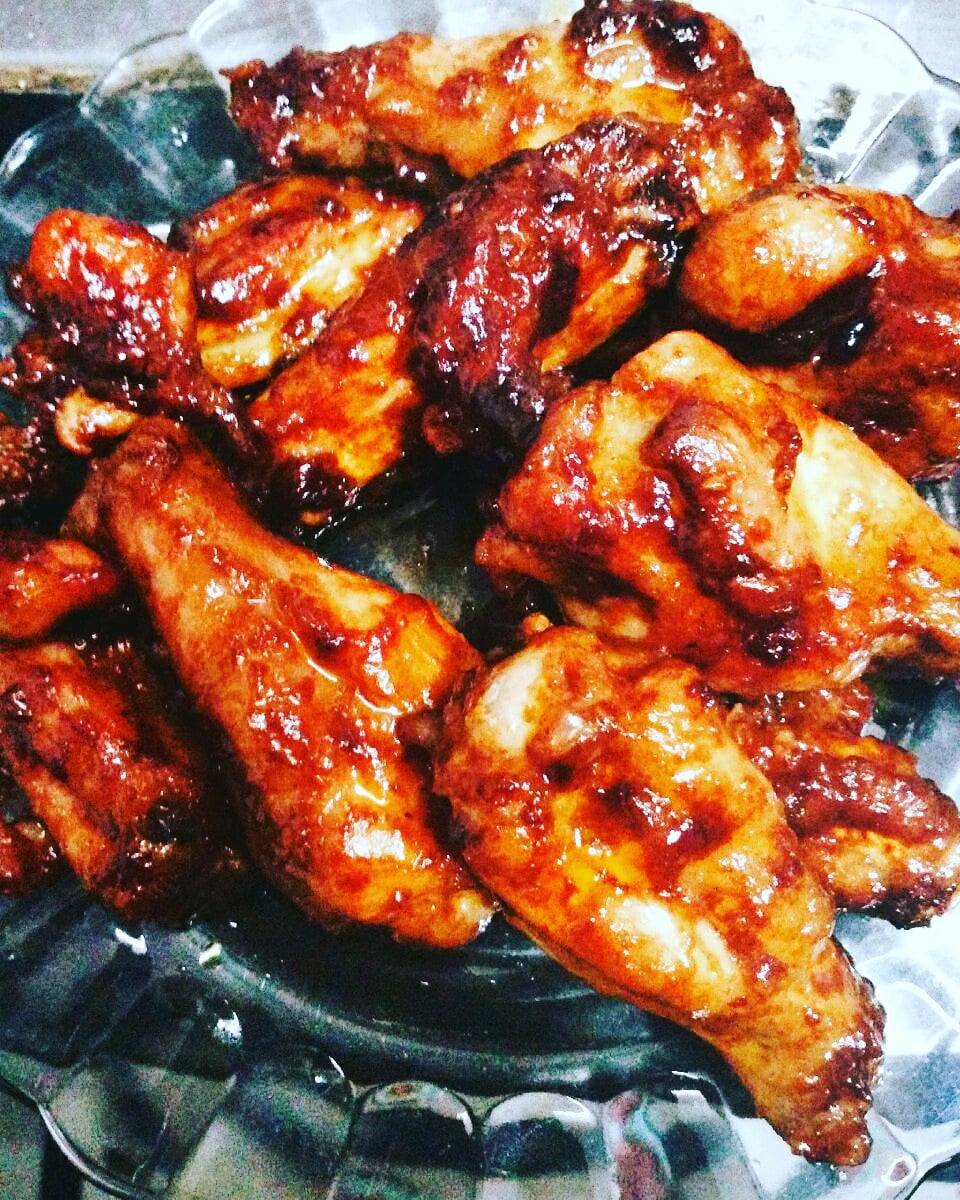 Ingredients
Chicken wings – 600 gms
Barbeque sauce – 1/2cup
Salt – to taste
Pepper – 1/2 tsp
Oil – 2tsp
Method 
Preheat the oven to 375 degrees Fahrenheit. Bend the wings and tuck the tips under the large joint to form a triangle. Season the chicken wings on both sides with salt and pepper. Set wings in a single layer in a large roasting or baking pan. Use two pans if you have to. Bake the chicken wings, turning once, until browned, about 45 minutes. Remove the wings from the oven. Pour off all the fat from the pan. If necessary, blot the wings with paper towels. Return the wings to the pan. Pour the barbecue sauce over the chicken wings and return to the oven. Bake for 10 minutes. Turn the wings over and bake 10 minutes longer. Serve hot
Recipe contributed by Parina Chug of Let's Meat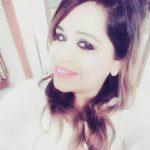 Let's Meat by Parina Chugh took place in 2014 purely out of the passion for cooking. When it hit Parina that she no longer wanted to keep her cooking to her self rather spread her love in the form of food to the world around her. She is well known for her authentic north Indian food especially butter chicken.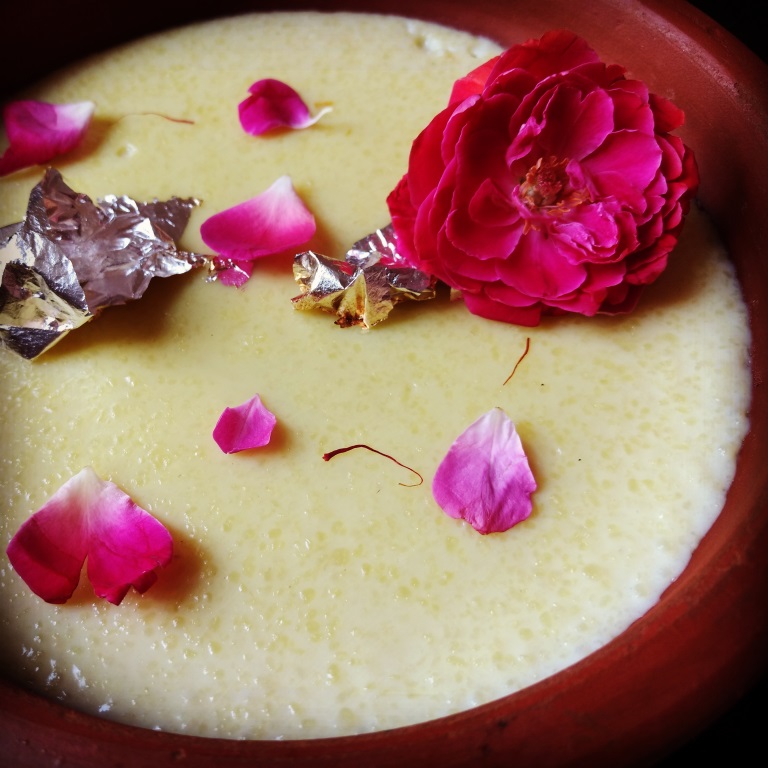 Ingredients :
50gms rice washed and soaked for half an hour
500gms full cream milk
Kewra Essence – 4 – 5 drops
Sugar 50gms
6- 7 kesar strings dissolved in 3 – 4 tsps of hot milk
Silver warq for garnish
Rose petals for garnish
Method
In a pan which has a thick bottom.Boil the milk to this. Grind the rice with 1tsp – 2 tsp (do not make a fine paste of it..Tiny rice granules should be visible) and add it to the already hot milk….remember from this point on it would require constant stirring, otherwise, lumps will form.Reduce the heat.Bring it to anywhere between low to medium let the rice cook, once this mixture thickens, add the kesar milk.On further thickening add sugar.Once this mixture reaches custard like thick consistency switch off the flame and add 4 – 5 kewra essence drops ur entire kitchen will smell like heaven at this point in time.
Now take an earthen pot which has been washed and soaked in water for around 30 mins, add the hot Phirni mix… refrigerate it for 5 – 6hrs and garnish it with some silver warq and rose petals.Gulab Kesar Phirni is ready !!! Serve it absolutely chilled. Don't be surprised if your guests ask for more.
Recipe contributed by Deepali Bakshi of Deepali's Kitchen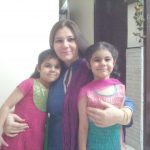 Born and brought up in a Punjabi household, Deepali is the youngest of the 3 siblings and was always pampered with an extra dollop of butter and a second serving of parantha.After quitting her formal corporate job, she ventured into the food industry as a home chef and cooks North Indian recipes which she loved while growing up.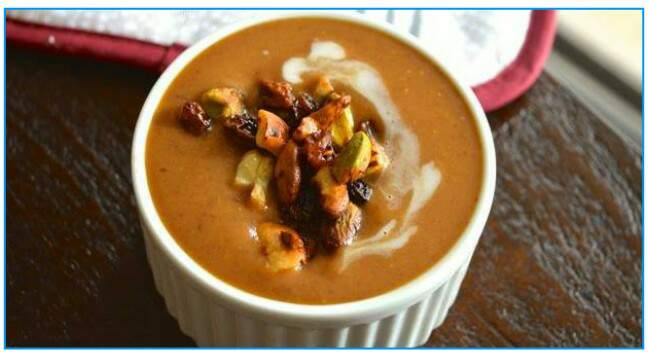 Ingredients 
1-liter milk
1/2 kg dates (de-seeded and chopped)
1/2 cup sugar
1/2 cup walnuts (chopped)
3 Tbsp oats
4 Tbsp roasted almonds (chopped)
300 ml fresh cream
2 cups water
Method
In a non-stick pan add dates and water and cook on a low flame till the dates turn soft. Allow the dates to cool. Then using a blender make a fine paste adding 100 ml milk to the mixture.
Heat the remaining milk in another pan and cook it on low flame. Add sugar and the date paste and mix well.
Add oats and half the quantity of crushed walnut and almond, bring to a boil.
Cool the mixture and refrigerate it. While serving steer in the cream and garnish with remaining nuts.
Recipe contributed by Chtra Shharma of Chef's Kitchen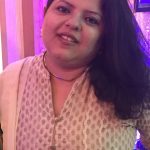 Chtra, the owner of Chef's Kitchen Caterers, is running this business since 2012. After returning from Scotland, she started this venture with her husband Chef Nitin Sharma, who has over 18 years of experience in 5-star hotels.Her mantra for success is to work smart and never compromise with quality standards. She makes sure to add a personal touch to all the catering opportunities.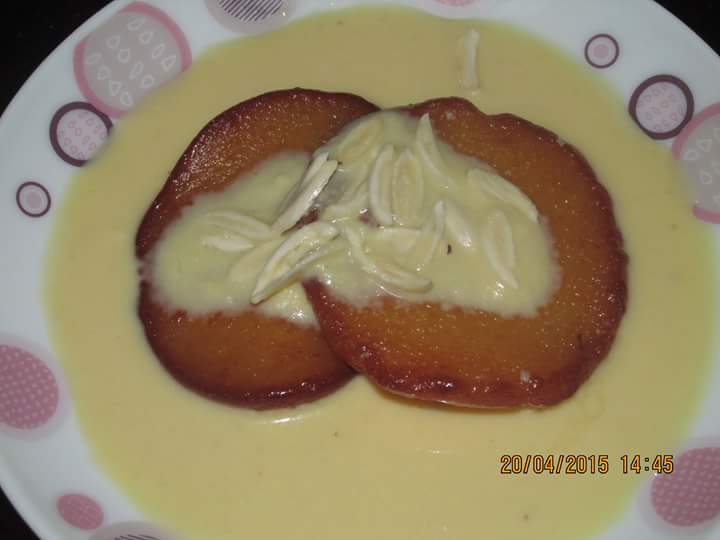 Ingredients: 
For malpua batter:
1 cup all-purpose flour (maida)
1 teaspoon fennel seeds
3 to 4 green cardamoms
3 pinches baking soda
Half cup water
3 tablespoon khoya
3 tablespoon curd
3 tablespoon ghee
For sugar syrup:
Half cup sugar
One-fourth cup water
For rabdi:
1.25 liters milk
2.5 to 3 tablespoon sugar
5 to 6 green cardamon
2 pinches of saffron strands
1 teaspoon rose water or kewra water
2 tablespoon almonds
2 tablespoon pistachios
 Method
Making malpua batter:
In a mixing bowl take 1 cup all-purpose flour, 1 tsp fennel seeds, 3 to 4 cardamoms, crushed or 1/3 tsp cardamom powder. mix well.Add 3 tbsp khoya and 3 tbsp curd/yogurt. Add 1/2 cup water and begin to stir to a thick flowing batter without lumps.Allow the batter to rest for 30 minutes.
Making sugar syrup for malpua:
Also heat 1/2 cup sugar and 1/4 cup water. on a low flame simmer this mixture. Also stir well so that the sugar melts.
Make a sugar syrup of consistency of 1 strand.Heat ghee in a pan or griddle.When the ghee is heating up add 3 pinches soda to the
Heat ghee in a pan or griddle.When the ghee is heating up add 3 pinches soda to the malpua batter.Mix very well.Lower the flame. take 2 tbsp to 3 tbsp of the batter and gently pour it on the hot ghee. spread the batter lightly with the back of the spoon. make 2 to 4 malpuas, depending on the size of the pan.Fry on a low to medium till crisp and golden flipping the malpuas a couple of times.Drain malpuas on paper towels to remove excess oil.Then immediately place them in the warm sugar syrup. Gently coat the malpuas with the sugar syrup with a spoon or small tongs.Immediately remove them and place them on a serving tray or plate. prepare all malpuas this way and coat them with the sugar syrup.
Making rabri for malpua:
In a broad thick bottomed pan or saucepan or a kadai take 1.25 liters of full-fat whole milk and bring it first to boil.
Lower the flame and continue to simmer the milk. stir at intervals.bring the clotted cream/malai which forms on top of the milk to the sides of the pan. Also, keep on scraping the dried milk from the sides and add them back to the milk.Do stir and scrape often so that the milk does not get browned or burnt from the bottom as well as the sides.
Switch off when the milk has reduced and become thickened.Add sugar. Stir well so that the sugar dissolves.Add saffron strands, kewra or rose water and chopped nuts.It will take about 1 hour for the milk to thicken on a low flame.While serving pour some rabri on top. Garnish with the chopped almonds and pistachios. serve the malpua with rabdi hot.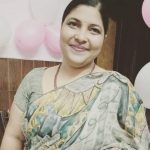 Chef by profession and foodie by heart, Amita became passionate about food when she got married to her foodie husband who is also a wonderful cook. Apart from cooking, Amita also prepares pickles and laddoos. She started her journey two years back.Specialty: Vegetarian Indian cuisine especially North Indian and Rajasthani. She does cook South Indian food as well.
Bambino Seviyan in Shot Glasses
Diwali is a time when you have many guests and you can impress your guests by serving them this cool dessert in shot glasses.This can be prepared in advance and kept. The shelf life would be 3 to 4 days. Please keep the glasses covered inside the fridge or alternatively keep the dessert covered in a glass bowl and serve it in shot glasses when your guests arrive.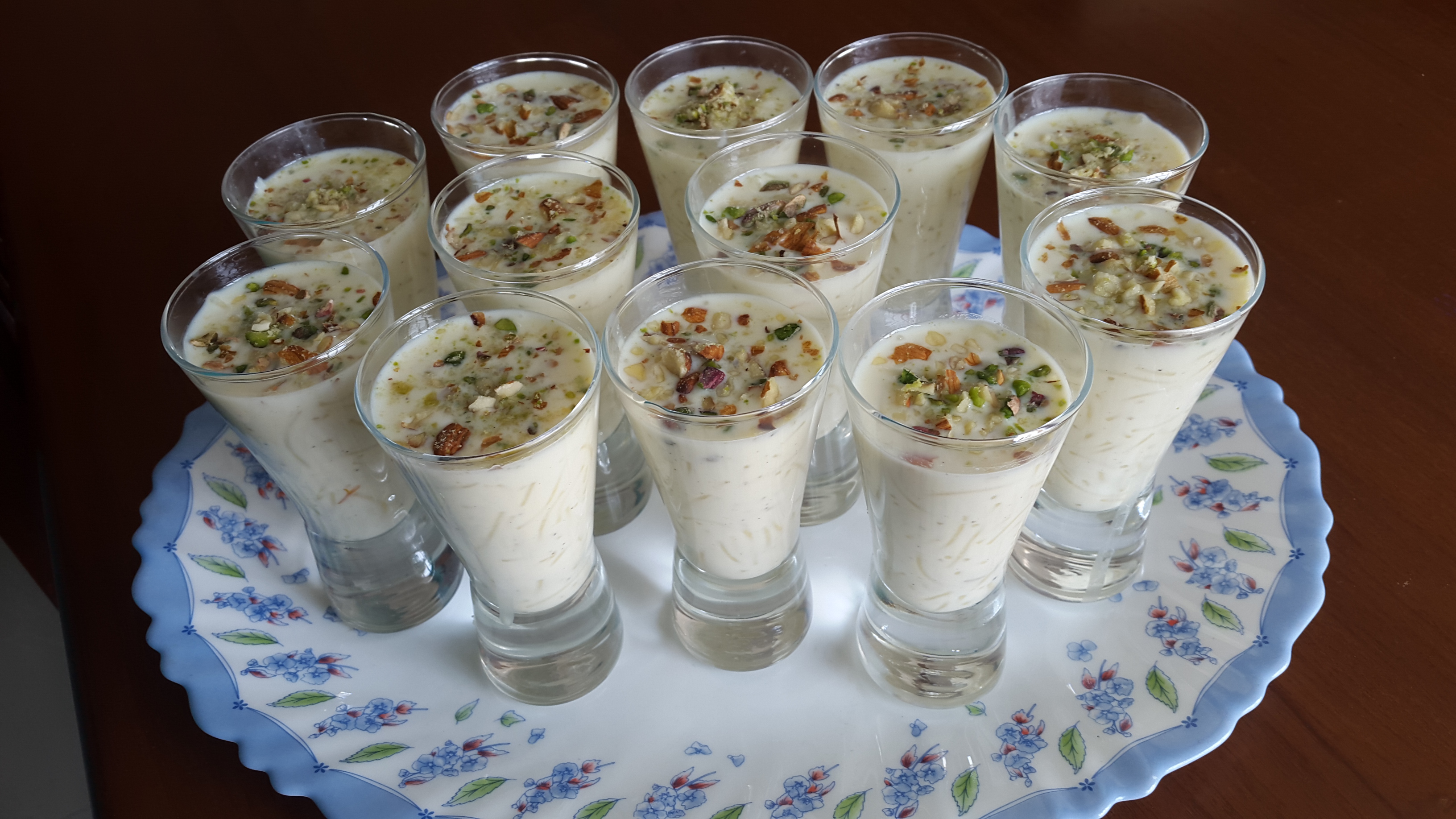 Ingredients:
Full fat milk – 1.5 ltrs
Bambino seviyan – 1/2 cup
mixed chopped dry fruits – 1/2 cup
condensed milk – 1/2 tin
green cardamom powder – 1 tspn
Method
Boil the milk and keep stirring and cooking.
Milk has to be reduced so keep stirring and keep cooking.
Once the milk is thickened (this will take around 30 minutes), put in the seviyan and keep cooking further.
Cook till seviyan is well cooked.
Now add the condensed milk. Stir and cook further for another 7-8 minutes.
Next add the cardamom powder. Stir.
Note- Take care the milk should not burn. Use low flame for cooking the entire seviyan and keep stirring all the time. This will prevent the milk to stick to the bottom of the vessel.
Add half of the dry fruits and stir once again. Reserve the half for garnish.
Cool the seviyan completely and then keep in the fridge to chill.
Transfer into shot glasses and top it with chopped dry fruits.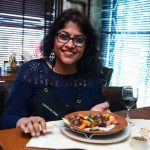 Manjusha Sinha, consultant chef has turned her passion into a profession. She has been successfully taking baking and cooking classes for the past few years in Gurgaon at Nirvana Country, She's also into catering North Indian, Regional and Quick Meals dishes. She can be reached at 9811053613.