Recipe
Chatpatte Lacchadaar Aam ki Chaat
By: Chef Pankaj Rawat 
Looking out for a healthy and delicious recipe to cook at home? Then try this simple recipe loved by the  guests at Le Meridien Gurgaon curated by their Chef De Cuisine at Latest Recipe, Chef Pankaj Rawat ! It's healthy nutritious and made with the fruit of the season.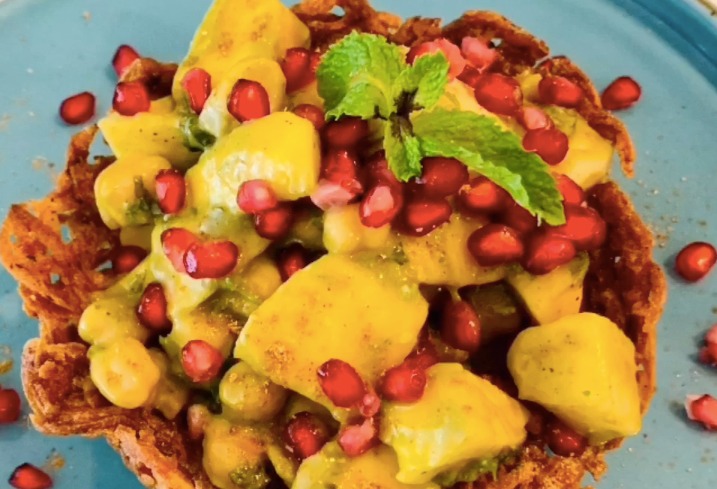 Raw Mango- 1 grated
Large Potato -1 grated
Onion -1 grated
All Purpose flour -1 teaspoon
Mango -1/4 Cup Diced
Chickpeas- 1/2 Cup Boiled
Pomegranate Arils -2 Tbsps
Coriander Leaves- 50 gms Chopped
Green Coriander Chutney- 20 gms
Tomato Ketchup- 10 gms
Yogurt -30 gms Whisked
Salt and Pepper To taste
Oil -for shallow fry
 
Method:
Pre Preparation:
Grate the raw mango
Grate Potato
Grate Onions
Chop Ripe mangoes to cubes
Pressure cook chickpeas
Chop Coriander leaves.
Method:
In a bowl mix grated potato, raw mango, onion, all-purpose flour, salt and pepper to taste.
Combine all the ingredients well.
Heat butter/oil in a pan and place a portion of this mixture covering the base and sides of the pan.
Cook until the mixture gets a nice golden brown colour.
Now gently place the cooked mixture on a bowl to give it a shape of a basket (Watch video to understand this step)
In a separate bowl mix chopped mangoes, boiled chickpeas and chopped coriander leaves.
Top this with coriander chutney, tomato ketchup, whisked yoghurt, salt and pepper.
Mix them all well.
Spread some whisked yoghurt on the serving plate and place the prepared mango basket on it.
Inside the basket fill it with prepared mango and chickpea mixture and top them with pomegranate arils.
Delicious Chatpatte Lacchadaar Aam ki Chaat is ready to serve.