The COVID-19 pandemic is spreading like wildfire now. India as of now has more than 16,38,870 total cases with 35747+ reported deaths and the numbers are increasing by the day. The lockdown period is over, but this is the time for everyone to be even more careful. Gurgaon especially has taken a bad hit with more than 200+ COVID positive cases being reported on a daily basis. Most of the cases are asymptomatic that do not require hospitalization and can easily be cured at home.
The government has been regularly issuing guidelines for all to follow. Whether one is an essential service provider, or a business owner, an office goer, or a homemaker. We all need to follow the guidelines, rules, and regulations by the Government.
PEOPLE AT RISK OF SEVERE COVID-19 ILLNESS :CDC US EXPANDS THE LIST
GUIDELINES FOR FOOD BUSINESS ISSUED BY DIST. ADMIN
FOOD HYGIENE & SAFETY GUIDELINES BY DIST ADMIN 
HOW TO SAFEGUARD YOURSELF 
WHAT TO DO IF YOU FEEL YOU MIGHT BE CORONA POSITIVE ?
 Step 1 
Quarantine Yourself and Monitor Your Symptoms  : It is imperative to keep yourself away from your family members once you feel that have symptoms . Download the Aarogya Setu App for self assessment. 
Most common symptoms:
fever.
dry cough.
tiredness.
Less common symptoms:
aches and pains.
sore throat.
diarrhoea.
conjunctivitis.
headache.
loss of taste or smell.
a rash on skin, or discolouration of fingers or toes.
Serious symptoms:
difficulty breathing or shortness of breath.
chest pain or pressure.
loss of speech or movement.
Consult your physician  immediately online  if you have serious symptoms . Mentioned are the numbers to reach out incase you are unable to get through your doctor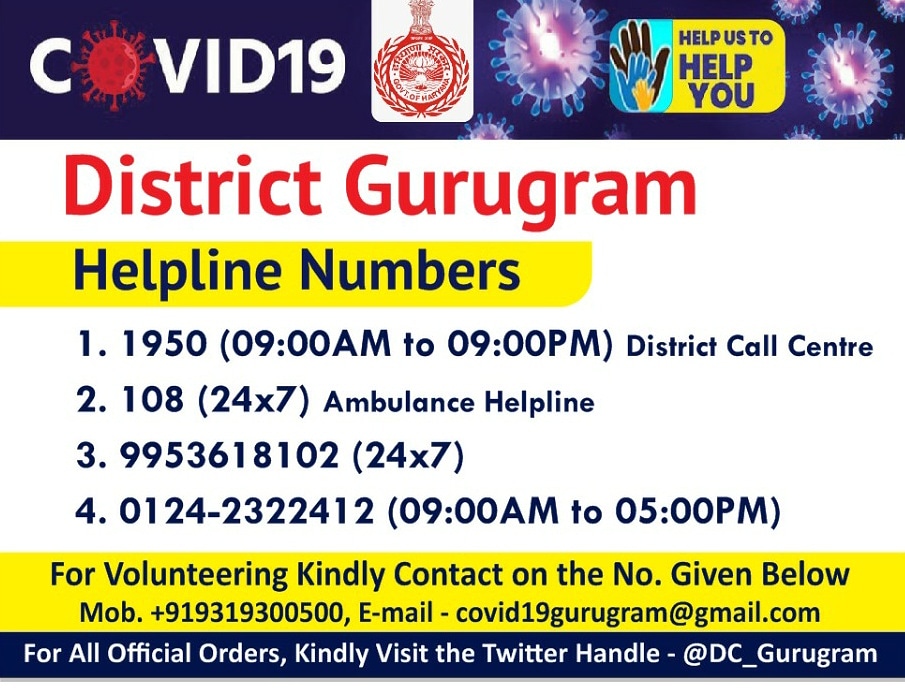 Step 3
After you get your test results act accordingly 
Patients with severe symptoms should be immediately hospitalised . Please click on the link to check the availability & booking  of beds for COVID patients in Gurgaon 

AMBULANCE SERVICE FOR TRANSPORTATION OF COVID POSITIVE PATIENTS IN GURGAON(ONLY FOR EMERGENCY)
MEDANTA THE MEDICITY- 0124-4141414
ARTEMIS HEALTH CARE- 0124-4588888
FORTIS MEMORIAL GURGAON-0124-7162200
MAX HOSPITAL GURGAON- 0124-6623000
RAMJILAL AMBULANCE SERVICES- 9810121830 / 9654102102
AYUSHMAN LIFE SUPPORT AMBULANCE- 9911700900 / 9953700200
Opt for Home Isolation if you are asymptomatic or have mild symptoms 
As per the government advisory , one needs isolate self at home or at a paid isolation facility for 14 days  if you are asymptomatic or have mild symptoms for COVID . Please refer to the guidelines issued by the Government 
You may also move to a  paid isolation facility if it is not possible for you to isolate yourself at home . Here are the details for the same . Click below for the details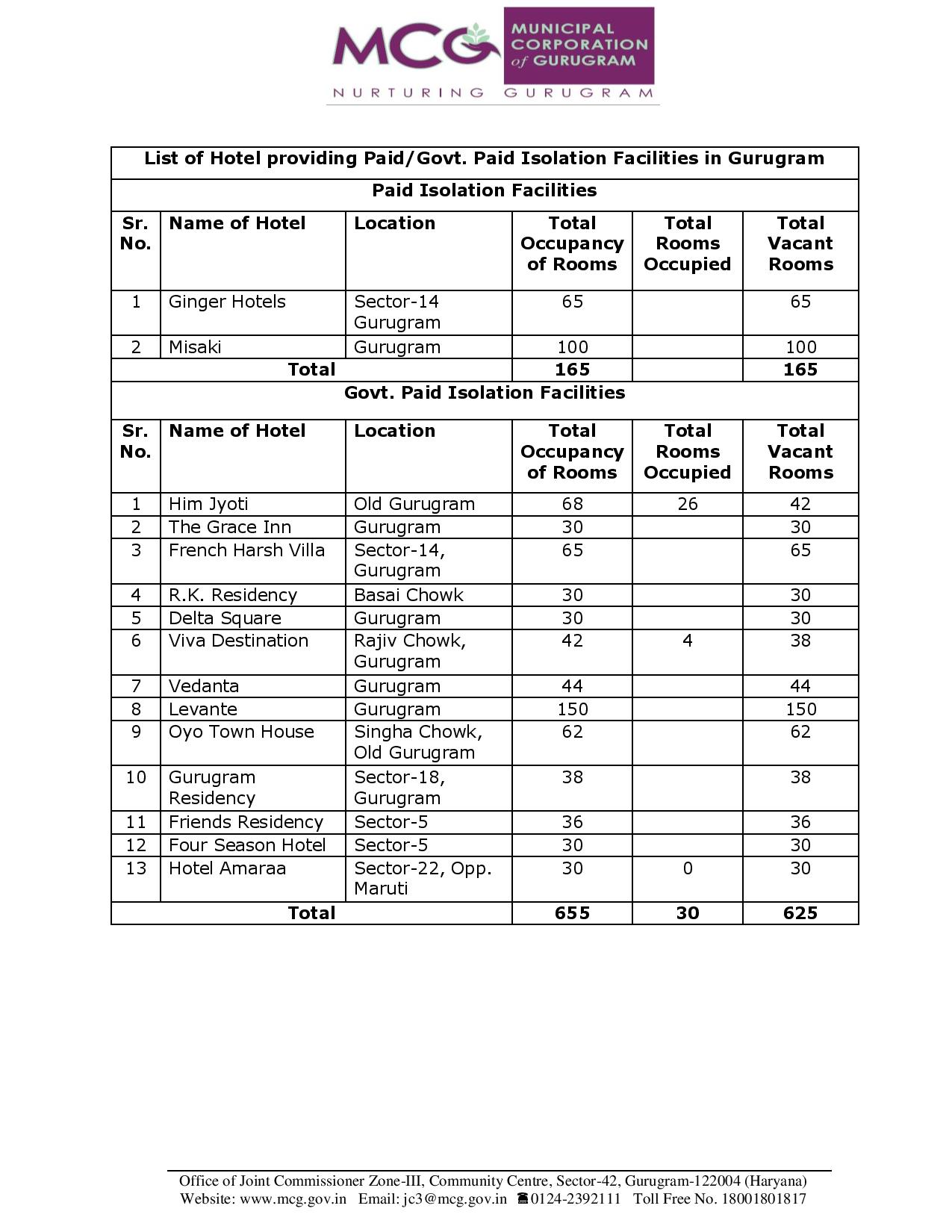 Home Care Packages by Hospitals : Some hospitals are now providing remote care for those who are asymptomatic or have mild symptoms 
HOW TO SAFEGUARD YOUSELF FROM COVID 19 & ALSO BOOST IMMUNITY 
Step out of your home only if it is necessary or really important 
Always wear a mask if once out in the open 
Maintain a safe distance from the other person 
Practice social distancing 
Sanitize your hands regularly with a hand sanitizer or soap & water 
Wash fruits and vegetables properly . You may use a vegetable cleaner for the same 
Download the Aarogya Setu App . The App is aimed at augmenting the initiatives of the Government of India, particularly the Department of Health, in proactively reaching out to and informing the users of the app regarding risks, best practices and relevant advisories pertaining to the containment of COVID-19
Do consult your physician if you experience symptoms like breathing  difficulty,  cold , cough , fever . Click here for the symptom details 
Get proper sleep 
Incorporate Vitamin C , yogurt , herbs and anti-oxidant rich foods in your diet 
Hydration is the key so drink a lot of water 
Avoid alcohol consumption and smoking 
Take care of your mental health and practice Yoga /Meditation 
UNDERSTANDING COVID 19 SYMPTOMS , PRECAUTIONS & SAFETY MEASURES 
Dr Ashutosh Shukla ,MD, FACP -Director & Head of Dept. of Medicine, Artemis Hospitals answers all  questions on COVID -19
Q& A WITH THE DEPUTY COMMISSIONER 
Join Mr Amit Khatri, Deputy Commissioner, Gurugram as he addresses your questions with regards to COVID-19 on FB Live sessions every evening at 6 P.M.Tune in on the District Administration, Gurugram page everyday to have your questions answered