Recipe
Grilled Fish with Corn Salsa 
By: Chef Jyotika Malik
This delicious grilled fish with corn salsa recipe is perfect and can be enjoyed for dinner during the hot summer months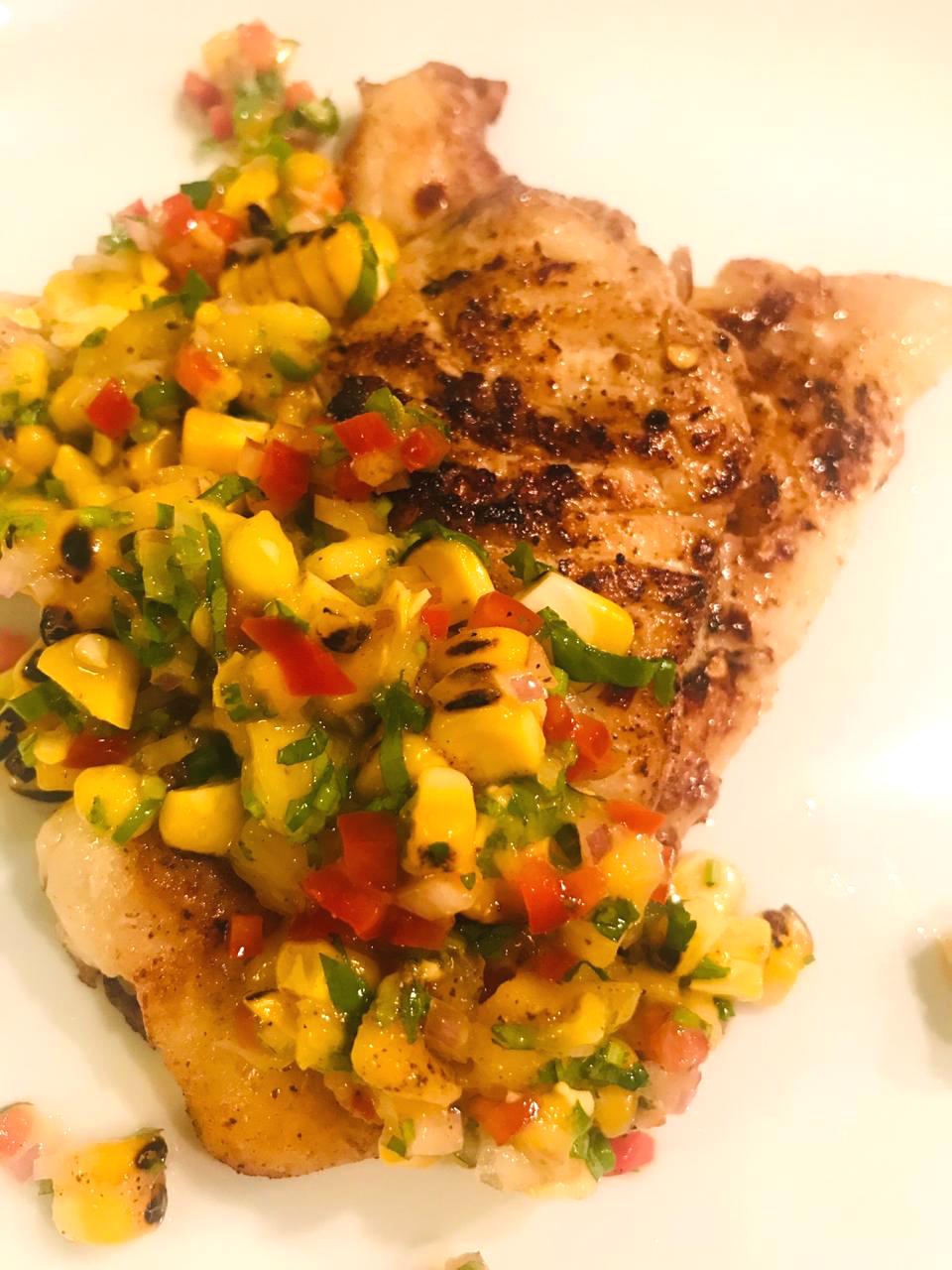 Fish fillet 2 (any white fish such as Sole, Cod, Red Snapper, Tilapia )
Chili Sea salt to taste
Chili flakes 2 grams
Olive oil 20 ml
Mango 100 grams , cut into small dices
Corn, off the cob 50 grams roasted
Onions 10 grams, finely chopped             
Coriander leaves 5 grams, finely chopped
Green chilles  5 grams, finely chopped
Red bell pepper 25 grams, finely chopped
Lemon Juice to taste
Salt & Pepper to taste
Method:
Pre-Preparation:
Marinate the fish with olive oil, chili sea salt, regular salt, pepper and chili flakes and little lemon juice
Rub the marinades well on the fillet and allow it rest two to three minutes.
Roast the corn on direct fire.
Cut the mango to small dices
Chop green chilies fine
Finely chop the onions
Finely chop the coriander leaves
Finely chop the red bell pepper
Preparation:
Heat a pan and pour in some olive oil.
Allow the oil to heat up and place the marinated fish on the pan and allow it to cook to a nice colour.
Meanwhile prepare the corn salsa-In a mixing bowl, add the roasted corn, chopped ripe mangoes, green chilies, finely chopped onions, coriander leaves and the bell pepper
Mix all the ingredients well.
Add some lemon juice, salt and pepper and mix well with all of the ingredients.
Check on the fish, and turn the fish on to the other side and allow it to cook. For each side of the fish allow 4 to 5 minutes of cooking time.
Now place the cooked fish on to a serving plate and place the prepared salsa over the cooked fish. (Watch video to understand the style of serving the preparation.)
Enjoy eating grilled fish with corn salsa.