Want to take your kids out for a fun lunch on a lovely winter afternoon? Then a well-loved dining bar from South Extension, Circus, has just opened doors at our favourite eating space Cyberhub. Nothing about this place is boring, with its spunky interiors and a large clown made of stained glass behind the bar, to masked waiters, and a fun street food menu with healthy options.
Mr. Rajvir, the manager, greeted us with some innovative beverages. We chose, Joker no. 9 which had mandarins, and a Masala Gang-which came in flavours like anaardana, raam laddoo, kala khatta etc. Their tangy flavours took us down some interesting nostalgic trips.
Circus offers an innovative deception in the form of palak patta chaat which has crispy spinach leaves with a hint of sweetness, topped with some yogurt, and another scrumptious creamy spinach and corn pizza fulfilling your child's nutritional needs.
All the kebab fans can dig into yummy dahi kebabs made of ricotta cheese, yogurt and packed with figs full of iron for those little muscles. We can easily chomp these down too as they are pan grilled to avoid excessive oil. Another grilled dish is succulent mince chicken liberally spiced with green coriander wrapped around sugarcane sticks, an ideal snack for both moms and kids.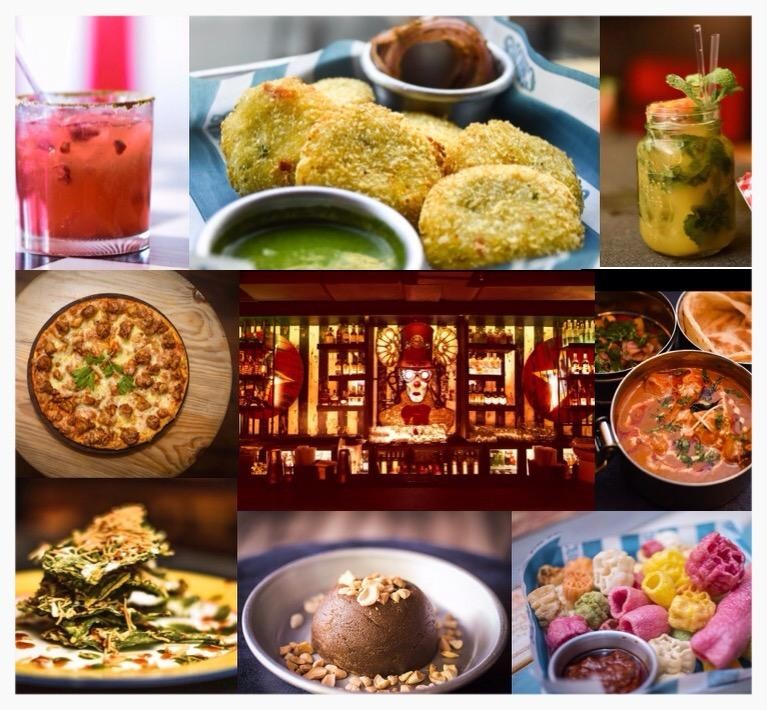 You could also try some pocket-friendly snack options for kids like circus waale popcorn and fryums downed with some freshly squeezed juice, or even hand them a jeera alloo roll while you enjoy your drinks without worrying about them eating.
Their mains in the form of tiffins is another innovative approach sure to bring your wandering kids back to the table. Soft malabar paranthas with ghee roast mutton or daal makhni are favourites with most kids and moms too.
Atta halwa with almonds and cashew mostly reminds us of our grandmothers- a beautiful nostalgic retreat for both our kids and us.
The crispy chili garlic fish could have tasted a little better had they replaced basa with singhara. On the whole, Circus is a must visit with the kids as the whole team makes your visit pretty enjoyable experience in a setting which is fun for all and is easy on the pocket too.
Meal for a person: 600-700 Rs  per person
Location: DLF Cyberhub, Gurgaon
Rating: