Wonderful winters of Gurgaon can get you craving for some hot n'crispy, cornflakes covered fried chicken or salivating for a pizza with stringy mozzarella melting in your mouth, you can hop over to Cross Point mall, where you will get your fix at Getafix. With guilt-free indulgence as their motto, Anandita Chawla has designed a sinful menu which contains very less of those ingredients which you are hoping to avoid as they prepare food in the state of the art Rational Oven. Their in-house salsa, mustard sauce, peanut butter and hummus as accompaniments, you are sure to come home fully satiated. The concept is the brainchild of Anil and Dhruv Chawla who felt the need for filling a segment where you could go out to eat yummy food without feeling guilty,
The interiors of the restaurant are perky and brighten you up as you step inside with colourful cushions, a corner reserved for a lending library and they encourage you to spend time and relax.  Asterix comics on each table, coloring books to occupy little ones as they even serve kid-friendly meals like fruit plates, smoothie bowls, small sized pizza or they customize kiddy size portions your child can enjoy perched on a high chair. You can spend your Sunday having a sumptuous brunch with your kids even as they are gearing up to bring you jazz evenings over the weekend to occupy the adults or organize an Asterix themed party for the younger lot.
Getafix starts at eight in the morning and their all-day breakfast menu serves a wide array of smoothies and other breakfast options like a pizza with an egg on top, a Popeye omelette stuffed with spinach and corn or  a smoothie bowl which has a thick delicious base of fruits and yogurt blitzed together topped with fresh berries, granola, flax, chia seeds, nuts basically goodness of nutrition in one bowl.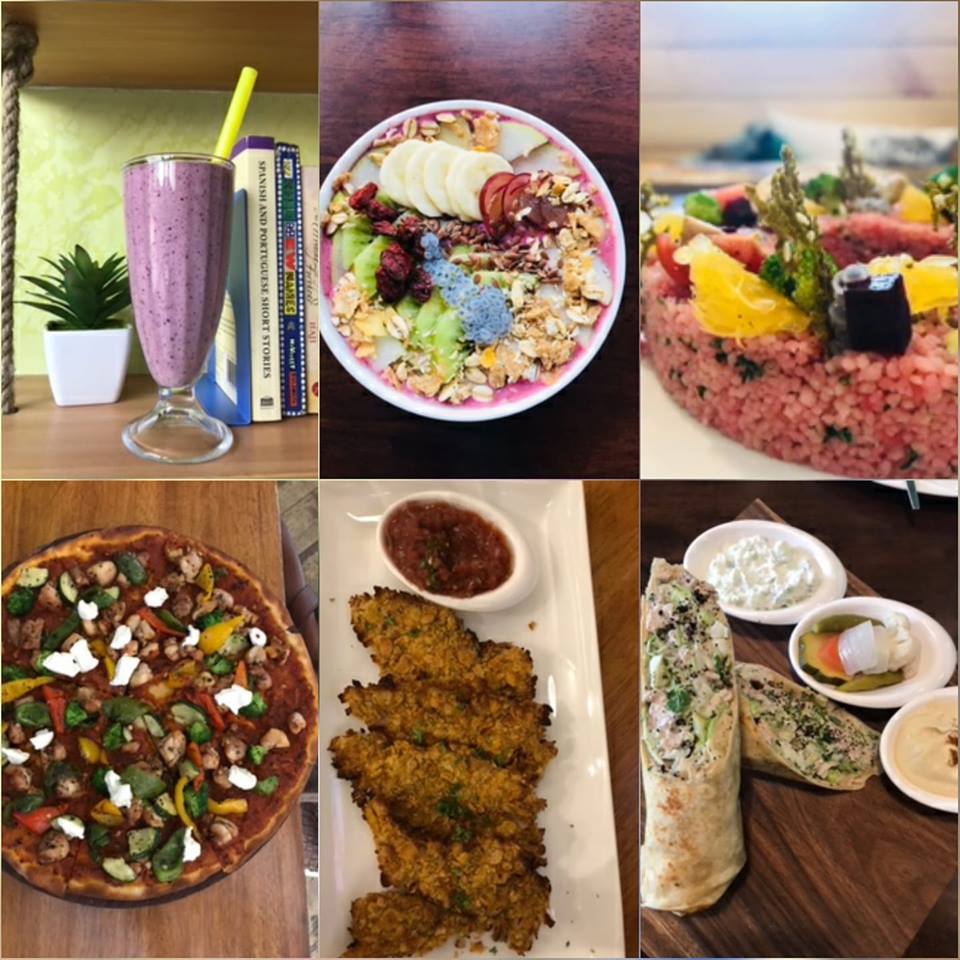 Recommended : The beetroot infused couscous salad, lightly tossed in a sweet and sour dressing, toasted almonds, mozzarella cubes and cherry tomatoes is certainly a must-have. Trying to be a vegetarian? Mushrooms tossed in brown sauce heaped on a bun is as sinful as it gets without an ounce of extra fat. Their freshly hand-rolled pasta sheets and Japanese soba noodle bowl are both to die for and they are gluten-free. You can stuff yourself with fried chicken or fish and chips which are served with sweet potato chips and come home without feeling an ounce of guilt that you have overeaten at all. Getafix is a venue where you can just head out and eat without counting your calories as they are making sure you are getting your nutrition without the extra ounces.
Meal for two-Rs 1200 approx.
Address: Shop 14 and 15, Ground Floor, Crosspoint Mall, DLF Phase IV, Sector 28, Gurgaon, Haryana 122002
Rating: 4.2 bananas