Sustainable Living  is a process of daily living with the earth in mind
I am a firm believer in leading with action and contributing my bit to the environment and our Earth. During my journey as a citizen volunteer, I have realized that we humans are behaving very selfishly and mindlessly.  We are mindlessly exploiting natural resources which are exhaustible and going to exhaust soon and there will hardly be left anything for our future generations. It's high time that we take charge and repair the damage done by us. The first and foremost is to reduce consumption. Consumerism and fast fashion have done the maximum damage to the planet and people. It will be surprising to know that even a spool of the thread requires 100 gallons of water and energy for manufacturing. Imagine the quantity of water and energy required for manufacturing jeans or a T-shirt. More than buying, we have to be very careful about our habits of throwing. Throwing something after using it a couple of times is like throwing the precious and scarce natural resources. So adopting '7R' is the mantra to live mindfully. These 7 R's are Reduce, Reuse, Repurpose, Repair, Refurbish, Recycle and Rot. Sustainability in simpler terms is to Reuse, Repurpose and Upcycle the things up to their maximum capacity. I practice sustainability as my core value and always utilize things to their last breath. Exactly like the way our parents and grandparents use to live. 
Here are some of the things I re-use in my day-to-day life as part of Sustainable Living 
1.Starting with the kitchen waste, I segregate and turn the kitchen waste into manure by home composting.  Home composting is easy and diverts 70 % of your waste going into the landfills.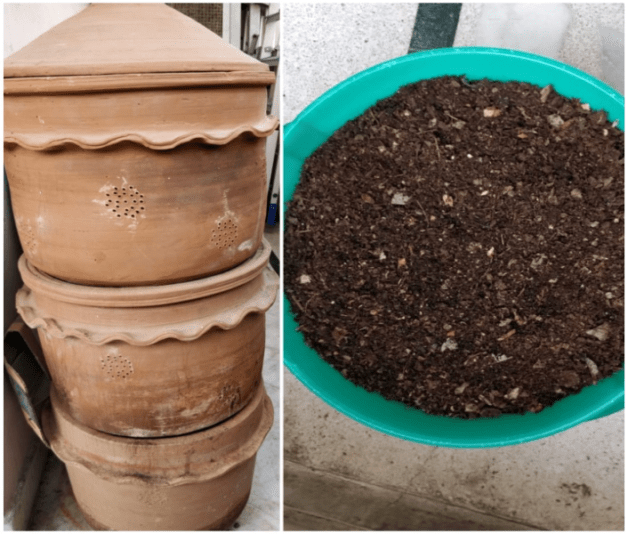 2. Before composting, I further segregate citrus peels (lemon, orange, sweet lime, kinnow, peels etc) from the kitchen waste and make Bio Enzyme with these peels. Bio Enzyme is a wonder liquid that is environmentally safe, organic, chemical-free, economic alternative to the chemically-laden household cleaners. It is a multipurpose liquid with many benefits and can be made at home with the citrus peels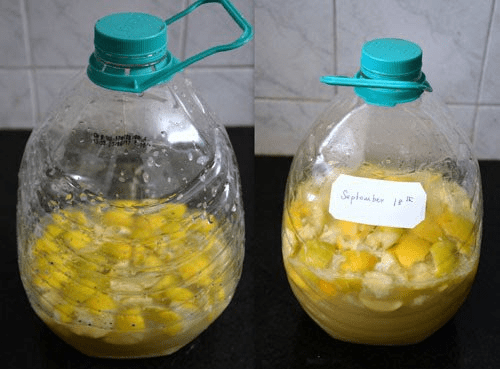 3. Similarly, the apple peels are either added to the compost or can be turned into apple cider vinegar at home which is great for healthy hair and skin depending upon the type of your hair and skin.
4. I wash all the vegetables before stocking up in the fridge. So every day, I put the peels of cucumber, ginger, peel of half a lemon and some tulsi leaves in a jug of water and leave it for 2-3 hours. This becomes alkaline water which is great for keeping the PH balance of the body and the gut.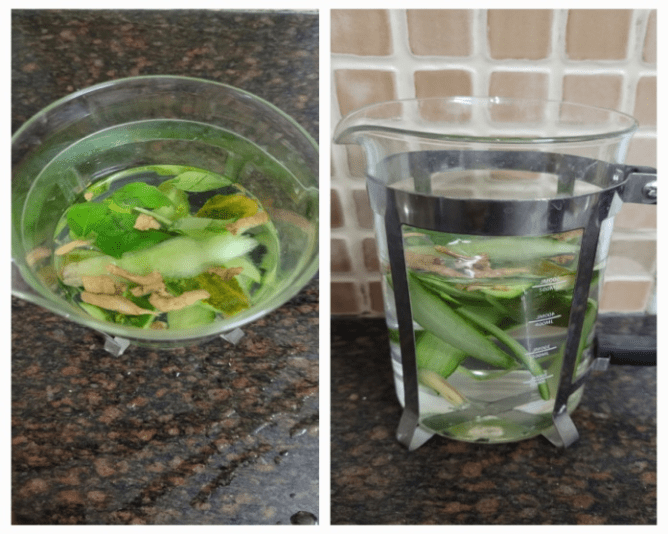 5. Once the shampoo is finished, I open the lid and put the shampoo bottle into a half bucket of water. There is still enough amount of shampoo left in the bottle and I use this shampoo water to wash light woolen, silk and delicate clothes. The clothes also smell good
6. I don't wash my dresses daily except in the summers because summers are very hot and sweaty in north India. During cooler weather, I just put the clothes under the sun for a good 2-3 hours and they are good to go again.
7. I have assigned different color tumblers for my children and they use the same tumbler the whole day without washing it again and again. I also don't wash my tea cup every time with soap, rather just rinse it, use again and put it for washing end of the day. The same is with the plate for food. I only put the curry bowl for soap wash. Water is also very precious and we the urban people use potable water for household chores so I try to conserve potable water as much as I can.
8. I try not to use single-use items unless it is extremely necessary.  I always carry my water bottle, stainless steel straw, tumbler, cloth napkin, and a cloth bag in my purse.
9. I have switched over to a Menstrual cup which is the most sustainable menstrual solution and it is a safer option than single-use commercial napkins. Previously I was using reusable pads but Menstrual Cup is the ultimate solution in all terms
10.Reusing, upcycling, and repurposing dresses/ apparels/textile items is my all-time favourite activity. It is not just a fun activity or creative pursuit but it is more about respecting the hard work of the weaver, honoring the skill and talent of the craftman/artisans and valuing the natural resources consumed in manufacturing these items. Repurposing clothes has endless possibilities for creativity. One just has to be mindful and then the creativity comes naturally.
I had once converted a long shrug from an organdy curtain.
Some other crazy things like converting mul saree into sheet for summers,
A one-piece dress into two separate garments; the upper portion becomes a crop top and the lower one becomes a long skirt.
Normal T-shirts cut into tank tops with fringes to give them a chic look.
Used the can-can from a lehenga and made fridge bags out of that
You can convert straight denim jeans into flared jeans with little creativity. Pics attached
11. I am also associated as a Sustainability Consultant with an NGO Astitva which is meant to promote a sustainable lifestyle, repurposing and upcycling of left-over fabric and shredding generated at boutiques and tailoring units. We create fabric jewelry, potlis, buntings, scrunchies, decorations dog beds for strays, and various other items made from this leftover fabric that otherwise end up in landfills. Here are some pics to give an idea of how can one recycle household products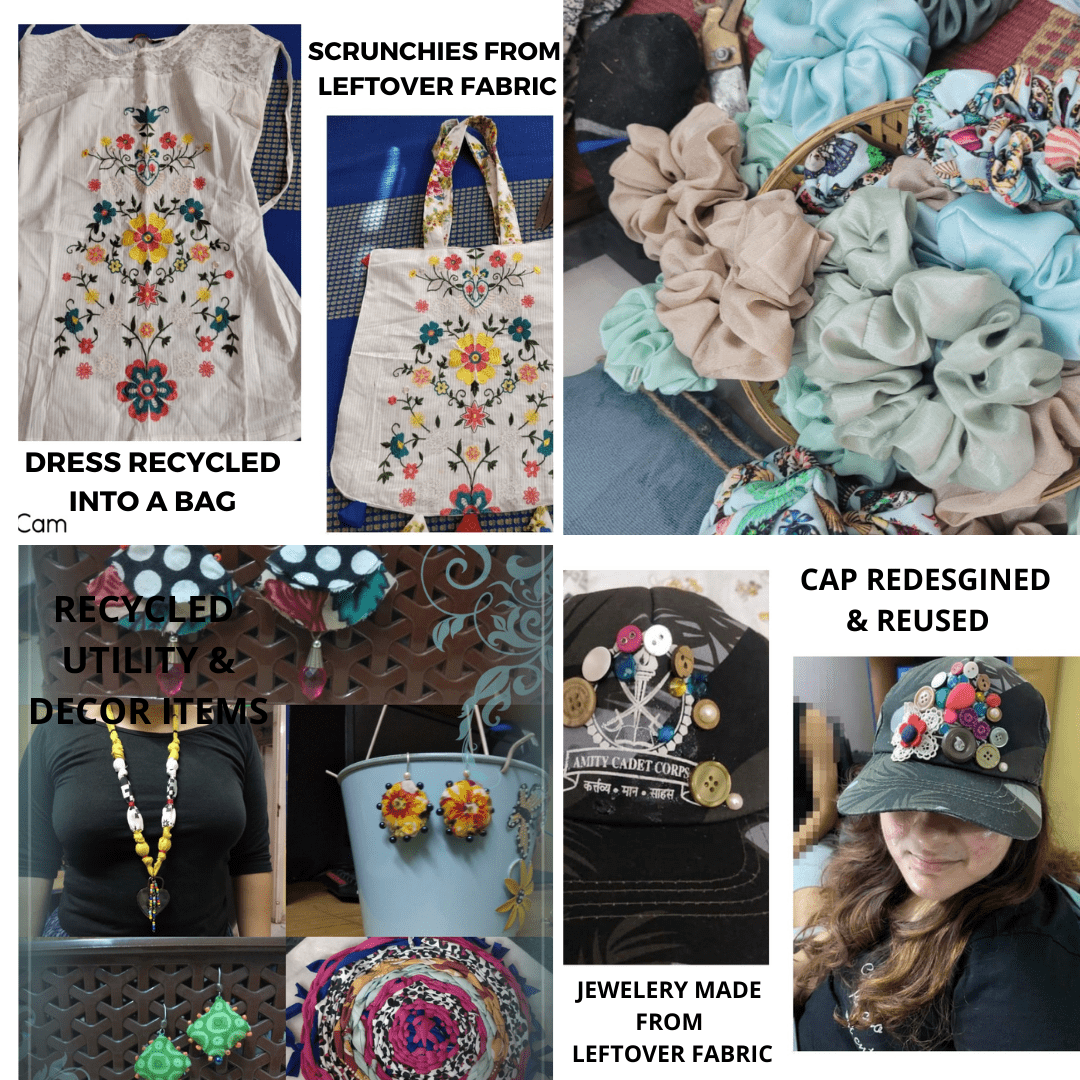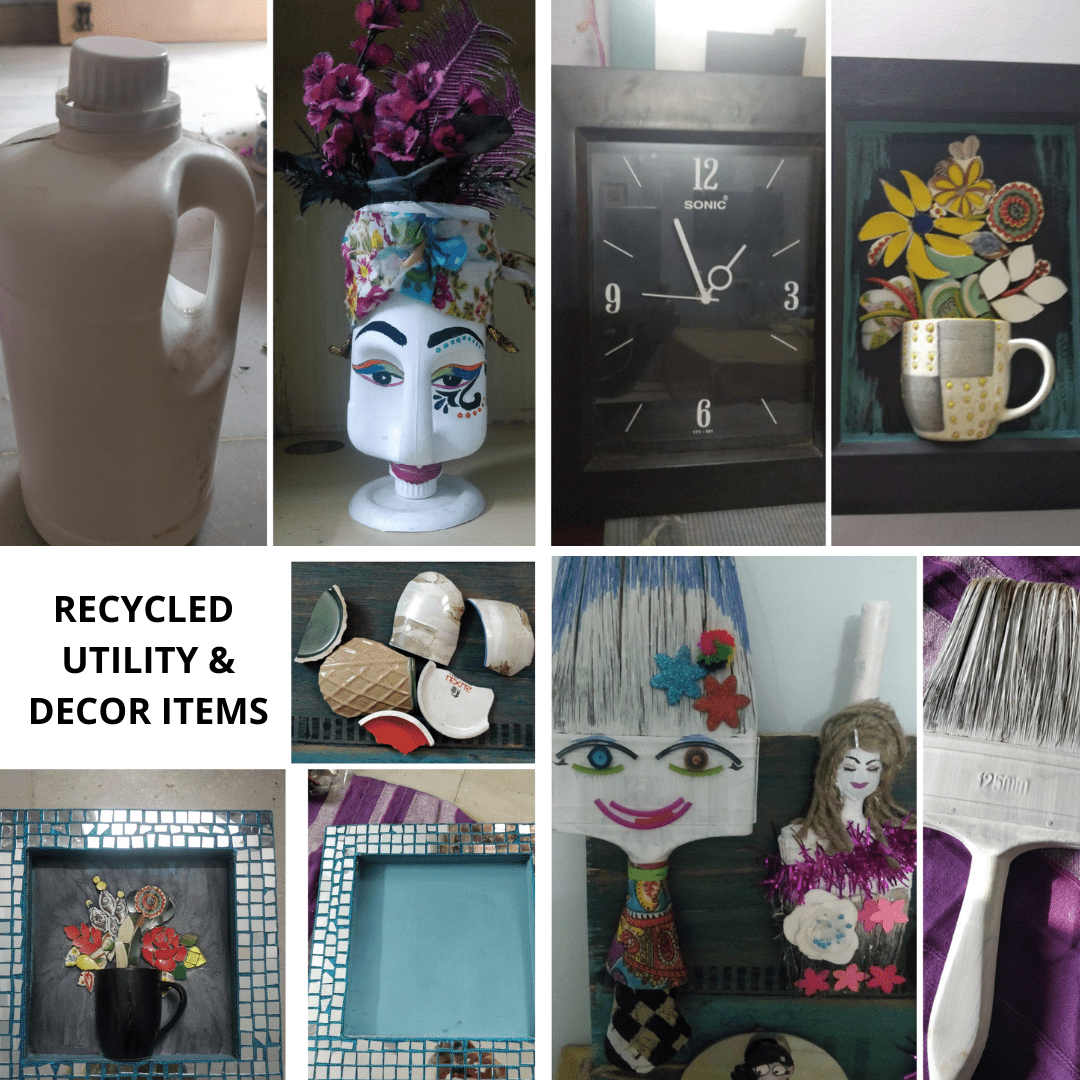 12.Lastly, coming to leftover food items, different people have different recipes to utilize the leftover food. My favourite is to use the leftover Rotis. When the Roti becomes a little hard, tear the Rotis into smaller parts and churn it roughly into the mixer. Heat the desi ghee, put some jaggery or shakkar and add this coarse Roti. Let it bake a little. Keep stirring, add dry fruits in the last and the healthy and tasty Panjiri is ready.
Sustainability is all about utilizing things till their last breath. When you buy something, you spend money and consume natural resources but when you throw something, you throw your money and natural resources. Take your call and take charge of the fact that natural resources are common for all and we don't have the right to exploit them mindlessly.
This article has been authored by Sameera Satija: Citizen volunteer and Sustainability Consultant
Sameera is an auditor by profession and sustainable life practitioner. She has been working as a citizen volunteer in the area of Waste Management, Sustainable and chemical-free lifestyle and Environment. She also runs the environmental initiative Crockery Bank for Everyone and has been associated as a Sustainability consultant with an NGO called Astitva.