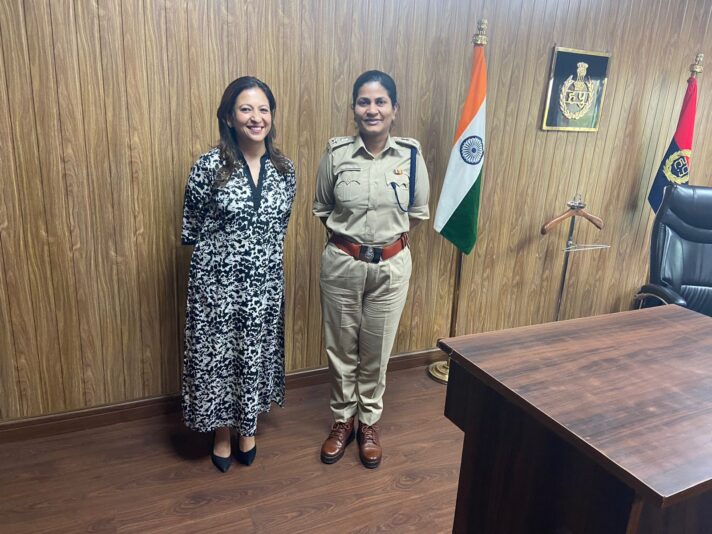 It gives me immense pleasure to say that I met a lady IPS officer for the first time in my life. Though I have seen many lady cops in the movies, I have not met a lady IPS officer in person ever.
I was really excited and a bit nervous to meet her. So much so, that I parked my car in the staff parking by mistake.
As I approached the reception, there were two lady cops sitting. They looked at me and gave me a warm smile.
'Wow! They are friendly people,' I thought.
I was directed to the
DCP Ms. Astha Modi's
office. She had not arrived yet, so I was made to sit outside her office. I was served cold water and greeted with pleasing smiles. I must confess, I have never imagined smiling cops. It felt like a dream.
Usually, when I am waiting for someone, I take out my phone from my handbag to pass time. But today, I wanted to just look around and observe. It was surprisingly calm and a pleasant place. Someone asked me what my complaint was about? I told them that I wanted to interview the DCP.
She arrived shortly. I could hear the click-clack of her heels on the floor even before I saw her. It was a mesmerizing view. Her stance was so impressive. The way she walked into her office. Hair tied up neatly. No makeup, yet her face was glowing. I could feel that she loves her work and gets completely immersed in what she does.She sent for me soon after. Her office was big and quiet. She was at her desk of course and gestured me to sit down.
We started the interview
Why did you choose to be in the police services?
DCP Astha: I am a second-generation cop. My father retired as DG NIA (Director General National Investigation Agency).
I belong to Jind, Haryana. But because of my father's work, I kept traveling. I studied in different schools. I did my engineering from BITS Pilani and MBA from IIM Ahmedabad. I could have chosen to work in the private sector but did not want to stay in the tech job. I even did my internship in the government sector. My heart yearned to work for the police force.
DCP Ms. Astha Modi appeared for the Civil Services entrance exam and secured an impressive rank of 147.
What does your normal day look like?
DCP Astha: Every day is unpredictable. Even though I take care of economic and cyber crimes, I have to rush if there is an emergency. Just the night before, I was the 'Officer On Call' and had to rush to the hospital for an emergency. On most days, I come to work by 9:30 am and I am here till about 8:00 pm.
Can you switch off her phone ever?
DCP Astha: I can never switch off my phone, ever.
How is it when you are on the field?
DCP Astha: This is one of the most remarkable professions. We are the first responders and it gives immense satisfaction when you help people.
She then spoke about a case in Kaithal when she was posted there. An Indian national (22 – 23 years old) from Kaithal, who was on a transit visa in Malaysia, was kidnapped by the agent who was trying to get him to Australia illegally.
"It was a tough case as his parents were not able to contact him and his whereabouts were unknown. The parents got a call for a ransom.The parents filed a complaint with the Gurgaon Police. There was no trace of the agent here and the family did not know anyone in Kuala Lumpur. The Malaysian embassy was closed as it was a weekend. Finally, the Indian High Commission in Kuala Lumpur was contacted and a security officer registered an FIR at a local police station there. They traced the number of the kidnapper and finally the Gurgaon boy was rescued. The kidnappers were convicted and the boy finally returned home."
Has there been any case where you got emotionally involved with the victim or the family?
DCP Astha: There was a 12-year-old girl who was sexually assaulted by her aunt's (bua) son, who was 24 years old at the time. Her father lived abroad and the patriarchy was dominant in the family. The assault continued for a few months and finally, the girl told her mother. The mother did not pay any attention. The girl confided in her school teacher, who wrote a diary note to the mother, and again the mother brushed it aside. The school under the 'POCSO' act, informed the police.
The girl was sent for a medical check-up and counseling. It was confirmed that there has been an assault. The mother denied it and said that the girl is lying. The mother refused to file any complaint. There was no shelter for the girl at that time. (Now there are safe houses for the victims). The girl kept crying and wanted to go back home to her mother.
Because the family was not willing to file any complaint, they were only worried about the family's name getting tarnished and the girl was crying for her mother, she was sent back to her home. The police kept in touch with her for a long time. We kept checking on her. The cousin did not assault her after that. The girl even threatened her cousin, not to touch her ever again."
This was one case where DCP Astha Modi and everyone involved, were disturbed for a long time.
So how do you switch off your mind when you get back home?
DCP Astha: I can't switch off my mind. But I have gotten used to it.
What are your hobbies?
DCP Astha: I love to swim, and read. I like to play the piano, and l love to spend time with my one-year-old daughter.
Would you like to give any advice to all the aspiring girls who would want to be in the forces someday?
DCP Astha:  Welcome !!. The police force needs more women. Society will be benefitted if more women join the forces. It is an empowering profession. You create an impact on people. It is a remarkable profession.
If you are in any other job, you start as a team member and slowly climb the ladder. Maybe, many years later, you head a team or a department. But in IPS, you start as a Head of District. Of course, you have to give competitive exams and there is rigorous training where you learn so many new things like horse riding, scuba diving etc – you are given so much exposure. It is a test of intelligence, understanding, and perseverance. IPS training has been a very enriching experience.
You are young, you are full of zeal and it is simply wonderful when you head a district with so much energy.
What advice will you give to all the mothers? How can they protect their children from cybercrime?
DCP Astha: Parents need to be alert. Perpetrators look for open profiles, especially of young boys and girls. They observe such profiles – who are the friends, do they have open profiles. What is the age group of those friends?
The perpetrators then create a fake profile of a similar teenage girl/boy. They send a friend request to the child they are interested in. They befriend the child and then start talking about personal stuff. In most cases, they are able to access the camera and take pictures. Then they start blackmailing with those pictures and force the child to record inappropriate videos.
The following points should be noted –
All parents should have access to their child's social media accounts.
When the child is opening any social media account, they should enter their correct age.
Their profiles should not be open.
Friend requests should not be accepted from unknown people.
Notice if there is any sudden change in your child's behaviour. If your child has suddenly become moody or quiet then they could be a problem.
Your child should not be hanging out with children that are not his or her age.
Notice if there is any substance, alcohol, or cigarette abuse.
Sensitize your child. Talk to your child about cybercrime.
Tell your child that you will always protect him or her. Your child should always be able to come to you if there is a problem.
Your child should not share any phone number on social media. Parents should know the passwords to their children's accounts.
Your child should have emergency phone numbers – the parents plus one more.
If your child is not feeling safe or is uncomfortable about any situation or person, he or she should come and talk to you about it.