Currently food is a major part of my life. I'm a co-admin for a food group and we are always either discussing food or eating or planning what to eat next !
My personal cooking style is simple and no-fuss and I get scared of recipes which go into several pages. I love to pep up food with various dips, sauces and dressings and make a few myself too, so when Neela contacted me about the Veeba contest, I was excited to check out the products and try out some recipes with it.
Smoothie Bowls are currently our favourite anytime snack. It's nothing but a thick smoothie in a bowl topped with fruits/nuts etc. They work wonderfully as an after school snack for my daughter and she looks forward to getting creative with the toppings.
This Banana-Peanut butter smoothie is my daughter's favourite.
Banana-Peanut butter Smoothie Bowl
Ingredients For 2 Bowls :
Peanut Butter – 2 tbsp (I used Veeba Creamy Peanut Butter)
Plain Yoghurt – 4 tbsp
Bananas – 2, sliced
Nutella/Chocolate Sauce – 2 tbsp OR else use 1 tbsp Honey
To garnish –
Sliced bananas, Walnuts, Cranberries (can use any nuts of your choice) and some dry grated coconut(optional), some chocolate sauce to drizzle on top.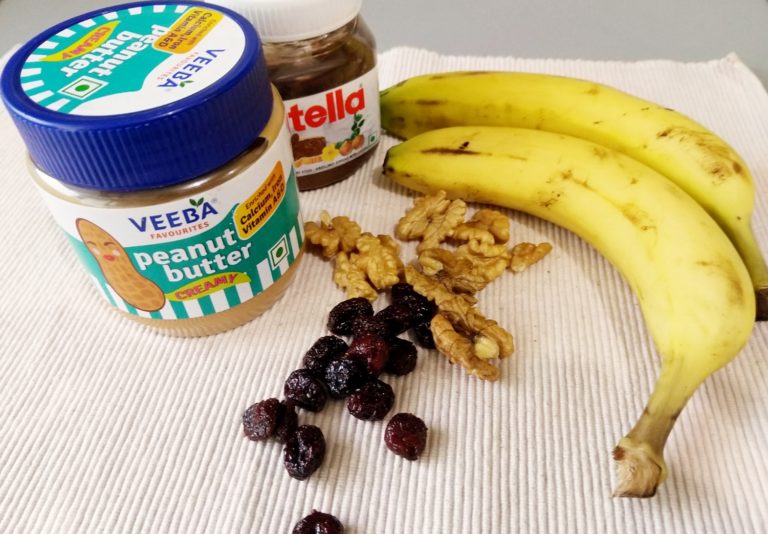 Method
– Blend the bananas with the Peanut butter, yoghurt and the Nutella/Chocolate sauce/Honey.
– Put it in bowls and put in freezer for upto 10 mins to firm up a bit else wont be able to arrange fruits on top.
– Top with with bananas, nuts, grated coconut and drizzle some chocolate sauce.
Note : I found Veeba Peanut butter a perfect texture to use for this smoothie bowl. Im dreaming up more uses for it (Ice cream perhaps !). In savoury dishes, I plan to use it for my favourite Satay sauce and Thai marinades and ofcourse a PBJ sandwich.