"Nation has given me a lot, what have I given back to the nation?"
These were the words of Mrs.Prema Iyer -a tiny framed, petite woman that caught my attention.
Dear ladies, today I am going to be introducing you to an exemplary woman with an extraordinary story-Naani(she said she is fondly called Naani by everyone)
I was doing a maternity shoot at Lodhi gardens, in between, I would catch a breather n stretch my back… I saw a lady wearing a smart track suit, walking very fast..glowing with some divine charm-looking so calm n composed.I just waved and wished her good morning.She reciprocated with even a bigger smile n much more warmth.she complimented upon the idea of a maternity shoot and struck a conversation with us.
She asked us our whereabouts and loaded us with her countless queries..which actually sounded very endearing, I kept replying patiently.
Before even being asked about her…she herself started telling us her story.
She said I am 80, yes you heard it right…I was flabbergasted …I literally blinked my eyes twice in the disbelief…her skin was glowing like million light bulbs….silvery hair…and absolutely straight spine, graceful body language..no slouch, no hunching of the back…and she spoke very fluent and impressive English….she has graduated from Lady Shriram college and worked with UPES.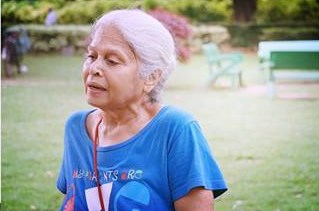 She shared that her husband, an army officer died many years ago..when she was very young …she said either I could have been sad and left myself as a sympathy goat but she decided to beat the blues and questioned herself…"Nation has given me a lot, what have I given back to the nation?"…and she decided to do her bit.
Ever since she has been doing a lot of charity work, she counsels people on their personal issues, family related matters, education related stuff , how to fight depression, positive attitude and the list is endless.
She even gets invited to schools and colleges to counsel students to fight the peer pressure , how to handle the adolescent age…about self-confidence and issues related to that.
She said…that she does not charge a penny for her services -nothing in cash or kind.
She has a face book page with countless followers…
"Beta get me some work…I want to work"-that's what she asked me.
Mind you by work she meant connect me to more people, she wants to extend her services to the needy, she wants to keep herself occupied.
She spoke very well..had an in depth knowledge of things…including yoga and beauty and skin care.
I told her about this fantastic group where all the members seem like a family member,
She was mighty pleased to hear that and expressed a desire to get connected to all of you.
I have done my bit by virtually introducing her to you….the facts I have stated above are based on what she has told me…
But on a second thought…isn't it a noble idea to add another friend in her young 80s who (I felt)also wants to be heard…..
People at this age need a companion…and someone who can hear them, talk to them…n give them some regard n importance…
We all will eventually pass through this pasture of life sooner or later…wouldn't it be nice if someone is holding out a hand that time…?
She has invited me over her hand cooked sumptuous idly dosa lunch….how I wish the circle of her friends…grows bigger n better…
I am sharing her Facebook Id here(as per her request)
She has stretched her hand forward….it's our turn now.
Disclaimer: This post is not forcing anyone for any action of kindness.It's totally up to you mommies.I too have met her only once.all I am asking is to include her in this group
🙂 and get benefitted by her age old wisdom n experience.The link to her profile is given below…(I am sharing it as per her desire )