Shark Tank India is a business reality television series SET India that is an Indian franchise of the American show Shark Tank. The first season premiered on 20 December 2021 and concluded on 4 February 2022. In this show, aspiring entrepreneurs pitch their business ideas to a panel of investors and persuade them to invest money in their business model. The first season received 62,000 aspirants from India out of which 198 businesses were selected to pitch their ideas to the 'sharks'
Rakhi Khera, Founder  & CEO at Mine4Nine, a maternity wear brand, and also our community member was one of the finalists at Shark Tank India. She is the mother of 2 and considers her start-up as her third baby. Her journey is truly inspiring. We asked her a few questions about her Shart Tank India Experience and how she prepared for the same 
Rakhi: I was sponsored for  2 management programs in recent years for personal and career growth, one by IIM Bangalore, NSRCEL under Goldman Sachs 10000 Women's program., Another one by Walmart sponsored mentorship by EDDI Bangalore and weconnect. I have a good network of women entrepreneurs from these programs and I came to know about Shark Tank India from them. In fact, there were a total of 6 women entrepreneurs in Shark Tank India this season who have been NSRCEL alumni.
I have always believed that my business solves a major problem of fashion for pregnant women. I could not find a better stage than Shark Tank India to showcase them. The biggest motivation was visibility at a national level.
2. How was the application and screening process?
Rakhi: The screening process happened in 3 rounds. They asked us to submit a very detailed application on their website link with all personal and business details. Once we submitted it and then got selected,  we were asked to come for an audition round. We filled this application very late and were selected for Mumbai auditions as the Delhi auditions were over by then. We were contestant no #55341. The audition was conducted by 1 business consultant and 1 person from the production team of the channel. They basically looked for ideas, scalability, the overall story, and the passion of the founders to make it to the next rounds. Once we cleared this round, we were in the final round of pitchers. All the finalists were allowed to pitch and the shooting was also done for all. Not all pitches made it on air though.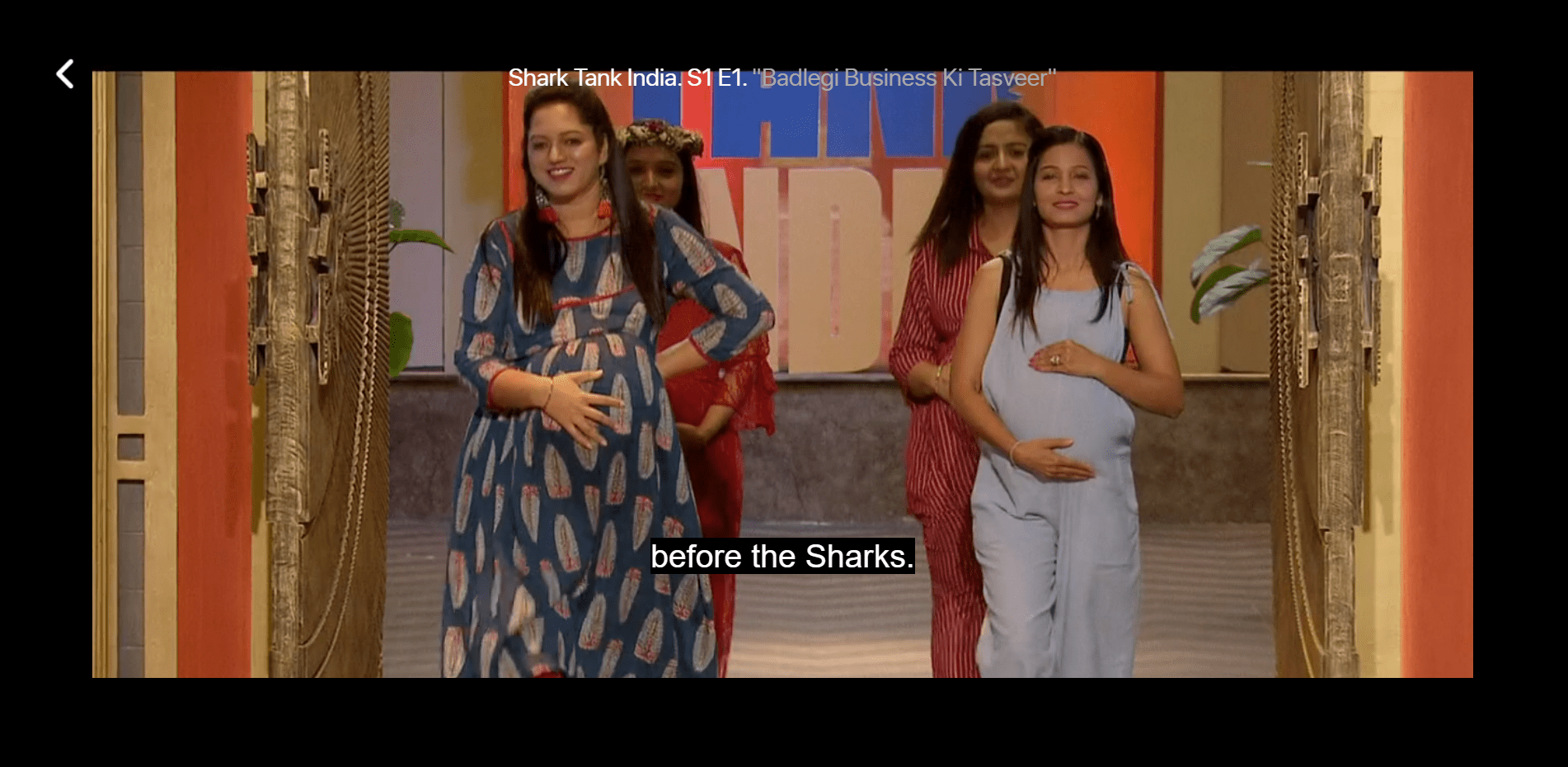 3. How did you prepare for the pitch?
Rakhi: My husband has also joined me in this business for the last 1.5 years. In our pitch, we focused on the problem faced by millions of Indian women to carry their style during pregnancy and how mine4nine is trying to provide them all the right solutions. Also, we covered the part of why this business is heavily scalable (with 60000 children being born every day) and how the demand for maternity wear will soar in the future. The  Channel creative team also gave suggestions but the final decision remained with us like all the other contestants. We prepared methodically for the Grand Shark Tank entry and pitch. We collaborated with amateur models instead of professional models for doing a fashion show jig. We curated the collection for display in a color theme of blue and maroon. The models were wearing different subcategories. We also demonstrated the functionalities of the maternity dresses like elasticated waist, concealed zippers for nursing etc to the Sharks. We worked meticulously on numbers and pitch. After endless rehearsals and mess-ups, we delivered a fluent pitch in the tank. Not a word missed.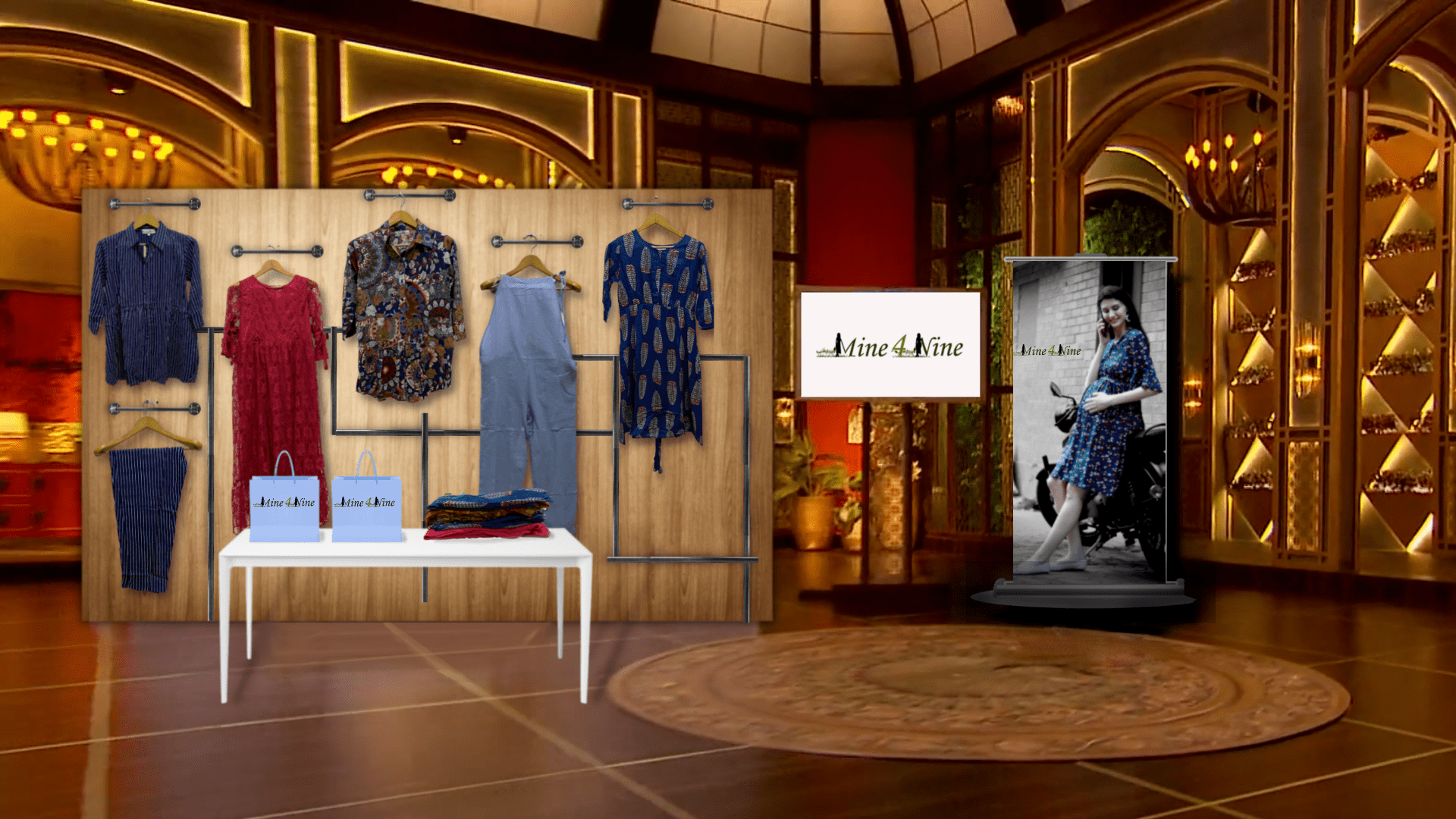 4. How was the whole pitching experience?
Rakhi: The whole experience was out of the world.
The Indian sharks were Vineeta Singh- CEO & Co-founder of SUGAR Cosmetics, Aman Gupta Co-founder and CMO of boAt, Ashneer Grover, Founder and MD of BharatPe, Anupam Mittal, Founder, and CEO- People group & Shaadi.com, Namita Thapar: Executive Director- Emcure Pharmaceuticals Limited. They are great people to interact with and bring a lot of value. While Anupam gave us the tag of couple-preneur of Covid era, Vinita wanted to do some modifications to our logo. We were extended a great courtesy by all of them and each one of them gave their views and reasons to opt-out. We had a great one-hour discussion with the sharks and got valuable suggestions and lessons from them. We missed Peyush Bansal- Founder & CEO of Lenskart.com and Ghazal Alagh Co-founder and Chief Mama of Mamaearth from our panel. Ghazal herself is pregnant and could have related more with our brand. Peyush has been seen making diversified investments and also encouraging people who grew their business from scratch. Ghazal however was seen wearing one of our ensembles and shared the picture with us with positive feedback.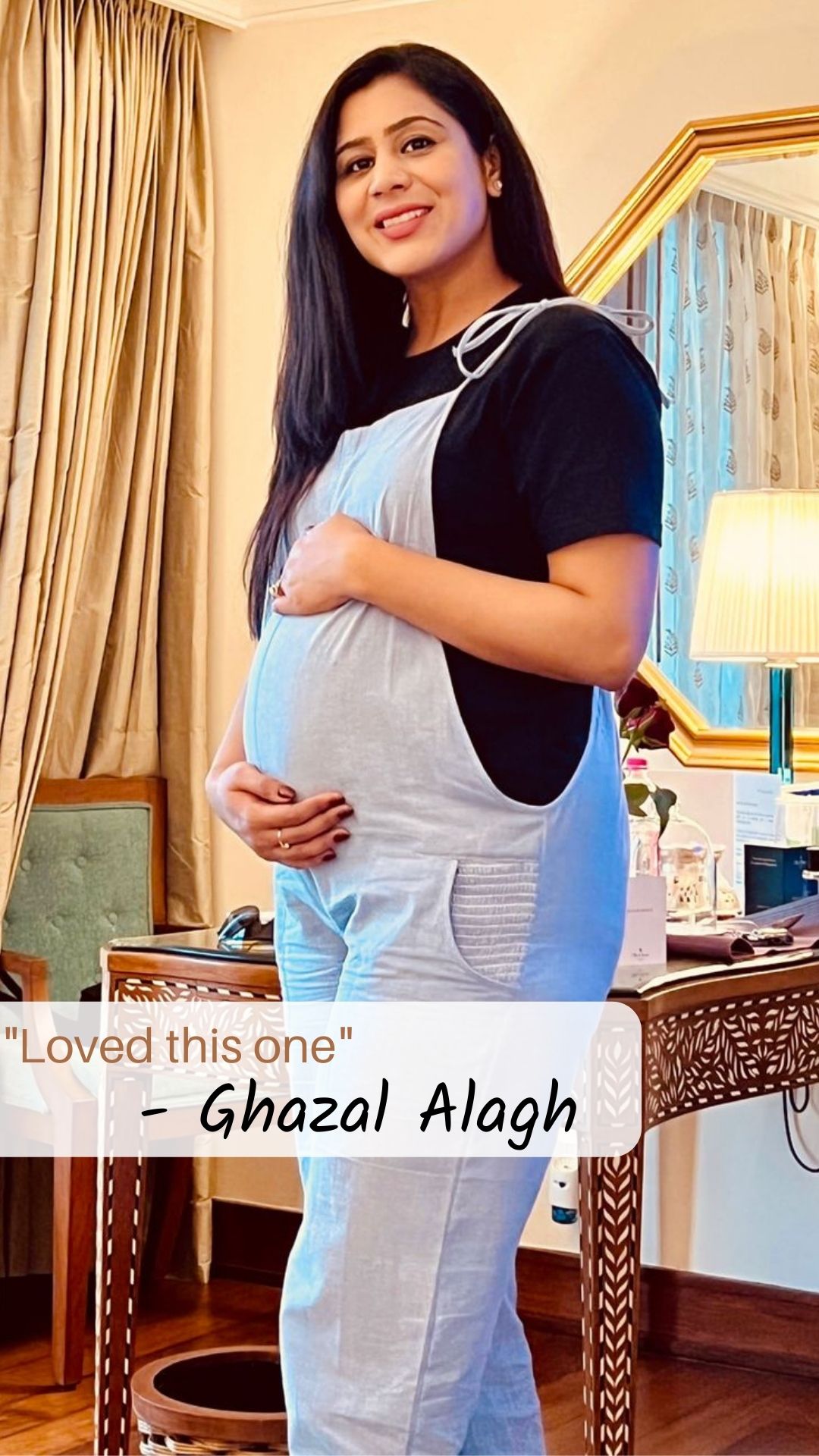 5. Do you have a favorite Shark and why? 
Rakhi: Anupam Mittal ! He is a gentleman and highly courteous. He is very patient, listens carefully, respects the entrepreneur, and engages very well with contestants even if he is not up for investment in the brand.
6. We hear people say that the deals/ investments offered by the sharks are very little and much less when compared to the American version-Your thoughts on the same 
Rakhi: Let's understand that this is first season in India and lot of things are trial and error. Also, for the show to be successful , enough deals should be offered by sharks else it would be a failure. In just one hour discussion with no document proofs in hand no investor can commit very high amounts. The idea is to offer small equity % without diluting your company valuation. On a later date these sharks can always buy large equity and pay extra. 
Rakhi shares some tips for entrepreneurs who wish to apply for Shark Tank next season
Watch her Shark Tank India Journey