You never know how strong you are, until being strong is the only choice you have!
As if this quote was written for me, when at the age of 35, I was diagnosed with Multiple Myeloma, a cancer of the Bone Marrow. I remember getting this diagnosis an hour before my high school reunion. Pumped with a radioactive tracer, I danced the night away without a care about the future. It was a great beginning to a fight that included many highs (I don't just mean the steroid highs) and lows, family and friends and lots of love. A series of tests, scans and a very traumatic bone marrow aspiration confirmed what we suspected. Persistent back aches and acute back spasms for over 2 years led us to get an Xray. One thing led to another and an MRI confirmed the worst.
You may ask why I ignored severe pain; The truth is that I did not. It was always brushed off as lack of fitness, weak muscles and because of picking up small children, bending, pulling etc., which I like to call the "Occupational Hazards" of being a mom. I remember sitting in my room, smiling, almost laughing and shaking my head in disbelief. I asked my husband, Amar to tell me if he thought that I needed to go to the locker and divide everything I owned equally for my then, 3- and 6-year-old children. I also thought about dividing my small collection of Kanjivarams and Banarasis and my precious silver jewelry that I had collected with pocket money during college and husband's money after marriage! Haha! Decided to let them fight over it after I am gone.
What I thought was back pain turned out to be a broken vertebra, big and small lesions, or holes, all over my skeleton and a couple of semi-cracked ribs. All of them glowed brightly in the PET scan too. It instantly explained the shooting pain that I felt on every bump on the road, that too Gurugram roads. Hey, at least now I had an excuse to quit the gym. I remember feeling fragile and brittle. For a long time and even now, I am scared of tripping or falling.
Without a doubt, it was the biggest news since my pregnancies that I had to break to my parents. Except this time, the emotions involved were not joyful. I could not tell my parents myself and sent Amar, to break it to them and I followed an hour later to meet them. I did not even break down then, maybe it was too much to process and I "had" to be strong for them. To be honest, I don't think I spent even a minute crying over it though it shook up everyone around me for sure!  I spent many hours the first week talking, explaining and pacifying my friends and family. So much so, I lost my voice after 24 hours. It was important for me to let everyone close to me know. I guess the more I spoke about it, the more I accepted it and made peace with it.
Cancer is a word, not a sentence!
I may have been very brave about what had happened to me but cancer is a scary word. My kids were too young and there was no way that I could lose control around them. No discussions were ever done in front of them. They were told that 'mamma has back pain and needs to go to the hospital every week to fix it'. I remember my 3-year-old finding my xray and complementing my "skeleton" to be very nice.
Cancer carries a taboo of sorts and is generally not broadcasted to everyone. But if you know me, you know I have lots of friends and I had to tell them. My social life went up many times; weekends were busy, get togethers were more frequent and it gave me a chance to buy some furniture I wanted to entertain. Who was going to say no to a woman with cancer, haha! Quoting Amrish Puri, I was doing what he said, "jee le apni zindagi". Long story short, I was having fun while trying to stay strong and happy at the same time.
Following the cancer diagnosis and starting the chemotherapy, I lived to the fullest. I wanted to wear my best clothes and jewelry and look like Tulsi from Saas Bhi kabhi bahu thi, but that phase did not last long, Thank God. I did however attend every event I was invited for, threw dinners and lunches for friends and family, my famous high teas made a comeback too. My friends visited me often, and leave feeling happy that I was taking it so well.
What I feared the most and still do is what if this disease had transferred from me to my kids, especially my younger one, who was only 3 at that time. I mean, maine unko apne khoon se seecha hain! But seriously, I pray every day that they stay well and carefree.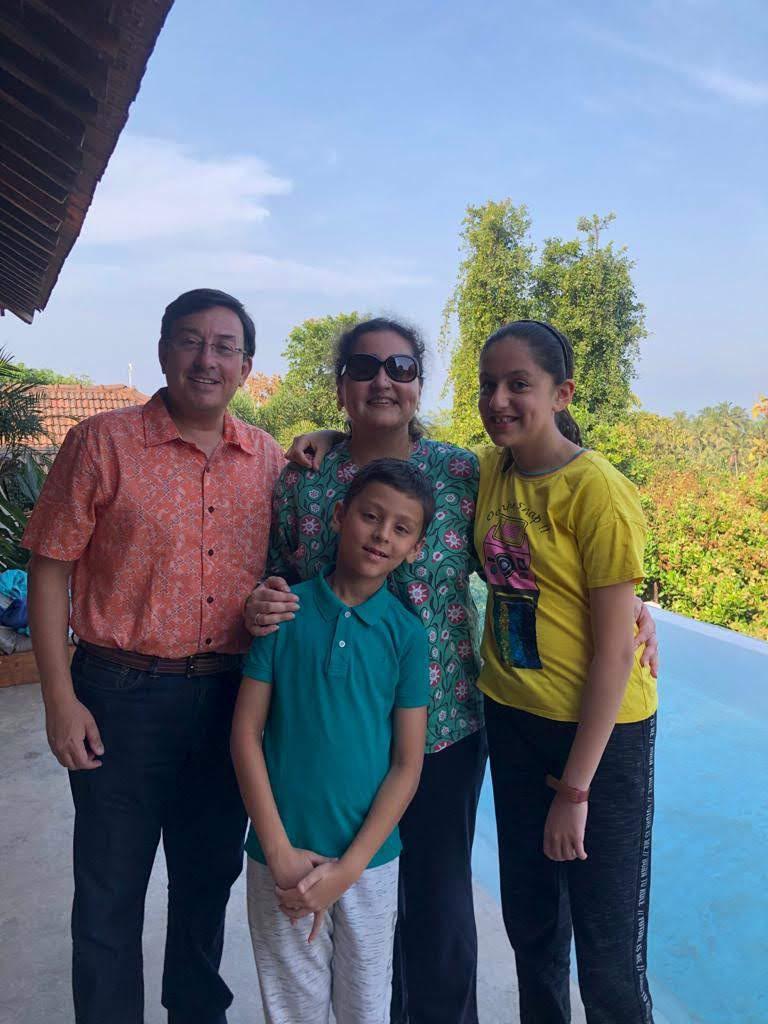 The journey is as important as the destination!
Multiple Myeloma does not have a cure, it is only treatable through chemotherapy. I was on oral medication daily and a shot in the stomach once a week. The chemotherapy medicines for multiple myeloma are very sophisticated and generally do not cause the side effects as some other more aggressive cancers do. So, if you had met me then, you could have never guessed that I was fighting this horrible disease. But it did cause me a lot of discomfort, along with the continuous awareness of the fact that I had Cancer. My side effects included constant vibrations in my body, I felt I was shaking but it was only my nerves. I remember checking a number of times if there was an earthquake but it was always just me. Peripheral neuropathy was one more common side effect of the medication, where my feet and sometimes fingers would go a little numb and cold.  
The most drastic side effect was that of the steroids I got once a week. I mean, if you ever saw a home cleaning and organization video on 4 times the speed, that was me on a Wednesday night. I cleaned through the night and ended up resetting the kitchen shelves almost every time to use up this added energy. Eventually, I learnt to put myself to bed before the euphoria came on. The steroids also made me bloat so much that I would like a different person for two days after taking them. On the lighter side, my husband still says that our house never looked as clean as it did when I was the steroids. Funny guy!!
I had 5 chemo cycles, which was around 5 months, from summer to winter. I was finally in complete remission after that. Getting off regular chemo was a relief, but it was not the end of treatment.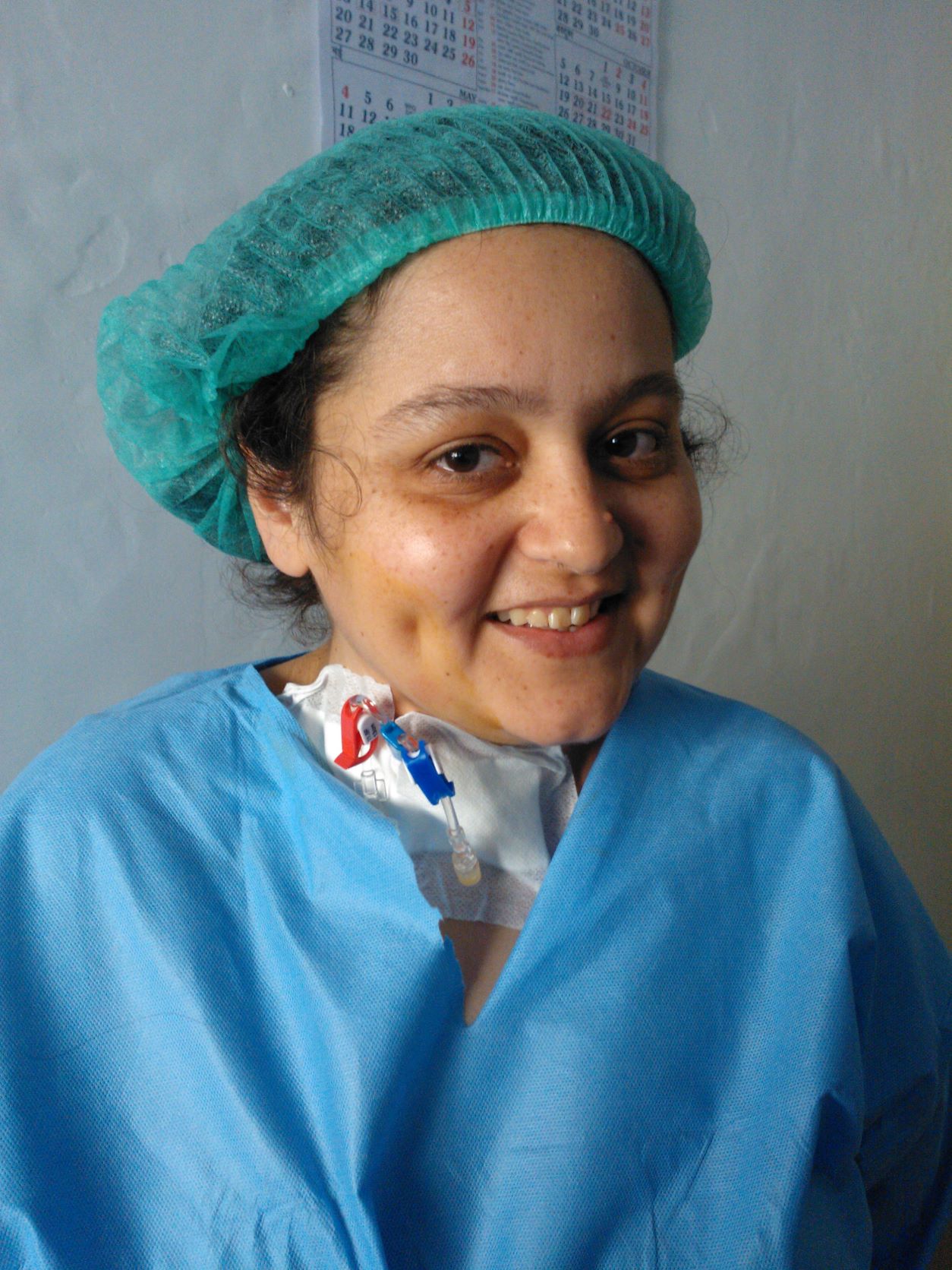 Nevertheless, she persisted……
The next part of the treatment was an Autologous Stem Cell Transplant. Long story short, it is when stem cells were extracted from my blood and given back to me after nuking my bone marrow with high-dose chemo and for which I had to spend 13 days in isolation in a hospital. Thank God, I had Amar, who is a super-specialist doctor for the company and he did everything for me as I had no strength. Also, I did not worry about what they were injecting me with as he was there. He was the reason why I sailed through this treatment without any problems. Now, even though this wasn't the kind of break I was looking for when I said I wanted some time away from where I don't have to cook or clean or look after the house, I was grateful for the company!
I slept for 7 straight days, waking up only to eat a biscuit, which was my daily diet. Nausea from the chemo did not let me eat and the smell of sanitizer was too much to tolerate. Till now the smell of certain sanitizers haunt me. I would wake up for short periods only to find different James Bond movies on TV, no Netflix then, unfortunately.
Day 13, I came home. It was Independence Day and both sets of parents who had been looking after our kids were overjoyed to have us home, alive and healthy. My kids were not allowed to come near me for at least a week unless they were bathed and cleaned, no good morning hugs and only masked meetings. My skin turned many shades darker, almost like a model with bad makeup for a fairness cream ad. But that was not all.
Anybody can be confident with a head full of hair, but a confident bald woman is a diamond in the rough!
The first time that this cancer affected me was when I started to lose my hair post my stem cell transplant. It would fall in chunks and the sight was horrid. I decided to shave it all off and it took a few crying sessions to accept what had happened. At the end of the day, it was only hair and like ghar ki kheti, they will come back. I had lost 10 kgs, woohoo! Not really, it all came back in no time after my diet went back to normal! Oh well, at least all my clothes were fitting me well again.
My mom and my friends made scarves for me which I matched with my outfit every day. Slowly, I gained strength, not only physically but also to face the world hairless. I would open doors to unsuspecting innocent people without my scarf. Dilli ki garmi was a big factor for this bold move. Most importantly. I think that this was the time that I understood the magnitude of what I had gone through and what my life was going to be from then on… unapologetic and happy.
Fix your lipstick and move on!!
It's been 7 years now that I am on maintenance therapy, which is a shot in the tummy every 15 days. A blood test every quarter is required to keep a check if those bad boy cells are trying to make a comeback. The hair eventually grew back, slowly and curly. I went into menopause thanks to the chemo, which ladies, is the best side effect I can think of. I have moved cities in this time, joined a gym, lost weight and then gained it again. My kids are older now and understand a bit about what I went through. They know that their mother never gave up for a minute and smiled throughout.
Life has a way of sorting itself out, and "this too shall pass" must be taken a bit more seriously. It is important for us women, to look after ourselves before we care for others. We are important and we should never ignore when our body is trying to tell us something. We need to build the strength in ourselves to be able to face everything with positivity and a big smile. Life's too short to be taken seriously.
Today, I am taking care of my two children, running a house and working full time. I live in the moment, love and fight with passion. I don't have a set goal that I want to reach but I do want to make this journey towards where ever I am headed, a fun and happy one.
March is multiple myeloma awareness month, which makes this story even more important to share. Remember, if "I Can, you Can".
                                  I am strong, I am invincible, I am Woman -Helen Reddy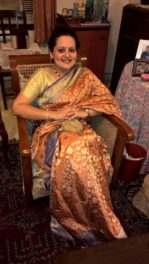 This has been authored by Vibha Kunzru Atal 
Vibha, is an HR professional, Army brat/Army wife, mother of 2, and a Multiple Myeloma survivor. Currently based in Pune, and in disease remission, she continues to exude confidence, spread positive vibes, and inspire those around her.