Tandoori Mango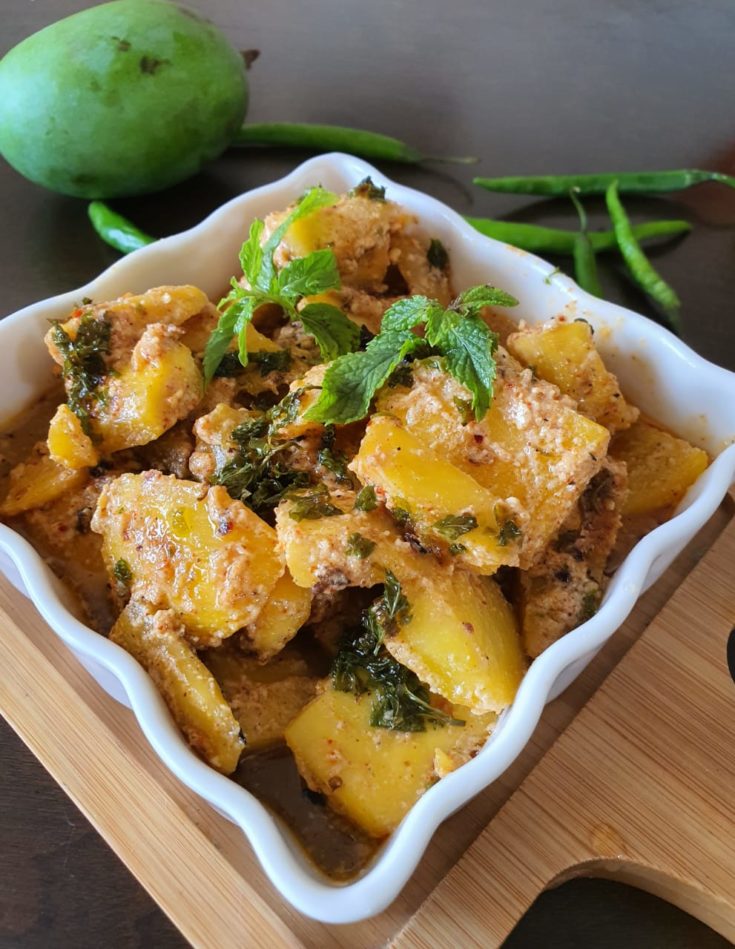 Ingredients
Raw Mango 1
Hung Curd 2 Serving Spoon
Chilli Oil (Rogan) 2 tsp
Salt to taste
Red Chili Powder ½ tsp
Garam Masala ½ tsp
Oil 2 tbsp
Coal 1-2 pieces
Bay Leaf 1
Cloves 3-4 pieces
Ghee 1 tsp
Sugar 1 cup
Mint leaves Handful
Chillies 1 or 2 nos
Water 1 cup
Instructions
Tandoor Mango Preparation:
1.Wash and peel the raw mango. cut the peeled mango to a large bite-size and
place it in a bowl.
2. Add curd to the cut mango pieces.

3. Next add the chili oil, salt, red chili powder and garam masala.
4. Mix all of the ingredients well with the cut mango pieces and rest the
marinated mangoes for 4 hours.
5. Preheat the oven for 15-20 minutes to 200 degree Celsius.
6. Meanwhile oil the oven tray and spread the marinated tandoori mango on
to the tray.
7. Now place the tray on the top rack and grill for 30 minutes.

Dhungar Method (Coal Smoking):

8. After Grilling place the grilled mangoes in a bowl.
9. Place a hot coal in a small bowl.
10. Place this Coal bowl into the Grilled mango bowl. Add Bay leaf, cloves and
ghee to the coal bowl. [watch the chef video for better understanding of the
Tandoori Technique.)
11. And cover the bowl with lid tightly for 5 minutes.
12. Remove the coal from the Tandoor mango bowl and give the mangoes a
good mix.

Sweet Chili Mint Sauce Preparation:

1. Place a pan on the stove and add the sugar and water to the pan.
2. Allow the sugar mixture to cook until the sugar has completely dissolved.
3. After the sugar dissolves completely in the water, allow the mixture to cook
for some time until it attains one string consistency.
4. Once the sugar gets thick to one string consistency add the chopped mint to
the bubbling mixture. Cook the mint until it releases its fragrance.
5. Next add chopped chillies to the Sugar mint mixture for the spicy flavour.
6. Boil the sugar syrup until the chilies get cooked well to a nice colour.
9. Switch off when the sauce reaches its desired consistency and allow to cool.

Method of Serving:
Pour the Sweet Chili Mint Sauce on top of the tandoor mango and garnish with
mint leaves and enjoy the lip-smacking recipe.