Drunch !  What is drunch you ask? 
It's a "meal" between Dinner and Lunch and just a lot of fun.
Our hosts The Drunken Botanist ensured that it so was! We invited our favorite Influencers and our team and the stage was set at 4 pm on a November afternoon.
The Drunken Botanist is located in Cyber Hub and has some incredible decor. It has cozy nooks and great photo ops. They recently launched a new menu and we were there to taste it. 
We were welcomed with a menu of cocktails named after Zodiac signs. Each glass was so beautifully garnished with fresh flowers and oh so much color.
The starters began rolling out and we had the following appetizers 
Mushroom Chettinad toast
Anardana paneer tikka
Exotic vegetable
Dim sums
Maple prawns
Spicy salmon sushi
Avocado and cucumber sushi
Jackfruit cigar
We entertained our guests with a game called what's in your bag! Our ladies had to check through and find an item called out by the host! 
We had a lot of prizes all sponsored by members of  She Means Success
Punctuality always pays and Roopali Agarwal won a prize from Whispering Yarns for arriving first.Palka Khurana  celebrated her birthday with us and was gifted a beautiful hamper from The Platter Life India 
These lucky ladies won vouchers from Ecloset –Seema Jain Krishnan, Priyanka Agarwal, Ritika and Sonam & Sugandha from Whispering Yarns again.
Our guests received goody bags courtesy of Slurrp Farm. Their newly launched cereals come in two flavors -Millet Crunch made using a blend of super grains and real chocolate & Strawberry Millet Stars and Moons made using a blend of super grains and real strawberries. Slurrp Farm is a company started by two mothers who are also our members.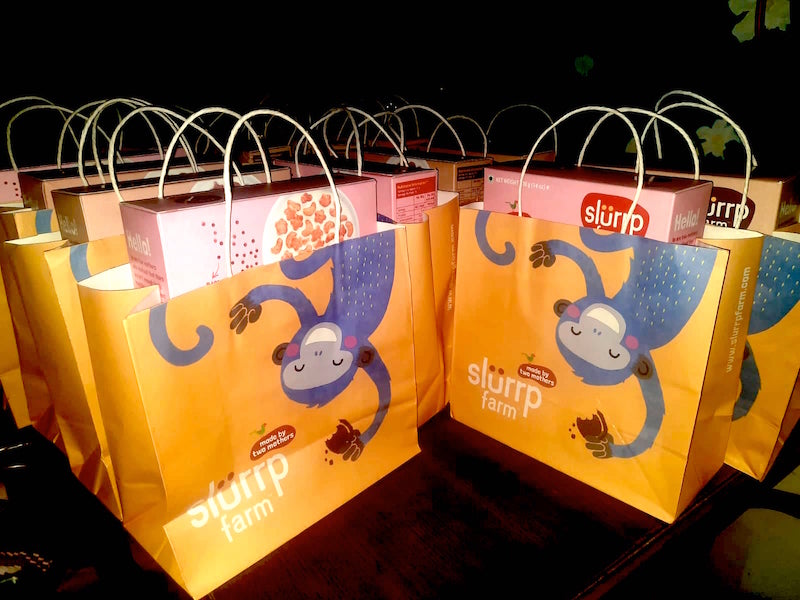 The evening proceeded with a lot of selfies, many pictures, and some awesome mains. We enjoyed the Quattro Bianco Formaggio pizza & the Lamb Seekh Pizza. The pastas in the house were basil, cheese, and olive oil (pesto). bacon, egg, cream, and  pepper(carbonara)
Our chef was Akash Nakra and he always goes out of his way to make all his guests happy. Dessert was not to be left behind and the warm apple crumble was to die for. The baked cheesecake had a very berrylicious ending
The Drunken Botanist has a great vibe to it and the new menu is stellar. Do head on over for a great night out. 
Are you an Influencer with a great following on Instagram? Then click here and fill up our form for associations.