Cheese Boards – Cheeseboards are popular these days and whatever I saw available for sale seemed hugely expensive or else hardly any cheese.
Here are some ideas to put it together and costs, of what my daughter and I make. Though there are endless ideas on the net.
Basics :
A cheeseboard should be a mixture of cheesy/salty/sweet with some freshness from fruits.

Use a large platter/tray if don't have a cheeseboard.
Cheese knives look fancy, but just put a butter knife if you don't have a cheese knife for soft cheese. Hard cheese, it's best to cut and put some toothpicks or small forks.
Cheese :
This is obviously the most important part of a cheese board so the focus should be on this. Start with 3 hard cheese and 1 soft cheese (can add more as per your choice).
Hard cheese: We use these – Gouda, Aged/Mature cheddar, Parmesan/Grana Padano, Edam , Smoked cheese. And sometimes Gruyere or Emmental.
Cheddar – I love Wyke Farm Cheddar and it's a must-keep for me. My favourites are their Vintage / Mature/ Extra Mature Cheddar (Rs 525 -625 per pack)
Gouda – Amul Gouda is nice enough if find it (it's very elusive !) or other Indian ones like Kodai/Himalayan Cheese/Fair Dairy/Flanders. In imported – Frico, or look for any other Dutch Gouda. Red chili-flavored Gouda tastes great.
Parmesan/Grana Padano – Usually I ask it to be cut from a block from Foodhall or Le Marche. I go for imported only if using these, did not find any Indian cheese matching up for imported ones in this.
Edam – Indian brands like Kodai, Himalayan cheese or pick some imported one from Foodhall/Le Marche.
Smoked Cheese – Liked a new Indian brand called Nutoras (quite reasonable price at Rs 250) or else get it cut from Foodhall/Le Marche blocks.
In soft cheese, Feta, Brie, Camembret , Bocconcini , flavored Cream cheese , Goat Cheese
Feta – I like the DeLaktis brand best, go for smaller 200gm packing as it doesn't have a long shelf life.
Goat Cheese – Flanders
Brie/Camembret – President, Rosenburg.
Bocconcini – Dairycraft, Flanders.
Cream Cheese – Foodhall keeps very nice flavored cream cheese but they have increased the price quite high lately (Rs 475 for 150gms !), so one can simply mix in flavorings like shredded olive, herbs, etc in plain cream cheese (Dairy Craft, Epigamia, Mooz which cost Rs 150-200 for 200-250 gms).
Approx cost of 4 cheese (of 200-250 gms each, mix of Indian and Imported ) – Rs 1500-2000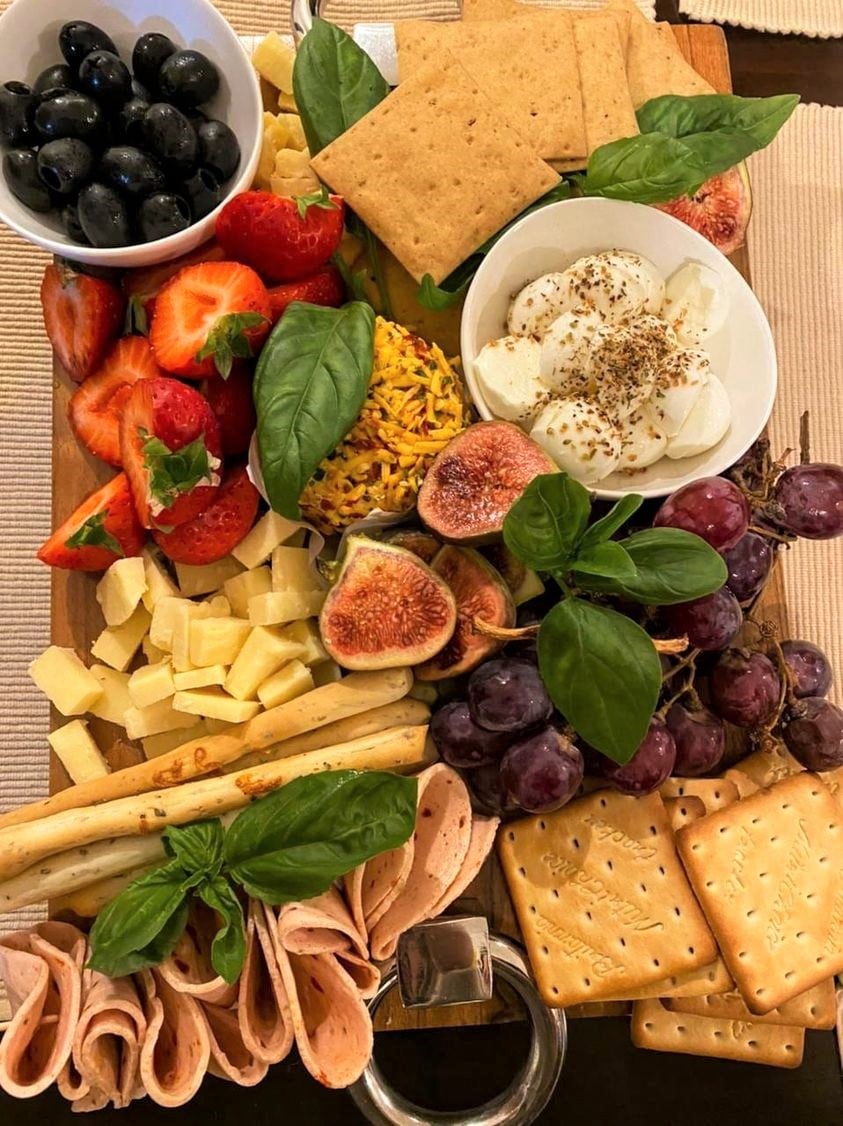 Crackers/breads – Use at least 3 of these :
Some basic crackers (Brittania Nutrichoice cracker is good).

Sourdough Crackers from Theobroma are very nice (Rs 95)
Lavash/breadsticks/Sliced and toasted baguette/Crostini garlic bread (available in Foodhall/Le Marche) – Rs 150-200 for 1 pack. Approx cost – Rs 300
Veggies/fruits – Use 3-4 of these
Olives – A cheeseboard fave, plain/stuffed, black/green, anything goes.

Fruits – Globe grapes, cherries, blueberries, strawberries, figs, sliced apples
Veggies – Cherry tomatoes, olives, baby cucumbers, baby carrots, celery sticks.
Can also add some pickles – Jalapeno, gherkins.
I sometimes make a Feta-olives mix, can find the recipe in the forum.
Approx cost Rs 500
Dips – Keep one sweet and one savory
I like homemade dips and make myself except mustard/honey.
Sweet – Marmalade/preserves, honey.

Savory – Pesto, hummus or mustard.
Nuts/dried fruits – Use 2-3 of these
Salted almonds, roasted walnuts, cranberries, pistachios, dried apricots, dried orange slices.
Approx Rs 300-400
To decorate – Basil leaves, Rosemary branches, Wild rocket leaves
Above will make a large platter for 6-8 people. Cost approx Rs 3000 and the quantity in this cost will be more than what is shown in the platters below as I replenish the platter once in middle.
It's fun and satisfying to make it yourself (just to compare, similar ones of this quantity of cheese are costing 6-8K sorts as per what I saw online ).
If you want to add cold cuts then say 3-4 packs of pepperoni, salami, ham. I like Prasuma brand for it, reasonably priced, less fatty and good taste. Assume Rs 800 for that.
Have fun making these in the festive season!
Note – The cheeseboard and knives shown are from August Collectives website since many people asked.