It's been an unusual set of recent months in my life. From taking a sabbatical to pure indulgence at home, with kids and life in general. Home, children & their exams seemed like the most meaningful, tangible goal I had. The absence of the busyness of exams by end-March was weighing me down. I was also becoming increasingly aware of a growing dissonance within me. I was beginning to reflect on my life, on the turn of recent events, on my past and how hazy the future appeared but amidst a lot of chaos and clutter. The yearning for solitude was increasing within me.
My 40th Birthday was approaching (30th March) and my near and dear ones were curious to know my big plans or party. Age was a just a number and I never subscribed to 'the milestone year syndrome'.
I had been reading a lot about solo travel but never considered it. In fact, I could never see myself doing it in the near future. Over the days, I was convinced that I wanted to travel solo and to the hills. The supportive soul that my husband is, was equally happy for me to do it.
After some searching and deliberating, I settled for a property near Nainital in Gethia district called 'Two Chimney's'. I had wanted an offbeat place, not the usual run of the mill hotels or resort, something in the quiet and surrounded by nature. Two Chimney's was just that.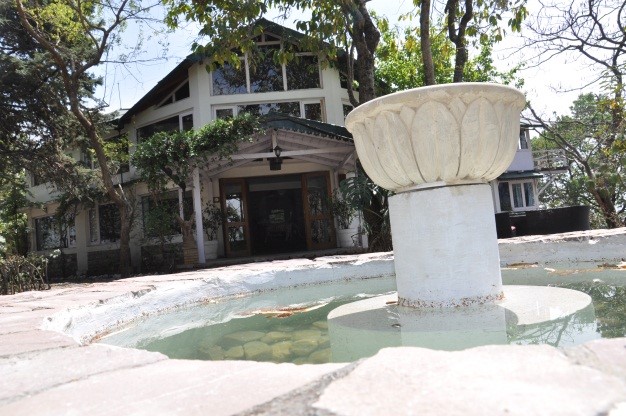 The estate had a character & personality of its own, more importantly, one that I was looking for. 
With no specific agenda, slow pace, indulgent afternoon naps, lazy evening tea watching the sunset against the hills, flirtations with my camera, the cool evening breeze, interesting dinner conversations with strangers turned acquaintances, my first day seemed perfect.
It's a deliberately understated property. An old bungalow by a British lady converted to a little getaway in the hills. I was in love with my room called the 'Study', a small room done in pink and white and rustic wall interiors, an attached bathroom which was almost like bathing in nature and my little balcony overseeing the valley and roads.
The tranquility and peace hit me almost instantly and I just sat there for a while staring into the open spaces realizing that I had finally made it. Fortunately, I was traveling middle of the week and hence the occupancy was rather low.
My next four days were going to unfold in a way that I did not imagine. I am usually a person who likes to plan out every detail but for this time, I was in no hurry to do that. Whilst I had spoken to my cab driver to plan my days around Gethia/ Nanital etc, I soon realized that I loved the quiet and peace around me at Two Chimney's. The property had a character & personality of its own, more importantly, one that I was looking for.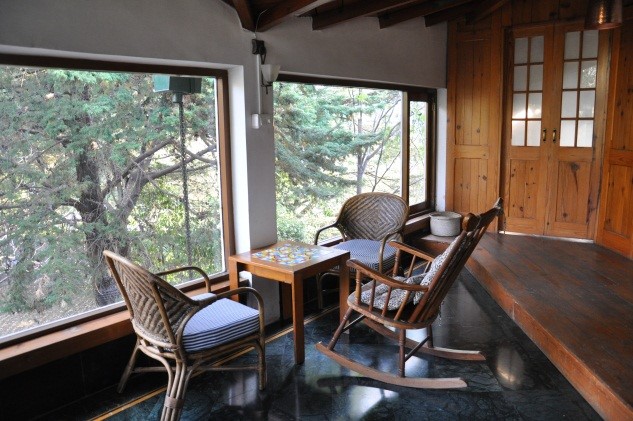 Whilst the days at Gethia deserve a detailed blog (one that I have written), it's my Birthday day that left me mesmerized.
I had finally decided to head out on my birthday to Nainital and areas around it. With my day planned with my Cabbie (the owner had offered to drive me around himself), I was excited to finally venture out of the property. That this day will pan out into a magical, mystical day, was not my expectation or thought. Each moment was simply going with the flow and perhaps that's what made it so beautiful.
Life can surprise you, nudge you and weave unreal experiences from the least expected corners and people. I ended up spending a day with a stranger, my cab driver, a localite who wasn't just my cab driver or guide but as though a person sent to satiate my experiences that were unspelt and unattended to. The slow drive in the hills, storytelling about birds, forests, animals, village life, British period, nature's way, were all so engaging. Every twist and turn displayed a breathtaking view accented by the beautiful Rhododendron flowers that popped out from the traditional greens of the forest.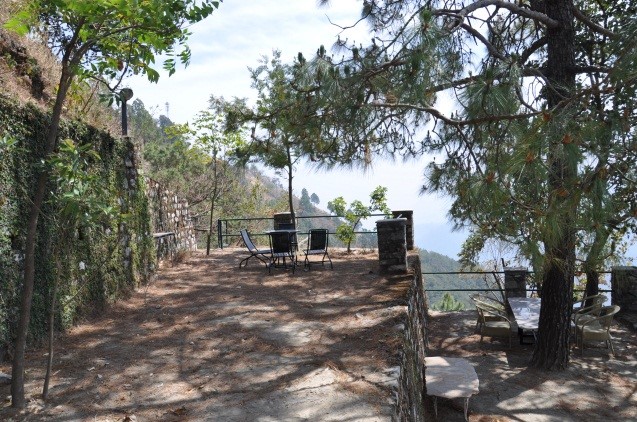 The peace and calm one experiences in the countryside is inexplicable.
I lived every moment of a mystery not knowing where he would stop, what had he planned out. For a change, I took each moment as it came, embraced it with joy and an open mind having faith in the one above. He stopped by at places and nudged me to step out and get a glimpse of a perfect view, take a picture from points that would add to my joy of photography, drew my attention to the tree shadows on the ground with the sun streaming through the trees, understood my fears and hesitation to take on all experiences he offered, without calling it out and making me awkward.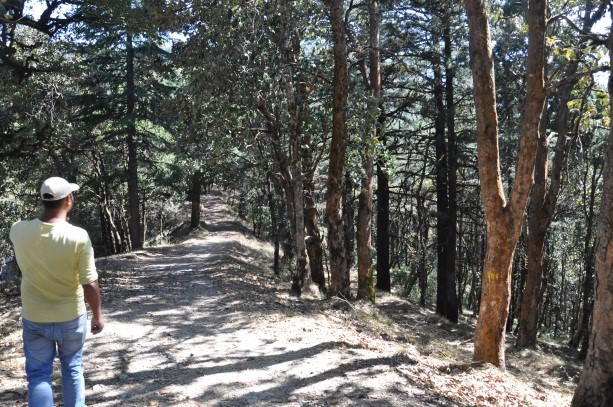 Kilsbury Forest, the lone red roof, The Nani lake at sunset and the morning hues of sunrise – Simply Magical
With no signal and barely any soul, my mind raced with fear and doubt if I had done the right thing. In a subtle way, he drew my eyes to nature, soaking it in so that I let go of my insecurities of being with a stranger in deep hills. Knew what my eyes searched, unspelt and suddenly pointed to a walk that I should take and bingo I found a view I was looking for. Urged me to experience an ashram and its calmness. The serene and tranquility were healing and magical. Such a great storyteller, so passionate yet not overwhelming of his love for hills. So subtly made me fall in love with all the experiences by just watching birds, nature, small quaint villages, a lone cottage with red roof and white walls standing out in the middle of hills, experience the partnership of man and God: the city lights and the setting sun, to paint a magical view over the Nani lake. He was by my side between the rowdy crowd, silently protective and comforting so that I can enjoy undisturbed joy. When I ended my day, I thanked him from my heart and told him it's my birthday. He smiled and said, "I knew it Ma'am; wish you a very Happy Birthday. Umeed hai aapka din achha gaya"
Maine kaha "Bhuat achaa gaya, bhuat khoobsurat"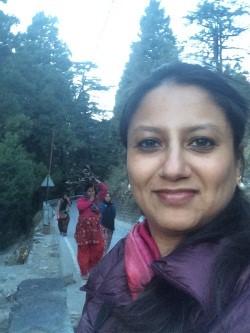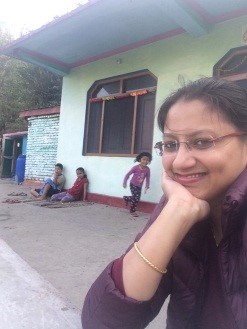 To sum it up, spent my birthday looking at the vast expanse of Kumaon hills, watched the hills wake up to a smiling sun, sat in an ashram, walked in deep woods to just hear birds sing in a chorus, sat by a mountain top teased by a soft cool breeze, walked with the village woman n children, walked through forest reserves of British time, gazed at Himalayas and its magnificence, watched the sun go down on the city from a hill top and the hues of the sky reflected over the lake, sought the grace of Naina devi and sat by the moonlight lake, starry night, city lights and the soft chant and temple bells. Came back to a warm greeting from strangers (guests at my place of stay) of birthday wishes, shared my day with curious strangers wanting to know why I was smiling ear to ear, finally went back to my room to be surprised by a big cake and candle kept for me by the staff. Cut a cake with strangers (turned my warm blanket for my soul). Finally, sat under the starry night soaking it in & sharing my delight, my fears, my smiles with my soulmate, my life, my husband over an unending call.
Grateful for the universe to collude and allow me this day.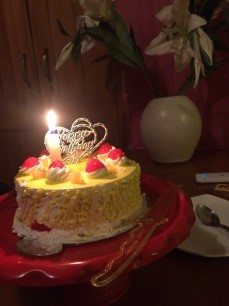 With much Gratitude to all around me, to make this day special but most importantly to my 'in-laws'. Not for a moment, I have forgotten their support and remained deeply grateful to both of them. It's only because of them both that I could take this liberty to leave home & kids in one of the best & loving hands. Thank you to my family for the support, thank you for the attention all of you gave, thank you for the love.