I have grown up in Delhi and now living in Gurgaon since 2007. Other than the air quality, there is one other thing I am very uncomfortable about – extreme weather!
It's like extreme winters one evening and you suddenly wake up to extreme summers the next morning. Spring and autumn seasons barely start and it's time for extreme heat or harsh winters.
When it's winters, I want summers and when it's summers, I want winters. It is never a perfect balance or a perfect state of being.
This time too, spring converted into summer in no time. But there is a way to enjoy the season with some summer coolers!!
Following is a compilation of some refreshing summer cooler drinks that can bring respite to the soaring temperatures –
Mango cooler
Peel and cut mangoes into cubes.
If they are sour, you can add some sugar, a dash of mint leaves, and a pinch of rock salt.
Grind them in a mixer into a pulp. In a glass, add some ice cubes, mango pulp, and add some soda.
You can also try the above recipe with other fruits like watermelon, melon, sun-melon, grapes etc.
Kokum cooler 
Kokum has incredible cooling properties.
Soak a few tablespoons of dry kokum overnight.
Next morning, mash nicely and strain kokum water.
Cook the kokum paste for a few minutes.
Add black salt, sugar, and roasted cumin powder according to your taste.
Let the mixture cool down.
Mix water and ice cubes to this pulp and enjoy the kokum cooler. 
Cucumber and Mint Cooler 
For this, you will need cucumbers, water, sugar according to taste, lemon, mint leaves, rock salt.
Mix everything together and enjoy the drink.
Rose syrup, Khus syrup cooler 
 You can get the concentrate from the market and add soda or plain water to it.
You can also add cold milk to the rose syrup.
Spiced Guava Chili Drink
Image Source:www.jyotibabel.com
For this drink, you will need ripe guavas.
Cut them into cubes.
Heat a cup of water.
Add about 2-3 medium-sized ripe guavas, and cook till soft.
Keep them aside for cooling.
Blend the guavas into a pulp.
Add about 1/2 cup of sugar to 1/4 cup of water.
Boil for 3 – 4 minutes and keep aside.
Now take one slit green chili and drop it in 1/4 boiling water, let it simmer for. 3 – 4 minutes.
Take out the chili.
In a large jug, add the following —
Guava puree
Sugar syrup
Chili water
3 – 4 tablespoons of lemon juice
Chopped mint leaves
1/2 teaspoon roasted cumin powder
1/2 teaspoon black pepper powder
800 ml chilled water
Mix everything a have it chilled
Green Tea and Fruit Juice Mix- (Lychee, pineapple or apple)
Prepare green tea and keep aside to cool.
Add tinned juices and chopped mint leaves to the tea and enjoy the drink.
Aam Panna
This has to be everyone's favorite summer drink. It is made by combining raw mango pulp or juice with roasted cumin, cardamom, sugar, black pepper, mint and black salt etc.A perfect summer cooler 
Since the above drinks are loaded with sugar, you can also try making them with stevia or jaggery.
Following are some healthier summer cooler drinks that are low in sugar and other artificial additives
Good old Nimbu Paani
You can add salt or not. For extra zing, you can add crusher mint or basil or peppermint leaves.
Coconut Water
This is filled with electrolytes and can be really refreshing on a hot summer's day.
Wood apple or Bel ka Sharbat
This surely is very refreshing and cool 
Lassi
Another refreshing drink. You can add mango or banana to it. With or without sugar.
Chaach
Just add a couple of teaspoons of curd to a liter of water. Add salt and crushed curry leaves. You can also add silt green chili.
Saffron Cardamom Drink
Soak some saffron strands in a teaspoon of cold milk for a few hours.
In another pan heat a cup of milk, add sugar as per your taste, a pinch of cardamom powder and this saffron milk.
Bring it to a boil.
Keep it aside to cool, refrigerate it and have it chilled.
Sindhi Kesar Photto Sharbat ( A sweet drink with saffron & cardamom)
This is Upasana Mahtani Luthra's recipe that she learned from her grandmother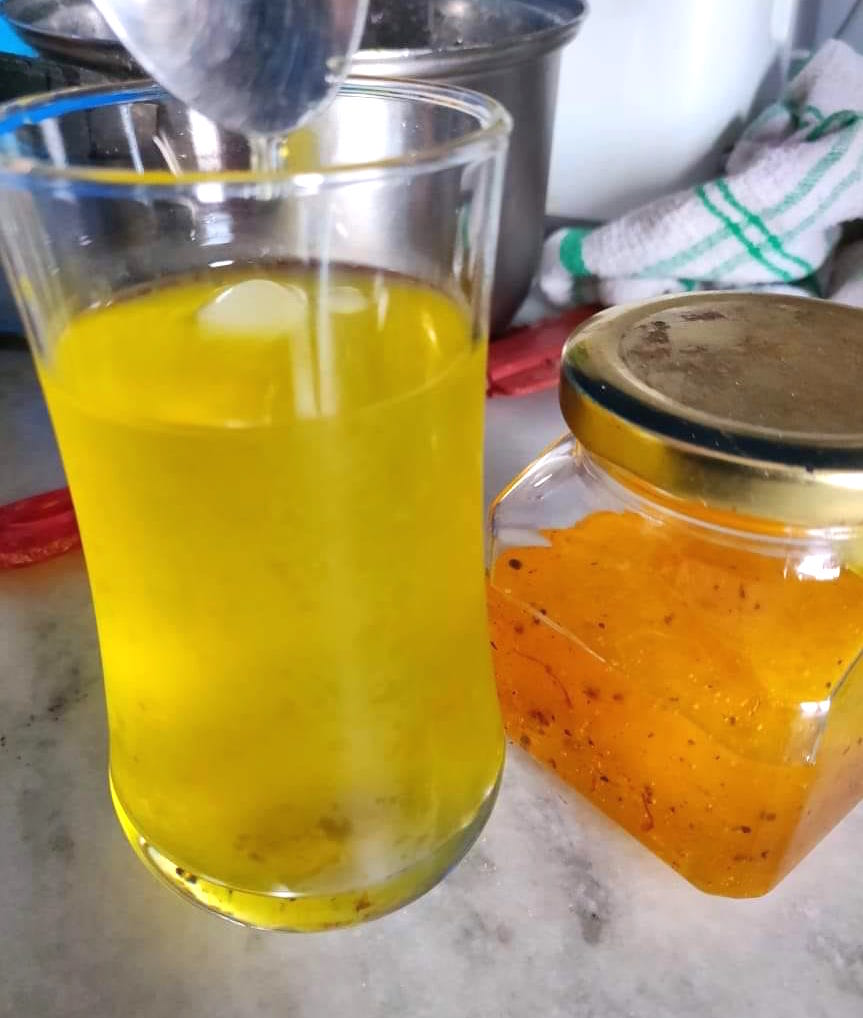 Make a simple sugar syrup.
Infuse saffron strands in warm water.
Pound some cardamoms.
Add this to the boiling sugar syrup.
Serve with chilled water.
We would love to hear some more exciting summer cooler recipes from you. Do share them in the comments section below