Truffle Tangles is a name that comes up synonymously with words like happy times, celebration, treats and scrumptious. A home based patisserie that run by Ila Prakash. 
Ila comes from a corporate background and decided to take a break after starting her family. She waited for a few years before she ventured into cooking and baking. But every business had a story filled with dreams, hard work, compassion and love. Let's hear it from Ila herself. 
From a corporate job to a super successful home baker – what kind of emotions is your heart filled with, when you think of this journey?
 I am in awe with the ways of the Universe. When I was employed, I enjoyed the content of my job till I was entangled in a world of office politics and the learning curve and progression seemed threatened. I was deeply stressed out mentally and physically and I just wanted to quit. There was a desire to start a family but seemed impossible with my lifestyle while working. 
There was a gap of almost four years when I wasnt working for a corporate. I couldn't see anything in the future at all…had no dreams, goals or plans. I was just taking care of my health and enjoying my first ever sabbatical. I did take up a frachisee for Rehwa Society ( dealing with Maheshwari sarees and suits ) while I was pregnant. It was a roaring success.I was unknowingly sowing the seeds for an entrepreneurial journey. There was a sense of achievement and vigor and the zeal, even though I was on bed rest for a while carrying twins. When I look back, I can acknowledge that I could achieve what I wanted to irrespective of the odds. I was super content. 
After the kids came by and with the move to Gurgaon,life looked like a fresh canvas as I had no plans to go back to work. But the workaholic me wasn't happy. 
Today I'm really content with what I have achieved.I'm grateful to the Universe, God for giving me the strength to endure, persevere sustain beyond my expectations. I broke my own walls, glass ceilings, fears, depressions and challenging moments.I never looked back.I was the best version of myself at my lowest…I conquered …I never gave up…I fought with myself, my emotions, my handicaps, my health issues and kept raising the bar. I became stronger, standing like a pillar and making things work. 
My heart is filled with gratitude for all that I have received…it isn't easy…success is lonely and has its share of minuses. Being financially independent is an emotion that I would want in every woman.
When did you realise that you wanted your own patisserie? 
Ans. I always wanted to have a restaurant /a fast food place when I was in college. I worked after college hours everyday to learn and become skilled. After my training at Windsor Manor on my first job in the kitchen, I wanted to go back and start my own bakery from home. My father wasn't open to the idea and he wanted me to continue working in the hotel industry. I'm happy I did…it taught me about how to go about the biz, dealing with clients, sales and marketing and to pitch for biz in a competitive world. 
Life took a different course and for almost 9 yrs I didnt think of the kitchen or patisserie. After I moved to gurgaon with my family, I was clear I wanted to see my children grow.Ater trying my hands on multi level marketing,I started revisiting my skill sets and one day I just made a poster advertising about serving food and desserts …the journey started. I received a great response from the society I was living in, and from nearby places in Gurgaon. Patisserie eventually took on faster as there was a dearth for good cakes and desserts. This was pre Facebook, Whatsapp, social media times.
What kind of challenges did you face?
Managing toddlers with work, deliveries outside the society with sleeping babies in the car, my troubling knees because of long standing hours, the pressure of finances when my husband went on a sabbatical and struggling career thereafter for many years, many patches of having no maid, some clients were difficult and sometimes one worked through the night to deliver early morning. There were days when the kids would go hungry because I couldn't cook due to work pressure…(zomato and the current ease of ordering in food didn't exist), Sundays were never free for the kids…I was always working, stressed because of the deadlines. I used to get tired and thus moody. There was no ME time ..there was no salary for many years ..I just pumped it back into the business to grow the business. Covid times were tough with teenage kids growing up too fast but we all survived. My current challenge is, not being able to scale up because the kids are at their crucial stage and to some extent the ability to work as hard as earlier when I was younger. I am also challenged with being regular on social media and making those fancy creatives.
What were your goals twenty years ago and what are your goals now?
20 years ago I was fulfilling my goal to learn the ropes in sales and marketing and making a mark in the corporate world. It was a powerful space to be in. I have built my entrepreneurial journey at a comfortable pace based on demand, my gut feel with a futuristic approach without setting deadlines because I am a thorough person.I want my house to look pretty, I love to have plants, I am finicky for things clean and in order, I have a fetish for a sparkling kitchen and studio. I have no new goals right now….I'm flowing with the time. I do have a dream but I want to wait for a bit till the kids are settled. My goals always included my kids, home and for some years my personal space for my mind and body.
How has your journey been with GurgaonMoms? 
GurgaonMoms paved the way for Truffle Tangles in 2011 to surge ahead on the only social media and digital platform on Facebook. A platform which welcomed my brand with open arms and gave it wings to fly. For me GurgaonMoms gave me family, friends, clients, well wishers and a reason to make Gurgaon my home. GurgaonMoms is a Revolution.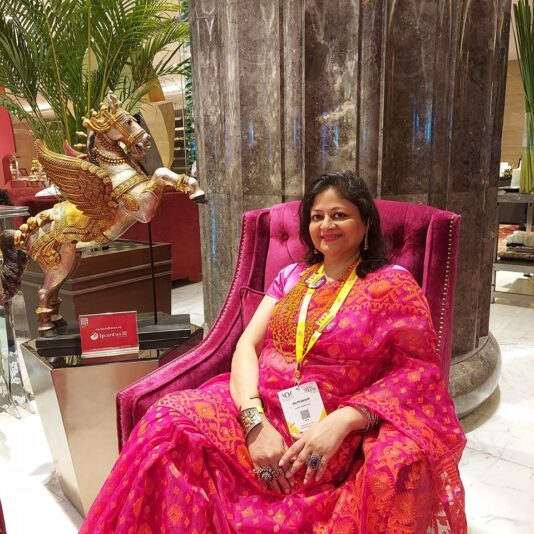 What would you tell a fellow mom who would like to get back on her feet again?
Every woman has a hidden potential which keeps unfurling with time. Recognize your skill set, listen to your heart, take baby steps, lay your foundation, do your homework, make that move, take help from fellow moms, find a mentor, and believe, have faith in yourself.
 Which is your favourite kitchen gadget and why?
The hand held beater ….its the most important electric gadget one must have. I can't prepare my sponge cakes without it. It's the lifeline to baking
What advice would you give your18-year-old self today?
Stay focused on your studies, raise your emotional quotient, become financially independent, and enjoy your life.
What/who inspires you the most?
My parents
What is your stress buster?
Music, dance, yoga, walking, aerial yoga, workouts …currently my pet dog Zara. She fills in all the void, her love has made me content, she has been able to slow me down and relax my mind.
Truffle Tangles has a wide variety of cakes from designer to tea cakes, premium plum cakes, cupcakes, brownies and cookies. Available in all flavours, fruits and theme based. Vegan, glutenfree, sugarfree, for selected varieties. Desserts include traditional mousse, soufflé, compote, trifle pudding, bread pudding, caramel custard, eclairs, tiramisu, crepes, unbaked  cheesecakes, New York cheesecake and exotic tailor made layered desserts e.g  triple delight to name a few. Tarts, flans and pies with choice of fruits, nuts, flavours. Hand made chocolates in all flavours. Speciality dishes include small sized birthday party and cocktail snacks, patties, burgers, pizzas, stuffed buns, sandwiches, pies, roasts, pastas and baked dishes for parties. Savoury cakes  ( sandwich) for the health conscious.