"Breaking the silence" was quite an insightful, enriching and profound discussion reinforcing that history needs to be rewritten, equally inclusive of "HerStory". That's what these powerful authors in the panel have contributed in, writing about powerful, strong and celebrated women of past well steered by Kaveere Bamzai bringing it to the contemporary and thus educating and empowering women of today.
 The panel was graced with stalwart writers of History and powerful feminists, Archana Garodia Gupta (author of The Women Who Ruled India), Rana Safvi (Author of City of my Heart), Parvati Sharma (Author, Travel Writer and Editor) and Kaveree Bamzai. And I must congratulate these women having become the bridges of inculcating power in today's women by showing that freedom of choice and valiance exercised by our ancestral women.
The Quorum's conference hall besides Café Reed was packed with full audience having GurgaonMom's founder Neela Kaushik, GurgaonMoms Book Club's founder Upasana, noted writers and bibliophiles, readers along with Hachette team.
The event started with discussion on the painful reality that the historical women of our past were so powerful, interesting, entrepreneurs and talented yet there are no chronicles, documentation or stories of their life. Women like Razia, who was elected as Razia Sultan, being such an effective ruler. There are so many monuments in Delhi and around which were built by women and still the wide spread fact is that all the significant monuments were built by Shahjahan or male emperors. It is taught in India that all great things were done or made by men in history and women were only either home makers, child bearers or were courtesans and were deficient to play an important role in society or kingdom building matters. This opinionated belief must be blamed to some extent to the films and media which portrayed women of past only as objects of desire, lust or worthy of only salacious discussion. There is a rare occurrence where a historical woman of India is portrayed as an entrepreneur or a stalwart of music, poetry or a wise head of state.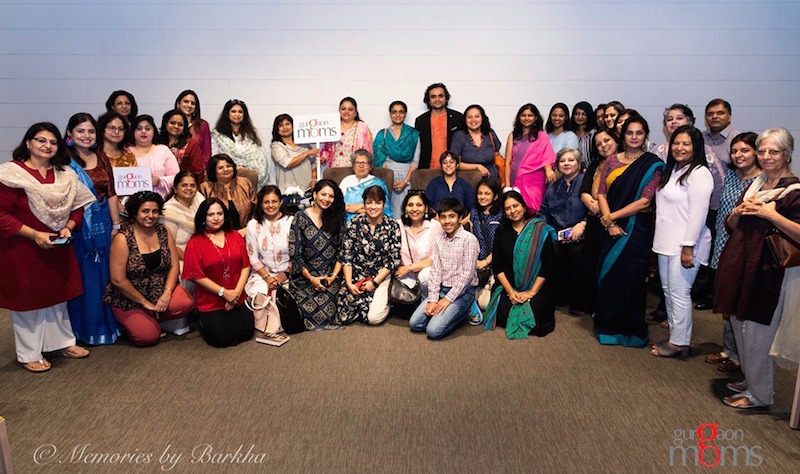 It was also brought upon that since these important women personalities were living a fuller life exercising their freedom of choice, their image was distorted by the patriarch deliberately and brought down upon as a defence mechanism. Since the dynasty was always carried forward by the patriarch members, it was a tough battle for women in past as compared to today's age due to cultural constraints earlier. Women like Chand Bibi, Sultan Razia, NoorJahan, Ahilya Bai's life stories were discussed, and the audience got informed more, sitting with rapt attention to the interesting tales of their lives being told by the panellists.
The most interesting discussion was held on Begum Samru, a short heightened girl picked from a brothel of Chawri bazaar in Delhi, who with her abilities and the art of diplomacy went on to rule Sardhana kingdom near Meerut for more than 50 years and became a powerful feminist icon of the country, which was remarkable and how she exercised her sexual desires with power was all the more eye opening. Kaveere's humour played a big role in uplifting the mood and giving moments of guffaw to the audience.
The event concluded with discussing the most favourite feminist icon of the panel and how the authors kept the audience engaged and intrigued till the end was commendable.
In the end, GurgaonMoms Book Club founder, Upasana Mahtani Luthra,  thanked the panellists, Book club members, Quorum and Hachette group for making it an interesting and worthwhile program concluded with a group photo and book signing.
Photographs credit Barkha Agarwal Singhal of Memories by Barkha