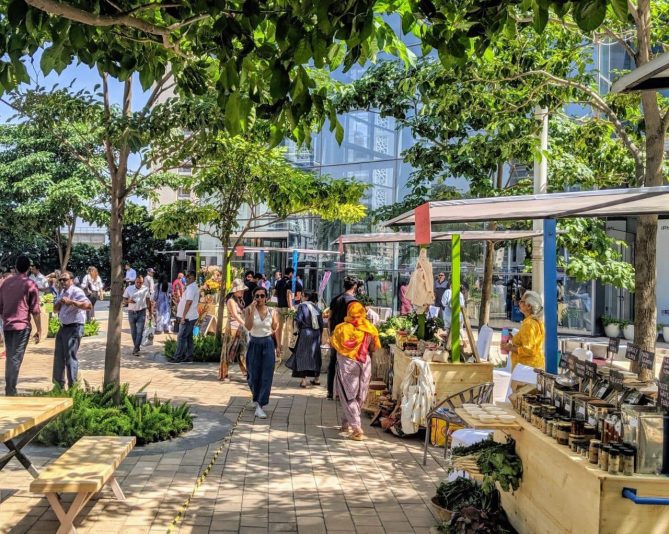 The Horizon Plaza Artisanal Market is an effort to reconnect the citizens of Gurugram with their food and to encourage people to eat fresh , local and healthy . It is also to provide a platform to passionate people, those who grow our food as well as those who handcraft with fresh and natural ingredients and a whole lot of love.
The market is curated by Puneeta Chadha Khanna ,PC . When she moved to Gurugram two years ago she felt that there was a need to have a place where one could touch and smell the food bought and a place where people handcrafting food could showcase their passion.
A chance meeting with Pushpa Bector, Executive Director DLF Malls led to them discussing this idea .The idea found resonance with Pushpa, and after several discussions this collaboration evolved into The Horizon Plaza Artisanal Market and The Horizon Plaza became the perfect chic and central host for this community connect .This market brings together all the passions of the Curator , Puneeta Chadha Khanna. She has been growing almost 50 percent of her families food requirement for the last 5 years , naturally and in sustainable manner.A passionate cook who loves to feed her family and friends with a special interest in local cuisines .She is always chasing people for recipes wherever she travels and searching for Artisanal food artists .
Puneeta would like GurgaonMoms to look at this being the place to stock up their larders and refrigerators, for the week ahead, with fresh and preservative free food , directly from people who make and grow themselves. An effort has been made to keep every thing value for money for the category and quality .The customer supports the participating artisans and farmers and in return get nutrient filled food.It has been curated very carefully to cover all categories and they have only partnered with people who are particular about the quality of products they are displaying. Each product range was tasted ,tweaked and verified.

What to expect as a Visitor to the market ?
Come to fill stock up for the week ,make this your weekly shopping haunt .
Plan your menu for the week and the Saturday party . Choose from vegetables plucked hours before the market starts . Pick up plastic free groceries and freshly ground atta. By cold pressed oils which have not been refined chemically ,preservative free jams and pickles . Millets, micro greens and non refined honey add to your health quotient. Free range eggs from hens which run amok in an acre of farm and milk from happy cows. Indulge your Gourmet gene with rustic sourdough breads , fabulous cheese made in the Himalayas and hand made condiments .
While you browse you can also treat yourself to some delicious breakfast and brunch , ranging from Avocados and eggs on toast to bacon and chorizo and a revolving range of Regional Indian food and rustic Indian village fare .
Bring your kids and let them feel the earthy connect with what they eat instead of thinking it comes from a shelf, buy them a simple pin wheel . Come with friends and family, sit around the tranquil water bodies and soak in the ambience as you share some interesting food .
Gift yourself the luxury of lingering .

Few Must-Visit Stalls 
Ila Lumba and Laksh farms and Foundation : The happy and elegant mascot of the market Ila and her husband run Laksh farms in Manger ,growing chemically free vegetables and also a foundation which empowers children and women of manger through many initiatives. The taste of her Kadhi Chawal and Saag Roti made on the chulah is unbeatable.
Meherwan and Mehma Bawa -Artisanal Meats top quality meat products. They source their pork directly from farms who use dry feed and no steroids or hormones . Bacon , double cooked ham , a wide range or sausages and the most amazing range of eggs for breakfast . All made the old fashioned way without preservatives fillers and additives
Asiago Cheese : Amit and Vica Mital make their cheese outside Kullu since a year. Amit went to Torino to learn the art of cheese making .They collect high quality raw milk from the villages. They make cheese called Asiago, Ricotta and Camembert.
Aparna Rajgopal runs Beejom ,an incredible animal sanctuary and permaculture farm . They bring different kinds of heritage wheat flours millets and hand finished dale and rice as well as a range of delicious and healthy snacks.
French farms was a pioneer in growing salads and western greens in India . they started way back in 1994 and have the freshest organic green and meat products like paté and bacon.
Upi and Ebby are two passionate Bread makers who bring a range of Artisanal breads , sour dough , Brioche, baguettes and a rotating range every week.
Horizon Plaza, DLF Phase 5, Sector 43, Gurugram
Every Saturday -9.30am -2pm