Last year in May, my family and I embarked on a remarkable journey on a cruise to celebrate a milestone: my mother's 60th birthday. Little did we know that this four-day adventure, starting from Goa and spanning across Arabian Sea, Lakshadweep before concluding in Mumbai, would leave us with cherished memories that would last a lifetime.
Things To Know Before You Book A Cruise Trip:  
1. You can choose your itinerary based on the number of days you want to travel and the destinations you want to explore. You can check all the details on the internet.
2. Reach the port of departure at least 3 hours in advance, as the check-in process takes time and many small formalities need to be completed before departure. You will encounter a minimum of 1500 passengers who will be boarding with you, so be prepared to wait in long lines.
 3. Stay hydrated; keep a bottle of water and some snacks handy while boarding, as the boarding happens from a port and is all outdoors, unlike an airport, which is air-conditioned with all amenities.
4. While booking your rooms, you should prefer to book rooms on the upper decks with ocean views for the best experience. The prices vary with the season. If it is a holiday season, prices will soar higher.
5. While booking your rooms, check the ship map and book rooms on the upper deck. The ship rocks and rolls most on the upper decks, but they are sure to give you the best views. I recommend that you go for an upper floor, but in the middle of the ship, so it will be calmer. Avoid booking at the back or front of the ship. If you want a calmer stay, you can opt for the lower decks.  
6. Be prepared to face heavy traffic at food counters, as a cruise carries 1800 to 2200 passengers and they all need to take their meals at the same time. I recommend you carry a few snack packs with you from home too, for convenience.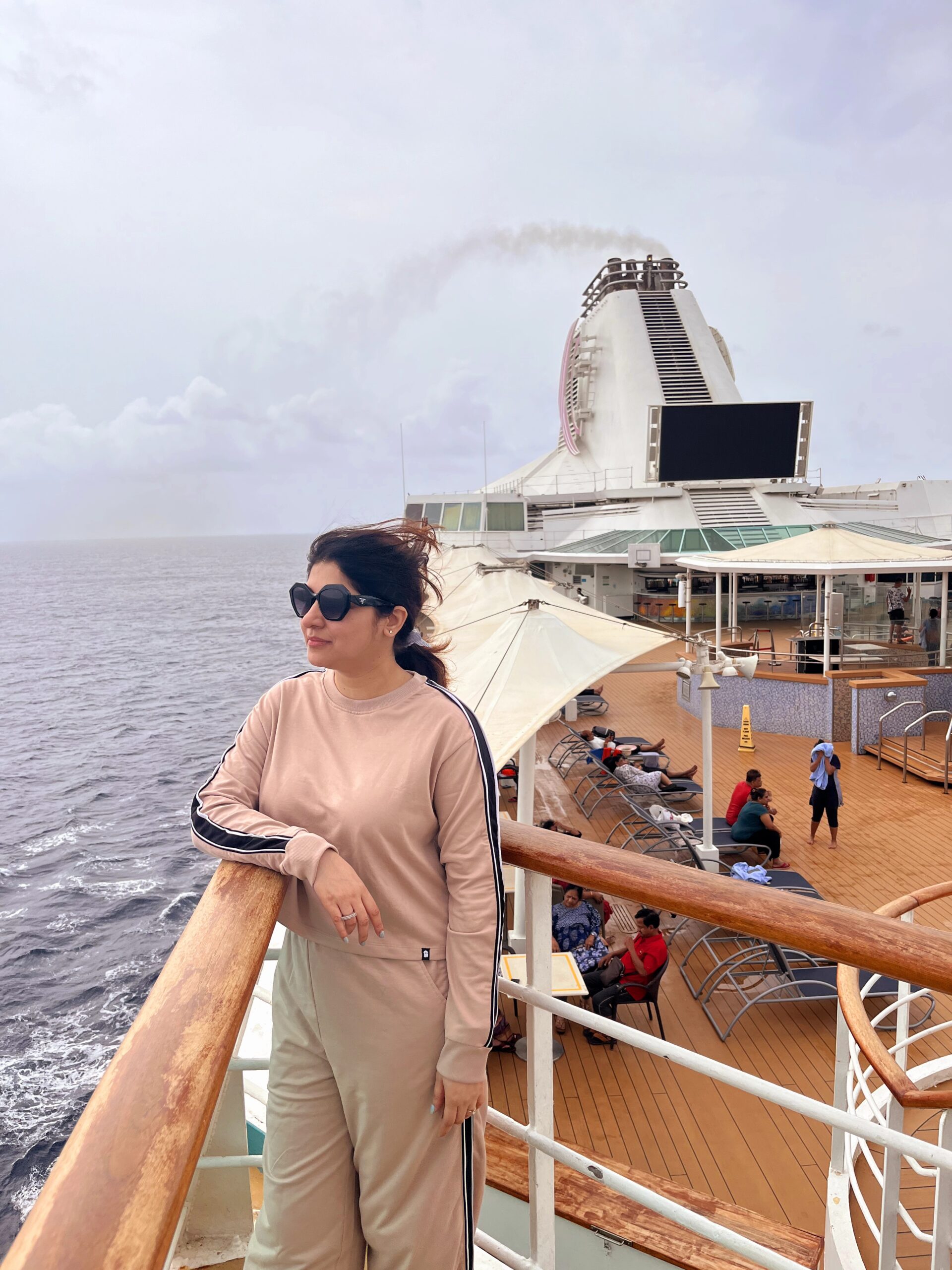 7. The cruise ships have a good gym facility, so if you are a fitness freak, you need not worry.
8. The salon experience on the cruise will always be a very expensive deal; it will be three times more expensive than what we pay on land.
9. On the ship, you will be given a card, which you need to charge and use. All transactions will be done in USD. No other cards or currency will work here.
10. The WiFi will be totally ineffective on a cruise ship with very little signal on the top deck, so you should be prepared to be disconnected for a few days on your voyage. The wifi is a paid service, and on the costlier side, I recommend not taking it as the signals are very low and of no use.
11. A cruise ship has a multi-specialty hospital situated on the lower deck with good doctors on board, so you can travel carefree.
12. Your meals are included in your package. You just pay for the extras that you buy on the ship.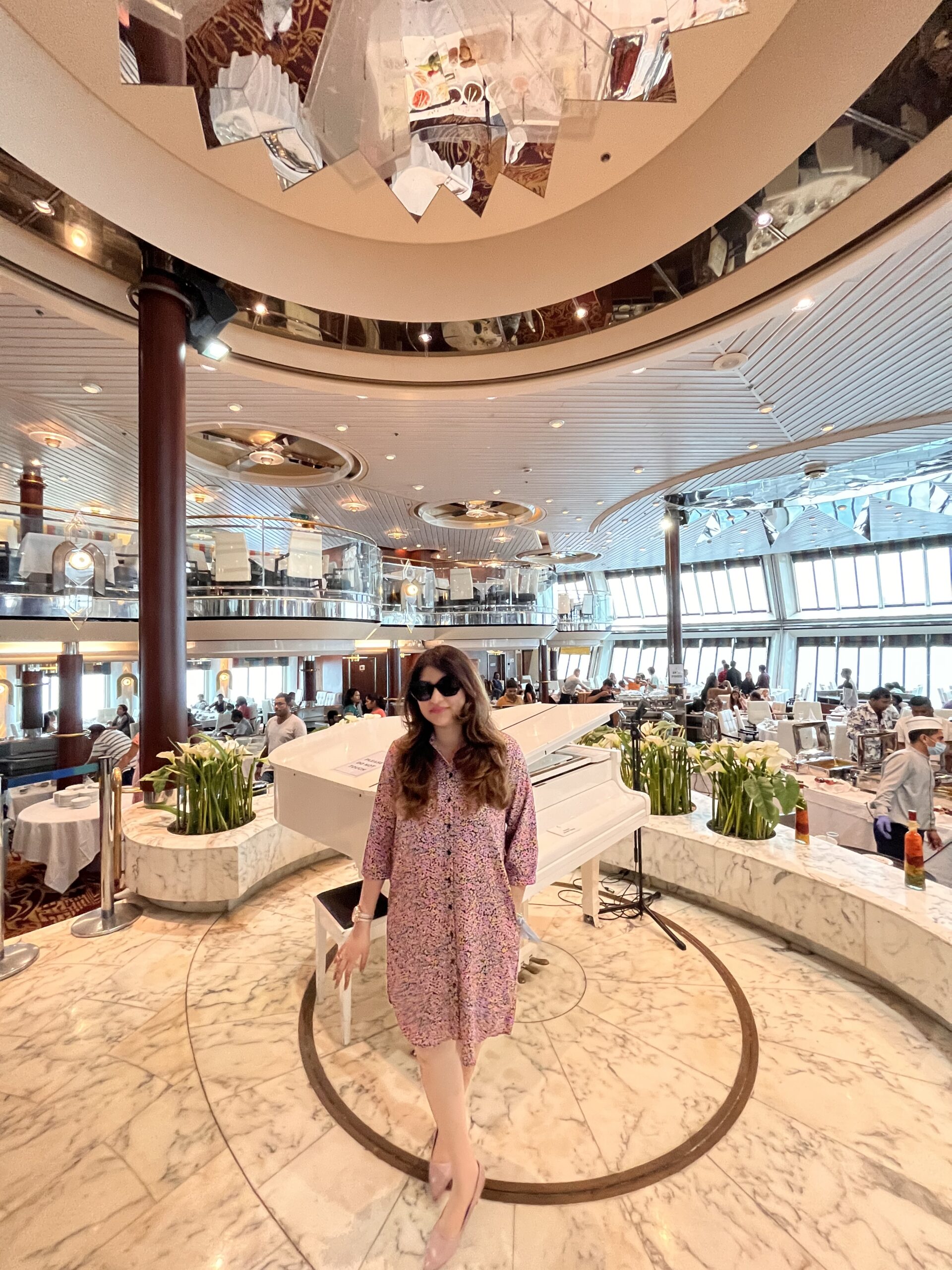 Our voyage began in the vibrant coastal state of Goa. As we boarded the cruise, the excitement in the air was palpable. The ship was a marvel, a floating city with all the luxuries possible. As we set sail from the sunny shores of Goa, we were super excited. Every soul appeared on the top deck, waving good-bye to the Goan land. The ship started with a whirl, and it took a vertical turn inward. Our hearts were beating with fear, curiosity, and excitement as it was our very first experience! The weather that day was beautiful; it was cloudy with stormy winds, and the sea was very rough, giving the ship a good rock and roll. The sea is mostly calm otherwise, but a few days ago, a cyclone hit the Bay Of  Bengal hence we could feel the aftereffects in the Arabian Sea. This added to the adventure quotient of this trip, and our excitement was at its peak!
The ship started its course to Lakshadweep, and the entire day had to be on the high seas! The view and the feeling were all worth it. Every corner of the ship gave a different view, be it from our room windows or the top deck. Every view was remarkable. On our way to Lakshadweep, we also had the privilege to see dolphins playing in a big group. It's unusual to see them this season, but we got lucky. It was a priceless treat for our eyes. As we started approaching Lakshadweep, the water started looking crystal clear and pure green. This felt like the Maldives. We made a stop in Lakshadweep and had ample time to explore the beautiful island.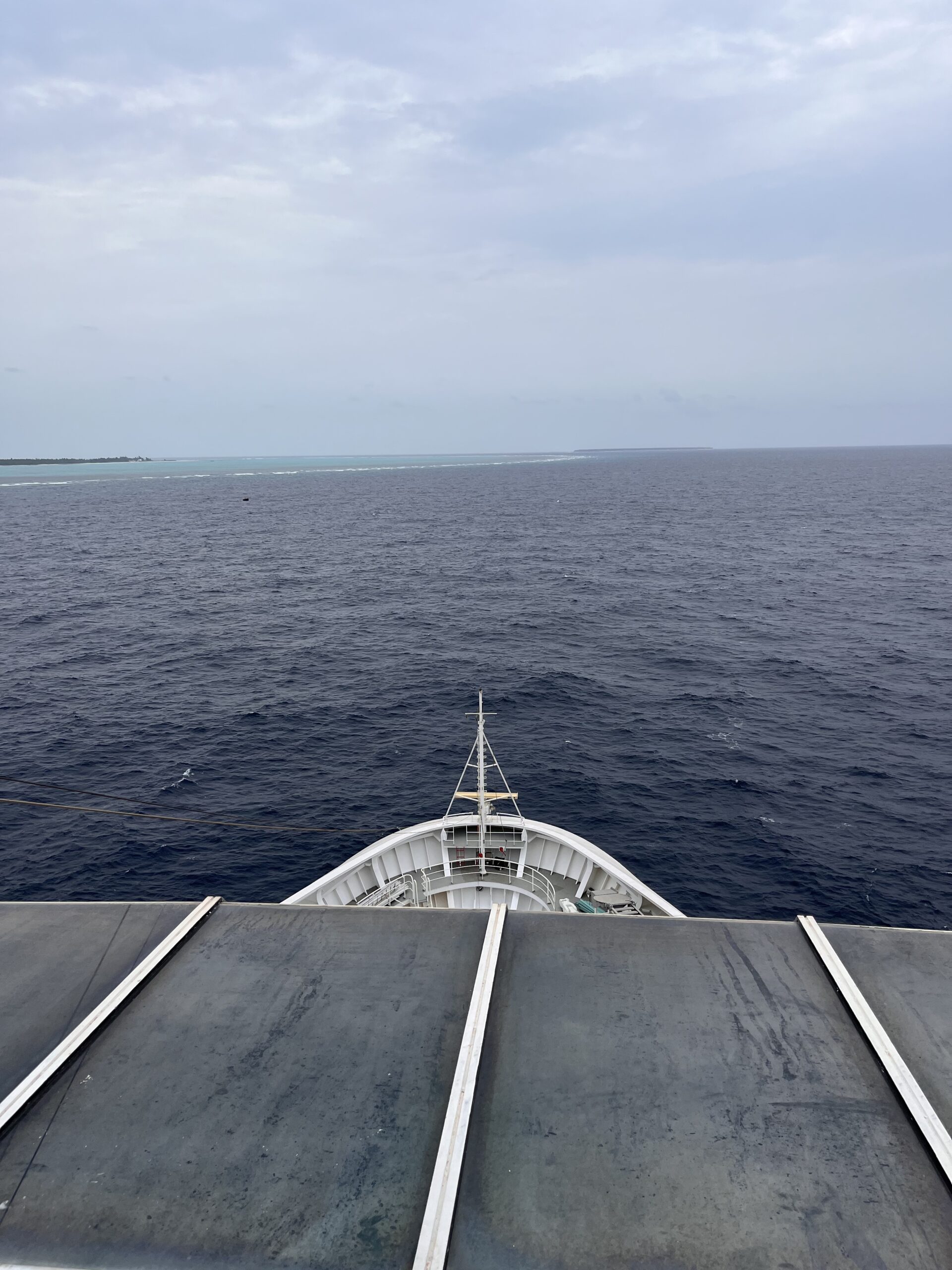 These pristine, untouched islands were nothing short of paradise on Earth. If you love water sports or snorkelling, these are for you! Experience the crystal-clear waters, lounge on pristine beaches, and explore the vibrant marine life beneath the surface. It was a true escape from the hustle and bustle of everyday life, allowing us to reconnect with nature in the most exquisite way. This surely is the Maldives of India!  
Our evenings were mostly spent watching live performances. We love music, so we found pure joy here. We also enjoyed DJ nights, where dancing on the deck with gusty wind and a shaky floor was an experience for life. We made several mother-daughter dancing reels, and my husband proved very useful here; he was our designated photographer for the trip, haha!
As our cruise made its way back to the bustling city of Mumbai, we started to pack our bags. It was time we said goodbye to this beautiful ship and returned home. It felt like opening eyes after a beautiful dream. This trip had been a whirlwind of joy, adventure, and celebration. It was a memorable birthday experience and an unforgettable memory for life!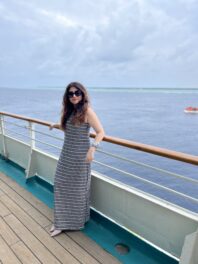 This has been authored by Tanushree Roy Ghoshal 
Tanushree is was  an international trade finance banker, now an entrepreneur and founder of her saree brand, Kalindi Sarees, in 2018 and is  now delivering pure looms globally. As a hobby, she loves traveling and to reel her  travel experiences.