Never forget that walking away from something unhealthy is brave even if you stumble a little on your way out of the door. – Anonymous

 
Unfortunately, even during these modern times where we talk about gender equality, women are subjected to domestic violence.  Violence that is committed by someone from the victims family or domestic circle is called domestic violence. The offender could be someone from the family or a close friend. 
Some statistics  – 
According to the National Family Health Survey (NFHS – 4), every third woman in India, since the age of 15, has faced domestic violence of various forms in the country.
31% by husbands
56% by mothers or step-mothers
33% by fathers or step fathers
27% by siblings
15% by teachers
Sadly, only 14% of domestic abuse victims seek help.
Most times women in distress do not know what to do in a situation like this or whom to call. What's worse is when women feel stuck and with no support, they continue living the same life.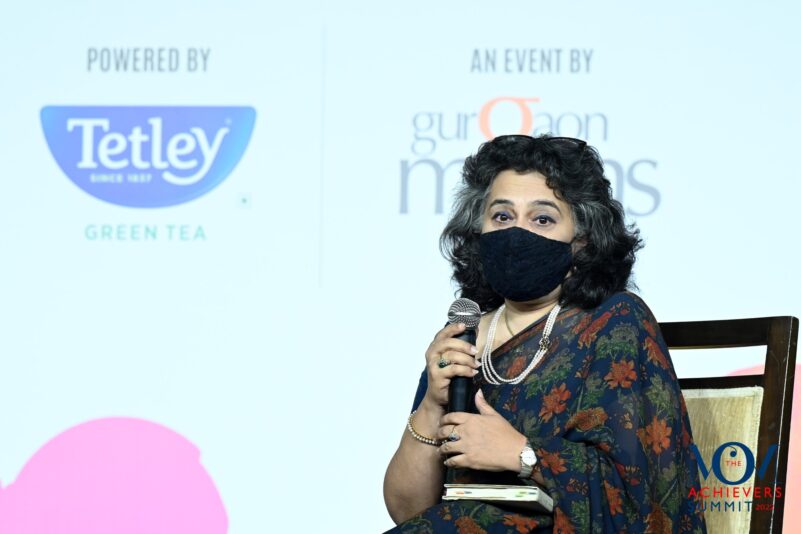 We got a golden opportunity to listen to Rashmi Anand at 'The Mom Achievers Summit' recently. Rashmi Anand is a domestic abuse survivor, social activist, counsellor and an author of many books.
Rashmi's story is spine chilling. She was subjected to physical, emotional, and financial abuse. Her confidence was completely shattered and she had no support from her own family. She was even turned away from her parents house. But when she saw her children suffer, she moved out and never returned. But her journey after moving out was filled with hardships. She had to sell gold to survive.Slowly things started working out and she was able to sustain herself financially.
Rashmi strongly felt that no woman should go through what she went through and started a trust called 'Woman of the Elements' – This trust aims to support every woman who contacts them for help. Not only do they provide information but also emotional support so that the victim feels empowered to exercise their rights.
The trust provides free counselling and legal aid to women and child victims of Domestic Violence, who are below the earning capacity of Rs. 5,000 a month.
They run a legal – aid info helpline on Saturdays from 3pm to 7pm.
For more information please go on to their website – https://www.womanoftheelementstrust.com. 
There is always a way out of your problems. No one should be subjected to any kind of violence.