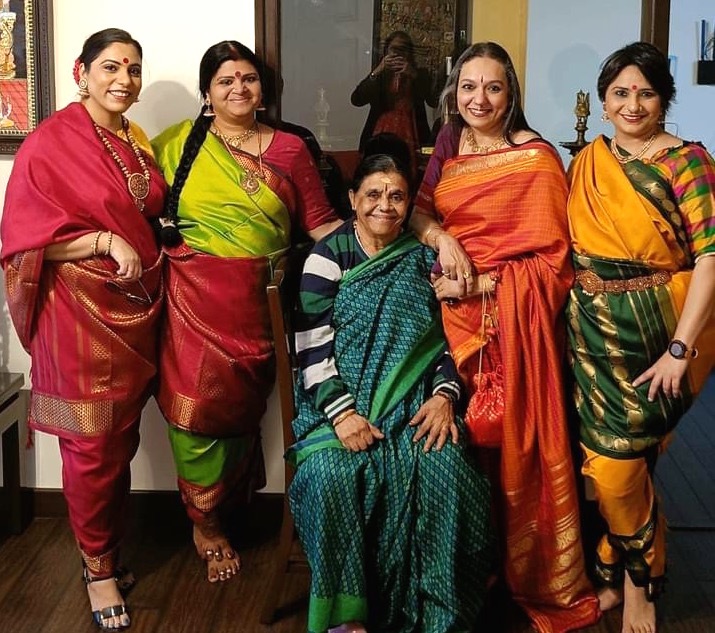 Are you a Thalaiva a.k.a Rajnikanth fan? Then this is a must-read for you and it will  surely bring a smile on your face.
Going through things you never thought you'd go through will only take you places you never thought you'd get to. – Morgan Harper Nichols
We, 'The Four Friends', on 12th December 2021 decided to live our " je le apni zindagi" moment, the iconic day when superstar Rajanikanth was born.Vibha Kapoor and Sumbul Yazdani celebrated Thalaivas birthday with the south silks at their party. 'The four friends 'made the theme more special by dressing up as 'Thalaivis'
The day hosts announced the theme, Shakti messaged Shubha saying "Thalaivi ban kar kuch  Dhamaka karna hai! "Shubha didn't waste even a single second to think, she immediately said yes, let's do it! Both, Lakshmi Shankar and Suchi Lalit Sharma came on board too. A separate Whatsapp group of 'The four friends' was christened as 'Rocking Thalaivis'
Since 24th November (the day the party theme was announced ) we started working on our respective Madisar looks. We kept our plan a secret as we wanted to do the entry with a bang.
The Madisar or Koshavam is a typical way in which the sari is worn by Tamil Brahmin women.
Lakshmi Shankar and Shubha Arun took out some of their beautiful 9 yards. Being a Tamilian Brahmin Iyer,  they wear a Madisar for every special puja or occasion. So they have some of the best ones in their collection.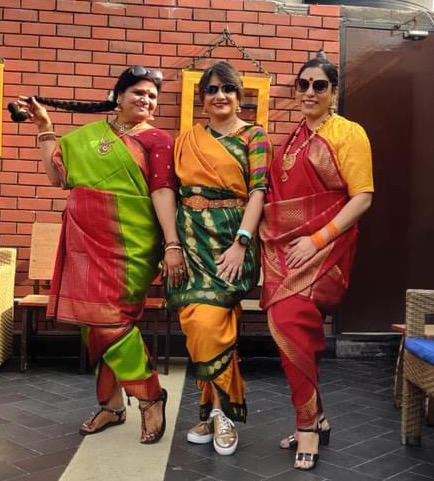 First, the different Madisarmaami looks were decided. Shubha our stylist was clear about how she wanted each one of us to look. She added various nuances to our get-up to make us look distinct.Suchi was the Madisarmaami with stilettos and bun. Shakti was the funky Maadisarmaami with short hair and Golden shoes.Shubha was the quintessential Madisarmaami with a long braid and slip-on sandals. Lakshmi Shankar was the Maami with her Thalaiva goggles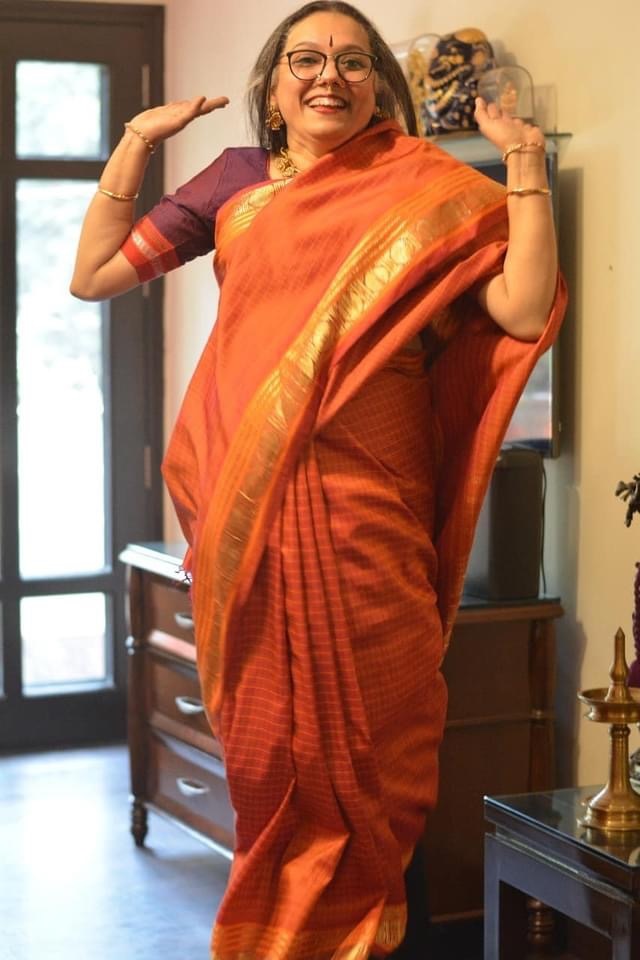 Jewelry, make-up, blouse- Everything was planned to the T. The 9 yards worn by Suchi in Arakku was bought by Shubha's brother for her mangalyadharanam( mangalsutra tying).Shakti wore amma's saree. Shubha's madisar was bought for her son's upanayanam.  Every drape had an emotional touch to it. The persons who bought these drapes are no more in this world. Though we could feel their presence and warmth in the drapes.
On the day of the party, we had to reach Lakshmi's house at 10:30 am for getting ready. We were so excited that we reached 10 minutes before time. Our makeup person Suchi opened her pitara and took out the real arsenal- her grand makeup kit. In 15 minutes Shakti's perfect makeup was done. Lakshmi too took out her arsenal and did her makeup in no time.
Then, came the most happening part of the day- amma sitting on a chair like a thalaivi and guiding Lakshmi how to drape the perfect madisar on the other girls…. just don't have enough words to describe how much amma was invested in the process of draping – she was gently (sometimes sternly)  guiding Lakshmi and Shubha to ensure that it's draped perfectly. Don't miss her photos- it's where the heart of the day lies.
As Shubha rightly put, Sharing is indeed caring.Our young 82-year-old amma shared her experiences and gave the 9 yards a divine feel when she explained that this kind of tie symbolizes ardhanareetwam.In spite of being on 24 hours oxygen support, the enthusiasm to teach the traditional way of 9 yards tie and at the same time feeling happy and satisfied that the new generation is eager to learn must have given her a major reason to live.Then, came the other surprise- we raided our camera person's jewelry box and took out her best dance jewelry to match our looks. Our dress-up session got more endearing as we danced our heart out for Thalaivar on some funky numbers. In no time the four forty plus friends transformed and became the giggly girls.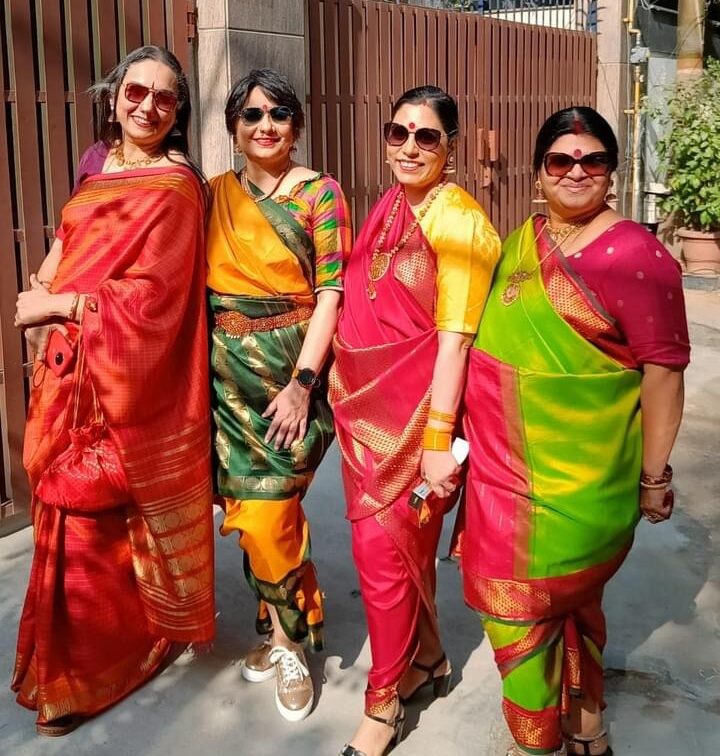 There is so much already written about the grand party so we will not repeat it again. However, this write-up will not be complete till we share how "uncultured" cafe got their lessons on culture by madisarmaamis.
Most people were dressed in western wear, to their amusement, shock, and awe, we ( Madisar Maamis ) made a grand entry in perfect Rajani style, with our head held high and super ease climbed the 5 floors where our party was in full swing
We were chuffed to bits as our saree sakhi's showed so much love towards our efforts. Everyone was waiting to get clicked with us. Thank you to all the friends who praised us with genuine warmth and love
P.S we draped our madisars by 11:30 am and finally managed to pee in the evening only after reaching home