Sameera Satija, 45 yrs, works for the Central Govt. and has been a resident of Gurgaon for 20 years has started a crockery bank to fight plastic pollution.
What Made Her Start A Crockery Bank?
I was always appalled whenever I  encountered any bhandara, langar, chabeel happening in public places and a huge amount of disposables plates, glasses either lying on the roads and just lying there for days. These then get stuck in water drains and horticulture iron nets. Sometimes poor animals swallow them mistaking them for a food item. Additionally, there are many studies/ facts available which have proved that plastic/ styrofoam leach harmful and cancer causing chemicals into the food when hot food is served in them. I used to educate the organizers about the ill effects of using the plastic disposable. They did understand but not many did anything about it. Everyone has his own reasons/excuses for using them. One major issue is the non-availability of other eco-friendly options. So to bridge the gap, I had this idea to create a bank to give away reusable crockery for free as asking them to buy their own crockery was not a practical thing.
How Does the Crockery Bank Work?
There is no rental/charge for using the crockery. Anyone can ask for them, take them, use them, wash them and give back the utensils. The cost of lost/missing utensils will have to be borne by the borrower. Whosoever wants utensils can drop msg on FB page named
'Crockery bank for Everyone'
 .Sameera would get back to them and tie up the pick up etc. One simply has to give a written letter signed by either his RWA or Councillor of the ward conveying the no. of crockery items required, date, days etc. If neither of the above is possible, any two members from the group may give away copies of two IDs proof each; one proof must be Adhar Card.
Volunteers
As I am already into environmental saving activities and working as a volunteer to promote home composting, some of my fellow volunteers knew about it and they were very appreciative of the idea. Another volunteer Arushi who is a doctor liked it so much that she offered help to procure the crockery from one of her friends who owns the factory. She has been a great help in fetching the crockery from the factory at very cheaper rates. She has also pledged to make her clinic 'zero waste' entity which was a first success story related to the idea of reducing disposables.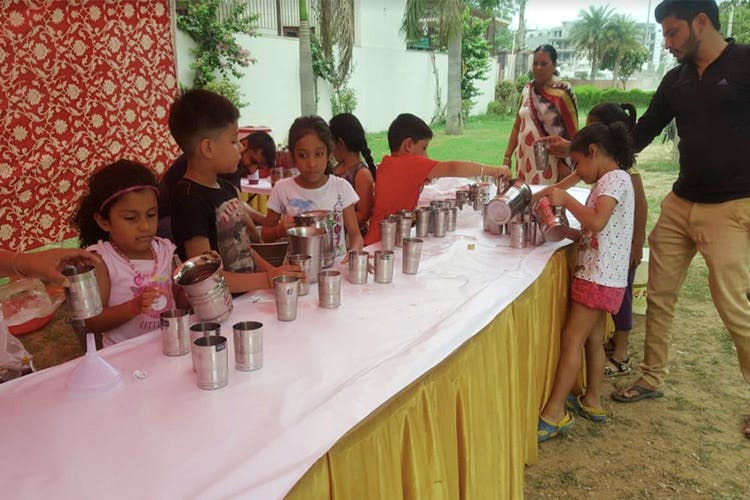 The Response & Support
I wanted to start it before Nirjala Ekadashi when people organize Chabeel and offer sweet lassi to every passerby on the road so that I may give away glasses to some of them and avoid at least some amount of plastic. Hence started with glasses only. One of the group has still kept the glasses as they are organizing Chabeel regularly and as per the last update, it was calculated that we could be able to save 10000 plastic glasses. This is another success story added to the initiative. Now we have added thalis also so the bank has already reached up to around 400 utensils. Many people including members of GurgaonMoms group have come up to support the initiative in various ways.
And the response from everyone was just exhilarating which I never expected. I am overwhelmed by the response I'm getting from every walk of life. Although some people are concerned that it will consume water. I wish to mention here that its a myth. In reality, the amount of water used during the production/ manufacturing of the plastic and disposables is much much more than the water to be used for washing the utensils. Secondly, I am suggesting the users to use Potassium Permanganate and soap nut powder ( reetha) to take care of cleaning and hygiene part. These two are eco-friendly products so the left out water can be utilized in watering the plants around. That way all the water can be recycled and nothing goes waste. And finally the idea is to take care of the environment so we will have to an extra mile to do reclaim clean and green surroundings.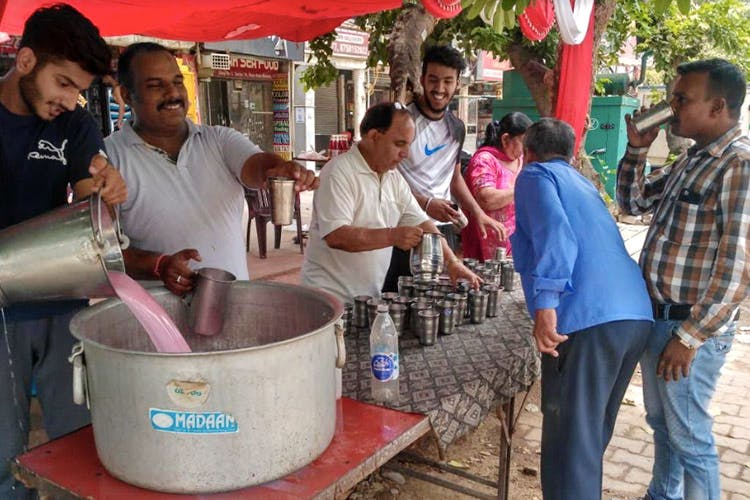 What Next?
Right now I am operating from Gurgaon only but request everyone to replicate the idea as I may not able to cater to the demands coming from all over Gurgaon/NCR. So adopting the idea on community/ sector/ area level is more workable and sustainable. Anyone can visit the page and ask for the details and I will be happy to help him/ her setting the bank. This is the best way one may contribute to the bank.
Her Support
Lastly, I would like to thank all the support coming from fellow volunteers and friends. But to name a few, Anjali Yadav, Dr. Arushi Garg, Baishakhi Sarkar, Smita Ahuja are helping wholeheartedly to spread the word. We are planning to bring some nice, uber and trendy crockery for kitty parties or small gathering also.
Through GurgaonMoms platform I want to make a request to all the lovely ladies to contribute their bit in beating plastic pollution. This earth belongs to our kids and we will not let it pollute.