It's always a good feeling to receive an invitation, specifically when it's coming from GurgaonMoms, a group very close to my heart since I share some wonderful memories when I lived in Gurgaon. With my move to Bangalore, I was still connected with GurgaonMoms via Facebook but somewhere I missed meeting the moms in person and attending the various events from time to time. The invite read #MomsDayOutAtGoogle which was an instant eye catcher and made me mark my calendar! As a full time working mom there couldn't be a more attractive tagline than this one and I was excited about visiting the Google office, meeting other moms and learning more about the Google home device. My 7-year-old daughter was slightly under the weather and had a birthday party to attend at the same time and so there was very little I could do to convince her to come along with me.
I loved how all the logistics of the event were seamlessly managed and communicated, from the clarity of the invites to the event agenda, the Google office locations, etc. were shared via email and Facebook with all the attendees. It took me about 30mins to reach the Google office.As soon as I entered the office I loved the burst of instant colors and energy all across the room, the chattering of kids and moms, the hustle bustle before the start of an exciting event including some lovely photos being clicked. I met some old friends and chatted up introducing myself to some new …. There was an inviting counter of snacks spread which was perfect for the little ones ranging from juices, pastries, and donuts! The Google crew and team were very hospitable, fun and outgoing from the start which made us feel relaxed. They had various games lined up for the kids, to keep them busy and entertained. The next few hours had us familiarized with the dynamic Google home device and all the activities and games that we participated in were focused around learning to use the device from following some simple recipes to playing some kids video on YouTube. I think one of the best moments was when one of the Google team members asked the Google home to list ways in which "mothers could relax"? And the answer back had us mommies in splits! The Google device said, "I'm sorry I don't understand what I am supposed to do"? Spot on! , we moms thought, it just proves that no one can actually help us mommies relax not even this super modern tech device can offer any solution.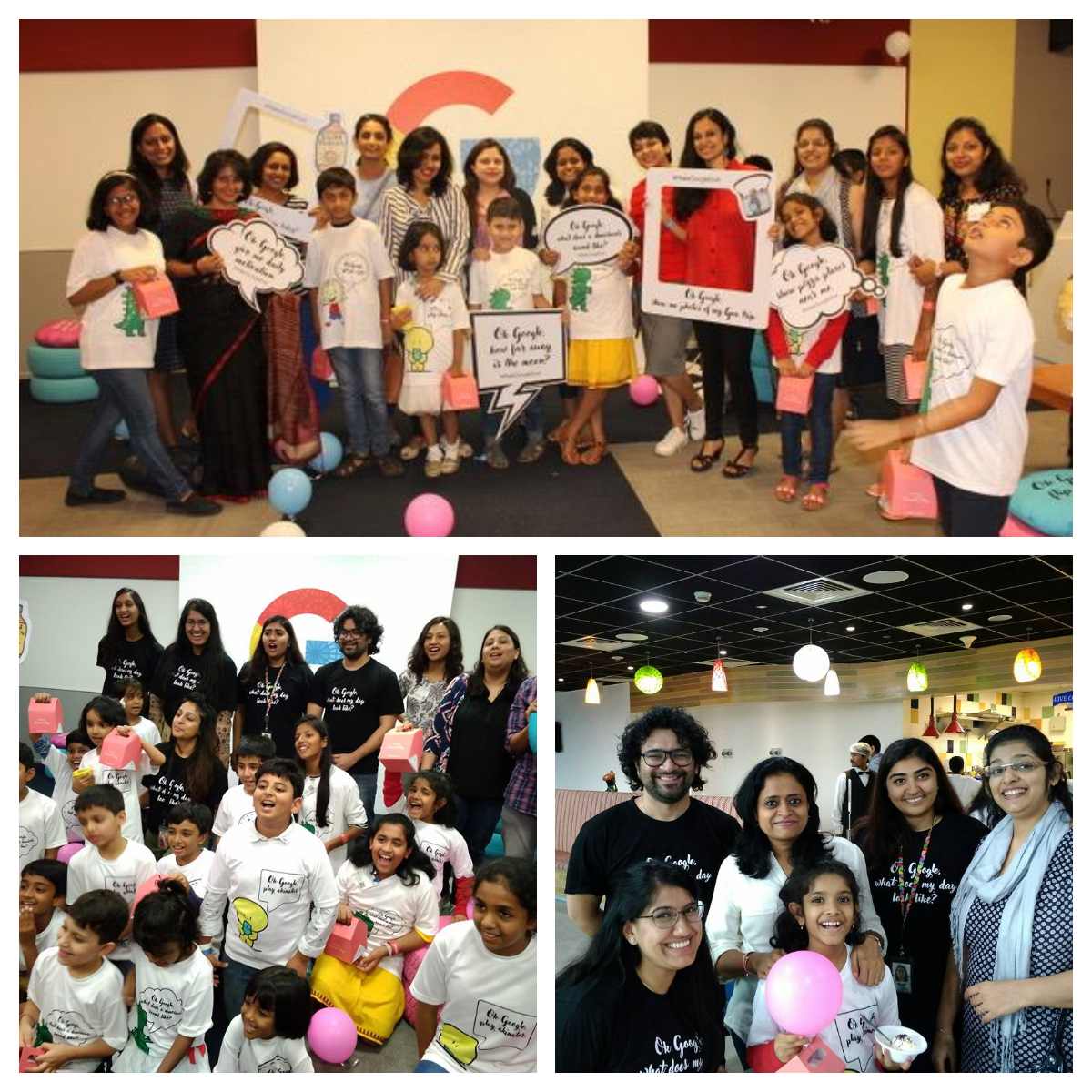 I must add that I was so impressed by all the kids who attended the event. Their presence of mind, quick grasp of instructions and confidence – there was just no holding them back
The Google cafeteria did justice to the perception around it (if you Google[!) about their HQ in California, which is famous for its cafeteria size and spread of cuisines!  What had me impressed at our lunch was how the Google staff sat along with the rest of us and employees and ate from the same selection of foods. It goes to show the culture is about inclusion and equality. This isn't very easy and simple to do and as an HR professional, I can vouch for it that companies often speak and advocate the good stuff but practicing what you preach is commendable. In the end, there was a musical chair game held and the winners did receive …. Oh, wait yes! A Google home device. There was some more photo clicking and as we mommies have it in our genes to naturally pose a strike when we see the camera and smile our best – all part of the fun! Each and every one of us received a nice Google goody bag comprising of the Google chromecast and VR glasses. At the end of it we all returned with happy kids, more connects and some fun memories.  I returned home to be greeted by my excited 7 year daughter and 16month old baby girl, a room full of toys thrown and flipped across the room, food waiting to be heated up in the microwave, some laundry, a not so happy looking maid and instantly I thought to myself "OK Google, now (Please) can you help me solve this !
Written By
All the moms and kids had a great time at the Google, Bengaluru Office. Here's what some more had to say 
Shilpa Sharma – "The Google event was a delight to attend with my8-year-old. It was informative and very well organized. The kids were engaged productively with lots of information sharing."
Debmita Dutta – "I and my daughter really enjoyed learning about the device from the makers themselves. Loved how friendly and cordial everyone was. Came away with a wonderful impression of an organization we depend on for almost everything every day."
Seema Nath –  " The day I announced to my son that he will be visiting Google office for an event he was jumping with joy! I will never forget the look on his face when he entered the Google office it spoke a 1000 words… They had made sure the Mums and kids are pampered well. They made sure there were snacks/  juices spread out at every level they conducted the event. Games were so much fun that Kabir wants me to have the same games at his next birthday party! The icing on the cake was when he won "Google mini-home" for one of the game's conducted 🙂  "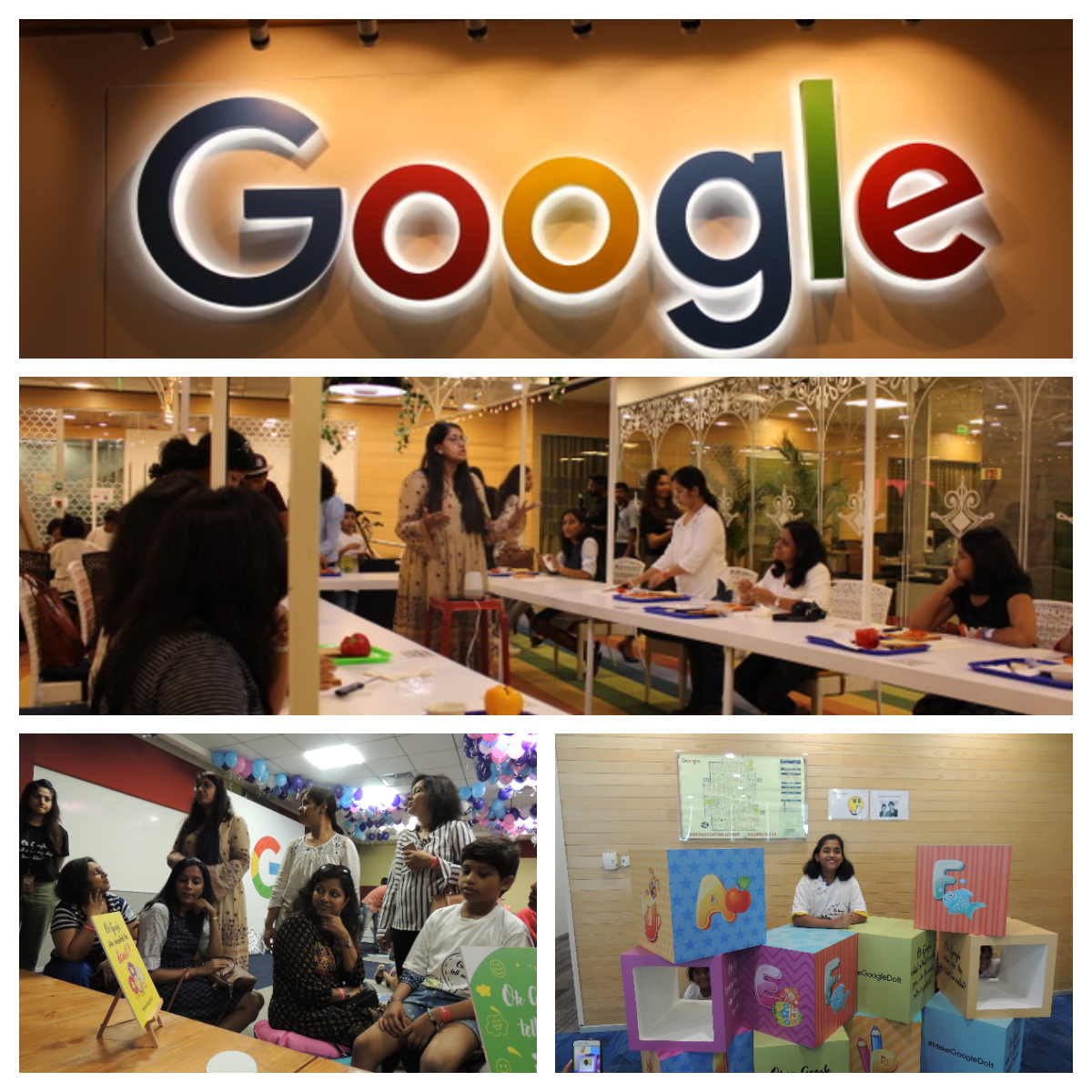 Priyanka Bhargav Sharma  – " I attended the #momsdayoutatgoogle on 2nd June in Google Bangalore office. It was a meticulously planned event with a lot of activities charted out for the kids and moms alike. It was not only engaging but enlightening event for kids. It was a fun-filled day, with a lot of meaningful interaction for children and mothers. Games and demos were well crafted and aligned keeping in mind the boundless energy levels of the Generation Z (kids). Such social activities should be attended by more women/kids to inculcate the habit of healthy peer interaction among kids along with giving them an opportunity to learn and satiate their ever inquisitive minds:). @Google: Thanks Google team for all their management and help."
Shweta Manjunatha  – "Superb experience! Had loads of fun at the event, truly memorable time at Google. Very informative n all the queries were clarified really well. A special thanks to Google team."