An entrepreneur by chance, a leader by choice, Shreedha Singh is the co-founder of Khadi Essentials, a mass premium Ayurveda venture seeking to create a community for all.A fair enthusiast towards everything clean, she has been a vocal advocate of the
overall wellbeing of the body, mind and soul achieved through the lineage of Ayurveda, and brought the roots of Science of Life to bottles. Khadi Essentials is the by-product of Shreedha's urge to make Ayurveda evolve within Modern times and Param Bhargava's (Founder, Khadi Essentials) wish to take it to every nook and corner of India & the world.
Shreedha Singh is a celebrated Speaker and features in leading prints and online media for her views on Ayurveda and its' adaptation in today's times, Sustainable Development for Brands, Women in the Business World and much more.
With much more to aspire for, Shreedha along with Param is on a mission to take Khadi Essentials' ethos and modernize them for the millennials and masses with TAC- The Ayurveda Company.
Q & A with Shreedha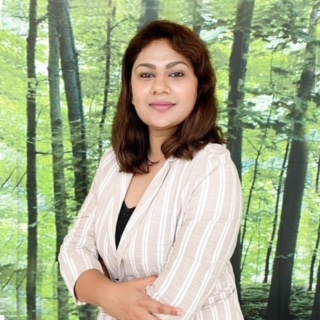 Where did the idea for your business come from?
Shreedha- The idea of starting The Ayurveda Company- T.A.C comes from my own experience of battling a chronic skincare condition known as Urticaria. When I shifted to Gurugram, the stress of work, weather and shifting triggered my skin and it took me three years to recover from the mental and physical pain. Within these 3 years I tried everything, allopathy and meds, but at the end, Param & I received the gift of Ayurveda through this struggle, which we now intend, to share in the utmost simplified manner with the whole world.
What problems are you trying to solve?
Shreedha:
The First & foremost challenge that I face is the lack of awareness about Ayurveda. It has been a consistent part of our lives in one way or the other, but the medical industry has reinforced that Ayurveda is slow and ineffective for their reasons.
It is a challenge to break that stigma around Ayurveda and pull down the efforts to build the wall through the ages.
To bring out and about the true power of Ayurveda in front of everyone.
How did you build your team?
Shreedha– Before covid, we started T.A.C with a team of 4 working out of the warehouse, and now we have over 70 members in our tribe, including senior management level positions from the industry.
When did you know it was time to become a full-time entrepreneur?
Shreedha: I call myself "An incidental Entrepreneur."
Param, our Founder, started his venture in 2018, and I joined him in 2019 because he couldn't afford a resource; we had invested all our savings in production and had no money to hire. We believe that if the product is honest & high on ethics and values, it will succeed, as reflected by TAC's wide & rapid acceptance.
How do you know when you have a winning business idea?
Shreedha– there's a very interesting term called PMF: Product Market Fit. I believe that with due course of time, if most parameters are aligned, market itself tells you. Customer acceptance, love & repeat would be one of the fundamental metrics of a winning business idea.
What are some hard choices you had to make to get where you are?
Shreedha:
The biggest hurdles have been internal, i.e. attuning the mindset towards personal growth, overcoming difficult situations, internalizing motivation & problem-solving process.
Left a 7-figure salary (which I'd worked extremely hard for) post my experience with Ayurveda, I believed in the cause and that it needed to reach more people like me.
Covid brought challenging times for almost every business; we survived & flared and protected our team & their families.
Who and what inspires your entrepreneurial ventures?
Shreedha– Startup journeys can be grueling at times. Due to the uniqueness of everyone's journey, there's no perfect solution that fits all, one has to fall & fail to rise & shine. One of the key aspects of being an entrepreneur is filtering & channeling the ambiguity, to create an environment of clarity, progress & trust and be internally motivated (many times even when everything is falling apart)
Building a team that is equally as passionate as you are, is instrumental to the growth of the company, who keep the bar of motivation high.
Do you ever get impostor syndrome, and how do you deal with it?
Shreedha: I hardly know any entrepreneur, who doesn't suffer from this, it's a part of one's consistent paranoia to keep doing better – with people, products/ services & self. You keep challenging yourself, are always hungry and may feel overwhelmed or dejected for things not moving the way your envisaged. I don't have a successful solution yet, but I keep checking the overall displacement from point A to B, as opposed to the distance covered.
What are the biggest challenges to being an entrepreneur?
Shreedha:
The most optimum utilisation of funds for a bootstrapped start-up (until recently when Wipro trusted us with their first ever pre-series funding).
Initial fundraise and the kind of partner who comes onboard, financial investors are plenty, alignment of culture & ethos with virgin investors is non-negotiable.
Creating a team of micro-entrepreneurs who operate as your extensions and not just as the team
Preservation of culture: The team is young, small, & highly close-knit, and culture is quickly impacted. Identifying and sticking to non-negotiable principles you as an individual & as a Co. is mandatory
What's the most rewarding aspect of starting your own business?
Shreedha– Primarily the impact one can create and how an idea can become a team and a business that can touch millions of lives is extremely rewarding. Other things that give me an internal kick are cross functional learning, no boundaries of roles and another level of accountability.
 What advice would you give to beginning entrepreneurs?
Shreedha:
For Entrepreneurs – This is the time to build – anything that you want to because the people of India now embrace the change they see. They are open to trying new brands made in India and are exploring and experimenting.
Focus on inclusive growth and not just wealth accumulation. It should be equally distributed to generate more employment in the market, upscaling the lifestyles so that the industry flourishes.
Always be genuine and transparent in your approach. Never look for shortcuts and do the hard thing.
The legacy & traditions that come from the roots of India holds the greatest strength to solve our problems even in modern times. Always believe in the traditional way of life and be rooted as you take the flights of success.