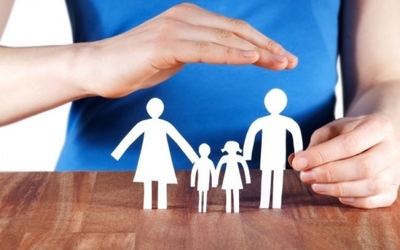 It's Sunday morning and all I want to do is relax and enjoy my morning tea. My 4-year-old has decided that she also needs to make the most of her Sunday so has woken up early. Very early I think!
She is riding her little Scooty and all inspired by the republic day motorcycle stunts is trying out a few herself. And there her Scooty turns and before I can reach her she falls. I yell so loud, my heart stops beating. She obviously is not hurt, who can get hurt on it, it moves at a snail's pace, but is a bit shaken by my scream. I can't help it.
My most important job these days is to worry about her all the time. To my mind, that's how it should be as children need protection all the time. I remember once a friend, mother of a young girl had asked on Facebook "when will I now sleep peacefully?" Someone had very wisely commented "Never"!
As parents, we promise the following 3 fundamental things to our children
Protection: Protection from hardships of life.
Security:  We promise, till we make them independent, we will offer them security of
Nutrition
Good education
Healthy environment
A decent lifestyle
Unconditional love and affection
When a child loses a parent he or she loses all three.
However, Insurance helps provide protection to the first two. Love and affection are irreplaceable.  This New Year lets gift our children security and protection even when we may not be around. Let's buy a life cover.
Life insurance can help mitigate the financial impact on your loved ones in the event of your death. With a life insurance policy, your family can use the proceeds to help replace lost income, eliminate debt, pay for education, keep a business afloat, protect family wealth or address other financial needs and goals while they adjust to a new life.
How does life insurance work?
A life insurance policy provides a payment of the sum assured in the event of the death of the insured. There are many financial goals that you are trying to meet with your hard earned income like paying off a home loan, education of children or supporting elderly parents. Life insurance can help protect these goals and ensure same are not interrupted in your absence.
What types of life insurance are available?
There are many types of life insurance plans available like
Term Plan
Term insurance is the simplest & cheapest form of life insurance plan. A term plan provides death risk cover for a specified period. In case the life assured passes away during the policy period, the life insurance company pays the death benefit to the nominee. It is a pure risk cover plan that offers high coverage at low premiums.
Endowment Plans
Endowment plan is another type of life insurance plan, which is a combination of insurance and saving. A certain amount is kept for life cover, while the rest is invested by the life insurance company. In an endowment plan, if the life assured outlives the policy term, the insurance company offers him the maturity benefit. Moreover, endowment plans may offer bonuses periodically, which are paid either on maturity or to the nominee under death claim. On death, the death benefit is payable to the nominee.
Unit Linked Plans
A unit linked plan is a comprehensive combination of insurance and investment. The premium paid towards ULIP is partly used as a risk cover (insurance) and part is invested in funds. One can invest in different funds offered by the insurance company depending on his risk appetite. The insurance company then invests the accumulated amount in the capital market i.e. in bonds, equities, debts, market funds, or a hybrid funds. These plans usually come at a higher cost.
Whole Life Plan
A whole life insurance policy unlike a term plan which is for a specified term, cover the life assured for whole life, or in some cases, up to the age of 100 years. The sum assured or the coverage is decided at the time of policy purchase and is paid to the nominee at the time of death claim of the life assured along with bonuses if any. The premiums are higher as compared to term plans. Whole life insurance plans also offer partial withdrawals after completion of the premium payment term.
Money Back Plans
Money back plan is a unique type of life insurance policy, wherein a percentage of the sum assured is paid back to the insured at periodic intervals as survival benefit. Money back plans are also eligible to receive the bonuses declared by the company from time to time
Child Plans
Child plan helps to build a corpus for child's future growth. Child plans help to build funds for child's education and marriage. Most of the child plans provide annual instalments or one-time payout after the age of 18 years. In case of an unfortunate event, the insured parent passes away during the policy term – immediate payment is payable by the insurance company. Some child plans waive off the future premiums on the death of the life insured and the policy continues till maturity.
Retirement Plans
Retirement plan helps to build a corpus for your retirement. Helping you to live independently financially and without worries. Most of the retirement plans provide annual instalments or one-time payout after the age of 60 years. In case of an unfortunate event, the life assured passes away during the policy term – immediate payment is payable to the nominee by the insurance company.
When is the right time to buy life insurance?
If you have dependents then you should have Life insurance. It's a good idea to review ones need for life insurance whenever a major life event occurs. Consider the following events and the ways in which life insurance might help protect your family in each scenario:
New Home Purchase: Life insurance can cover your home loan in the event of your death.
Marriage: A wedding should prompt you to review your entire financial situation, including your income needs, debt, and other liabilities, and to add a layer of protection for both spouses.
Birth or adoption of a child: A life insurance policy can provide protection for your family's increased income needs and any debt you may have taken on, including college expenses.
If you have young children you should consider buying life insurance for both the parents even if one of them which in most cases is the mother is not working. Consider the value of the mother and the services she provides. If a premature death were to occur, in addition to being a devastating loss, it would put a tremendous financial strain on your loved ones and might impact the working father's ability to continue to earn the same living
Even if you may already have life insurance coverage through your employer it is a good idea to consider purchasing additional coverage independently so that your coverage continues even if you lose or leave your job. Also, your employer's coverage may not meet your financial obligations for adequately protecting your family.
How much life insurance do you need?
There are several ways to determine how much life cover you need. One simple thumb rule is to buy cover equal to 12-15 times of your total income.
So this New Year gift a life insurance to your children and family.
Feature Image Source: Home Care Lebanon