A thumbs up for the Surajkund International Crafts Mela. I absolutely love and adore the ethnicity of India and what a better platform than Surajkund where this is showcased. I am yet to see another Mela organized at this scale anywhere in India (barring the Trade fair). Thirty-two years and still going strong, so it speaks for itself.
The rush at the SurajKund Mela is lesser now as compared to what is anticipated next week until 18th February when the Mela ends. There is ample paid parking space which is decently managed. Tickets cost 180 per person (above 3 years) on weekends with a fifty percent discount for senior citizens for which there is a separate counter at the ticketing booth. Age proof is required. On weekdays the tickets are priced lesser at 120 per person. One may also purchase the tickets online from  BookMyShow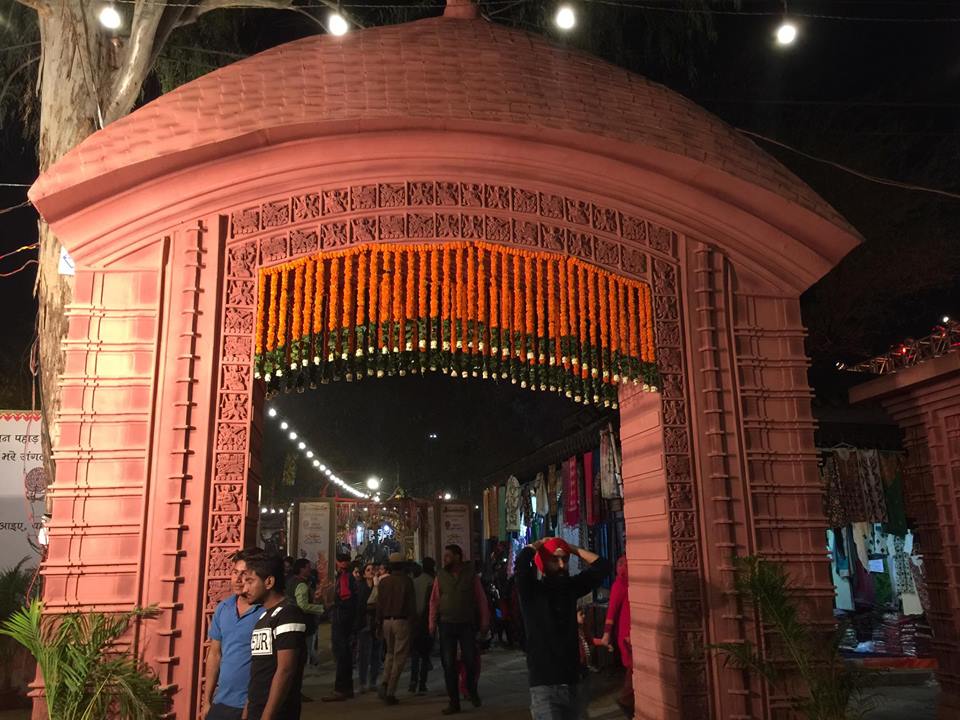 On entering the fair one is greeted with massive dwars(doors). There are plenty of stalls where artisans, craftsman and sellers display their best creations. Madhubani hand created paintings all around and some of the artists go till Milan to teach their art. Featured below is a lady who never went to school but is now invited, even at international events. Shared here is her picture whose voice fills with pride. There are hand paintings from Orissa. These paintings depict an entire story in one frame.
There are paintings crafted on silk and the black and white paintings are a class apart.  There are lots of ceramic and terracotta display which can fill your home for décor or tableware. Sarees from all across covering the neighbouring Benares, Madhya Pradesh to the farfetched northeastern state of Assam displaying the famous and rich Assam Silk. Not to miss out are sarees from Bengal with the Dhakai Jamdani of Bangladesh and also Bhagalpur sarees from Bihar. Bed sheets and woodwork of Uttar Pradesh which is the theme state this year alongside bags and runners all the way from Gujarat all add to the vibrancy. Amidst all the colours of different states was spotted a lone Kashmiri selling Kashmiri handicrafts with beautiful artwork.
Brass work was also displayed in a few stalls. All in all, there is plenty to shop. ATMs across ensure one feels cash rich. Paytm is a popular choice as well. If you do not feel like going would encourage to at least go and experience creativity and innovativeness. Somewhere the sadness creeps in our hearts that the Indian tradition of cultural arts displayed by different states are getting lost bit by bit due to changing times but each and every piece of work here is so eye-catching and beautifully crafted.
Food stalls are plenty with the availability of both vegetarian and non-vegetarian cuisine. Do not forget to taste or witness the Gohana jalebas which are jumbo-sized jalebis.  The day will fill you with cultural programs. One needs to be prepared to walk around.
There are plenty of international items on display as well. There is a dedicated space for international stalls and participants have come far from Thailand, Kazhakistan, South Africa, Lebanon and it is a diverse mix. Go witness for yourself. Have fun and enjoy the day. Ideally, a full day does justice to the vastness here. Do not forget to catch the lights in the evening. Also at the end of the Mela awaits a wonderful experience for all, especially kids through amusement rides.