It's always wonderful to share some great real-life experiences and achievements of our community members. Few moms from Gurgaon who are also active runners participated in the Tata Mumbai Marathon on 21st January 2018, which is one of the world's top ten marathons.
We are proud to feature four Gurgaon moms who participated in this and it was a hattrick for two of them this year! Here's a glimpse of their journey
Avani Mathia Vora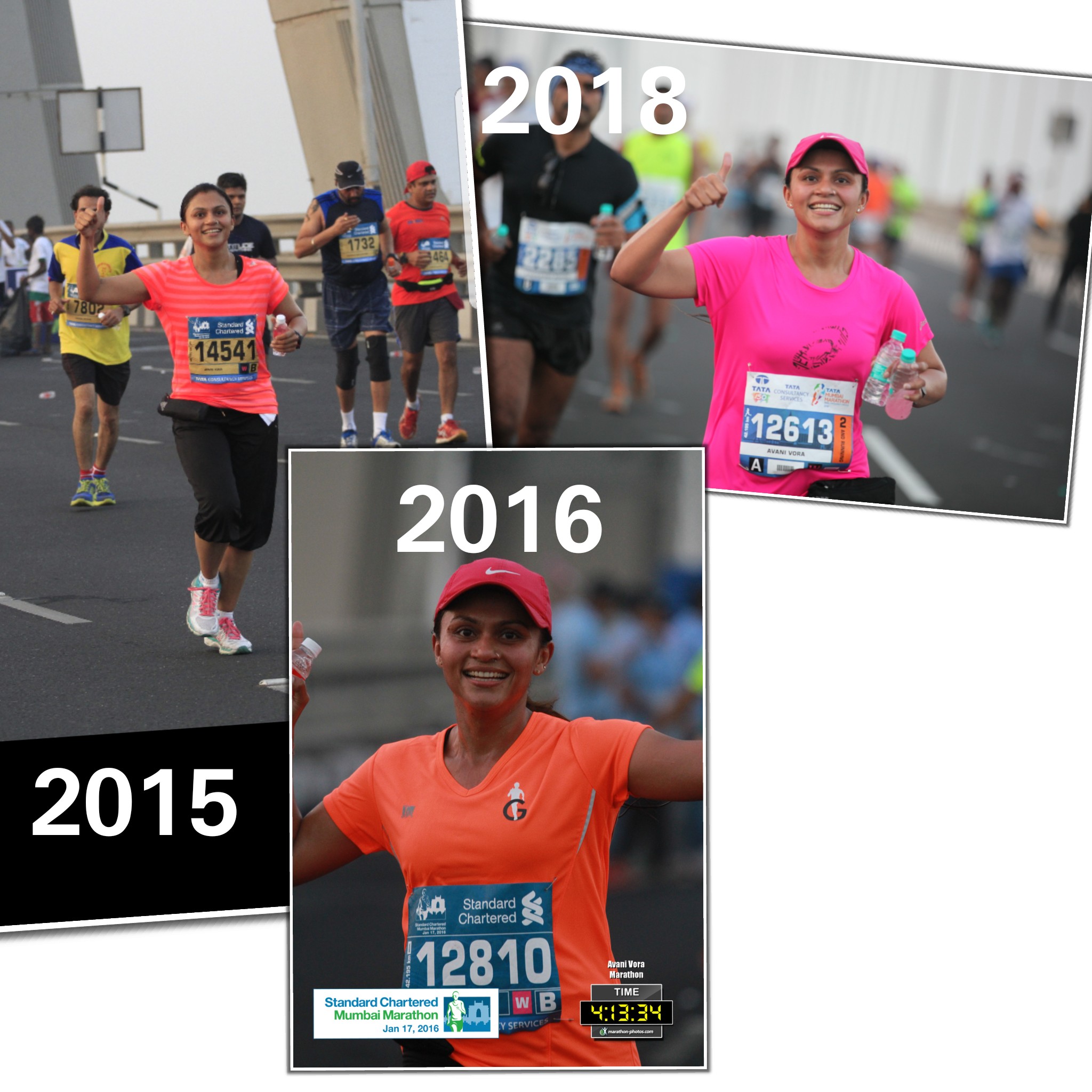 My Mumbai Marathon- hattrick achieved!
Running A full marathon in Mumbai is always a runner's treat. Running All the way along the seaside and the privilege to run on the Worli sea link is something no VIP can ever get.
This was my 3rd full marathon in Mumbai. I begin my training right from August, conquer the training check of 21kms at Airtel Delhi half marathon and then begins the full-fledged training for 42kms.
Gruelling 30kms on Sundays in Peak winter's with temperature 8-10 degrees, body layered with full sleeves, gloves and cap and still bearing a red running nose! Phew! But I still love to run the Mumbai Marathon..
Oh, the diet!!! simple and rich !!! Simple to digest and Rich in Nutrients is the key. As the training advances, more protein is taken for easy recovery and more carbs to stay energetic.
Being A fitness consultant, a sports nutritionist, a certified marathon trainer, I always feel that running a marathon is not difficult, but supplementing it well to avoid any deficiency in order to avoid an injury is very important.
As mothers, running is a passion. So we might as well enjoy it. Even after a 36km run, I come back home and get ready in 30mins to start a day with kids. Either drop them for classes, take them to a birthday party or at times prepare them for their test. Life goes on…
Shalini Verma
What an energetic start to the new year, truly going beyond! My 4th half marathon in Mumbai – the maximum city. A city with an amazing spirit where hordes of Mumbaikars came on to the streets and cheered and encouraged all the runners to give their best. I was running with my run group from Gurgaon. Along the way, I felt their love, their encouragement, couldn't ask for more. In my younger years I had never participated in any form of sports and here I was, in my late 40s, running a marathon, alongside many elite athletes. I discovered myself, my stamina and the willpower to complete the Half Marathon. I participated not to become an ace runner or any kind of champion. I participated to feel the joy of running with men and women of all ages. Over the years, running marathon helped me achieve functional fitness in my day to day living.
I prepared for the run by following a well laid out nutrition plan – zero sugar, low carb, some protein and lots of green vegetables. Early morning shake of beetroot, wheatgrass, kale, amla, lemon, garlic and ginger kept me energised for the whole day. Thanks to my diet plan I did not ever feel exhausted during the run and I completed the distance with ease. Would like to thank Coach Ravinder, my running partner Venkat and my group, The Runarounds for their support and encouragement.
Vidya Deshpande (Core Team Member – GurgaonMoms)
I had a whale of a time running in Mumbai… Forget about timings, forget about the race… I just enjoyed all the feeling. I took everything that was on offer: from toffees n gur to oranges, bananas and even free hugs.
Mumbaikars from young to the old, have great sporting spirit.. standing on the sidelines offering energy food to runners. Even the kids from the slums near Worli Dairy (11k point) where giving hi-5s! It's such a good feeling to run here. And that's why it was the third time in a row for me!
Tanya Agarwal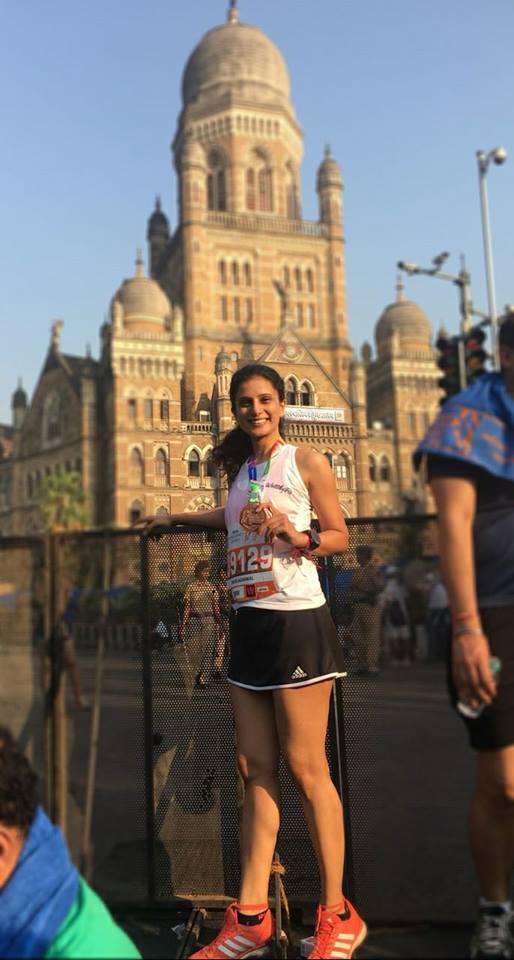 In my 3 years of active running, TATA Mumbai Marathon was my first official Run event outside NCR. My kids are still very small and I couldn't really get myself to get out of NCR to go for a run. But now as they are growing, it was something on my mind and am glad that it started with Bombay.I ran a Half Marathon in Bombay. It's not an easy route as there are on and off inclines and especially at the 13thkm, the Peddar Road incline can give any runner some good tears to shed. But Bombay was the most beautiful run experience for me. I did my Post Graduation in Management in Bombay and also started my career there. So I have always been very attached to the city and the vibes are always nostalgic.
Running on the Sea Link, under the beautiful structure, and running on Marine Drive with no traffic – Priceless!
The Bombay crowd support on the route is an unbelievable phenomenon. Women, men, kids, senior citizens, the police – everyone is out on the roads with food, water, good wishes and you name it! I have never in my 3 years of running seen such an amazing cheerleading squad for all 21 kms! There was a certain couple that was carrying boards saying – Free Hugs – and I could see many runners going up to them! Another couple was carrying big charts with 'Sweat is Sexy' as a display message! There were 'aunties' who were offering paranthas, freshly made lime water, orange juice, dates and what not! I had only heard about this from runners, but seeing it myself was just something to believe!
My Preparation:
As I mentioned before, the Bombay run route has inclines and especially if you are going from Delhi in January, you are changing the weather drastically! From training at 6 degrees temperature in January in Delhi mornings, you are suddenly going to run at minimum 21 degrees in Bombay.
–          4 weeks before going for TMM, I started running in the afternoons and wore little extra clothing to keep myself hot and perspiring. I stopped running early in the morning.
–          I started doing strength training thrice a week. Squats, lunges, push-ups, burpees – I did all of these with many repetitions to keep my body strong for the inclines. Your core muscles need to be in good shape to run on slopes.
–          I ate very well those 4 weeks. Just like for any half marathon. Nuts, milk, green leafy vegetables, beetroot, chappatis, chicken, homemade cottage cheese, stuffed paranthas. I ate them all. I am a small eater, so I ate many times a day. But I kept my metabolism very active by not eating too much at one time and by eating small portions every 1.5-2 hours.
–          Hydration is also very important in winters. Since we feel less thirsty in winters, we tend to neglect out hydration. But at least a week before the final event, I increased my hydration by having chaas, water, and general fluids. I am also a heavy green tea drinker. I have about 2 cups of green tea every day.
–          Sleep – My actual sleeping hours are about 5-6 hours. But because I wasn't training early mornings for this run, I slept an hour extra and that is a good thing in every way.
–          I am careful about my Vitamin D, C and Calcium supplements.
–          I do yoga 5 days a week. Because Yoga is the only way to stay injury free. With all the running and strength training, it is important that I stretch my hamstrings, quadriceps and give my back some stretches too.
I happily look back at January 2018 and feel that getting out to run such a beautiful route has made my year memorable, already. I will be going back to Bombay for sure again next year! You can read all about how to prepare for runs on my blog https://wellthyfit.com/
Kudos to all those who participated and keep participating in such runs! You all are an inspiration to many around.