It's a wonderful feeling to see one of our own grow and succeed in their entrepreneurial venture. It's an even greater feeling to have been an integral part of their story! We are thrilled to share that Slurrp Farm is now available at 200 stores in Gurgaon, including Modern Bazaar, Sodhi's, Garg Dastak, Meditree, Samrat Bakery amongst others, and is launching in stores across New Delhi next week. Do support them by visiting the stores and telling your friends and family. (http://slurrpfarm.com/store-locator/)
They met at a Diwali party in London – thrown by Meghana and crashed by Shauravi. And instantly, hit it off! And after many such parties, dinners, lunches and tons of conversation (over lots of yummy food, obviously), they realized there is one thing they were both extremely passionate about – Good Food!
The idea of creating food for kids initially hit them when they were both working in London. Every time they would visit India, their friends with children would ask them to get certain food products for their children. "This request took us by complete surprise. We simply couldn't believe that people would want to import food back to India. Especially, when there is such tremendous variety and diversity in our traditional way of eating, we just couldn't understand it." – Shauravi & Meghana
Around the same time, Shauravi started to read up on food voraciously and watched the movie Food Inc. She then made Meghana and everyone she knows, watch it. If you haven't seen it – you must! It is the SINGLE most seminal documentary on the food sector that everyone should see. This sparked a journey where they researched and started to change how they ate in their own homes. Healthier, more mindful and focus on slow cooking!
"And while we realized that there was definitely a gap of healthy eating options in the children's food market in India, it is only when we had our own children that we truly understood the trials and tribulations of feeding our kids right. We spent a lot of time studying, sourcing and understanding the several problems with the food chain today. This context above of people asking us and the gaps we faced ourselves was the trigger for us to set up Slurrp Farm."
Image Credit: Rendezvous with Rashmi
And along the way, many different recipes were tried and tested. In fact, at GurgaonMoms, we remember their early days when they were trying to figure out the different type of products, flavours, etc. and how they reached out to many moms here (some of you got a chance to try their earliest samples!) and got feedback for the yummy food you see on the shelves today! Their initial set of recipes were decided by the most honest customers – pre-schoolers. Since children don't lie (or spare your feelings!) the choice was clear, and the first three Slurrp Farm cookies were born.
"Looking back, our biggest challenge has been to find a way to make what tastes delicious in a home kitchen, taste the same on a shelf when it reaches your hands, without adding anything to it. We didn't know that this would be such a challenge. But we also didn't know we would have so much fun on the journey and meet so many cool people along the way who would help us figure it out…"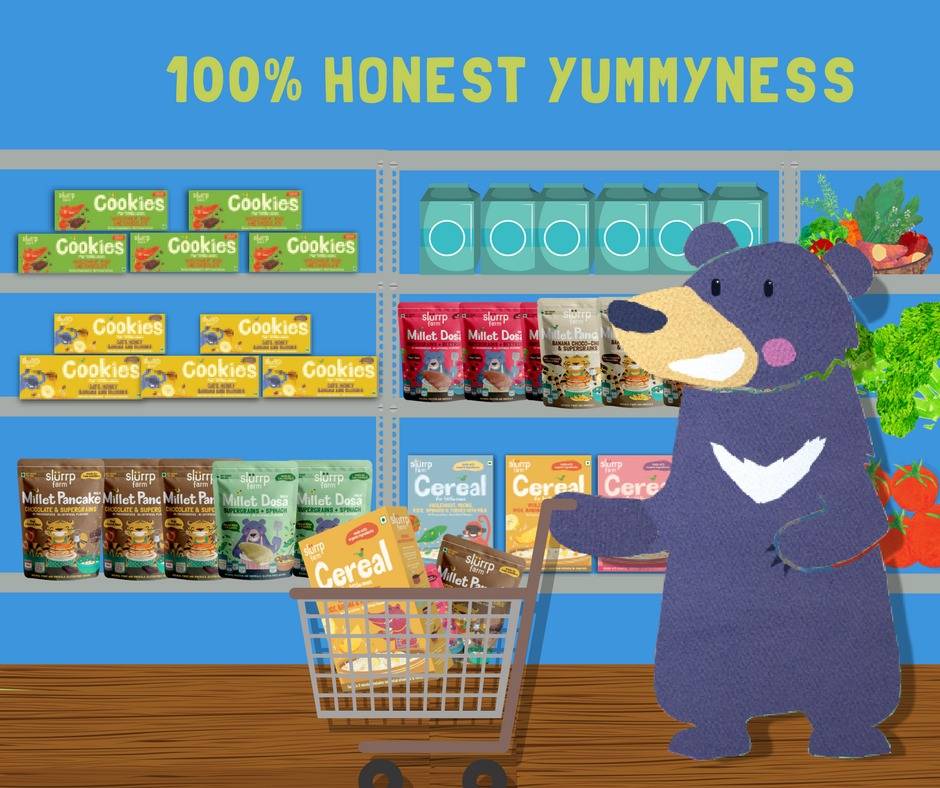 Slurrp Farm is made by two mothers but has been shaped by many – In a way, we all have been a part of their growth! We love how they use traditional Indian ingredients like Millets and Lentils with ZERO trans fats, less sugar than other brands and little to no maida and preservatives. We, at GurgaonMoms, wish them nothing but the very best in their endeavor to improve the quality of what's available on our retail shelves.