We had our sights on a trip to Europe for a much-desired vacation. We were however dissuaded by visa related hiccups that could possibly throw our plans in a disarray. So, rather than look at the west we looked for options in the east. We had been to a few places before already, so now we were looking for a country we'd not been to. We then started to fancy Vietnam, as it had the lucrative 'visa on arrival' hook. On reading the fine print, we saw it was only for business travelers. Now determined, and 'nothing can stop us' mode, we applied for an e-visa that promised to come within 3 working days. Gosh! During those 3 days, we refreshed the site multiple times to see the visa application 'approved'. Nail biting days, as were inching close to the leave dates that were happily applied and happily approved.
Voila! On the 7th day our visas were approved.
Almost immediately we booked our flights and started packing. Checked the weather forecast, tapped a few sources to plan the itinerary and other things.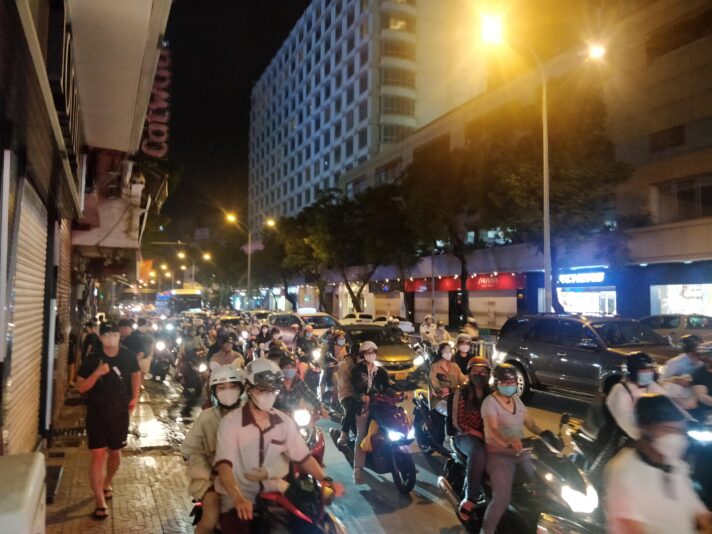 We landed in Hanoi, the capital city of Vietnam, at the crack of dawn. As we drove to the hotel, we saw the city alive already. So many folks were either exercising, running, stretching or cycling. I'm not a morning person and definitely not an exercise person. What intrigued me was almost all the pavements were occupied by people sitting on very low stools and sipping a drink (not sure what that is called), smoking and / or catching breakfast. I wanted to jump out of my car and be in the moment of "I'll have what she's having." Simple!
We dumped our luggage at the hotel and went for some street food exploration for what was to be our first meal in Vietnam. The street food joints were inviting, but we could not read anything. So we deciphered what's what by looking at the descriptive pictures and asked 'if we could have that' by pointing to what we wanted. The food joint owners could not speak English and we of course could only speak English. Perfect! So, it was a sign language interaction. (Why was I talking loudly while making signs … I don't know.)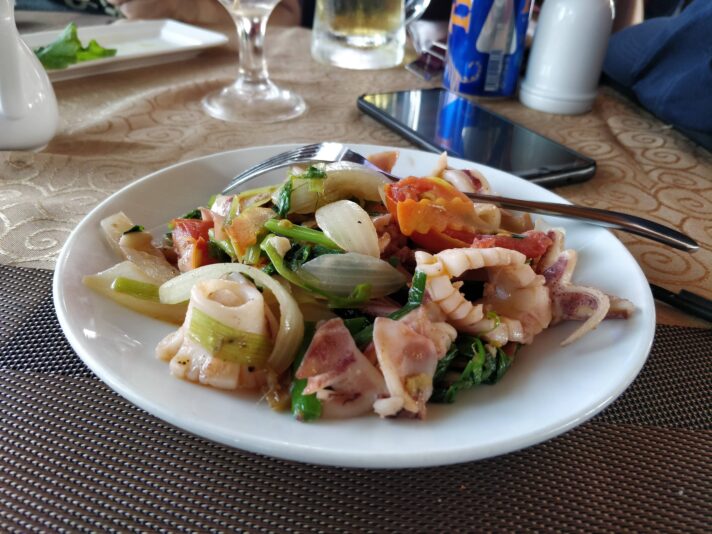 We were on 7th heaven after having our breakfast. Some rice paper spring rolls (a sheer curtain hiding a delectable prawn), Pho (pronounced 'fuh') and some other stuff. Now the fun started while making the payment. The bill was a scary figure, with multiple zeros. I went into a shock, if street food is soooo expensive, how will we afford our other meals. But we did a quick conversion and were happy and extremely relieved. The math is 1 USD = 23880 Vietnamese Dong and 1 INR = 290 Vietnamese Dong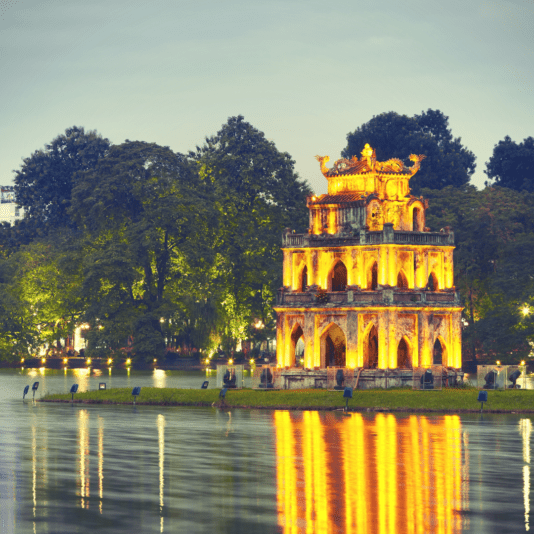 Hanoi: We visited the historic capital of Vietnam and the famous ancient temples of Le and the Dinh Dynasties. We then did a boat trip in Tam Coc to see karst formations as we passed along many caves carved through the limestone. It was an awesome experience. Most boat'men' are ladies and funnily they row the boats with their feet.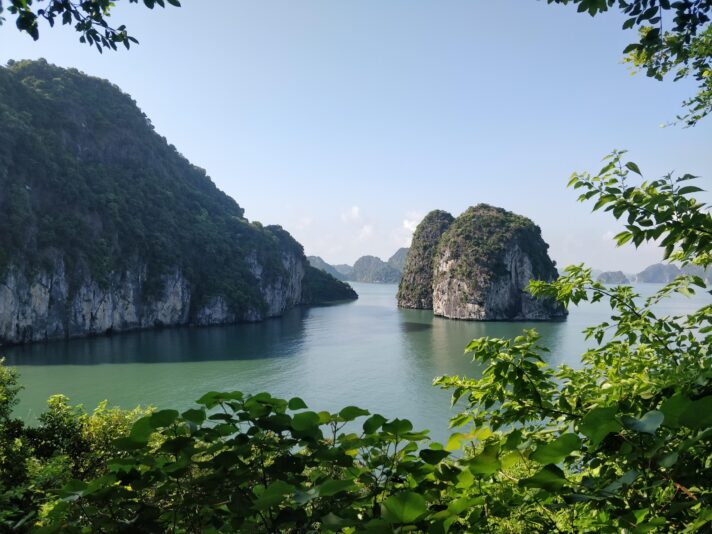 Halong Bay: A bus ride from Hanoi, to reach a Wharf, then a small boat ride to a small cruise ship. What a ride, along the bay, saying bye to the city to be enveloped by the bay on all sides, tall Karst formations and the swaying cruise. I found some people daring, they would hop on to the small boat to go kayaking and swimming at a distance and come back voraciously hungry and thirsty for the local beer. As the sun set, it became magnificent, we could see only the twinkling lights from a few neighboring cruise boats and nothing else. It was one of the most peaceful nights we had experienced ever.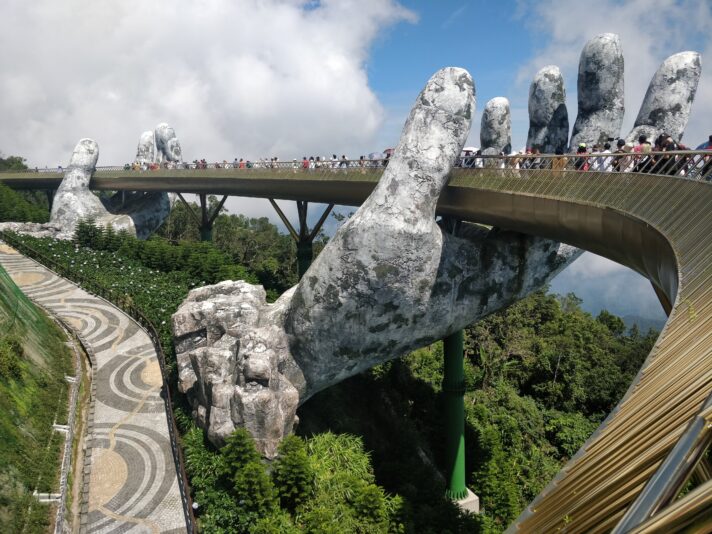 Danang: A flight from Hanoi brought us to Danang. From there we traveled by bus to Suoi Mo cable car station and finally were transferred to Marseille Station in a swinging and jaw dropping experience, in the cable car. We walked on the magnificent Golden Bridge – The Hands of The Gods at Ba Na Hills. There is a pagoda, some French gardens and after exploring that we went to see the massive Fantasy Park – perfect for kids.
Ho Chi Minh City (HCMC): The highlight was visiting the Cu Chi tunnel. We learned how the tunnels were constructed and how the people survived in the harsh conditions during the war.
We saw how diligently tunnel systems were built, which included the specially constructed living areas with kitchens, and other facilities like storage, weapon factories, hospitals, and command centers, this would help whoever lived inside the tunnels meet their basic needs. We also saw the demo of many hidden trap doors within the maze-like tunnels for security purpose during the war.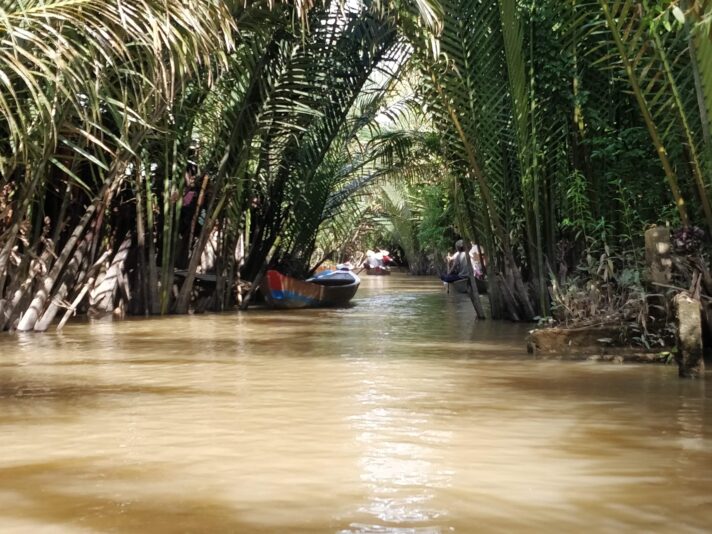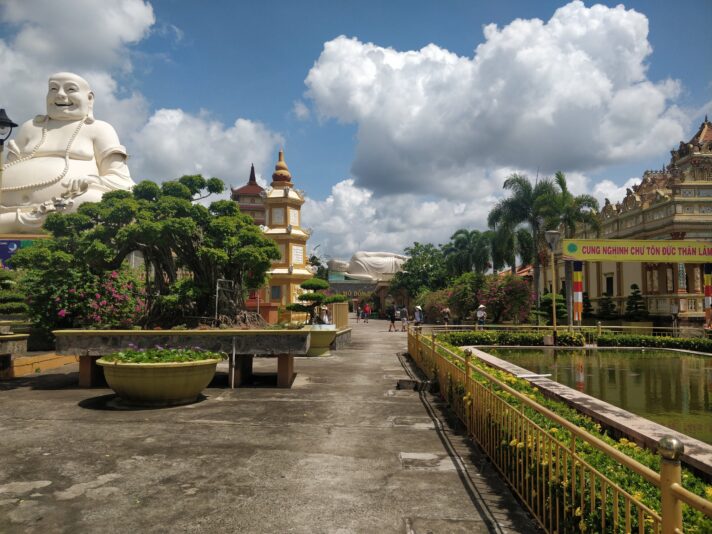 Mekong Delta: We arrived at My Tho, visited the Vinh Trang pagoda, and then took a leisurely boat ride along the river. A boat ride to enjoy cruising on a hand-rowed sampan under the shadows of the water coconut trees along the natural canals.
There was a bit more, but I'll leave that out for you to experience it yourself when you visit Vietnam.
Highlights:
• It's a beautiful, green, clean country.
• Highways (you'll be taking them for several bus journeys) are top class.
• People are nice and simple.
• Currency calculation is a task, but it's very affordable and reasonable.
• Better to try the local cuisine, specify what you want (we stuck to no beef no pork) and happily ate seafood, chicken and veg. A Dominos pizza was our most expensive meal. Ya, that hurts.
• A good sunscreen, cap/hat is a must.
• A first aid kit for small bruises.
• Only shoes make sense, no other footwear required.
• Always carry drinking water.
• Shoppers paradise – clothes, shoes, bags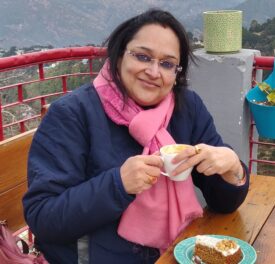 This article has been written by Aditi Goswami
Aditi has been a resident of Gurgaon for more than a decade now. Though this city has grown on her, she doesn't miss a chance to head out for a quick trip to escape the humdrum. 
Aditi has a special place for coffee, plants and her friends, in no particular order. She loves writing short stories and is a published author. Professionally, she works for a global company in the areas of Learning, Diversity and Inclusion.