The dinner was ready. I had made Chicken do pyaza and Kadhai paneer. I was planning to serve it with Laccha parantha. The cool breeze rejuvenated me as I looked up at the sky. Thunder was rolling in and soon enough, it started to rain. Immediately, the message folder showed up what was already playing in my mind. Yes! Pakoras! And as a must, they have to be had with the spicy green chutney and a hot cup of ginger tea. Within minutes, the preparations started and piping hot pakoras came out of the wok. The speed of production just almost matched the speed of devouring them. For this was comfort food.
And totally healthy, as was elaborated by celebrated nutritionist, Sangeeta Khanna. Many myths were discussed and they were proven that they were just that. Whoever heard of fried food being healthy and nutritious? Finally, these questions had answers. Sangeeta has explained this in her latest book titled,"Pakoras" and it was extremely heartening to listen to her as she gave valuable insights. Attention has to be paid to the type of oil to be used according to the kind of Pakoras you are making. The shape and the material of the wok and the right temperature for frying are essentials, which were emphasized upon by Sangeeta.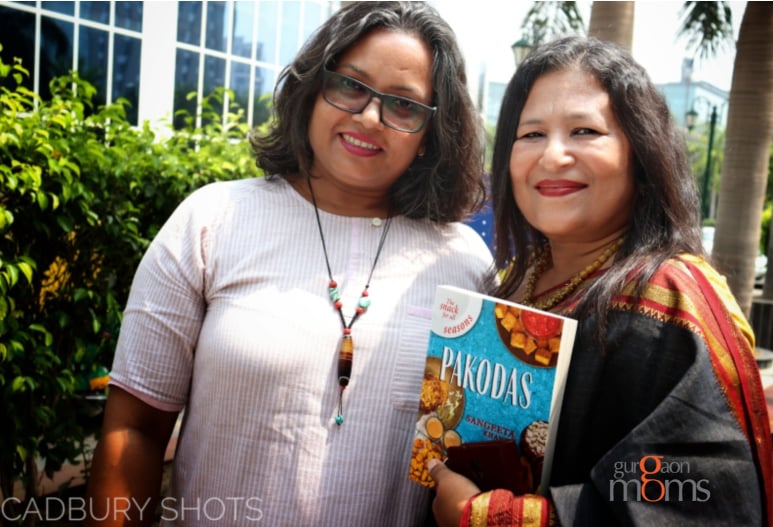 Sangeeta has extensively researched this and she has listed more than two hundred recipes of Pakoras, which have been sourced from various parts of the country. The book is an absolute delight and is an added treasure to my list of recipe books. In this world of today, where time is at a premium, it was a pleasure to connect and meet her. People have forgotten the joy of cooking and they are missing out on the simple pleasure that the aromas wafting from the kitchen gives. And of course, Pakoras are right on top for the sheer simplicity and the speed at which they can fill many hearts. And stomachs, of course!
Tilouri is a sun-dried badi made with sesame seeds. generally, teh urad dal batter is mixed with as much sesame seeds as possible . However, the recommended measure is 250 gm of sesame seeds for a cup of batter. 
Ingredients(20-25 servings)
200 gm urad dal
300 gm white sesame seeds
2 tsp salt
50-70 ml peanut/mustard oil
Method 
Soak the urad dal for 2-4 hours ,drain and grind in a food processor to make a smooth paste by adding 3-4 tbsp of water . Empty the batter into a large mixing bowl and cove for 4-6 hours for it to ferment.(In winters, it may take a little longer,but tilouries are usually made in summer months)
Once the batter is fermented, mix 25 gm of sesame seeds, salt , and mix thoroughly ,
Spread the rest of the sesame seeds evenly on 3-4 large steel plates, trays or Silpat sheets.Drop 1/2 tsp-sized badis over the layer of sesame seeds(the badis are generally shaped like droplets, but they can also be flattened with the help of a greased flat knife..(Flat tilouris dry faster in the sun ).Repeat to make more badis and put them out for sun-drying .It takes a couple of days for the tolouris to dry completely under the hot summer sun.
Store in air-tight jar. Whenever required, take out the desired quantity and deep-fry in medium hot oil until they become golden-brown.
Serve with coriander chutney  as a snack or as a starter before meals
The event was extremely well curated and attended by many foodies. It was held at Swad, the new vegetarian paradise in town having the tagline,"Swaddeshvideshka." The ambience was contemporary, with bright colors and traditional wall art. The area was well lit and open, a fact which I like, somehow having a personal aversion to dark eating places. The menu was eclectic, with its fusion blend and the service was impeccable.
For the welcome drinks, one had a choice between a strawberry flavoured one and a citrusy refreshing drink
The starters were excellent in taste and the presentation was absolutely brilliant. The chutney accompaniments were lip smacking and they blended well with the desi and the videshi twists. There were six varieties of starters and even though the watch showed the time to be only eleven thirty in the morning, just looking at them was enough to start the hunger pangs. Within minutes, we gorged on them and felt satiated. The Mushroom galaouti vol- au-vent was very well camouflaged and was a delight. My personal favorite was the Mini idli with desi ghee and gunpowder. Chimichanga rolls were crisp and were accompanied with tamatar gud salsa. The Veg Shami paté with ajwaini maska kulcha was actually divine. The Dhokla papdi with seengdana was a surprise. And lastly, the Amritsari paneer tikka was just luscious.
Sangeeta's talk was an eye opener of sorts. How the mixing of Pakora batter with other flours makes it a complex carbohydrate and the accompaniment of green chutney is valuable, as it comprises of super foods. Additionally in my discussion with her, she shared my sentiment that Pakoras should be eaten as a full meal. Her tip was to eat it with leftover rotis for the blissfulness. Eating pakoras as a meal gives us the nutrition and the feeling of completeness. That seems to be the most plausible reason that they do not provide us with the extra calories.
The audience had a lot of questions and Sangeeta graciously shared her immense knowledge, being a food nutritionist also. She is on the panel of various food companies. This is a true example of a person who is well versed with her subject and has practically curated each recipe to perfection. She shared that it took her three long years to complete this task. As a generation, we are all health conscious and are ready to imbibe our ancient grains and the methods of cooking. This was a point which reflected in her talk and of how, our ancestors ate everything and did not fall ill. Sangeeta also talked about organic produce and how we should all gravitate towards it, moving on to growing our own food.
As the question and answer round came to an end, it was time for a lavish lunch. Two lovely salads were served, Bowl of greens and Macaroni salad. The freshness seeped through and the dressing was light and airy, so they felt light.
The main course consisted of the staple Dal Makhni, Malai paneer lababdar, Swad signature veg fish curry and Kathal biryani with Mirchi ka Salan and raita. The veg fish curry created a bit of confusion but, when it was made clear that it is soya, everyone lapped it up. My personal favorite was hands down, the Kathal biryani. It tasted awesome and the seasoning was just perfect.
Additionally, there were Chilli garlic noodles with Bok choy, broccoli and tofu with green Thai curry. All the authentic flavours were present. Breads of various varieties were served.
The theme was Indian and in between all of this, the photo session was on. Our richness was visible in our traditional attire, the quintessential Saree. I for sure, love my six yards. The vantage point was the staircase and it was used to the hilt. It is said that there is always a separate pocket to put the dessert in and when it arrived, the already full to the brim crowd made a beeline. The presentation of the Jalebi with rabri was good. The jalebis were crisp and piping hot. The Phirni was nice and smooth, with just the right amount of sugar.
The event culminated on a high note as each one of us took back valuable advice and promised to try out the recipes in the book. Sangeeta has been gracious enough to share one of her recipes, the Tilouri recipe. This is especially for kids are it is full of proteins and calcium.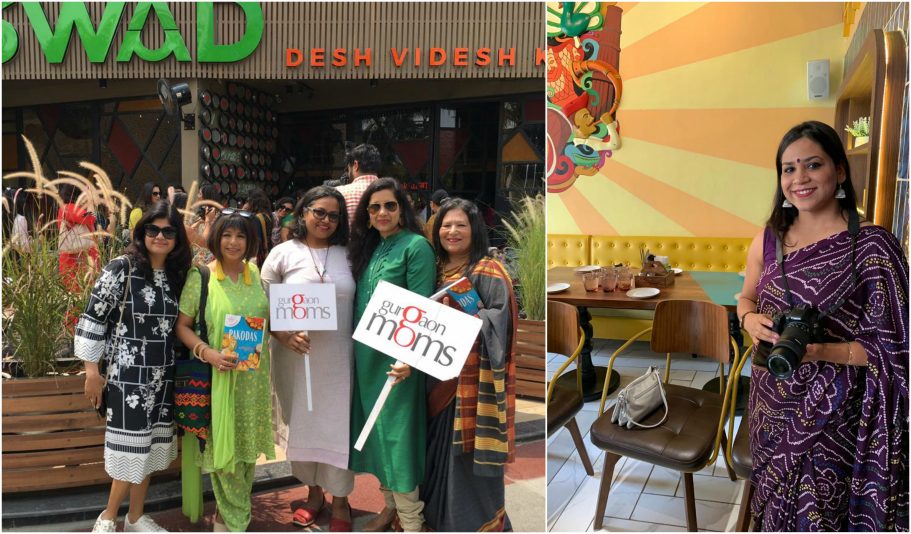 What is an event without the excellence of the one behind the lens? A special thanks to Neha Chaudhary for the wonderful clicks. It is now time to change our profile pictures.
#Momsurecan#Gurgaonmoms
#Bloggerextraordinaire#SangeetaKhanna#Pakoras
#Swaddeshvideshka #PledgeToVeg