The COVID-19 pandemic has increased the awareness for routine self-health check-ups at home .
With the advent of Telemedicine, the use of medical devices at home has become very useful in aiding early diagnoses and early treatment which results in better outcomes and quality of life. 
The following medical equipment is recommended for home usage
* Blood Pressure Monitor
* Blood Sugar Monitor 
* Pulse oximeter
* Weighing Scales
* Thermometers
* Nebuliser
* ECG monitors
1)Blood Pressure Monitor
This is essential for monitoring high or low blood pressure. Any fluctuations can be immediately reported to your doctor and can help to save lives.
Normal BP is 120/80 mmHg
2)Blood Sugar Monitor
People diagnosed with Type 2 Diabetes or Prediabetes are required to routinely measure their blood sugar levels and immediately report any extreme fluctuations in glucose levels to their doctor. This can save your organs from damage 
Normal Range :
Fasting -70-110, 2 hrs Post meal <140 
3)Pulse Oximeter
This detects the oxygen concentration in blood. When there is inadequate oxygen in blood, it causes hypoxemia, which could result in failure of vital organs such as the lungs, heart and brain.It also reads your pulse rate which is an indicator of your heart health .
Normal SPO2 Range > 93%
Normal Pulse rate-70-90/min
4)Weighing Scale 
A weighing scale is very beneficial as sudden changes in weight can indicate underlying disease like water retention or hormonal imbalance 
Normal BMI :Between 18.5 and 24.9
5)Thermometer
The thermometer can indicate if the body temperature is high or low .
The normal temperature 97 F to 98.8 F (36.0C to 37.50C)
6)Nebuliser 
A nebulizer helps a person with asthma or other respiratory conditions to administer medication directly and quickly to the lungs.
7)Pocket ECG 
If you have certain heart conditions, including atrial fibrillation, bradycardia, tachycardia, then it may be important to keep track of your heart rhythm
These can be used easily at home and are compatible with your smartphones. The report can be directly sent to your doctor 
Investing in your health is the best decision that you will ever make!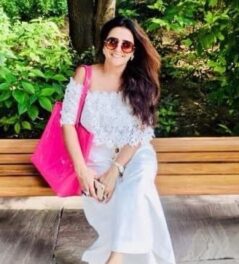 This article is by Dr. Nehal Shah Vora.
Dr Nehal Shah Vora is a practicing General Physician since 28 years She enjoys Playing the Piano, Swimming, Travelling, Movies and Reading.
She has her own clinic and is attached to all major hospitals in Gurgaon.
NSV Clinic ,B-238 ,Supermart 1 ,DLF 4, Gurgaon