When I started travelling with my kids when they were only 1 year old. I could either lift a stroller or a suitcase or one of the twins. They had no option, but to learn to walk for hours; with occasionally being in the lap to take quick rest.
They are now 10 years old and they have been to 21 countries and 14 states of India.
We just follow the simple travel rules; start the day early and end it early; followed by swimming at the hotel pool with dining in the hotel's restaurant only. We have also realized that a week of holiday and eating out would not make them slimmer. We can always feed them healthy food once back home. So we don't carry food while travelling. Eat local, eat fruits, curd and enjoy the ice creams; that's our motto.
We make sure to visit a few museums while travelling and visit local parks to get the feel of the city and the culture.
This month we went to Tamil Nadu. We started our trip early, taking a direct flight to Madurai; and from there we hired a local cab.
Here's a tip: It's always better to hire a bigger car like an Innova while going long distances, as it helps the kids to relax, stretch and sleep, and if there are any fights between the kids, then one can go to the back seat!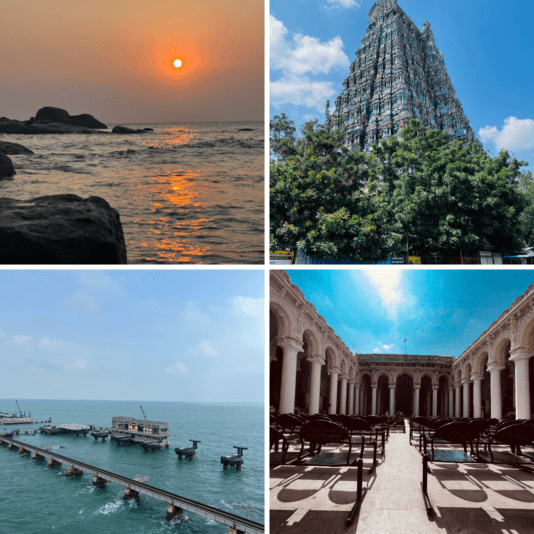 We stopped to eat some local breakfast at a South Indian café. Filter coffee was a must with every meal for us . Then, we checked in to our hotel in Rameswaram. We covered some of the touristy places and slept early to wake up early the next day to visit the Ramanathaswamy Temple, also known as one of the 'char dham'. It has beautiful, ornate and intricately carved corridors and 22 'kund' water-wells, each having its own kind of water. We took a bath here as well!
We made sure to visit our previous president and great scientist, Dr. A.P.J. Kalam's house. A memorial has also been built at the burial site and it was very inspiring to read his quotes and see the pictures.
We then started our journey towards Kanyakumari, which is the only place in world to see a sunrise and a sunset from the same beach. We watched the sunset from a hidden beach, which was hardly a kilometer from our resort. Next morning, we woke up early to see sunrise, which was mesmerizing! What amazed us was to see the popularity of Punjabi food there!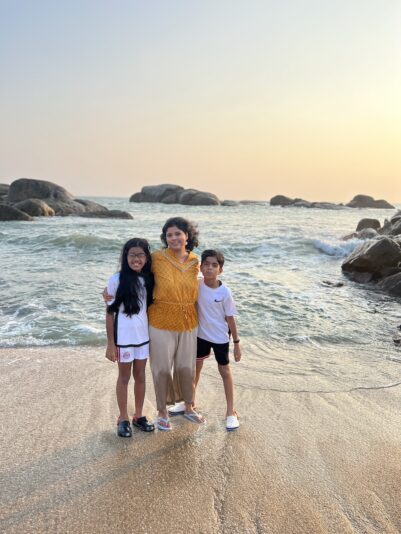 I was also happy to see so many windmills outside Kanyakumari and found out it's India's largest operational onshore wind farm. We saw many salt beds near Madurai and got to know that Tamil Naidu is the second largest state for salt production in India after Gujrat. It was a wonderful experience for the kids, from the green energy to eating food on a simple banana leaf. Everything was simple and closer to nature. Madurai's Meenakshi temple was beautiful, and the thousand pillar hall was mesmerizing. The  kids were excited to see how geometry and geography worked that time!
We opted for a heritage resort overlooking the Madurai city and loved our 2 days stay with more than 100 peacocks, beautiful birds,  greenery and delicious food and hospitable staff. Soon it was time to take our flight back to Delhi and reach our Gurgaon home with cultural history and beauty in our minds.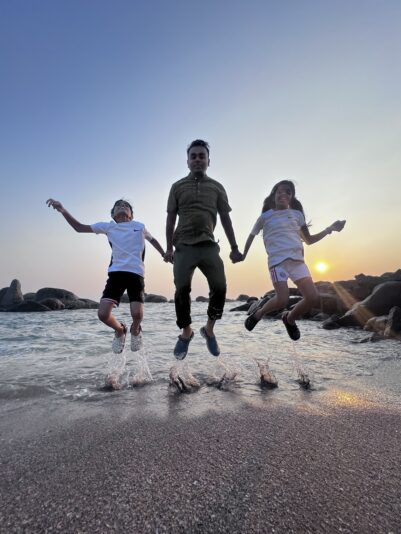 This was our second trip to Tamil Nadu, the one last being a Coimbatore, Conoor and Ooty trip in early 2020 with the twins.
Another tip : You should plan your trip with kids by checking the school annual calendar so that they don't miss the school days.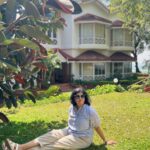 This article is by Paavani Bishnoi
Paavani Bishnoi is a product designer from the prestigious school; National institute of Design, Ahmedabad. After working for corporates, she is now a freelancer and love photography and travelling with her twins.