I love salads, who doesn't ? Just mix up a generous amount of salad veggies, top it with some proteins or grains and there's your healthy lunch or dinner.
I like Asian flavours more in my salads. I used several of Veeba sauces on my favourite salads and found the flavour of the sauces good. The other appealing factor was that all sauces were lower in fat & calories than the other popular brands.
Mango Avocado Salad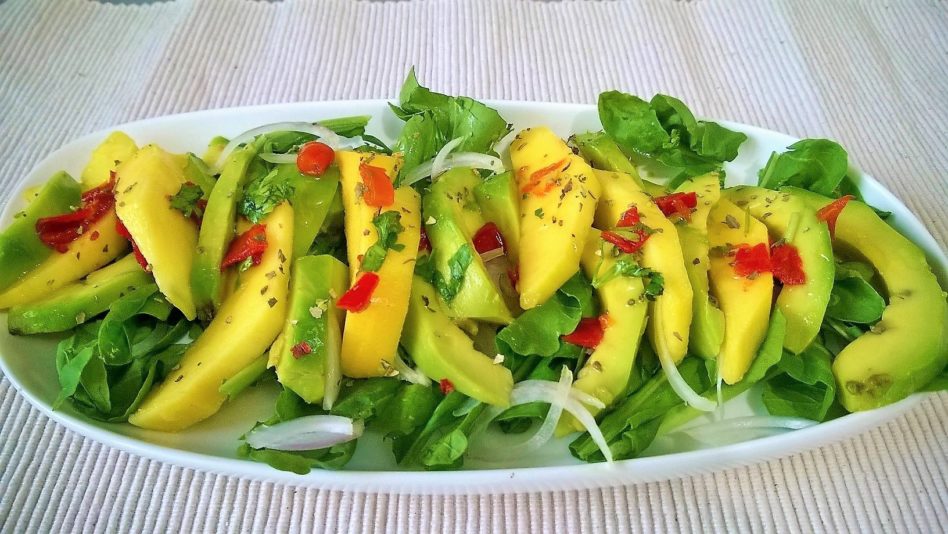 Ingredients :
Handful of rocket leaves
1 big sliced mangoes (use firm ones and not overtly sweet ones)
1 sliced avocado
Jalapeno pepper slices, I added some homemade jalapeno pepper slices too for some tang.
For the dressing mix these well – 1 tbsp Sweet Chilli sauce (I used Veeba Sweet Chilli sauce), 2 tbsp Lemon juice, pinch of Salt.
Method :
Lay the rocket leaves on the plate and put mangoes and avocado on top. Add the pepper slices and drizzle well with the dressing.
Thai Grapefruit Salad 
Ingredients :
1 Grapefruit
Handful of mint & basil leaves
Handful shredded Spring onion
For the dressing mix these well – 1 tbsp Sweet Chilli sauce (I used Veeba), 2 tbsp lemon juice, Salt, pepper
To garnish – Sliced jalapeno pickle, Handful of fried onions (I used Kings readymade fried onions)
Method :
Slice the grapefruit and take out sections.
Add the mint and basil leaves and spring onion, toss with the dressing.
Garnish with the jalapeno pickle and fried onions
Rocket Orange Beetroot Salad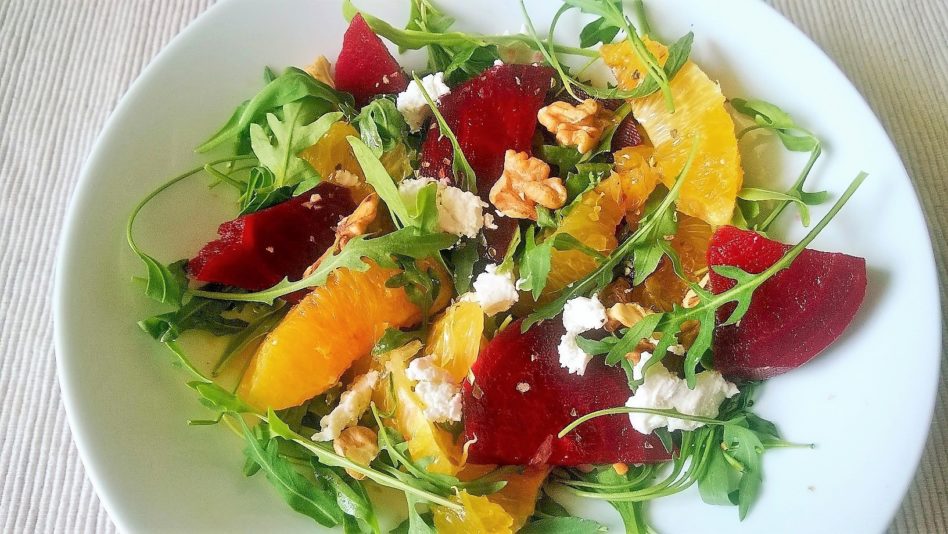 Ingredients :
Handful of Rocket Leaves
Boiled (and cooled) beetroot slices
1 Orange slices
Some Feta cheese
Walnuts
Vinnaigrette dressing (I used Veeba)
Method :
Just toss rocket, beetroot, orange slice with the dressing and top with Walnuts & feta cheese.
Pearl Barley Salad 
Ingredients :
50 gms pearl barley
2 cups – Any chopped salad-friendly veggies, I used cucumber, tomatoes, carrots, spring onion, bell peppers, boiled beetroots.
Handful shredded lettuce & rocket leaves
Garnishes – Some sliced olives, jalapeno pickle slices
Vinnaigrette dressing (I used Veeba) – 2 tbsp
Salt, pepper, Dried herbs – 1 tbsp
Method :
Add pearl barley, 3-4 cups water, some salt in pressure cook. Let 2-3 whistles come and then put on medium heat for 12-15 mins.
Then switch off heat and open once steam has released. Drain it, cool it and fluff it up with a fork.
Once cooled just mix it with the veggies, dressing, salt, pepper, dried herbs and mix well. Top with olives and jalapeno slices.
Note – Add chopped boiled eggs or grilled chicken/paneer to make it a full meal.
Thai style Raw Papaya Salad
Ingredients :
1 medium size raw papaya, 1 carrot, 1 tomato
1-2 Green/red Chillies + 3-4 Garlic pods – crushed together
Sweet Chilli Sauce – 2 tbsp (I used Veeba)
Fish Sauce – 1 tbsp
Lime Juice – 2 tbsp
1/2 cup roasted & slightly crushed peanuts, Coriander, Basil/Mint leaves
Method :
– Grate the papaya & Carrot or best is to use a serrated peeler to get long strips. Slice the tomatoes.
– Mix the garlic-chilli paste, Sweet chilli sauce, Fish sauce and lime juice well to make the dressing.
– Add this into the papaya & carrots and mix well with hands.
– Mix in the tomatoes, coriander & basil leaves and top with roasted peanuts.
Veg it – Just skip the Fish Sauce, and add some salt to the salad instead.
Vietnamese-style Rice noodles Salad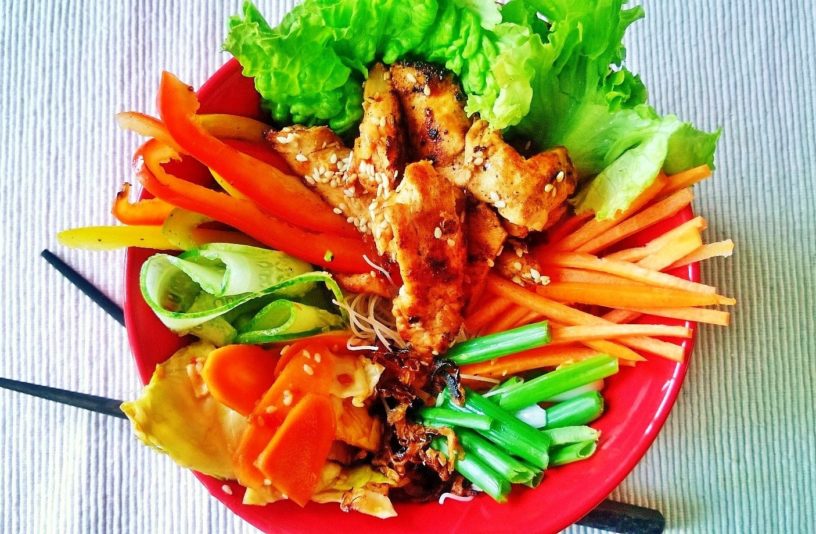 I consider this more of a Salad, though its like a full meal, hence including it in Salad recipes.
Ingredients (for 2 bowls)
Handful rice vermicelli noodles
250 gms boneless chicken, sliced thinly, marinate in ginger garlic paste, salt, pepper and half lemon juice for 2-3 hrs.
1 tbsp oil – to cook the chicken
2 tbsp Stir-fry sauce (I used Veeba)
1 tbsp Sweet Chilli Sauce , 1 tbsp Sriracha Sauce (I used both Veeba)
Vinegar – 1 tsp
Lettuce leaves
Some thinly sliced veggies – Capsicums, Carrots, Cabbage, cucumbers, Spring onions
For the dressing, mix these together – 1 tbsp Fish Sauce, 2 tbsp Thin/Light Soy Sauce, 1 tbsp Sriracha Sauce
To garnish (optional) – Thinly sliced roasted garlic or roasted onion slices, roasted peanuts
Method
– Prepare rice vermicelli noodles by following the directions on the package (typically you just need to dunk it in warm water for 15 mins).
– Mix some of the cabbage and carrots in sweet chilli sauce + Sriracha + Vinegar, salt , pepper to make a kimchi-style salad. Best to do this few hrs ahead or even a day before.
– Heat the oil and stir-fry the chicken strips in the stir fry sauce till done. Then top it with sesame seeds and take off heat.
– Toss the noodles with some of the dressing.
– To serve, put lettuce leaves first, then the noodles, then add the veggies, chicken, kimchi. Top with roasted onion/garlic and peanuts and drizzle with the dressing.
Veg it – Can use Paneer/Tofu strips instead of chicken. And just skip the Fish sauce.