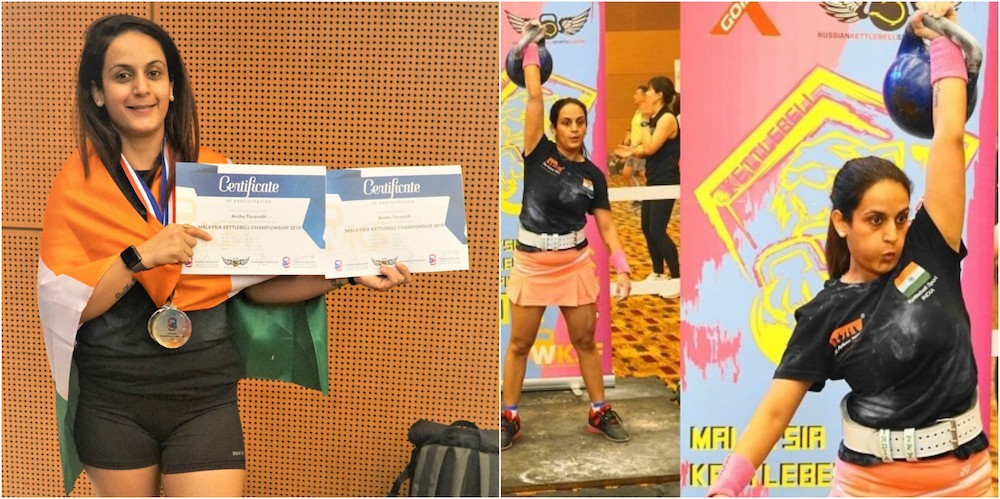 We are proud to share that our member Anshu Taravath  represented INDIA in the  Malaysian Kettlebell Championship 2019 and scored Rank 1 in OALC- 12Kgs, 102 Reps, Rank 2- 8Kgs, 147 Reps.
Date: 9.11.2019. | International Debut. | Venue- Malaysia | Event : WKSF Malaysian Kettlebell Championship | Participants : 33+ | Countries Participated : 5 | Sport : One Arm Long Cycle(OALC) and Snatch | Kettlebell Weight : 12 Kg and 8 Kg | Body Weight : 51.3kg |     Timing : 10 Minutes | Repetitions : OALC 102 & Snatch 147 | Rank : OALC – Rank 1 / Snatch – Rank 2.
This was Anshu's first overseas performance, representing INDIA . Truly a proud moment. She underwent and intensive training for months for this event. She did this inspite of her hectic schedule at her studio, The Future YOU where they induce fitness to all the enthusiastic members . There were times when Anshu had to really push herself  for the regime provided by the coach.  There were times when she had tough fitness sessions at her studio and yet had to undergo the  strenuous drill however the conviction of the training combined with her determination and never give up attitude, made her stand up amongst few of the greatest lifters globally. Her will and determination attributed to her brilliant and best performance at the Malaysian KettleBell Championship and make her country proud.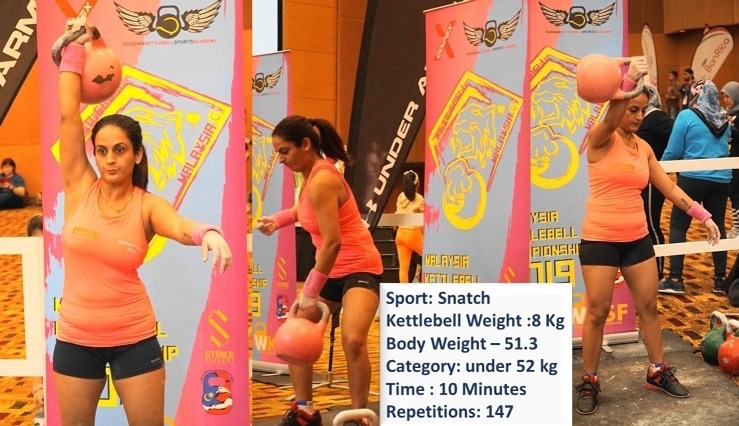 "My sincere gratitude to my husband and our daughter and my coach, for having stood by me and believed in me and this is just the beginning. I promise to keep delivering in the Kettlebell Sport and always hold our Indian Flag High around the world. JAI HIND!!!"
We congratulate Anshu for her hard work and persistence and best wishes for her future endeavours