"What will your epitaph read?"
"Yes, lady!"
"Have you been the boss?"
"Or rather, are you the boss?"
"Of your own life?"
"More importantly, do you know that you could own a part of this earth?"
It does not matter whether you are the only woman in the board room. It does not matter whether you have taken a sabbatical to take care of your child. It does not matter that you are a homemaker. Then, what matters? What matters is that how independent you are? How ready you are to make your own choices and then, take responsibility for them? Or are you comfortable, standing in a corner? Trying  hard to minimize the space that you are occupying and making pigeon holes for yourselves; rather than standing tall and looking at the world in the eye?
It is said that education does make a difference and so does your family background. Yet, here I was. Coming from an academic family and qualified as a Chartered Accountant, I was the trophy wife on the outside and a cow on the inside.There is an old saying that for the facade, a well educated daughter-in-law is required but within the four walls, she should be like a tame cow, tied to a peg. That's who I was, arguing cases in the Appellate Tribunal professionally and being a meek bystander at home, ready for the next command.
I stayed in this abusive marriage for seventeen long years. Listening to
Apurva Purohit
and reading her absolutely brilliant book,
"Lady, you're the boss!"
, I was taken down memory lane. This was closer home than I would choose to believe.
Suddenly all the demons came up, throwing their fire and venom. Apurva mentions that we women tend to become invisible and with extreme ease, we are ready to lose our individuality at the drop of a hat. We just fit into the various roles like a chameleon. The go-getter at work, the submissive wife at home, the cajoling mother for the kids, the perfect hostess for friends, the list goes on. 
"Who are we though, in the midst of all this? Do we have an identity or our own?"
When I moved out, I was clueless about many things, the foremost being the task of bringing up my teenage daughters. "Would they see me as a woman with no voice or would they think that I was a strong woman?" Fast forward it to now and both my daughters are spirited women in their own right. How deep our conditioning goes, came as a shock to me when my elder daughter got married. I told her to make food for her husband when both of them had come home from work, extremely tired. Pat came the reply," If he wants to eat, he will make it himself." And in that moment, I shied away into my own corner and felt proud of how she had claimed her own space. I wonder if that is possible at the same time though.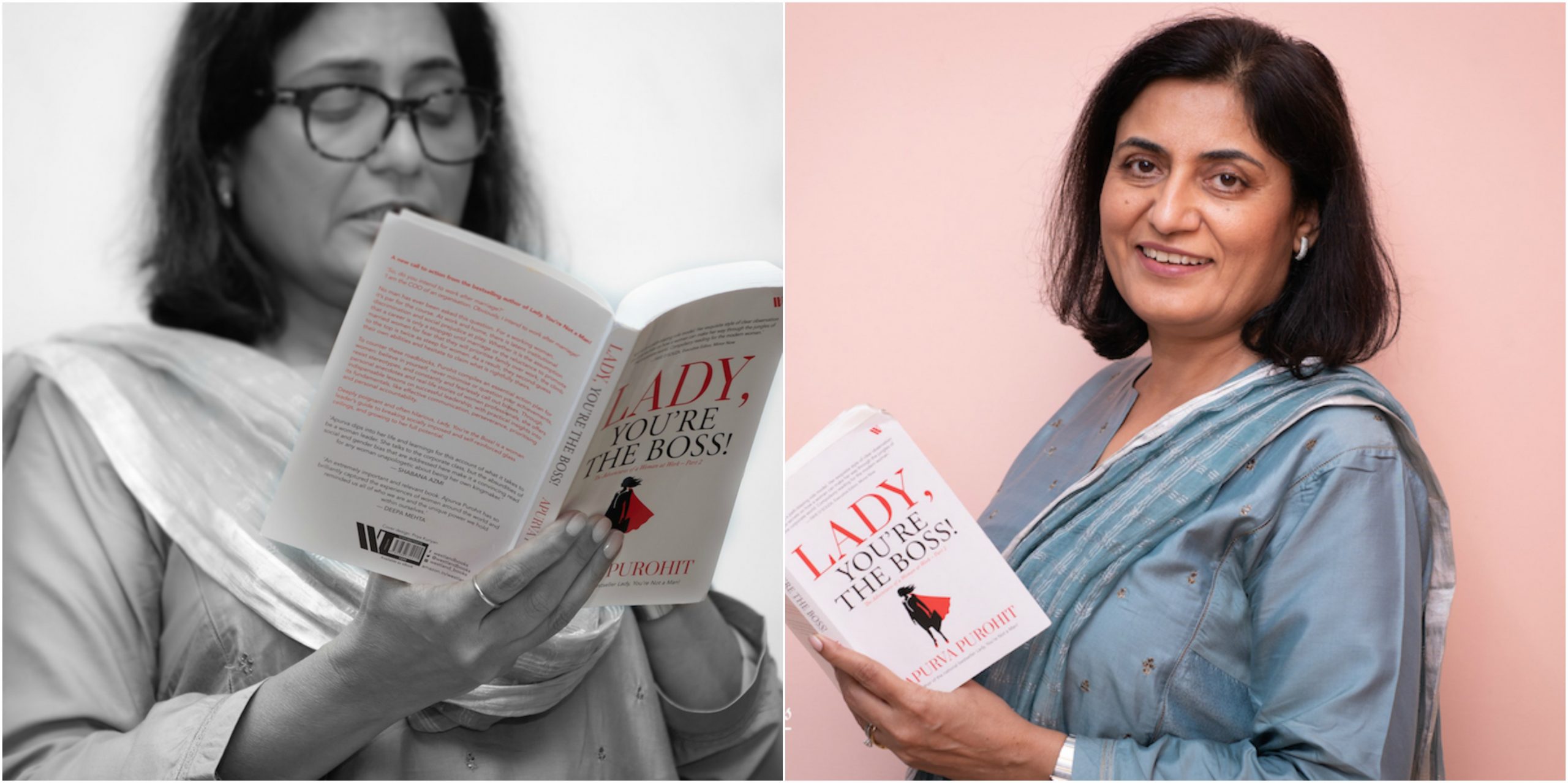 Apurva's book , Lady, You're the Boss is brilliant on many fronts. The whole comparison with women from all walks of life and then, assimilating that to come to a conclusion that we are all the same, is by far a task which she has done with perfection. Every person who finds her way into the pages, is someone that each one of us can relate to. For they are our parts, as we navigate through the myriad situations in life. The four stereotypes are worth mentioning, because that is exactly how we are viewed. We women are for sure, not nurturing other women. We are on the other hand, creating more women to play to the tune of this patriachal society. Each one of us needs to be a role model to the women in our lives.
"Are we taking the baton of our own accountability in our own hands or are we giving away that job to someone else and in the process, becoming a bystander in our own lives?" Apurva read the epilogue of the book and for a very valid reason. For that is the learning from this book. Hold on to your crown, for no one else will. You are your own queen and this is your own kingdom. It is your choice of how you want to fight to save your kingdom. The only thing that you need to remember is, that the kingdom is yours and it is not a place which has been abandoned, for the want of a new leader. You make your own rules and you create your own magic wand. And that is the wand that you pass on. To women who are carrying their own cross, not knowing why. Are you ready? That is the question that stayed with me.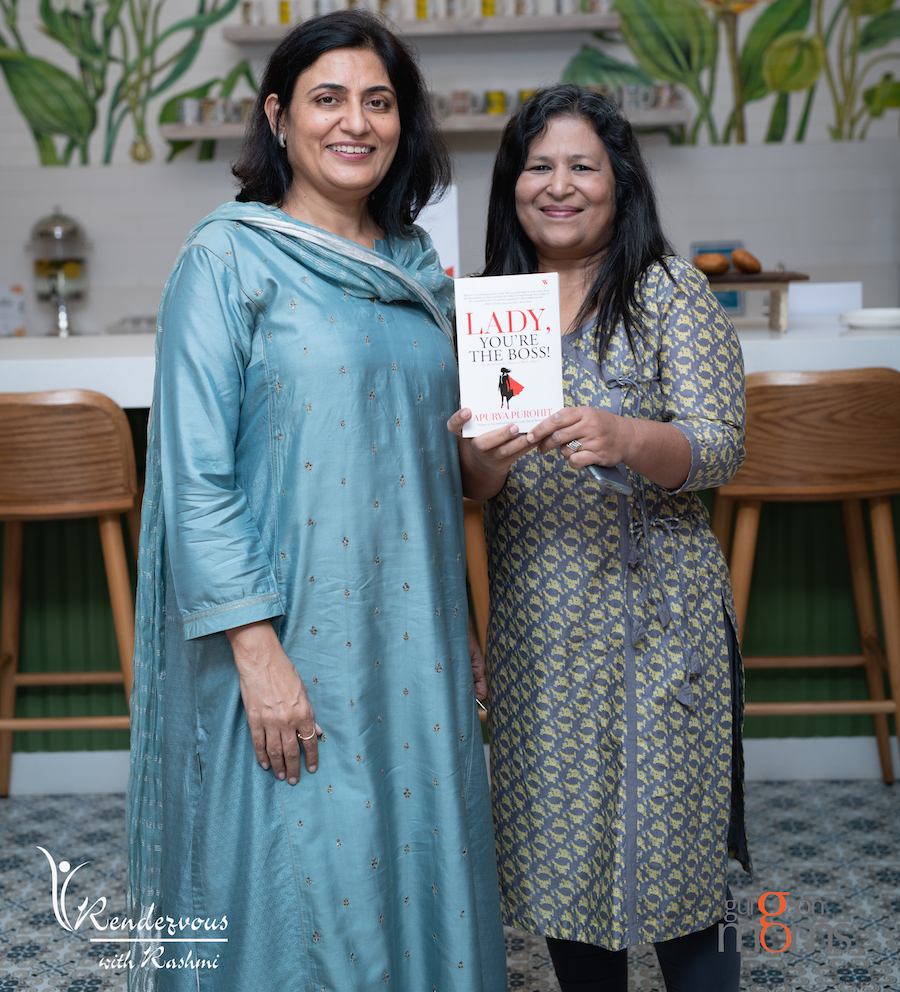 Apurva said that you don't owe anyone, anything. Sharing once again from my life, the present situation is that I have claimed my own kingdom and my girls joke, "Mom, when will you be free? It seems that we need an appointment from you." That meek person of yesterday has created her own Everest. Thank you so much Apurva for writing this book. It is like a guide for each one of us to reflect, to imbibe and to learn to move on. The sky is the limit but for now, let us settle for the boardrooms. Or, our own personal homes, residing in our bodies. Shall we?