Boon for pet parents!
 
Ask any pet parent about planning a vacation with their pets and they'll tell you what a nightmare it can be.
From trying to zero in on an apt location, finding the right pet-friendly and not mere pet-tolerant property, investigating the hidden charges to avoid any unpleasant surprises, wondering if there'll be other pets around, and then worrying about how the baby will be if there are, what about other people on the property, food-related worries, will they be able to roam around freely, will there be activities for them to enjoy, etc., etc. The list is just endless, and I know it because I've gone through it umpteen times. I'm planning a million things, and yet something would fall short of giving Waffle, my fur baby, the ultimate unique experience that's especially curated for him.
One day my Instagram feed showed a sponsored link for a company that claimed to be pioneers in pet vacations! It was as though the Universe had answered my prayers. Of course I got curious, and trust me, what followed next was a real discovery experience.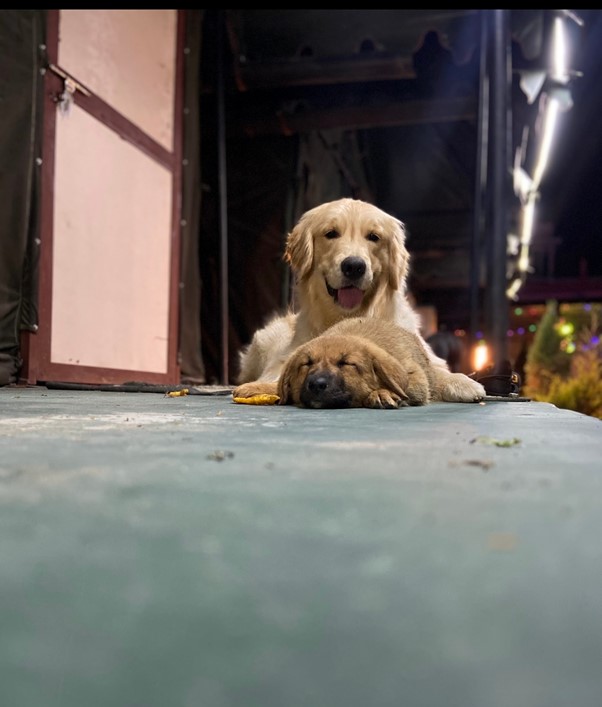 A few WhatsApp chats with them, and we received an itinerary for a 3-day trip to Rishikesh. Without giving it much thought (rather any thought), I booked Waffle and me for a vacation to Rishikesh with Petsgo (since Randeep, the papa, was off for some work trips during those dates).
3 day vacation With other pets and hoomans
Gosh, what was I thinking?!
And that too traveling together in a bus!!!
 I don't remember ever taking a bus ride to another city… and please note, I am a sooooper scared pet parent; I became one by accident (thank the universe for that every moment), but I'm still super scared of pets and other doggos. And imagine travelling with multiple of them in one bus!!
 
Now, I was getting worried for me more than Waffle!
 
And oopar se imagine the stress at home with my pati wondering ki meri biwi aur baccha kahaan ja rahein hain with some strangers… He knew I was crazy, but this was too much for both of us. But I believe that being crazy generally pays off, and I was determined to survive this!
 A few days before our travel, we receive a message mentally preparing us for this trip. "Do not expect luxury" were the only words that caught my attention, but I put on a brave face in the name of gaining a 'new experience'! Randeep could be seen grinning slyly.
 
Philosophies like 'try nahin karengey toh pataa kaise chalega' are kind of gyaan koot koot ke bahar aa rahaa thaa. I was shitting bricks internally.
 
A day before the trip, we received an itinerary for pick-up timings—yes, they picked us up from our respective addresses:):)
 
On February 24th, at 5 a.m., Waffle and Bhavna came down the elevator to bid bye to a super tense Papa, boarded a traveller tempo, and started their first ever bus journey with three other furries and their hoomans to Rishikesh! Along with two more traveller buses full of furries and their families!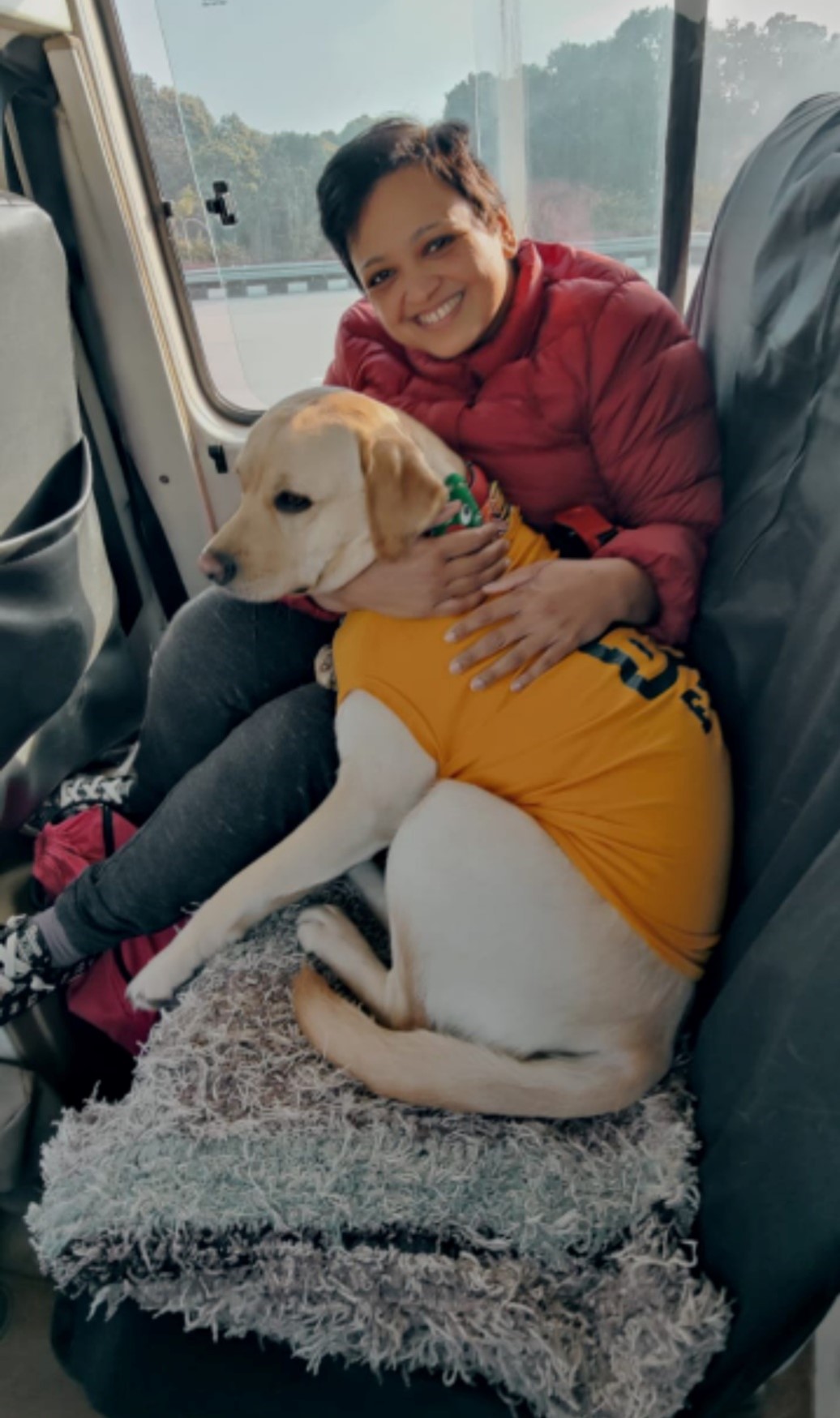 We were sharing the ride with 2 beautiful indie babies, Kuro and Anya, and Rock, a gorgeous Rottweiler, jisko dekh kar ek baar toh haalat……..!!!!
The single seats went to the hoomans, and the double seats were for the pooch babies. However, in a few instances, the pooch and their mommies or daddies—whoever the furry babies wanted to cuddle next to—shared the double seat. Including the floor and all other imaginable spaces!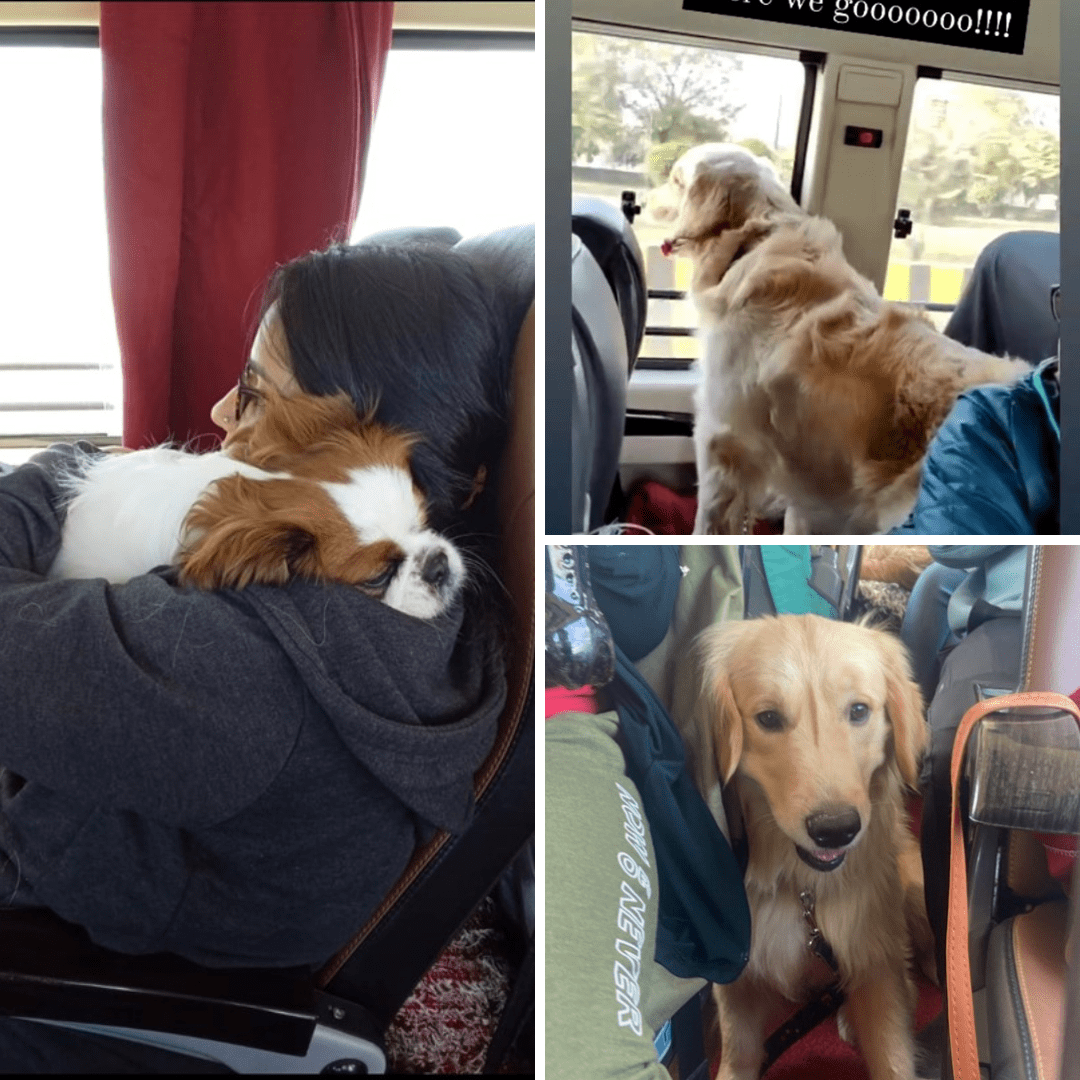 And boy, it's an experience that nothing could have prepared me for, in the best sense of the word.
 
Apart from the vacationers, there were the organisers and dog handlers with us who took care of everything from entertainment, activities, and play sessions to managing the furry dynamics.
 
While it was a long and tiring bus ride, we did make a couple of stops in between. The main stop point was a beautiful place (don't know the name) that was delightfully pet friendly and absolutely beautifully done up; kudos to the organisers for having found such a place. There were several other people who had halted there, and they were looking at us with utmost curiosity and wondering how the hell 12 doggos and hoomans were travelling together! Some very interesting conversations happened here.
But more than anything, it was beautiful to see how the furry babies began making connections with each other; it was all happening in one space: the gauging, sensing, sniffing, wagging, soft growling, playing, tugging, pulling, and licking. The helpers ensured that we got our loo breaks and enough food for the journey ahead.
Once we arrived at the venue, we were exhausted. But right at the entrance of our campsite was a beautiful water body, and the babies and some hoomans just went straight for a quick refreshing play!
 The rooms were allocated on a twin sharing basis (except for families). Waffle and I shared our room with two amazing souls, Namita and her adorable senior dog, Derry.
 
Derry, by the way, had a breakthrough during this trip; read on to know more.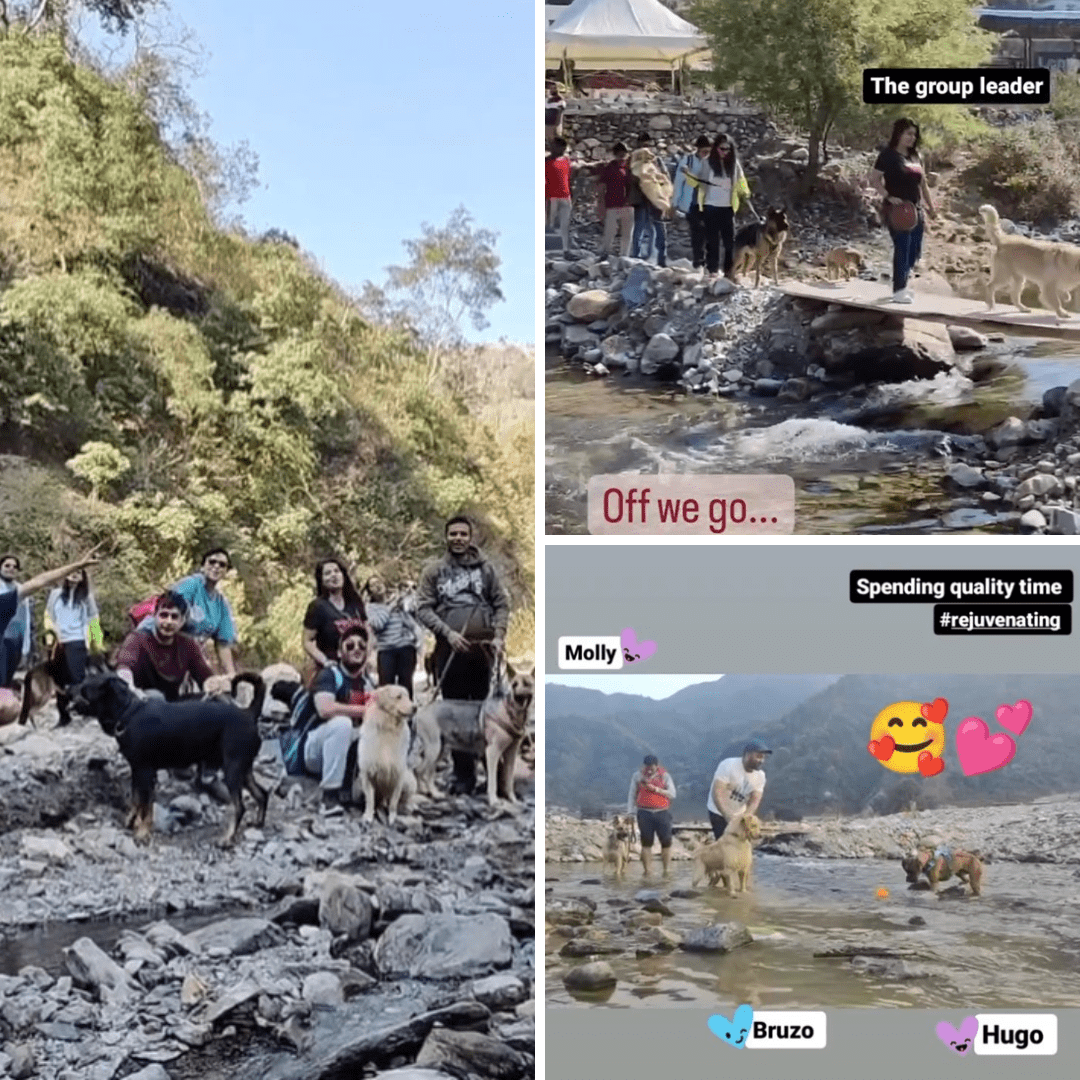 During the next 2 days, we went for trail walks, played games till late at night, sang, danced, and did everything that a good vacation is about! And made friends when we least expected to. The team had organised a live singer for us all to enjoy a musical evening and had curated several games for parents and pets to play together!
 
The best part is that we didn't have to worry one bit about any planning or coordination. It was all taken care of.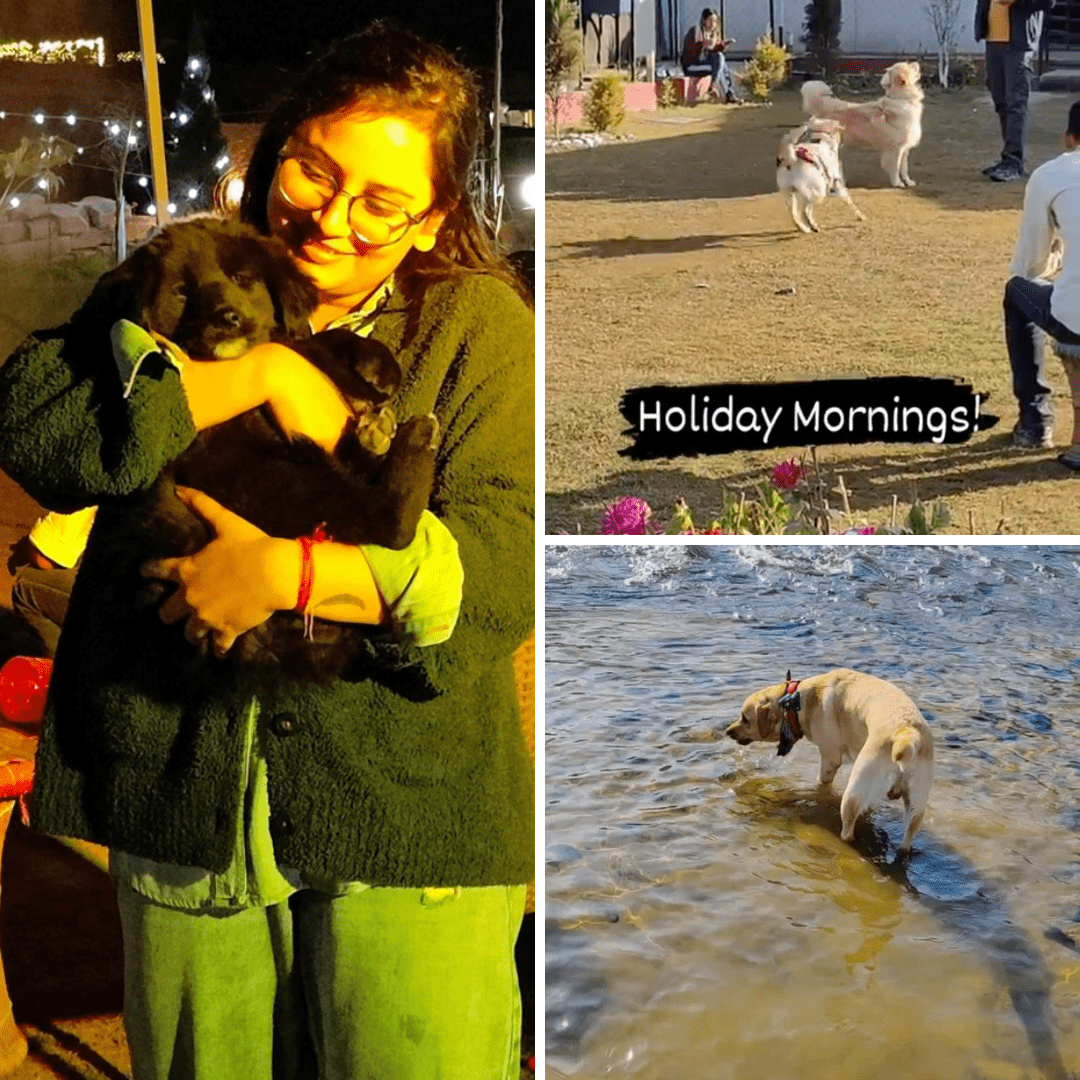 I am sharing loads of pictures from this memorable experience and just letting them do the talking.
And before I conclude about an experience that I still have tonnes to share about, a little bit about Dora, or Derry, a middle-aged Labrador baby struggling with health issues (hats off to Namita for bringing him along for the trip), despite his limited movement. When we went for the trail walk, Dora was trying to walk along, matching the pace but also understandably falling behind the others. And then something happened, like a miracle of sorts. We saw him running and Namita panting to match his pace. On the return journey, our little Man, Derry darling, was literally sprinting and running, and it was a most gorgeous and heart-warming sight! This picture of Dora below sums up the miracle that this trip was!
Petsgo Link:
https://instagram.com/official_petsgo?igshid=YmM0MjE2YWMzOA==
 
You can see more of Waffle JaiSingh at
https://www.instagram.com/invites/contact/?i=1u6afveptgkjt&utm_content=nitwnge
 
About the author:
Bhavna is a breakthrough facilitator and works with top and senior management teams on organisational culture transformation. She basically helps leaders build a culture of passion, possibilities, and peak performance. She is an accidental pawparent, and of all her roles, this one is her absolute favourite!