Aditi Prakash is  a 22yr old Final year B.Pharma student from Jamia Hamdard, New Delhi and Founder of Soap Dynamics that deals in natural and chemical-free handmade soaps.
Soap Dynamics is her  year old venture of hand crafted natural soaps.Aditi always had a passion for soap making and being an artist at core , Soap Dynamics is her ultimate expression of art. It is also her commitment to make our environment free of chemical pollutants. Since childhood she was highly influenced by her grandfather who was an active environmentalist primarily working towards making river Ganges clean. He had taught her  that soaps add a lot of chemical residues to the water we use for bathing , cleaning etc. which reaches the rivers through drains. Our rivers are dying , land is becoming non fertile and atmosphere is becoming a toxic gas chamber.The idea behind  Soap Dynamics was to offer a soap bar with natural ingredients like saffron ,honey, milk , turmeric, basil, neem , papaya etc. which not only keep our skin supple and beautiful but also leave our environment pollution free. She tries to incorporate everything beneficial for the skin in her  soaps that is made available to us by the mother nature. It is also a tribute to her beloved grandfather whose teachings still resound in my heart.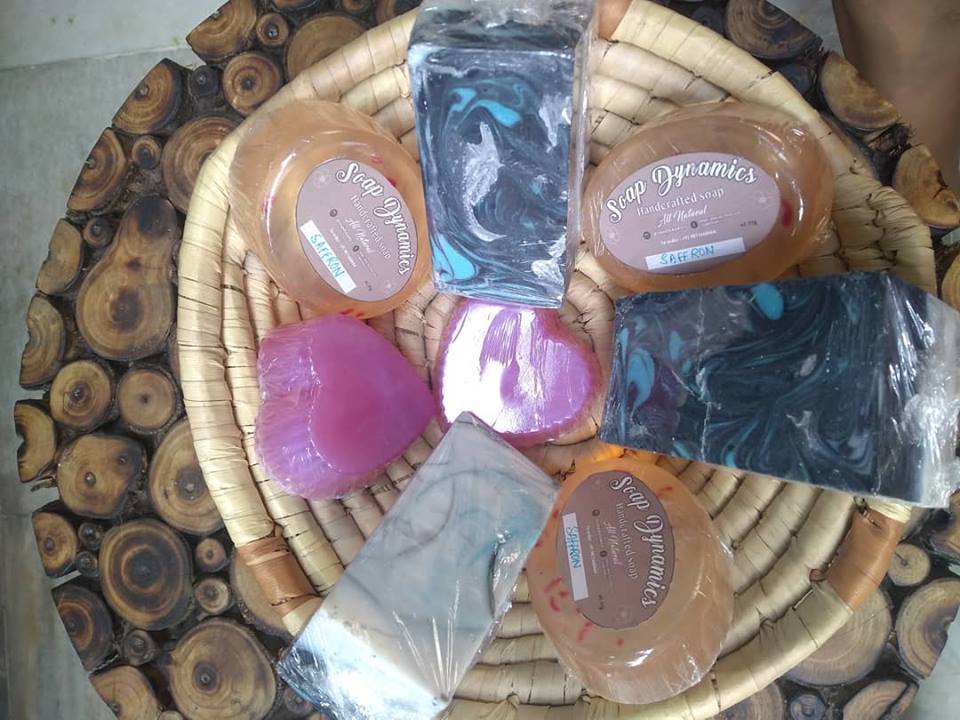 Aditi believes that skin is a much underrated organ of the body even though it covers the largest area. It is exposed to various harsh conditions and chemically-laden soaps. That is why she opted to give some care to it and indulged in making these handmade soaps in small batches at her home using natural ingredients like fruits and vegetables which not only cleanse the skin properly but also nourish it. These soaps are completely safe for all skin types and even for babies.
Her inspiration to formulate new soaps recipes comes from the happy smiles of consumers and their valuable feed back. Our ' green hand made all natural soaps hampers are an excellent gift which can be given on any occasion be it a festival, anniversary or any other. Hand made soaps have all the glycerine intact which is a natural skin emollient whereas the precious glycerine is removed from commercial soaps.Her handmade soaps are devoid of carcinogenic fragrances and contain beneficial essential oils instead.
Soap making is like any other form of art. It requires patience, time and heart. Commercial soaps do not match the quality and the goodness contained in many of these natural products that she uses in her soaps. Several labels claim to contain certain natural ingredients which in reality are present in such less quantities that their presence is as good as absence and the formulation is dominated by synthetic additives which even include foam enhancers.
Inspired by several home remedies she prepares each bar with love and care. Its is skin care for the whole body. When anyone uses it they are nourishing every inch of their skin with the goodness of nutrients contained in the nature. Their use over time will definitely improve the skin texture.
Her objective is to be able to expand by brand and provide employment to rural women and encourages them to get trained in the art of soap-making and educate them environment protection.
We wish Aditi all the very best for her venture and her true passion . You may contact her via her Fb Page Soap Dynamics or WhatsApp at 9171660464