On a sun kissed afternoon with the music of the chirping of the birds and the rustling of the leaves, the moms of Gurgaon along with their little ones were invited to a fairy land. Away from the closets of air conditioned cocooned life, GurgaonMoms , in another of their innovative offerings, took us all closer to a natural world pulsating with excitement.
At Tauru, a little more than an hour from Gurgaon's concrete jungle,  lies the '
Neverenuf Garden Railway
'. True to its name, time spent there can 
never
 be enough.
The warm winter sun welcomed the group and everyone was smiles from the minute 'go'. It was like a large open playground the main part of which is dedicated to miniature railway models which are live and interactive. It was #backtobachpan for the elders; and a new world at their fingertips, for the little ones.
Because it is at their own height and eye level, the young ones loved pushing the buttons and pulling the stops. They could make trains run, engineer railway crossings, steer water boats, watch trains meander through tunnels. This fun-land is education for all. With various miniature models of trains and bridges the
children
can learn science, technology and geography all at one go.

While watching the landscape of a railway station, they learn about ticket windows, station masters, signals, railway crossings and waiting rooms . When the press of a button releases water from a hose pipe, the kids learn about fire alarms, fire escapes, fire fighters and fire engines. Another miniature model introduces them to cranes and cement mixers at construction sites. The sweetest ever depiction of a circus ground brings alive the magic of trapeze artists, rides and ferris wheel .
The zoo scene has animals moving at the flick of a switch and emitting their respective sounds. Further down you come across a castle similar to ones found in Scotland ; and different miniature bridges the kinds actually found all over the world.
There is even a miniature drive-in theatre with a movie on the making of the garden railway running on a real monitor. One of the last railway scenes has a gondola ride going up and down a ski slope and another, just opposite, has the miniature European Bahn.
These "wonders" made for an afternoon of magic and marvel for the young ones as they hopped from point to point. It presented to them a world which either they still have to learn about; or one which they can explore in more detail.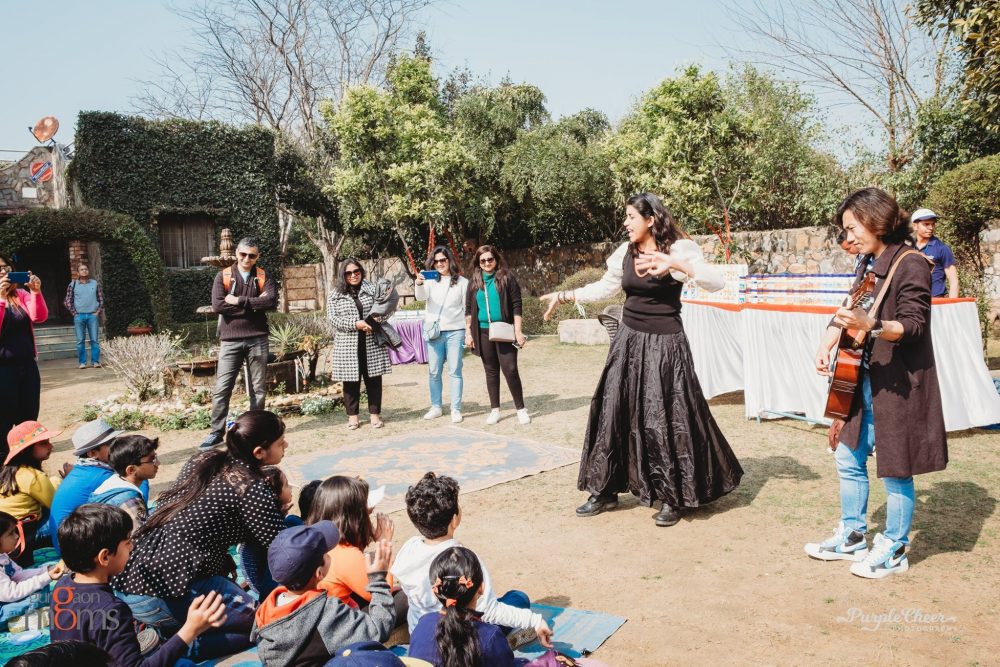 This one-of-a-kind afternoon received another dimension with a story telling session by
Alma
which mesmerised kids and adults. A bird expert from WWF took the children through the species found in the area as he brought alive their sounds and distinctive features.
One section of the farm has a nice patch of green where you can spend quality family time killing under the sun or indulge in games like Ludo and Carrom. A small rockery, a wishing well and a menagerie of ducks and rabbits completes the picnic.
The Moms and kids were treated to nourishing spreads by
Veeba
and healthy snacks from
Slurrp Farm
. In addition, their was a choice of pakoras, sandwiches,noodles, pastas, smileys : all of which made all of smile.

GurgaonMoms
professional photographer Sucheta of
Purple Cheer
, made sure all the moments were captured. A book counter from Westland and a counter from V Nourish -100% milk protein nutritional health drink for kids ensured productive shopping
A personal tour and interaction with Adesh and Amita Grover brought the mom influencers up close with the passion with which this Garden Railway has been conceived and constructed. Put together since 2010 almost from scratch, made lovingly by hand or using kits, the 
Nevere
nuf
 Garden Railway is the labour of love of Adesh Grover, who has had rail modelling as his hobby for over three decades. In his words, "it opens up a universe of skilled hobbies. It is here that you can spend time pro-actively with your children and behave like one yourself!"