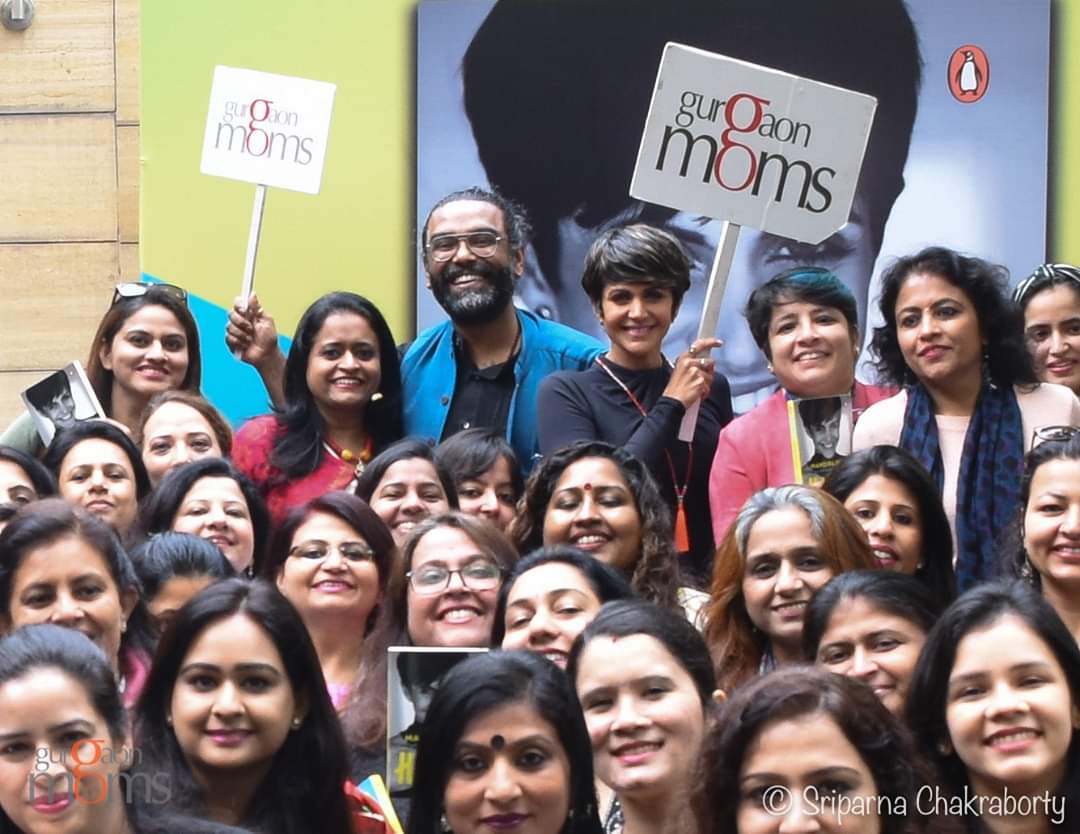 The guest of honour for a recent Book Club event, in association with GurgaonMoms and  GurgaonMoms Book Club, was Mandira Bedi revealing some snippets from her fresh book release "Happy For No Reason". She was accompanied by co-author Satyadev Barman who is a professional writer, passionate yogi and an ardent music lover. Having smashed many a glass ceilings – fitness icon, successful actor, businesswoman and a true style icon, GurgaonMoms was thrilled to have Mandira Bedi shed some light on her book.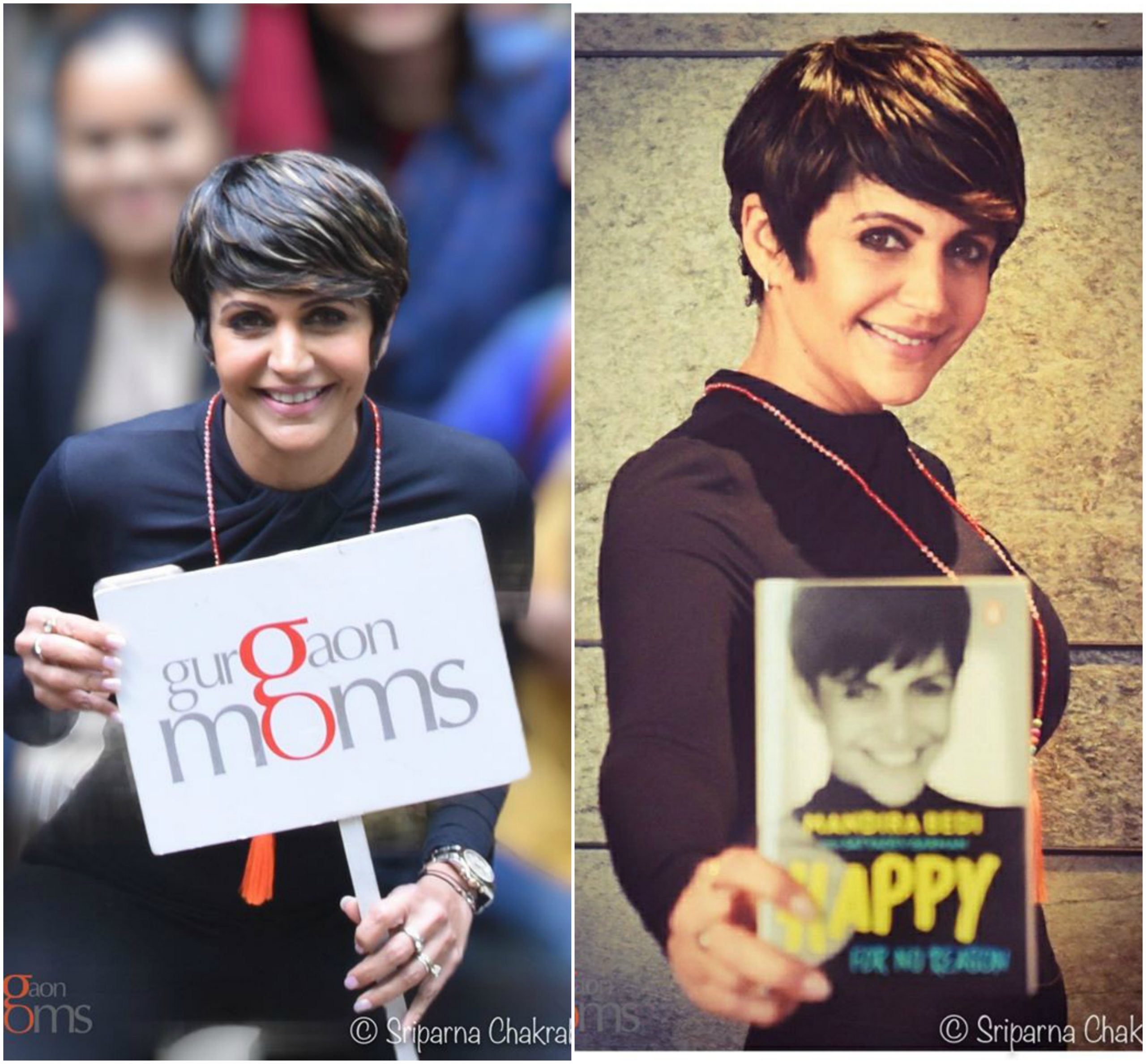 It may come as no surprise that Mandira Bedi has deeply inspired several hustling moms and I am one of her greatest admirers. Not just as a mom, but as a fitness enthusiast, an individual who believes in success and in a no-glass-ceiling world, Mandira Bedi has surely been one of my idols! So when this book came out, naturally, I was one of the firsts to grab a copy and dive deeper into the world of Mandira – the woman, the mom, the business woman and the icon. Within the first few pages, you get a glimpse of the authenticity and natural course of relativity towards Mandira's stories. The book is a revelation of honesty poured from the bottom of her heart; a deeply personal narrative where she goes on to pen down experiences in marriage, parenting, keeping fit and striking a work-life balance. When I got the chance to meet her in flesh at the GurgaonMoms Book Club event, I couldn't have asked for more! The venue , Courtyard by Marriott Gurugram Downtown, was perfect ! Amidst a cosy setting , Mandira was relaxed as ever and it felt more like here was a friend who was sharing her set of problems with no apprehension.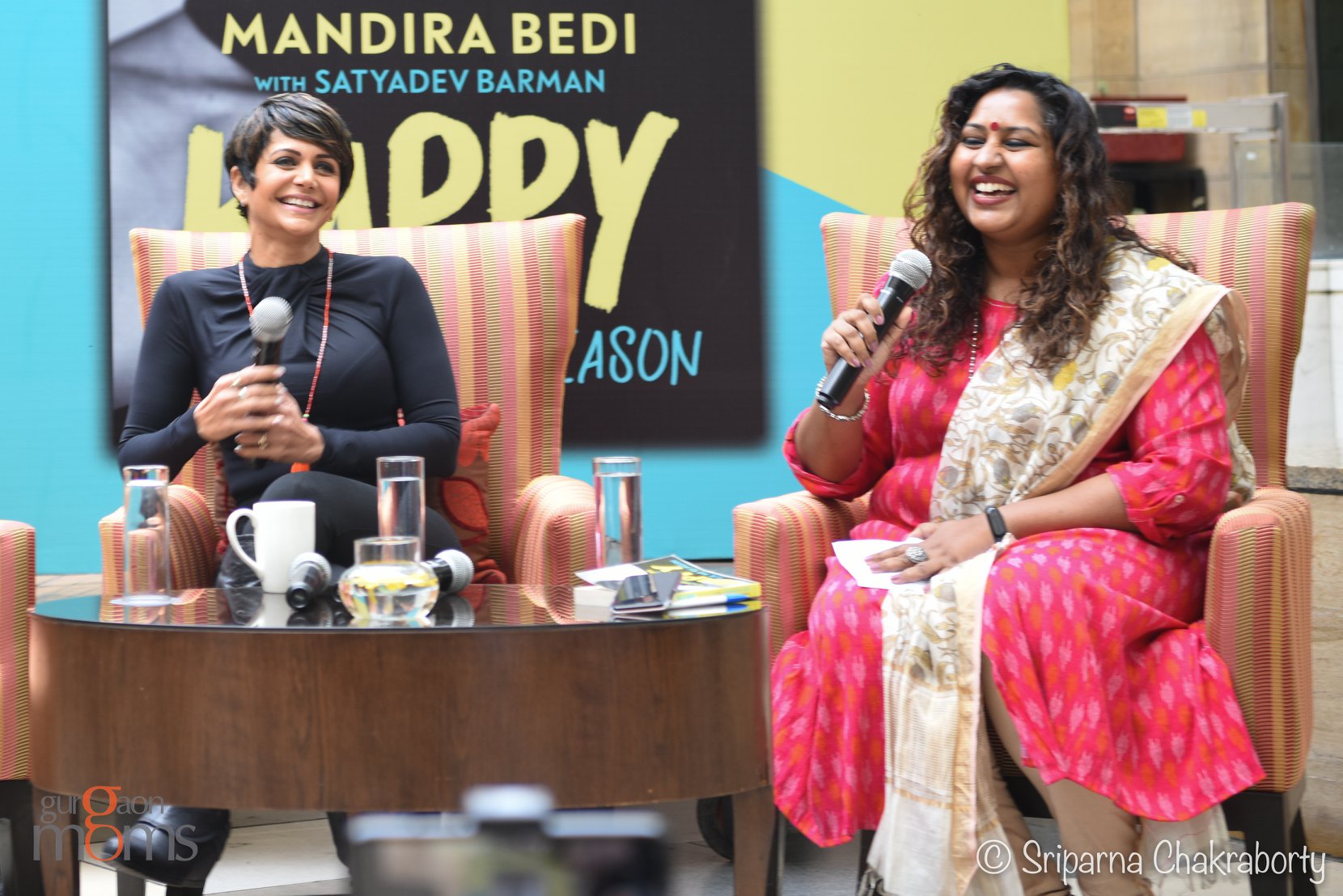 When asked about the catchy title 'Happy For No Reason', the 47-year old quipped, "Had it been three or five years ago, I would fittingly name it 'Angry For No Reason'! I credit it to all the negativity and insecurities which stem from the nature of the business that I am in. The uncertainty and harrowing nature of the media world, especially towards women, does take a toll on us emotionally. Everybody shares a similar set of problems – anger, negativity. In my case, it was all projected on my husband and my mother. Then there came one point where I began to realise that I did not like the person I was becoming and it had to stop. I started working on it through regular therapy, then resorted to spiritual therapy and finally got my answers through hypnotherapy."
Speaking further on how therapy can take you in the right direction, Mandira opened up about seeking a therapist 20 years ago. Even today, therapy has guided her overcome several insecurities, especially those in her personal life. She has no qualms about admitting that back then she needed professional help. "When you are going through something, objective guidance from someone professional who doesn't know you well becomes necessary", she added.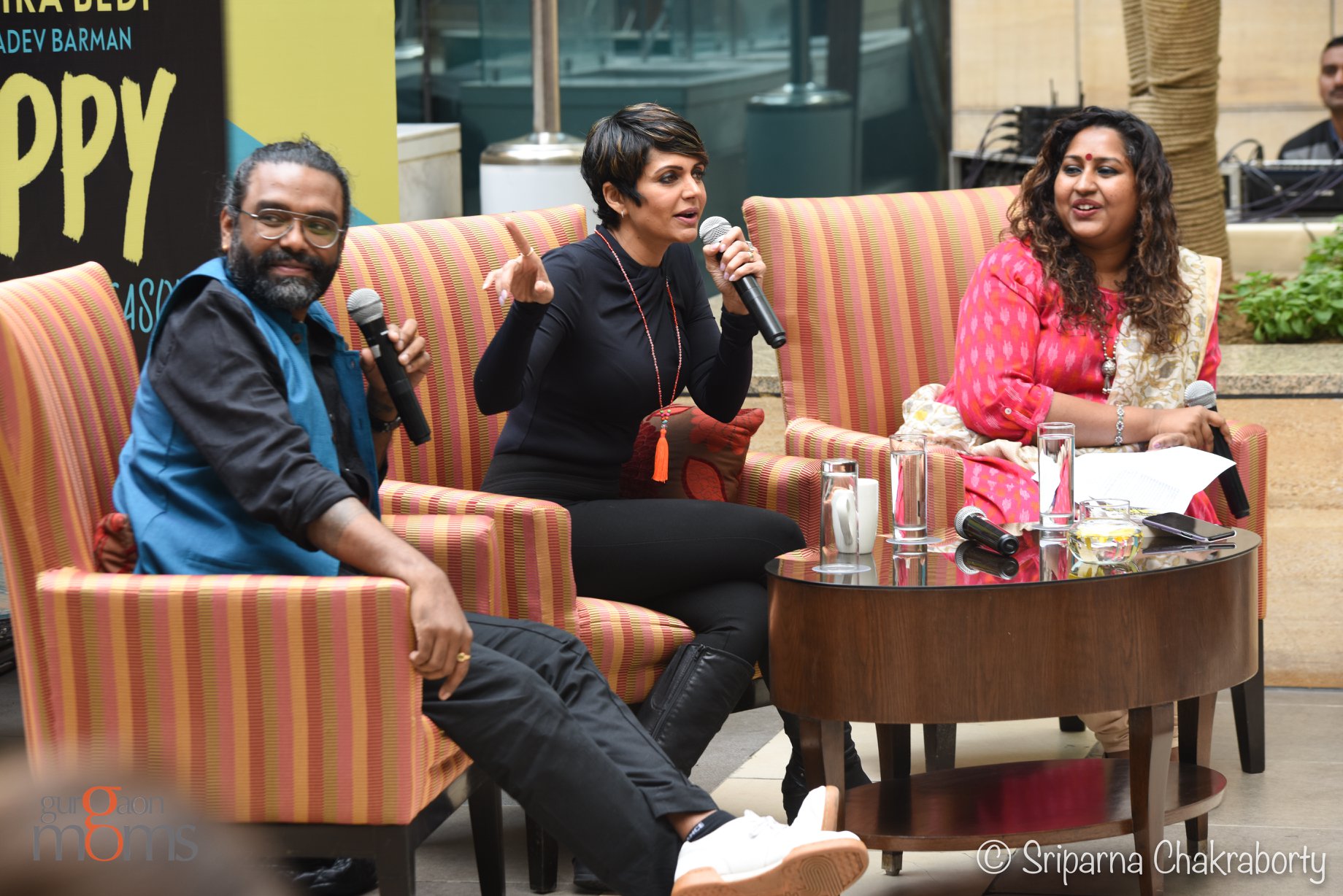 When asked about the book and coalition with Satyadev Barman, she revealed that nothing was planned, yet it all cohesively fell in place; somewhat on the lines of the 'red thread theory'. Satya, as she fondly calls him, lives in Denmark and happens to be one of her husband's closest friends. When the renowned publishing brand Penguin India  approached them for a book, they decided to take it head on, locked themselves up in a room and started brainstorming.
Satyadev Barman, is a distinguished writer and yogi from Denmark with an advertising background. "Yoga, music and writing run in parallel. Over the dining table, we decided the intent of the book. Originally, it was supposed to be more fitness-centric. However, we also came to a common consensus that emotional and mental health should be given adequate coverage in the book as it is paramount to Mandira. It reflects her personal life in the truest sense and anyway it is a 'never-too-late' memoir".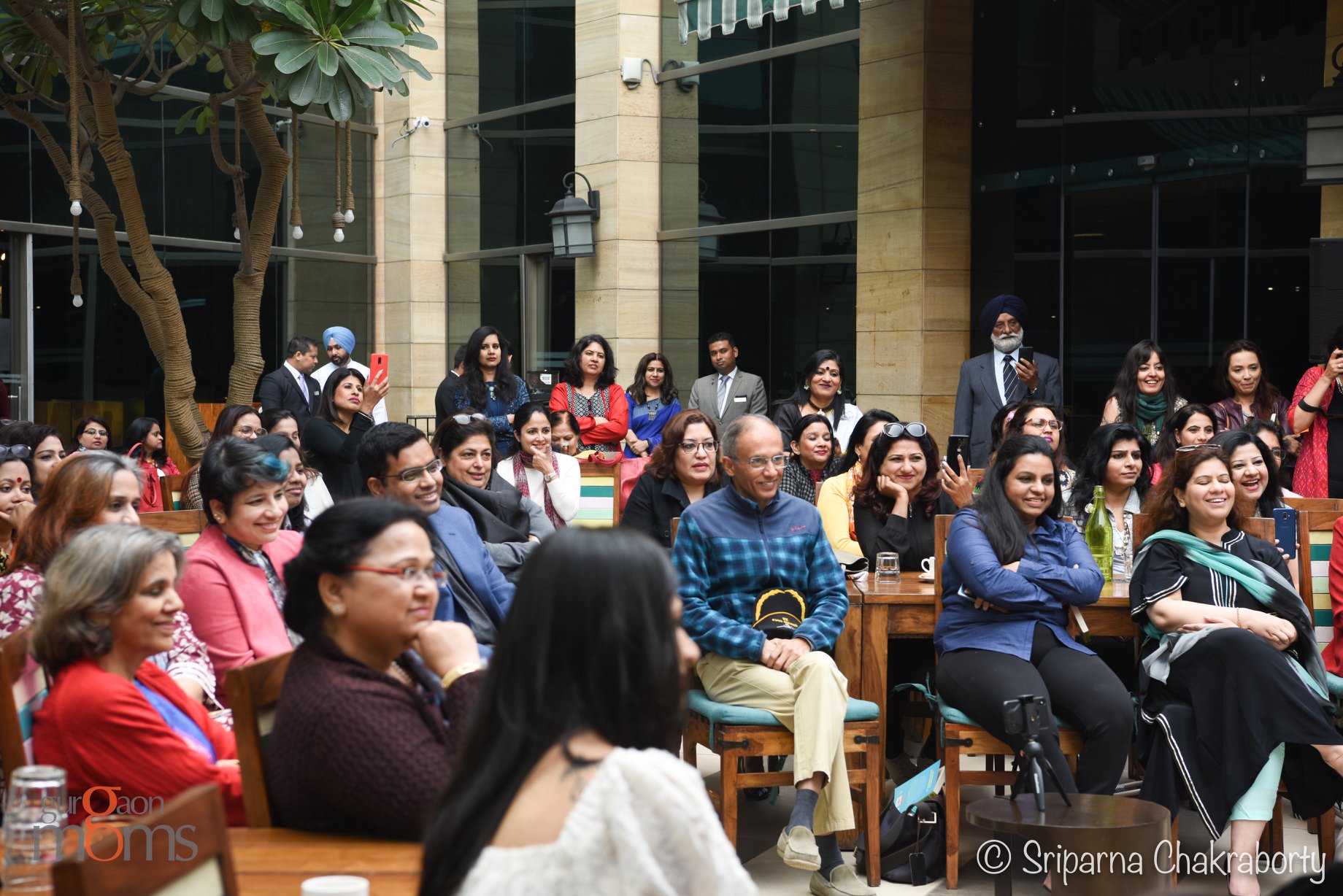 An eminent label-owner of her eponymous fashion line, Mandira also talked about how being an entrepreneur on-the-side is really hard and is a full-time job, while managing her eminent presence in the media business. "There are ups and downs to your brand and it does get affected because you are away and distracted by several other engagements."
There is no way one can skip the topic of 'fitness' when in an animated conversation with Mandira Bedi. She is a much-talked-about fitness influencer, popular for her jaw-dropping Instagram posts. "I actually got into fitness in 2008 for Khatron Ke Khiladi, had a baby and then lost the weight gain. At 47, I find that I am the best version of myself ". In a chaotic and learning curve of life, she seems to have discovered her own formula; one worthy of mention is the 'identification of negative patterns and how to break them'. It seems to have worked for her and I believe there is no harm in trying it for ourselves.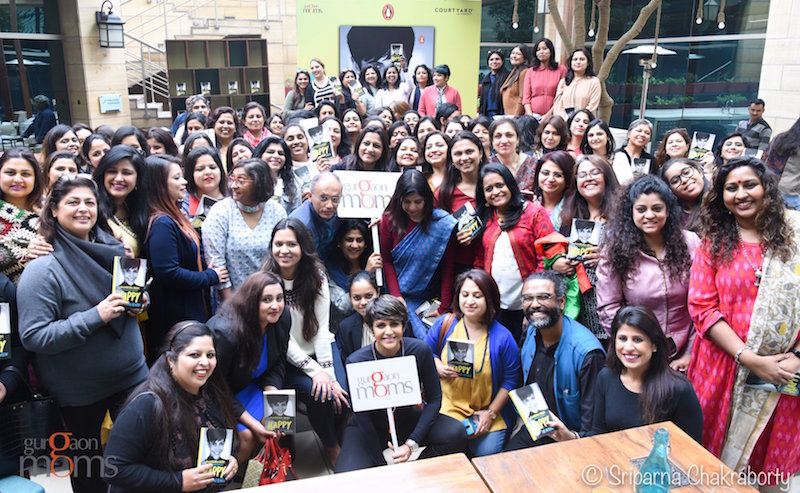 Mandira, an advocate of body positivity, likes to believe that she is a 'work-in-progress' and laughs off dim-witted comments such as "women with short hair are powerful". A yardstick of quality, Mandira is full of gratitude, has an infectious zeal and is a beacon of encouragement for enterprising women. Meeting her at the GurgaonMoms Book Club was insightful and we all had so much to take away from this relaxed tête-à-tête. Happy For No Reason is an inspirational book for readers which hit the shelves in February 2020. When are you reading it?
Pics Credit: Sriparna Photography