March 4th
A warm and windy early spring afternoon with a slight nip in the air. It was one of those lazy days when you don't want to budge; and an invite for lunch is the only thing that would get one moving.
Upasana's (GurgaonMoms) invitation for lunch at Take.Eat.Easy, a 24 X 7 food court in Central Plaza Mall on Golf Course Road was just what the doctor ordered. I was pleasantly surprised to see a wide range of outlets in this bright 'n sunny food court, ranging from chai to dessert. Chai Story, Southy, Kadalu, Beyond Burgers, Doner Grill, Wow Momo, Chicago Pizza, Moti Mahal Deluxe, Menchies, Theobrama, they were all there to pamper our taste buds and cater to different food palates.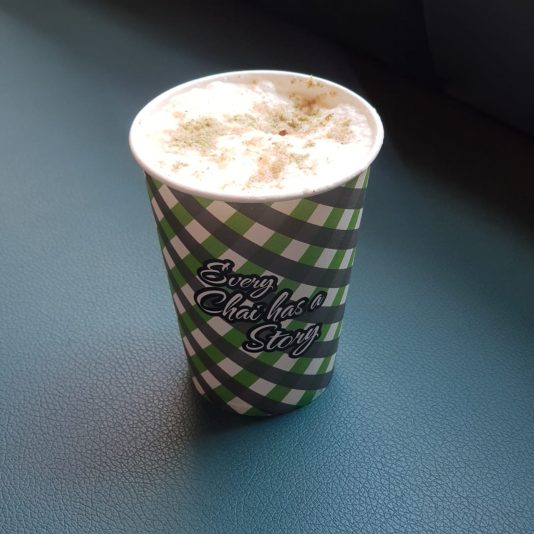 Our group of Mom Influencers was more than happy to sample all the cuisines. We started off with a cool and absolutely delicious thandai, a drink that I normally avoid, but this was one just the right flavor and strength. A must try when you visit with your family.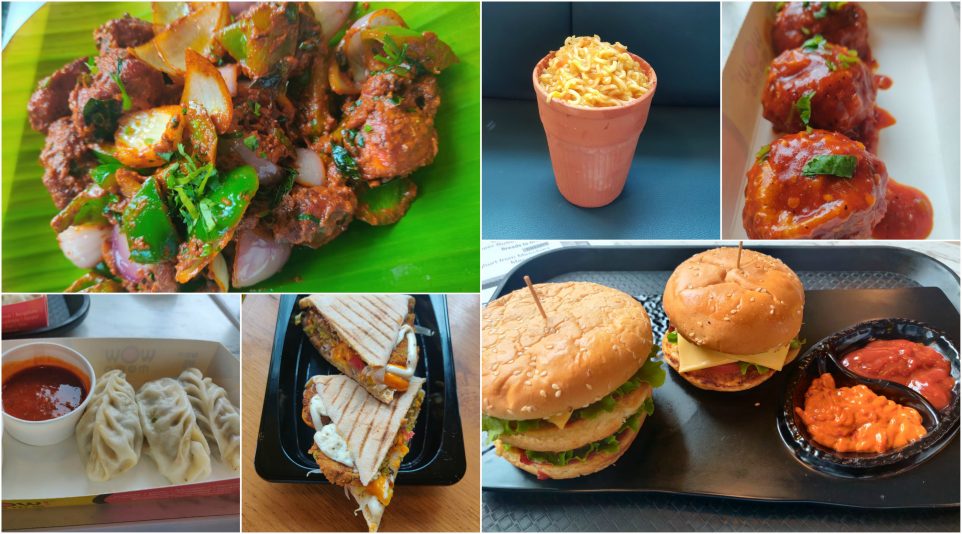 Next we were literally bombarded with starters, and all of us concentrated only on the food. The pictures that you see are clicked by the wonderful ladies who had the patience to get the 'right food angles', before digging in. The kulhad Maggi was a hit; after all, it is rare that Maggi disappoints and this was very well made and presented. The momos, both the vegetarian and chicken ones, were juicy and succulent, with a fiery chilli sauce to set you aflame. Chicken 365 served on a banana leaf, was spicy and bursting with aromas. The burgers came next, and I enjoyed a quarter of the chicken burger. It was really good with a juicy chicken patty, though they could have gone easy on the mayo. I didn't try the veggie burger, other than stealing a few fries, but I am told it was good too.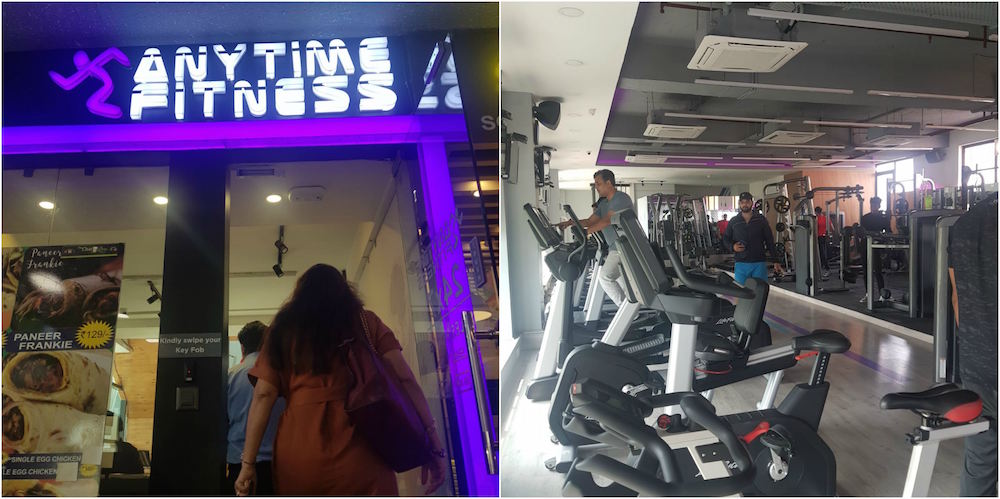 We were quite stumped by then and requested a breather before the main course. This was a good break to let our tummies take a rest and tour the fitness center ,Anytime Fitness  that is located on the next level of the food court. A unique combination indeed! I was quite surprised to see a huge gym with more than 8 to 10 treadmills and cross trainers, along with the other gym equipment. And the biggest surprise was to find a lot of men at the gym on a working day afternoon.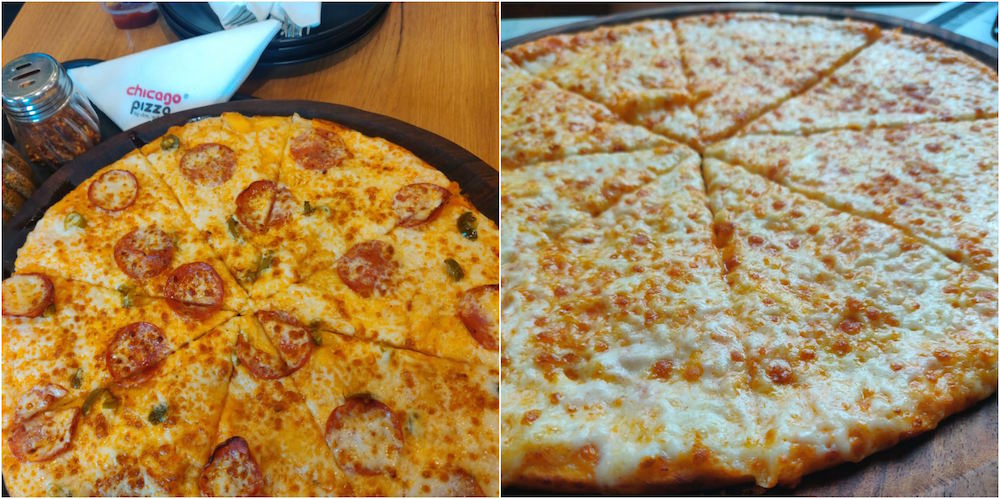 Well, not to digress from the food story, we were next treated to pizzas – Margherita for the veggies and a Pepperoni pizza for the rest of us. I can never resist a hot slice of pizza straight out of the oven, which is one the reasons I avoid ordering in pizza. The pizza was thin crust, cheesy to the right degree, hot and delicious.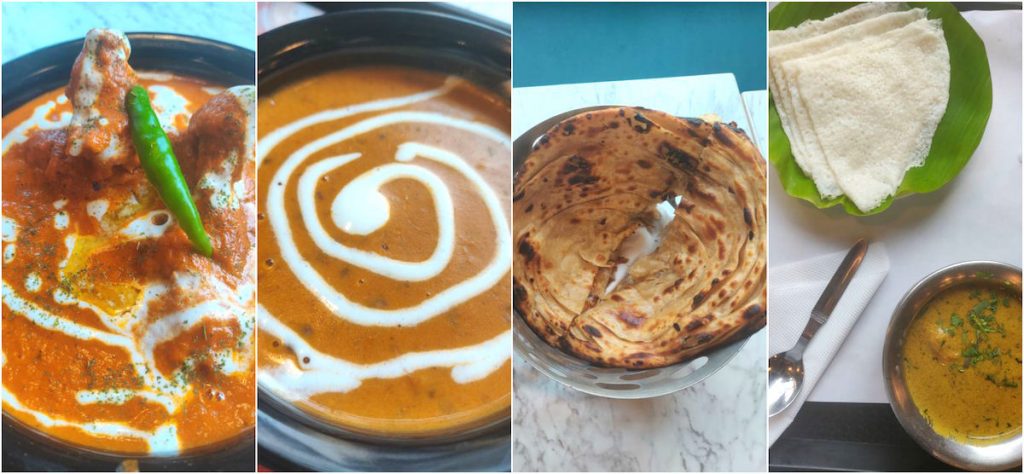 Next in line at Take Eat Easy were the North and South India cuisines. Dal makhani, paneer butter masala and Butter chicken were served with hot lacchha paranthas and tandoori rotis. The dal and paneer were delectable, but the butter chicken can be improved as it had a sugary aftertaste.
The chicken chettinad which came next more than made up for it. Perfectly cooked, tender, with a smooth coconut gravy, it was well paired with a light neer dosa.
We ended with frozen  yoghurt from Menchies to help us push down all the food devoured. It was a great finale to the culinary afternoon and time to say goodbye.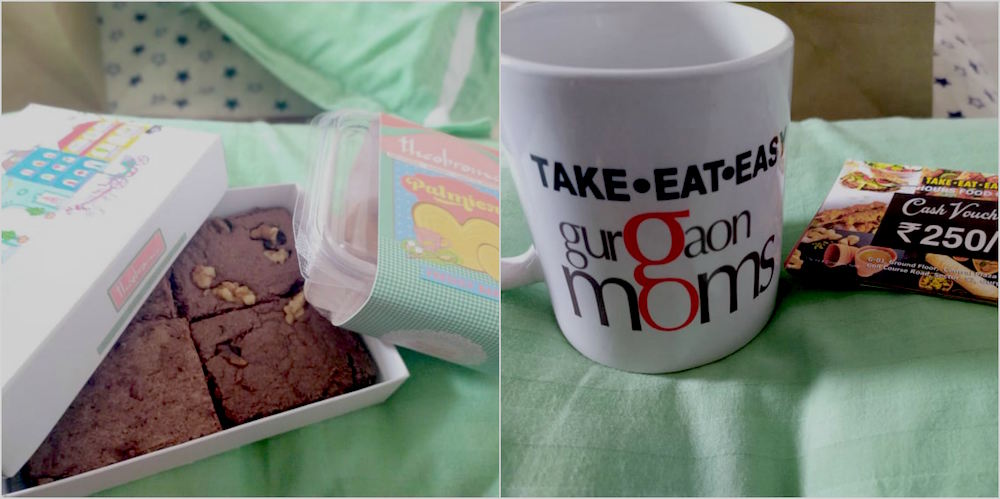 And we received a lovely hamper with goodies from Theobrama including their famous brownies, and food vouchers for our next visit and a beautiful mug from Take. Eat. Easy . It was a wonderful foodie afternoon, thanks to GurgaonMoms. Take.Eat.Easy folks and do check out this place!!