Sukkriti Nath is a 15-year-old first-time author of a fiction novel 'The Burning Truth ' that highlights the causes and impact of teenage smoking. It is wonderful to come across children who are so passionate about writing and also want to work towards social issues.  I also got an opportunity to speak with her mom Shruti Nath, who shared that Sukkriti has always been fond of writing and she used to create beautiful notes and poems for her on special occasions like birthdays and Mothers Day.
Here's the interview with this young & talented achiever
 Please tell us something about yourself
I am a fifteen-year-old first-time author and have recently launched my debut novel – The Burning Truth.I am passionate about reading and writing, and I come from a family of academicians whose roots began in the ancient, holy city of Varanasi. I currently live with my parents, brother, and grandmother in Gurgaon, Delhi NCR, India.Presently, I am a student in my MYP – 5, (Grade 10) at Pathways School, Gurgaon.
Your novel, The Burning Truth, what is about?
My novel portrays the roller-coaster-like life of Sana Sharma, a teenager who belongs to Gurgaon. The readers get to witness the life of a common teenager, and the things they face in their teen years through the eyes of Sana.
I personally feel that it is a must-read for every teenager, parent, and adult. It foreshadows the things a teenager encounters, and parents would be able to actually understand what goes on in the mysterious minds of teenagers. And I must not forget to mention, it would take you on a ride back to your school or college days.
On a more specific note, I penned this book to highlight the causes, impacts, and solutions of teenage smoking and prior to writing, I have researched the subject extensively through surveys, expert interviews, and secondary sources.
Furthermore, since Cancer has always been a cause close to my heart as I have seen my paternal grandfather battle cancer and eventually pass away in front of my eyes; I have decided to donate all revenue generated from the sales of this novel to Cuddles Foundation, an institution supporting underprivileged children fighting cancer.
Lastly, the novel was published in the month of September 2017 and officially launched in October 2017.
 What made you write this book?
As I started to brainstorm ideas, various concepts came to my mind, however, one that stuck was the concept of 'Teenage Smoking'. The reason why I chose this topic was because it had always affected me deeply, and it was one that I could relate to personally, being a teenager myself.
My maternal grandfather was a chain-smoker and we all know how commercial advertisements can be fuel to a six-year old's fiery imagination, this deeply disturbed me since I became aware that smoking leads to cancer. As stated previously, my paternal grandfather was fighting cancer in front of my eyes. I somehow joined the dots at a young age, and since then, it was written in stone for me that smoking was injurious to health.
Hence, when given the opportunity by my school to work on something personal for our personal project, I took the opportunity to pen down my thoughts on the same so that I could reach out to people far and wide.
 How long did you take to write it?
I have spent over six months on this novel, from developing the plot to writing it; and I find it reasonable to say that the entire journey was an exhilarating roller coaster ride, for there were times where I didn't know what the character would do next, and there were times when I was so certain of every single detail that was to be written. There were times when I wrote several pages in one go, and there were times when I felt undoubtedly low. But all in all, the view from the top was truly beautiful and breath-taking.
 What was your reaction when you received the copy of your book?
Ineffable.
It felt like for a few minutes, I wasn't sure what was happening around me. And undoubtedly, it took me some time to be able to truly comprehend the fact that I had the copy of my own novel in my hands.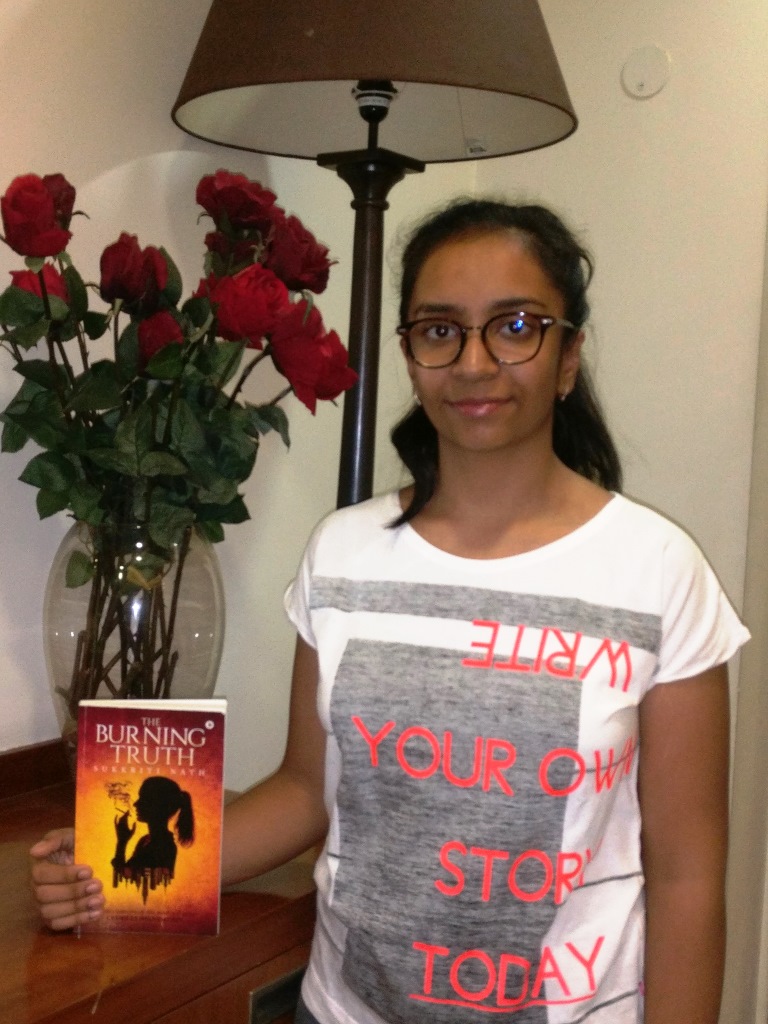 Since when have you been penning down your thoughts?
The answer to this is unquantifiable. This is because I have had my own set of phases – when I was six or seven years old, I wrote my own diary to describe the world around me; when I was in my pre-teens, I began expressing myself through poetry, and eventually in my teen years I began writing short stories leading to my novel at the age of fifteen.
However, I have always felt that whatever it is that I am writing, it is always a mirror reflection of the world I am living in, which also implies for my novel – The Burning Truth.
 Is another book or blog on the cards? If yes, what would it be about?
You would be happy to know that I am already working on my blog on WordPress called SN's Blogs – https://mymemoir312.wordpress.com/ wherein I post self-written poems, short stories and much more.
I would definitely work on another book in the near future, and as I said previously, it would be once again a reflection on the society we all live in, and on a topic which is close to my heart, and the people around me can relate to it.
 Some tips or suggestions for the children who want to write.
There is simply so much to writing!
Be it hatching the idea, developing the plot, finding the right publisher, or marketing it. But if I were to point out the most important thing that every child who aspires to write must have is – the willingness to write. I personally believe, that writing a book, or rather a quality book, is a lengthy process, and unless and until the author is truly willing to write, it is a task which will never be completed.
Therefore, I'd like to say to all the young, aspiring authors out there – believe in yourself, and don't give up, because regardless of how long the journey may seem, the destination to where you are headed is indeed beautiful.