It all began with the secret confession of my dream—a photo shoot in the woods in a traditional sari. The Gurgaon Moms platform is full of genies. They go out and beyond to fulfill any query and any wish we may have. I got a similar response when I hesitantly revealed this ever old wish on the platform. Many genie moms (as I would like to call them) reached in support.
One such genie mom—Sriparna Banerjee Chakraborty, an ex-journalist, and counsellor who has now moved full-time into exploring her life-long passion of being a photographer, messaged me on Facebook. Her message was full of love and compassion.
We connected and decided to meet on Oct 18th for my "first ever" photo shoot. The shoot location was suggested by Sriparna—The Archeological Park, Mehrauli-Gurgaon Road. The shoot began at 9 A.M. and she called it a wrap by 10.30 A.M. In between, a lot of "fun and behind the scenes" moments happened.
God, I felt like a queen.
I wore my years old Banarasi saari, some accessories to go with, and the very famous Gurgaon Moms recommended—Ruby Woo lip color.
Both, Sriparna and I were aligned; no editing to the way I look. My dark circles show up, and I am proud of them as they help me relate with the kind of efforts and hard work I put into my day-to-day life.
My grey hair strands are visible as I love the life I am blessed with and each passing year makes me fall in love with it even more.
My figure, a little out of shape now, but that's how I have lived my life so far.
[Heartfelt thanks to each and every mumma here. You inspired me and motivated me. This is what this platform is all about. Positivity. Support. Acknowledgement.]
About the photographer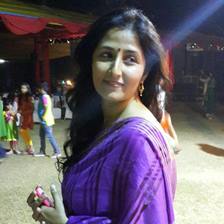 Sriparna is an ex-journalist and counselor who has now moved full-time into exploring my lifelong passion of being a photographer. She loves life and looks at photography as a way to capture each moment through the shutters of her mind. Photography to her is an opportunity to freeze a story in a moment. She loves to capture anything that evokes emotions in her. She lives in Gurgaon and enjoys traveling to unusual and challenging destinations across the country. She also follows her deep interest inn car rallies.